We compiled a list of good-value, cheap restaurants in Budapest where you can eat local, tasty food without having to dig deep in your pocket.
The restaurants on this page are recommended not just for budget travellers, but for those who feel uncomfortable in an upscale restaurant, and don't want to pay lots of money just because of the fame of a place, like in Gundel.
The range of cheap eateries in Budapest consists of a few old-style, self-service restaurants, food stalls in markets and some really good street food joints (burger and hot dog bars), or Kolbice the Hungarian street food – grilled sausages in a cone-shaped bread).
There are some vegetarian food bars too, like Főzelékfaló restaurants where you can try a typical Hungarian dish, the főzelék (a kind of vegetable stew thickend with roux, or sour cream).
Cost of food to be expected in the following cheap restaurants: soups 300-500 HUF, main dishes (poultry, pork, pastas): 1 200-1 500 HUF (Note that this may vary slightly from place to place).
In most self-service restaurants daily menu (soup and main dish) starts from 700 HUF. Note that some restaurants accept cash only.
Table of Contents
Old-Style Cheap Restaurants in Budapest
Vendéglő-s and önkiszolgáló-s (self-service restaurants) are the best cheap restaurants in Budapest. These places have unpretentious interior, usually with plastic or checkered textile tablecloths.
Large portions, not typically low-carb, low-fat food.
Cheap Food in Downtown Budapest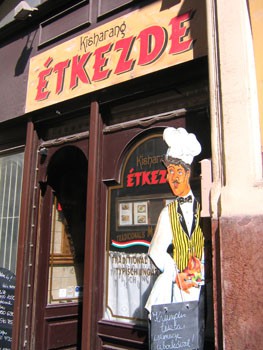 Kisharang Étkezde
Address: Október 6. utca 14., v. district, M3 blue metro, Arany János utca station
Open: 11.30 – 20.00 daily
Tel: (+36 1) 269 3861
A simple, inexpensive cash-only eatery with only 5-6 tables (prepare to share the table with other guests). If you want to try hearty Hungarian food this the place to go. Menu in English is available.
Daily menu (soup + main dish or főzelék + meat or sausage) from around HUF 800 -1 200. Try mushroom paprikash with galuska, or máglyarakás (a typical local sweet treat: layeres of sliced crescents, apples, apricot jam, with meringue on top and baked in oven. Here are some mouthwatering photos on the restaurant's website.
Karcsi Vendéglő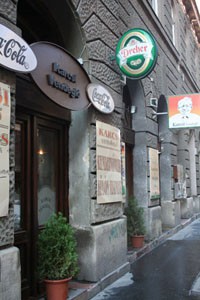 Address: Jókai utca 20., VI. district, M3 blue metro, Nyugati pályaudvar station
Open: Mon-Fri: 11.30 – 22.00, Sat: 11.30 – 16.00, Sun: Closed
Tel (+36 1) 312 0557, website
A pretty good-value, cheap restaurant in Budapest's downtown, close to the Opera, with daily menu of two options (a couple of soups, mains, and desserts): for 890 HUF (two courses), or 990 HUF (three courses).
Soups: Újházy chicken broth – 530 HUF, bean soup with pork knuckle: 960 HUF,
Mains to try: pork rib gypsy style with fries (Cigánypecsenye): 1555 HUF, Hagymás rostélyos (rumpsteak with fried onions and fries): 1795 HUF,
Desserts: pancakes (túrós=sweet cottage cheese, walnuts and chocolate sauce, jam): 420-515 HUF (two pieces), Chestnut puree with whipped cream (gesztenyepüré): 685 HUF.
Lugas Étterem- behind the Basilica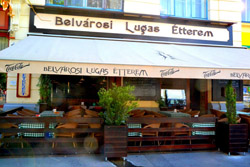 Address: Bajcsy-Zsilinszky E. út 15. , district V.
Despite the touristy location, Lugas is a fairly good place right behind St. Stephen Basilica. You can sit at the terrace if the weather allows. They serve mostly typical Hungarian meals:
goulash (650 HUF), creamed potato soup-brugonya-krémleves with mushrooms(620 HUF),
Wiener schnietzel with potato salad (1890 HUF from chicken breast fillet, or 2080 HUF from prok tenderloin),
stuffed cabbage Kolozsvári style (1840 HUF),
grilled meats,
vegetarian dishes,
fresh salads,
desserts (pancakes, Somló sponge cake, madártej).
You can view the menu here.
Platán Restaurant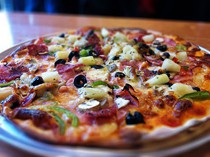 Address: Városligeti fasor 46., VI. district, near Heroes' Square, M1 Hősök tere or Bajza utca stop
Tel (+36 1) 322 6615
A couple of soups, vegetarian dishes (breaded fried cheese, fried mushrooms with tartar sauce), pizza, pasta and other traditional Italian fare close to the City Park and the Zoo.
Self-service menu daily from Monday to Friday betweem 11.00 and 15.00., during this time the place can be crowded. Nice terrace from spring till autumn.
See more Italian restaurants in Budapest.
Kádár Étkezde
Address: Klauzál tér 9., VII. district, tram 4, 6 Király utca stop
Open: Tue-Sun: 11.30 – 15.30, closed on Sunday and Monday
Tel (+36 1) 321 3622
Classic old-style restaurant in the heart of the former Jewish quarter, serving non-kosher Jewish food and recommended by every travel guide. Try roasted goose leg, stuffed cabbage, or cholent (sólet in Hungarian) a stewed or baked bean and meat dish.
Metropolitan Café & Self-service Restaurant
Address: Kéthly Anna tér 1., VII. district, at the junction of Klauzál utca and Wesselényi utca, tram4, M2 (red) metro, Blaha Lujza tér stop (7 minutes walk)
Open: Mon-Fri: 11.00 – 15.00 closed on Saturday and Sunday
Daily menu is around 700 HUF (soup and main dish). The place is air–conditioned and there's an open-air terrace. See the menu here.
Bécsi Szelet Vendéglő
Address: József krt. 63., at the corner of Csepreghy utca, district VIII., trams 4, 6
Open: Mon-Sun: 12.00 – 22.00 daily
Tel (+36 1) 318-4934
Their specialty is the huge size Wiener Schnitzel, breaded veal deep fried in oil. Daily menu from 890 HUF, main dishes from 1 790 HUF.
Pozsonyi Kisvendéglő
Address: Radnóti Miklós utca 38., district XIII., tramx 4, 6 Jászai Mari tér stop
Open: Mon-Fri: 9.00 – 12.00, Sat: 10.00 – 12.00
Tel (+36 1) 787 4877
Monthly changing menu, huge portions, varying quality, low prices.
Erzsi Mama Konyhája
Address: Pajkos utca 60., district XI.
Open: 11.00 – 22.00 every day
Tel (+36 1) 208 1296
It's a bit out of central Budapest, but this place has nice, homey interior and good selection of traditional Hungarian dishes at reasonable price. See the menu in English here.
Vegetarian Cheap Restaurants in Budapest
Finding a vegetarian restaurant in Budapest or any in any other Hungarian city is a real challenge. Here are a few places to make eating out in Budapest easier for vegans.
Főzelékfaló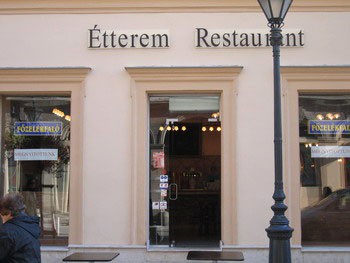 Has several joints in Budapest:
Open: Mon-Fri: 10.00 – 20.00, Sat: 12.00 – 20.00, Sun: closed
Tel: (+36 1) 302 3856
Főzelékfaló Ferenciek tere, M3 metro, district V.,
Főzelékfaló Allee Shopping Centre
Address: Október Huszonharmadika utca 8-10., district XI.,
Open: Mon-sat: 9.00 – 22.00, Sun: 9.00 – 20.00
Főzelékfaló KÖKI Terminal Shopping Centre
Address: Vak Bottyán u. 75/A-c, M3 metro (blue line) Kőbány-Kispest termini
Főzeléks are peculiar to Hungarian cooking: vegetables simmered in some water and thickened with roux and sour cream.
Note that meat (usually smoked meat) is cooked together with vegetables in case of some főzeléks (babfőzelék), so always ask about it if you're a strict vegan.
Meat dishes are also offered so the place is also recommended for meat lovers.
Govinda
Address: Vigyázó Ferenc utca 4., district V., city center
Open: Mon-Fri: 11.00 – 21.00, Sun: 12.00 – 21.00 Sun: closed
Govinda Vega Corner
Address: Papnövelde utca,
Open: Mon – Sun: 12.00 – 21.00
Website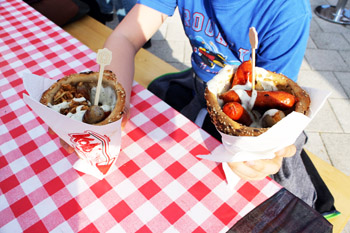 Fast Snacks
If you don't want to sit in a restaurant or just don't have time for it you can have a quick and cheap eat in a market, the best in Budapest is the Great Market Hall which you should visit anyway because of its architecture or for buying souvenirs.
TIP:
I highly recommend Kolbice, a sort of Hungarian version of hot-dog: grilled mini sausages in a cone-shaped bread with various toppings: braised cabbage, oinion, cheese sauce, mustard, mayo, ketchup, chili.
You can usually find them at festivals (Christmas fair, the Cheese Festival at the Whale), Street Food Show (at various locations usually in June and in September). They also have a shop in the Hold utca market.
Look for food stalls selling lángos (a deep fried dough), fried sausages or black pudding (hurka).
These dishes are a bit heavy and fatty, but taste better than a burger in a McDonald's.
But if you feel the urge:
countless buffets (Chinese, gyros, Turkish), Western-style fast food chains are scattered throughout Budapest, including McDonalds, Burger King, KFC-s, Pizza Huts.
I'm not fan of these places but they inevitably conquered Budapest, and as you'll see many of them are full almost all day.
For quick eats also try one of Budapest's numerous shopping malls; they usually have a separate food court offering various cheap meals.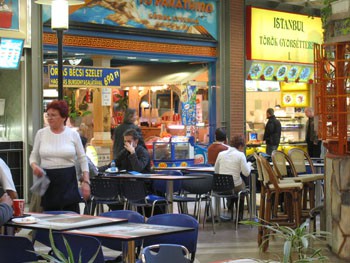 Subway Sandwiches have a few bars in Budapest: Károly körút 5., VII district, Váci utca V. distict, in Mammut Shopping Mall (M2 metro Széll Kálmán tér, trams 4, 6 Széna tér).
TIP: If you want to save not only on your eats but on accommodation check out our list of recommended Cheap Hotels in Budapest and Best Budapest Hostels.
Related:
Hungarian Restaurants – French Restaurants – Indian Restaurants – Japanese Cuisine in Budapest – Costs, Prices in Budapest