Programs At Christmas Time
Are you planning to celebrate Christmas in Budapest this year?
We made this guide to help you plan your travel. In this post you will find:
Things to do suggestions,
Information about opening hours during the holiday,
Public transport services and, about some
Interesting Hungarian Christmas traditions.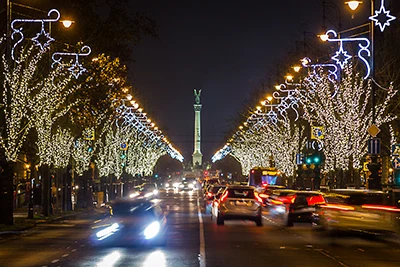 Quick Links:
TIP: Christmas Cruises – Christmas Concerts – Festive Markets – Gala Concert of the 100-Member Gypsy Orchestra – Hotels in Budapest – Opening Hours at Christmas – Thermal Baths – Public Transport During the Holiday – Hungarian Christmas Traditions – Weather Around Christmas at Budapest
In mid-November Budapest starts to prepare for the big December holiday, Christmas, which is a 3-day holiday in Hungray:
It begins on Christmas Eve: 24. December, followed by
25. and 26. December (Christmas Day & Boxing Day).
Three major Festive fairs and Winter festivals await visitors at various locations in the city centre:
At Vörösmarty tér (Planned Date: 17. Nov. 2023 – 01. Jan 2024.) – this is the best-known and the official fair,
In front of the Basilica (Date: 17. Nov 2023. – 01. Jan 2024.)  – an event becoming more and more popular each year: ice rink,
In Városháza Park (till 27. Dec 2023): a Winter Festival with a range of free family programs, children activities, a giant Advent Wreath, charity events, Budapest's tallest Christmas tree and a handicrafts fair.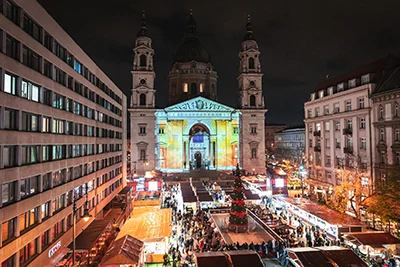 Streets are decorated with colourful lights, shop-windows are adorned to lure in customers hunting for gifts.
Turning On The Festive Lights – First Weekend of Advent
The Christmas city lights officialy light up on the first Sunday of the Advent period: at 17.00, 03. December.
Budapest's mayor will light the first candle on the wreath at the Winter festival in Városháza Park.
More and more people set out to look for the ideal presents in shops, and the markets.
Besides shopping, the city also offers plenty of programs, concerts, special holiday tours to treat visitors to a memorable experience.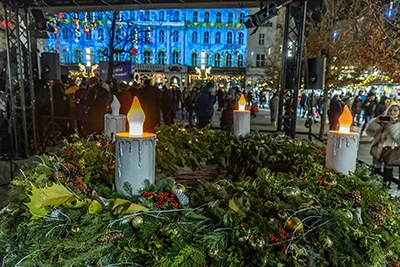 Christmas Cruises With Dinner & Music, December 24 – 25-26, 2023
The most enchanting way to expreince this magical city is on a festive river cruise. We highly recommend the follwing special Christmas river excursions with dinner departing at 19.00 on
24. December, and
25. December.
You will be welcomed on board of an air-conditioned ship, which will take you on a 3-hour-long river tour with an excellent warm served dinner of 4 courses by romantic candlelight and gentle piano music
You can enjoy the wonderful view of the city swimming in lights.
After dinner you can also admire the panorama and take photos from the open upper deck of the ship.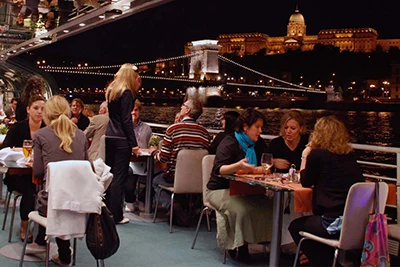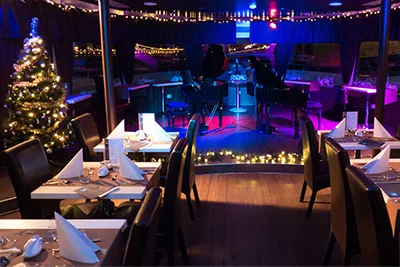 Christmas Dinner Cruise With 4 Course Served Dinner + Welcome Champagne
Cruise Starts: 19.30 – December 24 & 25
Duration: 180 min. – Price: From €105, Child: €95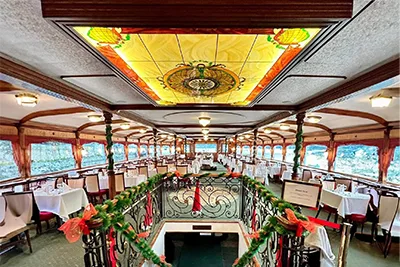 Christmas Cruise with 10 Course Buffet Dinner + Unlimited: wine/beer/soft drinks
December 25 & 26
Cruise Starts: 19.00
Duration: 180 min. – Price: From €125
Festive Church & Other Concerts
The whole city calms down for a couple of days.
You can hear only the sound of festive concerts and Advent songs in Budapest's churches.
After the hectic shopping it's relaxing to listen to melodies of organ works and contemplate about the meaning of Advent and Christmas.
Many Churches, Including
St. Stephen's Basilica,
St Anne Church in Buda,
Church of St. Michael in Váci Str.,
Inner City St. Anne Church on Szervita Sqr.)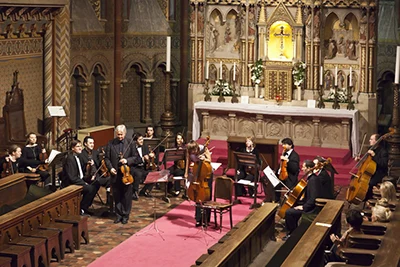 will host festive concerts over the weeks preceding Christmas and during the holiday.
We recommend the Lights of Christmas Festival in one of the city's most prestigious temple, the Matthias Church in Castle District.
Here are some of the coolest Xmas programs taking place during the weeks preceding the holiday.
Christmas Markets In Budapest
Budapest's winter holiday fairs are quite popular and attract many visitors year by year. Here's a roundup of the largest festive bazaars, some of them satrting as early as mid-November.
The Vörösmarty Square Christmas Fair has become one of the most popular of similar festive markets in Europe.
Planned Date: 17. November 2023 – 01. January 2024.
Opening Hours – Food & Beverage Stalls
Mon – Thurs: 10.00 – 21.00
Fri – Sun: 10.00 – 22.00
24. December: 10.00 – 16.00
25 – 26. December: 10.00 – 18.00
30. Dec – 06. Jan: Mon – Thurs: 10.00 – 22.00, Fri – Sun: 10.00 – 23.00
31. December: 10.00 – 04 00 am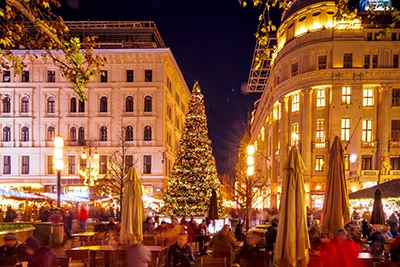 Merchant Stalls – Opening Hours
Mon – Thurs: 10.00 – 20.00
Fri – Sun: 10.00 – 21.00
24. December: 10.00 – 14.00
25 – 26. December: 12.00 – 18.00
29, 30, and 31. Dec: CLOSED
Folk craftsmen offer authentic handmade artifacts and souvenirs in homey wood pavilons surrounding the lofty Xmas fir and the giant Advent wreath.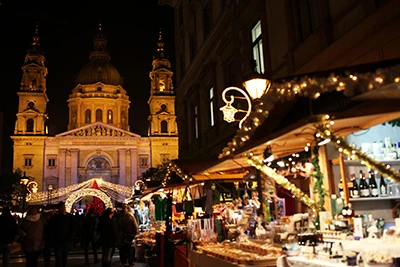 Advent in Óbuda, Fő tér (Main Square) – Off The Beaten Path
Planned Date: 26. November – 23. December 2023
Getting There:
By tram 1 and get off at Szentlélek tér stop, or
M3, blue metro, get off at Árpád híd station, from there take tram 1
Suburban Railway H5 from Batthyány Square (M2 red, metro), get off at Szentlélek tér
The Main Square of Óbuda hosts festive programs on the four weekends of Advent:
Concerts,
Puppet shows,
Ice rink, and
Folk craft market offer entertainment for the whole family.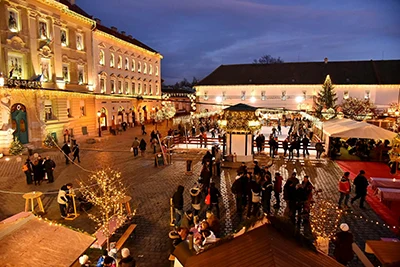 A tall Christmas tree and the life-size Nativity Scene create a special pre-holiday atmosphere.
The ice rink is open till 31. January from 8.00 to 20.00 every day. Entry is free. Renting of skates is available.
Tickets: entry is free but visitors have to purchase a mug for 500 HUF to be able to sip mulled wine or hot tea and taste the culinary delicacies. All concerts, performances and the ice rink are free.
More information: Advent in Óbuda
Saturnalia – Aquincum Museum, 08. December 2023.
Recommended for Children!
Address: Szentendrei út 135., district III.,
Getting There:
by suburban railway (HÉV) from Batthyány tér to Aquincum station,
from Szentlélek tér in Óbuda: by buses 34, 134, and 106 to Aquincum stop
Opening Hours
Tickets: Free
An event that introduces visitors to the roots of Christmas in Antiquity. Saturn is the god of agriculture and time in Roman mythology.
The ancient celebrations devoted to him were the predecessors of Christmas in Christian traditions.
The Program Includes:
Interactive guiding in the museum garden,
Ancient feast,
Tasting Roman honey cake and herbal tea,
Talking about the ancient roots of Christmas traditions,
Making ornaments evoking ancient motifs
Galanty show and puppet making for kids
Where To Stay During Christmas?
The city has ample hotels, apartments and hostels in all price categories.
The Pest side of the Danube boasts a good number of high-end hotels.
Most are part of large international hotel chains (Four Seasons, Sofitel, Marriott, InterContinental) – offering panoramic views of the Buda side and the river.
TIP: If you want to be close to the main festive market then stay at a hotel near Vörösmarty tér.

The list includes most 5-star riverside hotels as well as less costly options located within walking distance of the square.
Opening Hours During the Holidays
Shops are open for the Bronze, Silver and Gold Sundays on the three weekends before Christmas.
Shops close around early afternoon on 24th December and open only on 27th December.
Some larger shopping malls might stay open until early evening on 24th December.
On Christmas Day and Boxing Day all shops, supermarkets are closed.
Many shops do not open between Christmas and New Year's Eve. Life gets back to normal after 1st January.
Restaurants are also closed on Christmas Eve (24th December), but some of them are open on 25th-26th December.
Thermal Baths Holiday Opening Hours in 2023
The city's famous thermal baths are during the year end holidays though with Sunday opening hours except for on Christmas Eve/December 24 when they close at 2 pm/14.00.
Please note also that holiday ticket prices are in effect in this period: Christmas and New Year.
December 24/Christmas Eve
All baths are open between: 06.00 – 14.00 (exc. the Király bath which is Closed)
December 25/Christmas Day:
December 26/Boxing Day:
All baths are open according to Sunday opening hours: Széchenyi: 06.00 – 22.00, Gellért: 06.00 – 20.00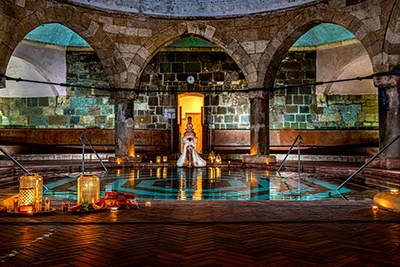 December 27-28-29-30:
All baths are open according to normal opening hours but with weekend prices (see on the individual pages of baths)
December 31:
Gellért, Széchenyi, Lukács the Rudas (for both sexes) and the Paskál Baths: 06.00 – 18.00 Király Bath: 09.00 – 18.00, Dandár & Palatinus: 08.00 – 16.00
January 01. 2024/New Year's Day:
All baths are open from 10.00 till their closing time (see on individual bath pages)
Public Transport at Christmas in Budapest
Public transport vehicles run until around 15.00-16.00. After 16.00 night services carry passengers.
On 25th – 26th December vehicles run according to holiday schedule.
Between 27th and 1st January services run less frequently than they do on usual weekdays.
It's also holiday at schools so all public transport runs according to schedules valid on school holidays.
TIP: You'll find exact information on public transport schedules around the holidays on this page.
Trams In Festive Lights
Budapest trams will turn into charming Christmas vehicles on 13 lines, twinkling with thousands of tiny LED lights.
Tram 2 that travels along the Danube Promenade, between Közvágóhíd and Jászai Mari tér), and this year
Tram 47 (Városház tér/Buda – Deák Ferenc tér/Pest)) are dressed in decorative lights during the Holiday Season together with 11 other tram lines.
The special holiday services operate between 01. December 2022. and 06. January 2023. (except for December 24. and 31.).
Tram 4 will run on 01. January, the first vehicle departs at 17.00.
See the departure times of the Christmas Trams here.
View our photos of Christmas Tram 2.
Some Hungarian Christmas Traditions
At Christmas we celebrate the birth of Jesus Christ in Hungary.
The main celebration takes place on Christmas Eve (it's Szenteste in Hungarian, meaning Holy Night).
Family members get together in the afternoon on 24th December, and decorate the Christmas tree.
Grandparents or elder brothers and sisters look after the little ones, so they won't see their presents placed under the tree.
The fragrant fir is adorned with colourful paper decorations and a special Hungarian Christmas candy (szaloncukor) wrapped in shinny coloured papers.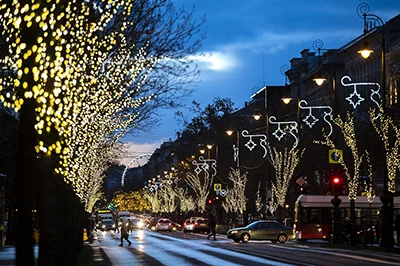 Housewives cook traditional Hungarian Christmas dishes in the kitchen.
We usually have
Fish soup,
Stuffed cabbage,
pastry rolls stuffed with poppy seed, walnut or chestnut stuffing (it's called bejgli in Hungarian).
TIP: Try our Authentic Hungarian Christmas Recipes!
Family members exchange gifts in the evening on 24th December while listening to traditional holiday songs.
In Hungary baby Jesus brings the presents, not Santa.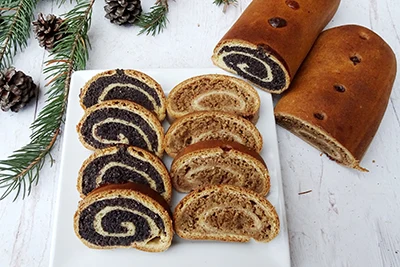 We celebrate the arrival of Santa on 6th December, St. Nicholas Day. At midnight people go to the midnight mass.
Organ music and pine scent fill the air in churches where people sing together classical Christmas songs.
Even non-religious people attend this mass because of its festive and uplifting atmosphere.
On the following two days relatives and friends visit each other at their homes, have traditional main dishes, and desserts and enjoy each other's company.
Weather Around Christmas In Budapest
When I was a little kid thick snow covered the streets by the end of December. The first snowflakes fell usually at the end of November.
The temperatures were around zero or below. Today it is hard to tell what will be the weather like around the end-of-the-year holidays.
Due to global warming we have not see any snow in the city in the past couple of years during the holiday. Some snow might fall in northern Hungary and in the hills.
The weather around the holiday is sometimes rather mild and dull, with some rain, and it's crispy and sunny with crystal blue sky at times.
I prefer the latter, though I long for white Christmas every year.
Find out more about Budapest Weather.
Other Holiday Programs In Budapest
Gala Concert of the 100-member Gypsy Orchestra
Date: 30th December 2023., 18.00, Budapest Congress Centre
The world famous 100-member Gypsy Orchestra performs a spectacular concert; they'll play both classical and traditional folk music.
Tickets are available with or without dinner and wine and/or snacks.
Related
See more programs in December in Budapest – New Year's Eve & Day Programs in Budapest – Likely To Sell Out: NYE Dinner & Cruise Party 2023/24 – Public Holidays In Hungary