Holiday Fairs At Various Venues You Don't Want To Miss
Come and explore our favourite Christmas Markets in Budapest from the most popular ones to smaller, more idyllic festive fairs.
The Hungarian capital was voted the most affordable Christmas Market destination in Europe a few years ago by the British Daily Mail!
This "award" is still valid especially now that the local currency, the Forint (HUF) is weak.
But you should visit the city's holiday-themed markets not only because they are budget friendly but because they have a unique and charming atmosphere and most of them are located at famous venues.
Quick Links:
Vörösmarty Square – Deák Ferenc Street (Fashion Str.) – TIP: Guided Christmas Market Tour – Gozsdu Court – St. Stephen's Basilica – Erzsébet Square – Whale (Bálna) – Várkert Bazaar – City Park – Allee Shopping Centre – Advent in Óbuda – Which One To Visit?
Apart from the best-known festive fair on Vörösmarty Square, the city has some other fabulous markets with
Unique craft products,
Tasty local food and drinks as well as
Great programs
Admission is free to all events.
I love strolling in the Budapest with our 2 boys during the Advent period when the streets and squares take on festive decor and lighting and we try to drop by each major Xmas fair.
Here's our list.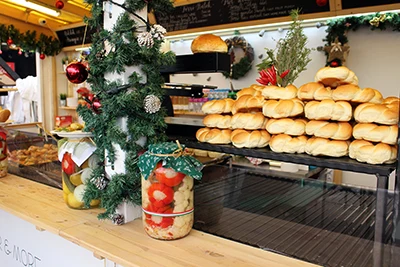 Chistmas Market at Vörösmarty Square
Location: Vörösmarty tér, district V., M1 underground (yellow line), M1, M2, M3 metro lines: Deák tér station or tram 2 Széchenyi tér stop: a couple of minutes walk from both stops
Date & Opening Hours
18. November – 01. January 2023.
Monday – Thursday: 11.00 – 21.00
Friday – saturday: 11.00 – 22.00
Sunday: 11.00 – 21.00
24. December: 10.00 – 14.00
25 – 26. December: 10.00 – 18.00
31. December/NYE: 11.00 – 05.00
01. January 2023: 11.00 – 17.00
This is the most popular holiday fair in Budapest with a central location on a plaza in front of the Gerbeaud Coffee House.
Around 100 stalls are set up around the slender Christmas tree that is decorated with different colours of ornaments each year.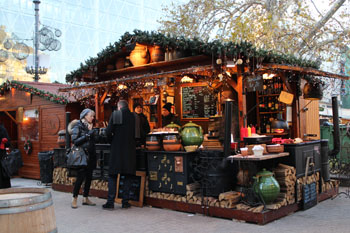 Concerts, craft and play house for children, the visit of Santa Claus on 6. December, delicious food:
Stuffed cabbage,
Goulash,
Grilled meats and sausages,
Flat bread (lepény) baked in clay oven,
Strudels,
Sekler cake, beigli, flódni and other sweets,
Fragrant winter beverages (mulled wine, krampampuli, grog, tea) are the best features of this holiday bazaar.
A varied program, folk, jazz, world music, soul, blues, crossover concerts offer entertainment on the centre stage between 17.00-20.00 on weekdays and between 16.00 – 20.00 on weekends.
Find out more details about Budapest's most popular Christmas Market, at Vörösmarty Square.
TIP: Check out our list of hotels located within walking distance to Vörösmarty Square.
See our photos taken on the 2019. Xmas Market.
Christmas Market Tour With Mulled Wine
TIP: Visit two of the city's largest holiday markets on a 2.5-hour guided tour that includes a visit to the St. Stephen's Basilica and Holy Right Hand Chapel.
You will also learn about local Christmas traditions and experience the holiday atmosphere along Andrássy Avenue and other at other popular Budapest attractions.
The tour ends at the Christmas Fair at Vörösmarty Square where you can warm up with a glass of spicy hot wine (included in the price).
Price: from 55 EUR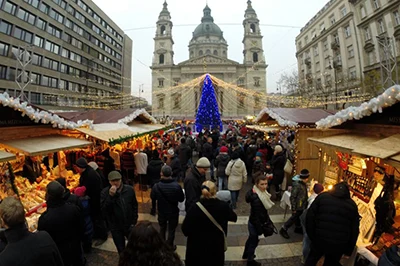 TIP: Find out about some other great Christmas and New Year's Eve/Day Programs in Budapest: festive concerts with dance performances, boat party and many more.
Christmas Market In Fashion Street/Deák Ferenc Street
You can do two markets in one visit because Fashion Street (Deák Ferenc utca) that cuts through Vörösmarty Square also hosts one: with a Christmas tree installation in front of the Hotel Kempinski Corvinus.
All sorts of
Food and drink offers,
Strudel,
Sekler Cake (kürtöskalács) and other pastries,
Oven-baked flat bread with delicious toppings and of course
Pottery, ceramics,
Embroidered folk textiles to tempt you to open your wallet.
And right after a walk along Fashion Street you can head to the Basilica on St. Stephen Square…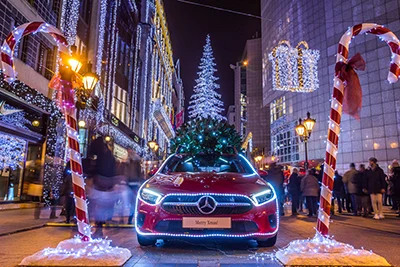 Best Programs To Experience Budapest In The Advent Period
Erzsébet Square – Christmas Market
You will find another no too big holiday market along the Western side of Erzsébet tér.
Chimney cake (kürtős kalács),
Pancakes,
Donuts,
Beigli and other local cakes, pastries, Christmas specialties,
Street food by Montenegro Gourmand (pljeskavica, cevap),
Mulled wine, tea and coffee our the main offer here.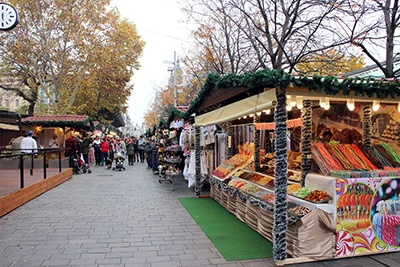 Besides food, you can buy fur hats, scarfs, postcards and other nick nacks here.
TIP: A bit touristy, but it's right in the centre. Walking along Fashion Street/Deák Street from the direction of Vörösmarty Square you'll end up at Erzsébet tér.

So you can visit 3 holiday fairs of Budapest at one go!
Christmas Fair at St. Stephen's Basilica
Date:
18. November 2022 – 01. January 2023.
See also our post about the Christmas Market Budapest Bazilika for more details
Opening Hours:
Mon – Thurs: 11:00 – 21:00,
Fri – Sat: 11:00 – 23:00,
Sun: 11.00 -21.00
December 24.: 11:00 – 15:00,
Dec 25. and Dec 26.: 10.00 – 20.00
December 31.: craft vendors:11:00 – 22:00, food & drinks: 11.00 – 03.00 am
01. January, 2023: 11.00 – 18.00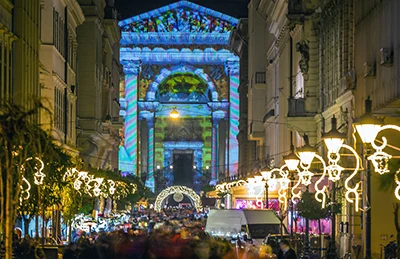 The spacious Szt. István Square in front of the Basilica gives home to an Advent Festival and Christmas Market from 18. November till the beginning of the New Year, 01. january 2023.
No other venue can be more fitting to a festive Christmas fair than the St. Stephen's Basilica in downtown Budapest.
The four and half week long event offers plenty of entertainment besides special artisan gifts for your loved ones.
Our sons especially love the 200 sqrm ice skating rink that is free for children. Another plus is that you can rent skates.
Handmade chocolate bonbons,
Leather gloves,
Design jewelry,
Strawberry wine,
Pálinka – the local's favourite distilate
Csabai salami and
more to see, buy and taste on the market.
Similarly to previous years you can also enjoy a spectacular light show on the facade of the Basilica in the evenings every 30 minutes starting at 17.30.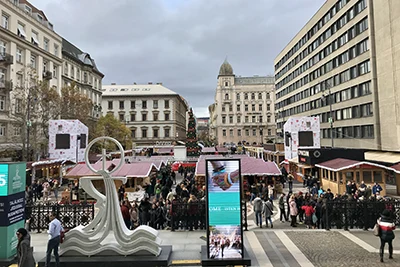 The fair will be bigger than previous years: Budapest's best street food vendors will offer delicacies in Zrínyi utca from Sas utca to Széchenyi tér.
You can have:
Lángos – locals' staple snack – deep fried pastry with cheese and sour cream or other toppings
Gourmet burgers by Zing Burger,
Salted kürtöskalács (funnel/chimney cake)
BBQ specialties
Fried cheese burgers by Paneer,
Burgers, grilled sausages by KIOSK (a popular downtown restuarant on Március 15. tér)
See our photos taken on the Advent Fair at Budapest Basilica .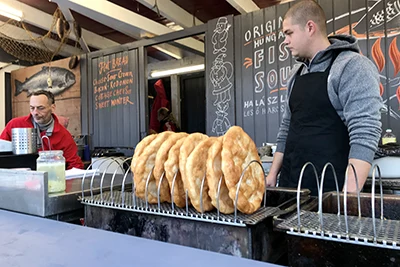 Programs Of The Christmas Market At The Basilica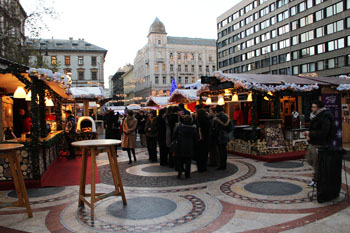 You can visit the following programs and events:
Opening Ceremony of the Market – 02. December at 16.00: the first light on the Advent Wreath next to the Christmas tree will be lighted and the occasion is also the official opening of the holiday fair.
Light Painting this year in 3D- spectacular light show and animation with festive themes every day from 16.30 till 22.00. Put on 3D glasses available at the market (or you can use your own) and enjoy the visual show!
Folk Dance – Performance by the Göncöl Folk Ensemble – Hungarian Dances Flash Mob performance in front of the Basilica
Awaiting Santa Claus – 06 December (at 12.00 – 16.00 and 17.00 – 18.00): well-known local people will dress up and play Santa with story telling and singing.
See the official site of the event for more details.
Whale/Bálna Building – Advent Festival/Ice Rink
Date: To Be Announced later
Address: Fővám tér 11-12., tram 2 or M4 (green metro) Fővám tér stop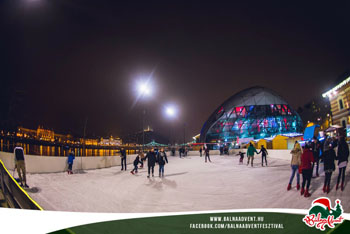 The steel and glass entertainment and shopping centre called Bálna/Whale on the Pest side of the river is is an ideal place for a Christmas-themed event.
The terrace offers amazing views of the Danube and the Buda side that you can enjoy while listening to
jazz & blues concerts (free),
sipping hot wine or
wandering around the stalls of merchants.
A 450 sqm Ice Rink awaits with amazing panorama which is free for everyone. Skate rental is available for 1 000 HUF/3 hours.
Opening Hours Of The Ice Rink
Mon – Thurs: 10.00 – 14.00, 15.00 – 22.00,
Fri-Sat: 10.00 – 14.00, 15.00 – 24.00
Sun: 10.00 – 14.00, 15.00 – 22.00
Christmas-New Year Opening Hours
24. December: 10.00 – 14.00
25 -26. December: Closed
31. December: 10.00 – 14.00, 15.00 – 18.00
01. January: Closed
Free ice rink with Disco from 18.00 every day.
St. Nicholas Day (Mikulás in Hungarian) on 6th December is one of the most awaited days of the year by children in Hungary because Mikulás (the local equivalent of Santa Claus) brings them small gifts, mostly sweets and fruits in a red packet.
If you have children you can await Santa at the Whale on on 03. and 04, December with programs starting from 15.00.
Várkert Bazaar (Castle Garden), Buda – Advent Programs,
Date: Sundays in December 2022
Address: Ybl Miklós tér 2-6., district I.
The Castle Garden Bazaar at the Buda side of the Danube will host a Advent programs with
Folk craft fair,
Concerts,
Food trucks,
A small ice rink
Free children programs each Sunday.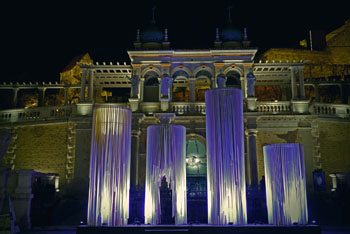 This is perhaps the most scenic Christmas fair in the city at the foot of the castle Hill overlooking the Danube and the Pest side.
After looking around the craft market you sure will be tempted by the tasty street food offered by the trucks: from local specialties (Kobe Sausages) to international favourites (burgers, piadina, waffels, pancakes) and hot drinks, the choice is ample.
Children Programs On Sundays (FREE), 11.00 – 19.00
Advent Craft Workshop:
decorating gingerbread,
lighting the candles on the Advent wreath
Concerts, Other Programs:
Sleeping Beauty by the Hungarian National Folk Ensemble on 04. December/Sunday at 17.00
Erika Miklósa & the Hungarian Virtuosi Chamber Orchestra, 11. December, 19.00-21.00 (tickets: 4 900-7 900 HUF).
Choir Festival on weekends: 04., 10., 11., 17., 18. December – open-air Christmas concerts by children and adult choirs in Lánchíd utca
Advent In City Park
Location: Városliget/City Park (next to Heroes' Sqr.)
Opening Hours: 09 – 21.00 every day, including 24-25-26 December and 01. January
Budapest's popular leisure park, the Városliget will be decked out for the seasonal holidays and welcomes everyone with
craft market,
food and drinks,
exciting family programs,
and special surprises for the little ones (free to attend).
You can says farewell to 2020 and toast to 2021 on a fantastic rock'n'roll street party on New Year's Eve.
Christmas Fair In Gozsdu Court, 06 – 24. December, 2022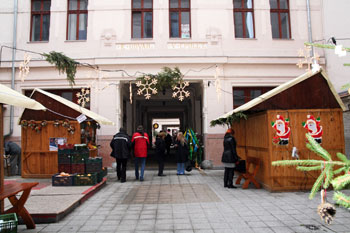 Location: Gozsdu Udvar, Király utca 13.-Dob utca 16., district VII., M1., M2., M3 metros Deák tér station
Opening Hours:
Weekdays: 12.00 – 19.00,
Sat – Sun: 10.00 – 19.00
24. December/Tuesday: 10.00 – 17.00
The party hot spot of the city hosts the weekly Designer & Antique Market: a place to get some nice, quality antique, vintage, retro, and design products.
In December the place turns into a festive market where you sure can pick up some unique gifts for your loved ones.
See more on their website.
See photos in our Facebook album.
Christmas Fair At The Allee Shopping Centre
Date: 20. November – 24. December 2022.
Opening Hours: Every day: 10.00 – 20.00
The small pedestrian street next to the Allee Shopping Mall also hosts a Christmas fair each year.
You will find nothing surprising at the vendors: clothes, accessories, gifts and knick-knacks, and the usual fair-staples: honey, jams, pálinka, mulled wine, flat bread/bread pizza.
Advent In Óbuda, Main Square (Fő tér)
Date: 27. November – 23. December 2022
Christmas Market Gastro Promenade Opening Hours:
Mon – Thurs: 14.00 – 21.00, Fri – Sun: 10.00 – 22.00
Admission: free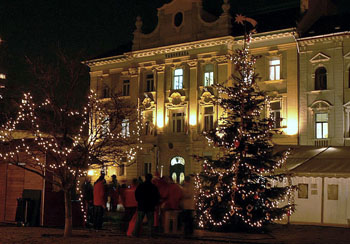 Although Óbuda (Old Buda), district III. of Budapest, is a bit out of the city centre, it is worth going to to the festive Advent fair that is starting on 01. December.
The event is held on the district's charming Main Square with a tall Christmas tree standing in the centre but programs are also held on Szentlélek tér, a square at 2-minute walk from Main Sqr..
Genuine handmade artifacts, fragrant Christmas drinks (mulled wine, tea, krampampuli), street food (flat bread baked in clay oven), traditional Hungarian dishes (fishermen's soup, catfish paprikash, stuffed cabbage, veal paprikash, roasted goose, grilled meats, sausages and a wide choice of programs (concerts, folk music and dance, children activities) welcome everyone.
A nativity scene,
animal petting area,
an antique merry-go-round,
lots of activities for children (ice skating, Santa Adventure Park on 05. December/Saturday)
concerts every weekend are the other allures of the event.
The ice rink (free entry) is open from the last weekend of November till end of February, every day between 08.00 – 20.00.
Which Christmas Market Should You Visit While In Budapest?
Naturally you won't have time to visit each holiday fair especially if you stay in Budapest only for 1-2 days and you would get sick of Xmas markets and the whole holiday anyway if you tried to do so.
To help you plan your visit we recommend three Xmas fairs we love the best:
1. The Christmas Market at Vörösmarty Square is a must (though it tends to be crowded especially in the afternoons and evenings) – it's easily accessible (the Deák tér metro hub is close by, but the M1 Underground/yellow line has a stop at the square) and is the official Xmas market of Budapest and everybody raves about it.
2. The Advent Fair at St. Stephen's Basilica – we felt the festive atmosphere the best at this event, might be due to the presence of the Basilica commanding the square.
3. Christmas Fair in Óbuda – you can kill two birds with one stone: explore this slightly hidden neighbourhood of Budapest and enjoy a great programs and food.
4. The Open-Air Winter Festival at the Palace of Arts is highly recommended too if you aren't after buying something just have a good time. Ideal with families with kids.
TIP: Take a ride on the special Christmas Trams – 6 lines in 2022 – that are decorated in festive lighting and run between the beginning of December usually till 06. January 2023. Tram 2 along the riverbank in Pest is the most accessible for tourists in the city centre.
Related:
Christmas in Budapest – Holiday Opening Hours – New Years' Eve Party & Cruise – December Programs – Hungarian Christmas Dishes