Why Choose Apartments in Budapest City Centre?
Budapest is a city of contrasts, with its fascinating blend of old and new architecture, rich culture, and vibrant nightlife. The city boasts of various types of accommodations, but if you're looking for the perfect place to stay, then the apartments in Budapest city centre are a great choice.
These apartments offer the convenience of staying in the city centre with easy access to public transportation and various attractions, as well as the comfort and privacy of your own space. Whether you're visiting Budapest for a short stay or a longer one, the apartments in Budapest city centre are an excellent choice. In this article, we'll explore some of the best apartments in Budapest city centre to help you find the perfect one for your stay.
A wide choice is available in centrally located, short term holiday rentals where you can have comfortable accommodation at affordable rate.
Apartments in Budapest City Centre Room rates in an apartment in the most central districts (V., VI., parts of VII., and VIII.) start from around 50 – 60 EUR (prices go up by around 20 %in the high season – from cc. 01. March to 31. October – and around popular events, holidays and festivals like the Sziget Festival, F1 Hungarian Race, Christmas, New Year's Eve and Easter)
If your intention is to splurge and indulge yourself you'll find numerous high-end villas and luxury condos as well.
Rates include 18% VAT but exclude 4% city tax.
Table of Contents – Apartments in Budapest City Centre
Main Reasons to Stay in an Apartments in Budapest City Centre:
Budget- Friendly
A serviced apartment offers more comfort, space and privacy for less than a faceless chain hotel. It's especially cost-effective when you travel with your kids or a group of friends, colleagues.
Budapest has some nice, reasonably-priced apartments in the city centre ideal for
families with kids or
a group of friends who want to have more space/privacy than a traditional hotel can offer
Ample Selection Regarding…
size
number of rooms,
location,
amenities,
furnishing, and
level of service
as mentioned above you can find nice two- or three-bedroom flats in any of the central areas suited to families with children.
You can also get pet-friendly rentals if you're bringing you cat/dog with you on your city holiday.
More Opportunities To Meet And Get To Know Locals
The owners of the rental properties are usually locals or expats who've been living in Budapest for some time so they know the city inside out, ready to give you tips on what to see and do during your visit.
They'll also make sure you feel at home during your stay helping you with any questions, problems.
Of course ideally this is the case when staying in a hotel but an apartment leaser relies more heavily on their guests' satisfaction and feedback so they will work 100% to ensure everything is fine.
Good To Know:
Check-in time in most Budapest apartments is from 14.00 (2 pm), check out is usually by 11.00 (same as in hotels).
A minimum stay of 2 nights is almost always required.
Toiletries, food and drinks aren't provided (some apartments provide complimentary coffee/tea, see the Central Passage Apartment below, or a small welcome basket)
Parking is usually not available.
Top Picks in Apartments in Budapest City Centre
Here are some options that are 100% reliable with good reputation, at superb location, modern, clean – often recently refurbished – apartments, with kind, helpful owners/staff.
These are places where me and my family would happily stay at if we were tourists in Budapest.
Photos are from the official websites.
By Area/District: District V./Downtown – District VII/Jewish Quarter
Katona Apartments
Location: Petőfi Sándor utca 6., district V., inner city
The Katona Apartments are in the heart of the city, in a street running parallel with the famous Váci pedestrian street in district V.
Everything can be accessed by walk. The Danube Promenade is close to the apartment.
It's a scenic a walkway stretching between Erzsébet Bridge and the Chain Bridge offering a fine view of the Buda side with the Royal Palace and the Danube,
The partially pedestrian Main Street of Budapest is also nearby packed with cafes, bistros, cute designer shops and benches inviting you to sit down and contemplate the busy city life.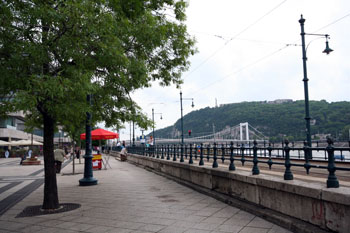 You can
Transportation options are excellent: the M3 metro (blue line) station at Ferenciek tere is just a short walk from the flat.
About The Apartments:
There are
three studio-size,
a one-bedroom and
a two-bedroom flat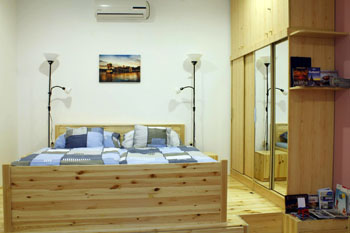 All of them are fully furnished, light, with WiFi and wired internet, LED TV, sheets and bed linen are provided.
You'll also find a washing machine, hair drier, liquid soap, shower gel, towels, in the bathroom.
The kitchen is well fitted too with electric cooker and oven, fridge, microwave, electric kettle, toaster, coffee machine, plates, cutlery pans and glasses as well as other utensils.
Tourist guides with maps are also there for you to skim through.
Rates:
low season (01. November-15. December, 04. January-15. March). Studios (1-4 persons): 38-59 EUR/night depending on number of people, 1-bedroom (max. 4 persons): 48-69 EUR/night, two bedroom (accommodates up to 8 people): 68-129 EUR
tourist season: Studios: 48-69 EUR/night, 1-bedroom: 58-79 EUR/night, two-bedroom: 78-139 EUR/night[/checklist]
Baby cot, plastic bath, high chair, toys and other stuff for families coming with children can requested and aren't charged for.
Paprika Apartments
Location: Károly körút 25., district VII.,
The Paprika Apartments are near the Great Synagogue in Dohány Str and other Jewish Sights.
The area also offers a range of restaurants, fast food bars, cafes, nightlife spots (Akvárium on Erzsébet tér, Gozsdu Sky Terrace – a fairly new rooftop bar),
Website
It's a family-owned 30 sqm apartment on the 1st floor of a tenement house, ideal for 2-3 people
A great location close to downtown, the party neighbourhood of district VII., with excellent public transport connections (Deák tér metro station – 3 metros, trams 47, 49).
Paprika is a nice, clean place with basic but comfortable furnishing (queen size bed, desk, armchair, wardrobe, PC with free WiFI, TV, DVD player, drier, washing machine, towels, even toilette paper and soap are provided, fridge & freezer, electric hotplate cooker, coffee maker, microwave, pans, plates, cutlery glasses, cups and a range of other kitchen utensils are also there for you to use.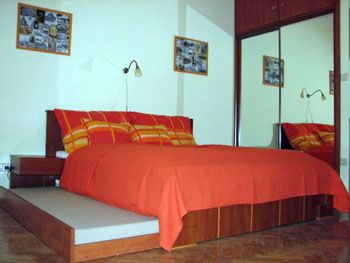 You'll find a couple of tup-to-date travel brochures to help you find your way around the city and browse sightseeing options and programs.
Why We Recommend?
It's owned and managed by a local family (Kriszta and her mother) who are the ideal hosts:
kind,
welcoming,
helpful with tips and practical advice on what to see and do in the city, where to change money, where to eat goo etc.
The apartment is very centrally located.
You'll have almost all historic landmarks within walking distance, but also very close to the famous ruin pub and clubbing area of district VIII. (Gozsdu, Kazinczy Street etc.)
Rates: cc. 25-28 EUR/person/night children under 3 years can stay for free (crib can be provided), children older than free are charged 10 EUR/night. Check availability!
7 Seasons Apartments
Location:
Király Street, district VI., a very good location
in the centre of the historic Jewish quarter close to
lots of restaurants,
cafes, bakeries,
bars and clubs
shops,
cultural sights.
Several public transport services run close by. Deák tér, where 3 out of the city's 4 metro lines meet, is just a short walk.
Apartment Sizes: studio (37 sqm), 1-bedroom (50 sqm), 2-bedroom (62 sqm), 2-bedroom superior (80 sqm), 3-bedroom (100 sqm)
Why We Recommend Them?
They've been offering apartments for rent for several years now, receiving very good guest feedback on accommodation review sites such as Tripadvisor,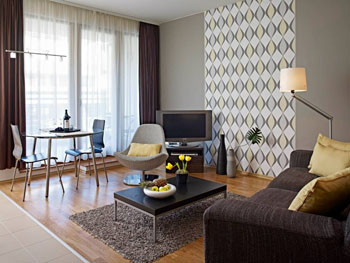 it's a family-friendly apartment
with all sorts of equipment provided to make the stay for travellers with small children hassle-free and comfortable,
good value for money.
About the Apartment
Fully furnished and serviced flats with all modern conveniences:
air-conditioning,
free high-speed WiFi,
safety box,
flat screen TV,
Kitchen is equipped with everything you need during your stay (electric stove and oven, dishwasher, fridge with freezer, coffee and tea maker, toaster, microwave, kitchen utensils, plates, cutlery, bed linen and towels are provided, there's iron and ironing board
The 2-bedroom superior and the 3-bedroom flats have two separate bathrooms and a toilett.
Rates (incl. 18% VAT but not incl. 4 % city tax):
Studio apartment (one room that measures 37 sqm with sleeping, kitchen and dining area): around: 90 EUR in low season,110 EUR in tourist season (cc. 01. Apr-01. Nov)
1-bedroom: low season: cc. 100 EUR, high season: 150 EUR
2-bedroom: low season: cc. 130 EUR, high season: cc. 215 EUR
3-bedroom: low season: cc. 195 EUR, high season: cc. 300 EUR
Family-Friendly:
The 7 Season Apartments offer several amenities for families travelling with children. including but not limited to:
baby cot with mattress and bedding,
baby tub,
high chair,
plastic plates, cups and cutlery
These are all free of charge.
What's more, no rate is applied for up to two children between 0-6 years of age (sleeping in existing beds or in a crib). Children (max. two) aged 7-12 years are charged 5 EUR/night/person.
7 Season Apartments are receiving constant good reviews where travellers praise the kindness of the staff, cleanliness, excellent location. They are one of the best-value vacation rentals in Budapest.
They also offer some special packages from 01 April to 31. October (airport transfer or parking are included): romantic 3-night stay for couples, family vacation, holiday for people over 50, special stay for party-goers.
See more details about these offers.
Central Passage Apartments
Location: Király Street 8., district VI.,
The location is the same as the 7 Season's so you can be very close to all the sights, attractions, transportation, shopping and services as well as the always buzzing nightlife of the neighbourhood.
The Central Passage, a covered courtyard at Király utca 8 – 10., gives home to Budapest's first night market on Thursday between 13.00 and 21.00 where you can browse among and buy handmade food stuff (cheeses, sausages, pates), the offer will hopefully grow with the opportunity to buy fresh veggies and fruits.
The apartments are named after coffee drinks, maybe because a Nespresso machine is provided in each apartment with complimentary starting pack of capsules:
Espresso Studio (30 sqm) – costs cc. 70-72 EUR/night
Cappuccino Apartment (45-50 sqm), costs cc. 75-78 for a night EUR, and
Latte Suite (65-70 sqm) – when up to 6 people can stay comfortably. It costs cc. 105-108 EUR/night.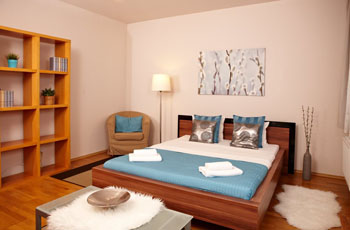 All apartments have balcony with views of the area that is mostly residential, so do not expect breathtaking vistas of the Danube and the bridges,.
But it's still a nice spot to savour a drink in the evening.
The flats are comfortably furnished.
The kitchen and bathroom are fitted with modern appliances (electric cooker with oven, dishwasher, electric kettle, washing machine, hair drier).