History, Luxury, Central Location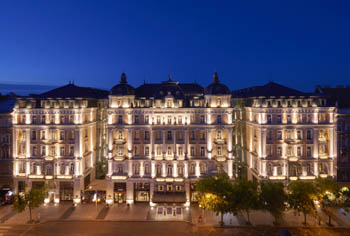 Address: Erzsébet körút 43-49. district VII.
With several awards and excellent reviews the Corinthia Hotel, the inspiration for Wes Anderson's Oscar-awarded movie, the Grand Hotel Budapest, is one of the best-value luxury hotels in Budapest.
Prices start from cc. 250 EUR/night/2 persons (VAT and City Tax are not incl.)
Looking back to more than 100 years of history this magnificent 5-star hotel complex ensures a memorable hotel experience.
Situated along the Grand Boulevard (Nagykörút), a hip ring road in Budapest's centre, Corinthia Hotel combines everything a fine hotel should.
Table of Contents – Corinthia Hotel Budapest
Reasons to Stay at Corinthia Hotel Budapest
Excellent location (Erzsébet körút 43-49., VII. district)- close to many sights and attractions, good transportation connections
A beautiful historic building – received Europe's Best Hotel Architecture Award – Corinthia has character unlike some other luxury lodgings that offer excellent service but lack style.
Spacious, comfortable rooms furnished in understated elegance and with all the modern conveniences.
Splendid Royal Spa – a place for utter relaxation
Great restaurants each offering different tastes of the world's cuisines
Courteous, professional staff that pays attention to every detail ensuring that their guests feel at home in a foreign city. They are not in your face all the time being after for tips but they're always there when you need assistance.
Great value for your money- though it's a pricey 5-star hotel but you get a high level of service.
Awards
Corinthia regularly recieves prestigious awards and titles by various tourism websites and hotel associations.
In 2009 the it won
the Best Luxury Hotel in Budapest title and
the hotel regularly gets into the "Best Service Europe Top 20" and the "Best Hotels in the Top 25 World Cities" lists.
These awards are based on thousands of travellers' reviews published on www.tripadvisor.com, one of the largest online travel communities on the world.
"Extraordinary value" and "spectacular service" are the main criteria to reach top spots within the award.
The hotel is also part of the
Most Famous Hotels of the World too and
the Expedia Insiders' Select list (top 1% of the cc. 80 000 hotels and resorts covered by Expedia)
The Corinthia Grand Hotel Royal also won the "Best Conference Facilities Hotel in Budapest" award.
History of Corinthia Hotel Budapest
The predecessor of today's Corinthia was the Royal Hotel built during the massive reconstruction project of Budapest in the second half of the 19th century.
Built in French renaissance style the Royal Hotel opened in 1896 for the Millennial celebrations.
Even at that time it was a large hotel with
232 rooms,
20 suites and
all the modern conveniences of the era.
It had two restaurants, a cafe, a Gerbeaud confectionery, a cellar with a bar. The Ball Room became a regular host to exhibitions and concerts.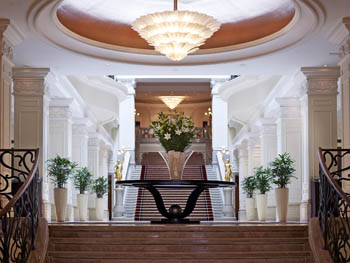 During the II. World War the Royal functioned as an office building. In the 1956 revolution much of the building was destroyed.
It reopened in 1961 with 367 guest rooms but it didn't manage to restore its old fame.
Finally the hotel closed down in 1991.
Today the Malta-based International Hotel Investments (IHI) company owns the Corinthia Hotel in Budapes.
They restored the splendid building to its original splendour and reopened the hotel in 2003.
The reconstruction's aim was to keep and restore the old architectural elements of the original building.
This is represented best by
the façade and
elegant and spacious lobby with
its sweeping staircase -parts of which are original- marble floors, and artful lighting.
The glass roof-covered atrium soars six stories high creating and airy feeling.
The comfortable sitting provides ideal spot for daily meetings or just to take a rest and delight in the magnificent interior.
Another amazing part of the hotel is the baroque Grand Ballroom
Rooms – Suites – Residences
Today the hotel offers five-star luxurious accommodation in 414 rooms on 6 floors, including 98 lavish suites
executive (70 sqm),
junior (63 sqm)
deluxe (69 sqm),
signature(140 sqm), and
presidential (240 sqm).
For travellers coming on a longer stay one of the spacious residences is an ideal choice.
Room Types
Superior – with King or Twin bed (28 sqm)
Deluxe King (34 sqm)
Executive King (34 sqm).
The rooms, and the whole hotel, exudes harmonious combination of
old-world charm and
21st century comfort.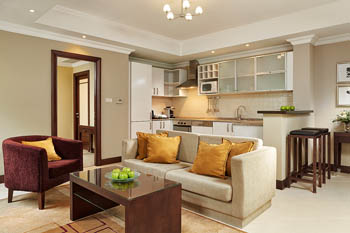 Rooms are decorated with top-quality materials and include modern conveniences you expect from a modern upscale hotel.
The spacious marble bathrooms boast large bathtubs and standalone showers.
All rooms have
free Wi-Fi and
high-speed cable internet access,
coffee and tea making facilities
There are special rooms for guests with wheelchair.
When you book an Executive room you get access to the the Royal Spa and the Executive Club floor with
snacks all day round, and
complimentary drinks before or after dinner.
The comfy armchairs and sofas ooze muted elegance – perfect for laid-back conversations or informal business meetings.
Luxury Apartments in Corinthia Hotel Budapest
As part of the 100 million-Euro investment 26 uniquely designed first-class apartments were constructed in the nice inner garden for guests visiting Budapest for a longer period of time.
You can access the apartment complex, called the Royal Residence, through
a separate entrance or
from the hotel itself through a covered walkway.
See more tips on Luxury apartments in Budapest.
Services
Royal Lounge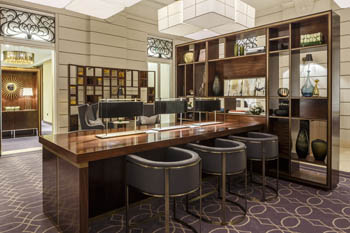 The Lounge provides the following complimentary services:
buffet breakfast – easily the most abundant and sumptuous in the city with a wide choice of both cold and hot offerings
afternoon tea or coffee with pastries,
snacks and refreshments throughout the day,
evening cocktails,
library,
comfortable canapes, where you can leaf through major international and national newspapers and magazines,
TV set with VCR
The lounge & bar on the ground floor is an island for relaxation but is also a place where you can conduct business activities in peace.
Early Bird Breakfast
For early risers there's breakfast served between 5.00-7.00 in the Royal Hársfa room (included in the room price).
Further Services
Royal Germaine Beauty Parlour including hairdresser, beautician, pedicure & manicure, massages
Business Center with photo copy, printers, fax, CD, DVD writing, internet.
Garage: The hotel has its own large garage for 250 cars and 7 buses. It also offers a car wash service.
Pets are allowed in the hotel for extra charge.
Free shuttle bus to the spa in the sister hotel, Corinthia Aquincum Royal.
Restaurants in Corinthia Hotel Budapest
The hotel has a wide choice of restaurants and cafes all lead by professional staff where you can taste both local and international dishes.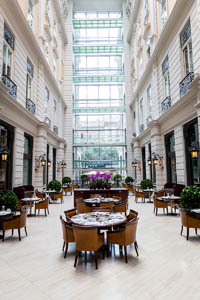 Le Brasserie Royal & Atrium Restaurant
Open: Tue – Sun: 07.00 – 23.00
The Le Brasserie is located next to the main lobby and offers a la carte international and Hungarian dishes.
You can enjoy your meal outdoor in the atrium.
It also hosts the best Sunday family brunch in Budapest (Very Important Kids, every Sunday at: 12.00-15.00)
Rickshaw Oriental Restaurant & Sushi Bar
Open: Tue – Sun: 18.00 – 24.00
The Rickshaw Restaurant specializes in Southeast Asian dishes and it also has a sushi bar.
See other Japanese Sushi Restaurants in Budapest.
Bock Bistro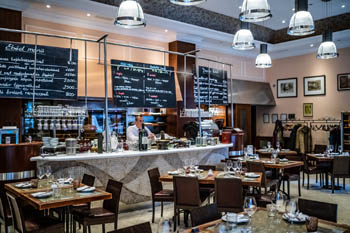 Open: Mon – Sat: 11.00 – 23.00
Attached to the hotel building, Bock Bistro offers a taste of the best Hungarian wines and traditional local dishes.
One of the best places to savour Hungarian flavours!
Read more on where to go for wine tasting in Budapest.
Caviar & Bull
Open: every day: 17.00 – 00.00
Caviar & Bull opened in 2018 under and the famous Maltese chef Marvin Gauci heads its kitchen. Caviar & Bull brought superb Mediterranean cuisine to Budapest.
You can choose form two degustation menus with 8 -9 inventive meals featuring molecular gastronomy:
Cosmopolitan, and
Contemporary.
The restaurant has an extensive wine list including a wide choice of local and international wines.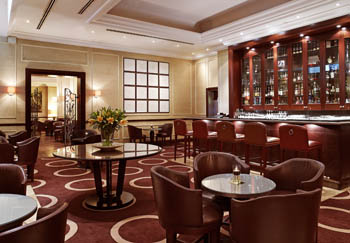 Le Bar and Lobby Lounge
Open: daily 10.00 – 01.00
The casually elegant bar in the central lobby serves drinks and light snacks throughout the evening.
The live piano music in the background ensures pleasant atmosphere.
Orfeum Club
The club evokes a Golden Age atmosphere. Here you can enjoy live jazz, swing and contemporary music as well as variety shows and other performances.
You can enter the club directly from the hotel's lobby or from the street.
See other classic Budapest cafes.
Spa & Wellness – Luxurious Pampering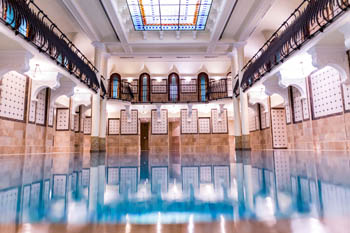 The exquisite Royal Spa of the hotel sprawls on 1000 sq. metres providing plenty of opportunity for revitalizing and recreation.
The original spa opened in 1886 and the present owners of the hotel, the Corinthia Group, invested large amount of money to refurbish the spa centre
They restored it to its original glory.
The complex has a 15-m long swimming pool along with
steam baths,
jacuzzis,
tropical rain showers,
Niagara bathtub,
seaweed bath
saunas,
fitness rooms, and
a range of classic and modern massage therapies.
Opening Hours of the Royal Spa
Spa: every day: 06.30 – 22.00
Spa tretaments: every day: 08.00 – 20.00
Spa: every day: 06.30 – 22.00
Spa tretaments: every day: 08.00 – 20.00
Note: children under the age of 16 are not allowed in the Royal Spa to ensure the complete relaxation of adults.
TIP: Budapest has a handful of spa and wellness hotels if you're looking for a relaxing stay!
Conferences & Meetings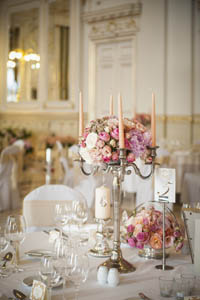 The hotel deserved the "Best Conference Facilities Hotel in Budapest" award because it truly caters for the needs of
conferences
meetings and
workshops.
The conference and meeting facilities are on the ground floor of the hotel:
The Grand Ballroom, the largest event room, can seat 450 people. The adjoining smaller rooms are for breaks during a conference or to host smaller meetings.
The Valette Conference Centre can be divided into 12 smaller rooms.
The huge Valette Exhibition Centre is connected to the main hotel building with a covered bridge. The 740 sq. meters room is perfect for displays or large-scale events.
Top-notch technical equipment are provided.
A whole staff in Corinthia is responsible for organizing and managing events to ensure that everything is arranged to the customer's request.
You can contact the Corinthia Event Assistant by mobile phone 24 hours a day to help you organize your event.
Room Rates
Room prices in Corinthia Hotel Budapest are between cc. 140 – 500 EUR depending on room type and the season.
Here you'll find more hotels in Budapest with 5-star rating.
Attractions Nearby
Sights and attractions abound in the neighbourhood of the hotel and the central location allows you to explore them on foot.
Similar Hotels:
Four Seasons Budapest Gresham Palace – Aria Budapest Luxury Boutique Hotel – Prestige Hotel Budapest, a New Design Hotel in the City centre – Sofitel Budapest Chain Bridge Hotel – Boscolo Hotel Budapest New York Palace – The Ritz Carlton Budapest – Hilton Budapest City – Iberostar Grand Hotel – Buddha Bar Hotel Budapest – St. George Residence Luxury Boutique Hotel – See Our Facebook page