Price of Food, Eating Out, Transportation and Other Services
See how much the most important things cost in Budapest to give you an idea about cost of living in the Hungarian capital.
There's a common misconception that Budapest is a cheap city to live in or to visit as tourist.
Table of Contents – Costs Prices Budapest
Since we live here (and visited other countries and cities in the neighboring countries), we can compare prices in Budapest to that of in popular cities in Central Europe (Prague, Vienna).
The fact is that our city is still quite affordable regarding accommodation, food, admission to museums and other sights, though it's true that commodity prices and apartment rental fees have on the rise in recent years.
How much you will spend during your visit depends on your needs.
If you wan to splurge, stay in a luxury Budapest hotel and eat in upscale restaurants then you have to dig deeper in your pocket.
The good news is that Budapest offers budget travellers a wide choice in affordable accommodation and eating out options, too.
Currency in Budapest, Hungary
Money Exchange Tips
Hungary's official currency is the forint (FT, HUF). The country is expected to join the Euro zone around 2020.
TIP: It is best to pay in the local currency: Forint, for most everything: services, food, in shops, tours, museum tickets etc. You pay less than you would in EUR or other foreign currency. ,
Larger shops, popular restaurants in Budapest's city center accept Euro, and US Dollar but usually at higher exchange rate, so you end up paying more than you would in the local currency.
So it's best to have cash in Hungarian forint with you.
Don't exchange money at people offering it to you on the stree. Vaci Street is a typical place where people might approach you and offer you to exchange your currency), however tempting may their offer seem, avoid them because you'll likely get cheated.
You get fake money or a bunch of papers for your money.
Avoid changing money at the airport or train stations too! Exchange bureaus at at these places usually work with inflated rates.
Exchanging Money in Currency Exchange Bureaus in the City center
TIP: For the most favorable rates, change money at a reliable exchange merchant in the city. They have lower rates than most banks, or withdraw currency from an ATM.

You will find plenty of them in the city center and in major shopping centers. But do find out how much your card provider charges for transactions in a foreign country (usually between 0.5 – 1.5 % of the midpoint exch. rate.
Hungary is a pretty safe and good (meaning financially favorable) place to change currency.
Check rates and calculate how many Forints you will get before doing the transaction. Exchange bureaus display two prices for each currency: a "Buy" Rate and a "Sell Rate".
If you want to buy Forints you need the "Sell rate" (it is lower than the "Buy rate") because you're selling your local or other currency for HUF.
Calculate the difference between the two rates (known as "spread" in the monetary world).
You are good if it is less than 2 % ( less than 1 % off the midpoint – For up-to-date midpoint exchange rates between other countries' currencies use the XE website.. TIP: a good website to search for the best exchange rates in Budapest: Valutacentrum (its only drawback is that it is only in Hungarian).
Reliable Exchange Bureaus in Budapest's City Centre, District V.
These are trustworthy, legitimate companies offering favourable rates:
Northline
They have several bureaus in district V.:
Two in Váci Street at: No. 86. (near the Great Market Hall) and 36.
at No. 2. in Kígyó utca ( a small side street of Váci utca)
Two in Petőfi Sándor utca runs parallel with Váci Str.) at No. 1. and 12.
One in Sas utca at No. 10-12., near the Basilica
Bálint Change
in Régiposta utca at No. 15 (a small street crossing Váci Str. between Vörösmarty Square and Elizabeth Bridge).
at Kálvin tér 1. (at Hotel Korona).
Using Credit Cards
If you don't want to carry cash with you you can pay with your credit card.
Visa, Master Card, American Express are widely accepted in larger stores, and in most restaurants. In small shops and food markets you can pay in cash only.
The sticker of the accepted cards are displayed in shop, and restaurant windows.
Coins: 5, 10, 20, 50, 100 200 (introduced in June 2009 to replace the 200 banknote).
Bank notes: 500, 1 000, 2 000, 5 000, 10 000, 20 000.
How Much Money to Bring?
Budapest is said to be a low-cost city though we locals think otherwise because Hungarian wages are much lower than in the US or Western European countries.
So if you come from these regions you can have a really good time here on a low budget.
If you have your accommodation sorted out and don't plan to do anything fancy or eating at a Michelin-star place then you can calculate with a 40-50 EUR daily budget.
Cost and Prices in Budapest
Accommodation Prices
5-star and 4-star hotel room rates : 100 – 300 EUR(double room).
Budget Hotel room prices: 30 – 50 EUR.
Hostel room prices: cc. 12 EUR in dormitory, cc. 20-23 EUR in single room, cc. 15 EUR in double room (person/night).
Apartment rental in Budapest – a budget apartment in a central district is around 40 – 60 EUR /night (or lower).
Note: Hotel room prices and apartment rental fees depend on the season. The majority of hotels have higher prices (by min. 20 %) during summer, Easter, the Formula 1 Hungarian Grand Prix, Christmas and New Year's Eve.
Related Information:
TIP: Before booking your accommodation, always compare room rates online to get the lowest prices. Try to look for special offers (e.g. 3 nights for 2 during winter in Budapest) or discount packages for further savings.
Don't forget to read Travellers' Hotel Reviews because the cheapest hotel is not always the best choice.
Budapest Card (from 01. April 2018)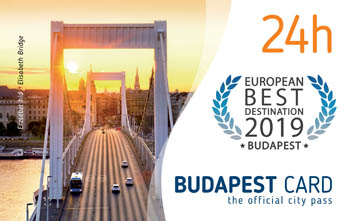 You can choose from 6 cards based on duration + a card for children aged 6 – 18.
The card comes with numerous benefits including:
Free use of the whole public transport system, including the 4 metro lines along with free and/or discount entry to the thermal baths, museums, and other attractions.
See more details on Budapest Cards: what's included and buying options.
Restaurant Prices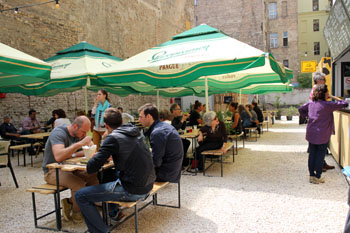 2-course Menu in a good cheap street food place (like the Bors GasztoBar, Kazinczy Street: small menu is 970 HUF, the Séf utcája or Buja Disznók in the Downtown Market/Hold utca, Hummus Bar for vegetarians) or self-service restaurant (Mycanteen in Váci Street, No. 81.: they even have Paleo menu for 1 490 HUF, the cheapest "normal" menu is 850HUF, Metropolitan Cafe at GreenPoint Irodaház Office: Kéthly Anna tér 1, distr. VII.): 900 – 1 300 HUF
Pizza (32 cm): 1 200 – 2 000 HUF
Gyros (Kyros Gyros in Hegedüs Gy. utca, Kerkyra is also good at Eötvös utca 5., district V. (near Hunyadi tér Market) 600 – 800 HUF
Meal in a high-end restaurant like Arany Kaviár in Buda Castle, Salon in the New York Palace (soup or dessert and main course): from 7 000 – 15 000+ HUF.
Tasting menus (without drinks) in Michelin-star places like Costes, Costes Downtown, Onyx are from around 20.000-30.000 HUF/person. Service fee (12-15%) may or may not included in the price.
McDonalds Menu: 1 200 HUF – you'll find a McD., Burger KIng, KFC at every corner in Cnetral Budapest and in every Shopping Centre.
TIP: For cheap eats go to one of the market halls in Budapest where you can have inexpensive snacks both savory (lángos, scones), and sweet (strudel, various pastries). You will also find many bakeries and fast food bars (gyros, kebab, burgers, hot-dog) in the centre.

The Central Market Hall at Liberty Bridge has some cheap eateries on the first floor, but the best one with really good quality, tasty food is the already mentioned Downtown Market in Hold Street.
The markets are also the best places to buy souvenirs and stock up on some Hungarian specialties like Hungarian paprika.
Further Restaurant Tips
Tipping
Some restaurants charge 10-15 % service fee which should be displayed on the receipt. In this case tipping is not expected from guests.
If there's no service fee charged you can give around 10 % tip to the waiter either by rounding up the bill, or giving the amount to the waiter/waitress when settling your bill.
Cost of Parking in Budapest
There are 5 parking zones in Budapest.
In the most expensive zone the parking fee is 525 HUF/1 hour (city centre, Buda Castle, Margaret Island). In other parts you have to pay 265 – 440 HUF for 1 hour parking.
The lowest tariff is 175 HUF/1 hour in the suburban areas.
Parking Fine
If you exceed the period you paid for or forget to drop more money in the parking ticket machine, and get caught, the fine will be calculated as follows.
There is 5 500 HUF base fee to which 2 hours parking fee is added.
Prices of Basic Items, Services in Budapest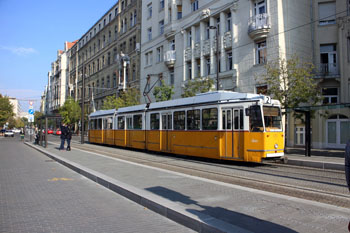 Single ticket for public transport Other Budapest public transport ticket prices: 350 HUF.
A loaf of bread (1 kg): 400 – 1 000 HUF, depending on quality.
1 litre milk: 250 – 300 HUF.
Mug of draught beer: 400-600 HUF (or more if you have a thing for craft beers).
A bottle of beer (0.4 – 0.5 litre) in shops: 200 – 600 HUF.
A glass of quality wine (1 dl): from cc. 600 – 700 HUF. can be more in the top wine bars.
A bottle of wine in shops: 1 500 – 4 000 HUF (don't bother with cheap 800 – 900 HUF wines).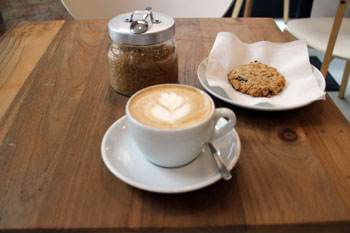 A shot of espresso: 300 – 450 HUF (or more if you drink only
A cup of cappuccino: 400 – 650 HUF.
A cup of tea: 300 – 500 HUF (or higher in a specialty tea shop).
A cup of tea: 300 – 500 HUF (or higher in a specialty tea shop).
A slice of cake: 300 – 600 HUF (naturally not in Gerbeaud or the New York Cafe, a cake starts from around 2 000 HUF).
1 litre petrol/gasoline (95 octane): 380 – 420 HUF.
Cinema ticket: 1 400 – 1 600 HUF.
Museum entry fees (permanent exhibits, tickets to temporary exhibits usually cost more): 800 – 3 000 HUF.,Classical Music Concert ticket: 3 000 – 10 000 HUF.
Guided tours Recommended Budapest tours.: cc. 35 – 100 EUR.
Cruise on the Danube: with buffet lunch : 40 EUR, with dinner and live music: 54 EUR, with cocktail/beer: 26 EUR, with wine tasting: 33 EUR.
High-speed internet: 5 000 – 10 000 HUF/month.
Taxi Fares
All taxi companies in Budapest charge a flat rate that comprises of:
A base rate: 700 HUF + cost per Km: 300 HUF + waiting fee: 75 HUF/minute).
Motorway Toll In Hungary (Vignette)
In Hungary every motorway is a toll road, administered by the National Highway Authority (Á.A.K. Zrt.).
The roads
M0 (that forms a half ring around the city of Budapest),
M2 and
M15 although are divided multilane roads, they are not considered as motorways, and can be used free of charge.
Types of E-Stickers and prices for the D1 category of vehicles (motorcycles, and motor vehicles with a maximum total permissible weight of 3.5 tons, including any trailers):
10-day: 2 975 HUF for cars, 1 470 HUF for motorcycles
Monthly: 4 780 HUF
Annual: 42 980 HUF
The stickers can be used for unlimited trips on every highway, within its validity period.
For up-to-date prices please check website of the Hungarian State Motorway Management Company Ltd.
Authorisation for road use can be purchased/registered at petrol stations (gas stations) all around the country. The purchase receipts should be kept for at least half a year after the trip.
Foreign travellers can also by the e-vignette through the following on-line retailers:
Buying Motorway E-ticket in Hungary
Related:
Public Transportation – Car Hire in Budapest – Shopping in Budapest – For Business Travellers