Nice Hotel in a Busy Neighbourhood
Address: József krt. 5., district VIII., trams 4-6, M2 metro-Blaha Lujza tér stop
The Marriott Courtyard Budapest City Center near Blaha Lujza Square, within a brand new shopping center (Europeum), offers a combination of
central location,
contemporary convenience
ideal both for business and leisure travellers.
Table of Contents – Courtyard by Marriott Budapest City Center
Why Stay?
The 6-floor hotel welcomes guests with spacious rooms in eight categories, high-speed internet and the Oleo Pazzo Bistro offering Mediterranean dishes.
The top-floor rooms offer fine views of the city center, though rooms facing the street can be noisy.
Reliable, Marriott standards, quality service and professional staff.
Great for shopping addicts since the hotel is in a same building with the Europeum Shopping Mall with ample shops, boutiques, and a cafe.
Rooms & Suites in Marriott Courtyard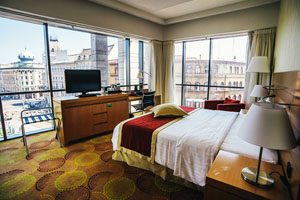 With its 235 rooms it is the largest hotel in the area. All rooms have
comfortable bedding, air-conditioning,
WiFi and fast internet for a fee,
soundproof floor to ceiling windows,
safe, 32″
LCD TV with foreign language channels and pay per view movies,
work desk
electrical outlets.
In-room kitchenettes are equipped with coffee/tea maker.
Guest rooms with king or double bed – 28 sqm- WiFi and high-speed internet for a fee, shower and bathtub. This room type is avaialable with panoramic view and balcony on the top floors. Rates (18% VAT and 4% city tax is not included): cc. EUR 70 – EUR 80 (with breakfast)/night, Rates for rooms with city view: EUR 94.
Business room with king or double bed – 29 sq: free use of wired and wireless internet, shower in bathroom.
Rates (18% VAT and 4% city tax is not included): cc. from EUR 94. Further amenities include: free consumption from minibar (refilled daily), free movie on pay Tv (once a day), bathrobe and slipper provided, 15% discount on laundry.
Suites – Junior suite on 47 sqm, and a slightly larger suite (50sqm) with king size bed, living area with sofa bed, tub/shower in bathroom, work area, internet (wireless and fast) for a fee. Rates (18% VAT and 4% city tax is not included): from around EUR 130 – EUR 160.
Executive suite – 66 sqm with living room, kitcehentte large bathroom, balcony and panoramic view.
Deals & Packages in Courtyard by Marriott Budapest City Center
The hotel offers sveral great-value special offers throught out the year (taxes – 18% VAT and 4% city tax – are not included)
Easter Deal: from EUR 72 – EUR 127 – for minimum 3 nights with buffet breakfast, package is for two persons (can be booked till 19. April 2014.).
Shopping Package: from EUR 53 – EUR – enjoy discounts in shops in the adjacent Europeum Shopping Centre (you'll get a special 5-30% discount card valid in shops in the plaza), and fine Mediterranean meal in the hotel's Oleo Pazzo ristorante. Rates: 134 (valid till 22. January 2015.).
Eating in the Hotel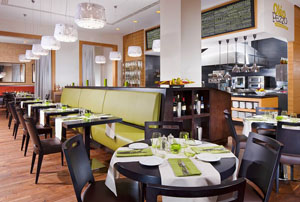 The hotel has an on-site Mediterranean Restaurant called Oleo Pazzo (or "Crazy Olive") that is just as good as the Peppers! in the other Budapest Marriott Hotel located on the Danube bank.
A nice selection of
soups,
pasta dishes, salads and
other Mediterranean dishes.
You can eat healthy here since the restaurant has a special fitness menu offering light but tasty meals if you watch your weight.
There's also a Grab 'n' Go shop in the Lobby Bar if you have time only for a quick sandwich or snack.
Fitness, Wellness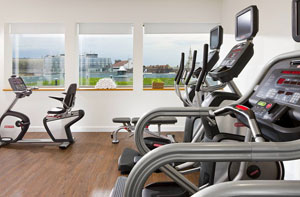 The Courtyard by Marriott doesn't have a spa but you can work out in the well-fitted gym located on the top floor while enjoying the superb view.
You can do a complete cardio training on the top-notch machines with digital screens.
There is also a sauna and massage room on the same floor. The gym is open 24/7 and can be accessed with your room key.
You can refresh your body under the hands of expert massage therapists offering a range of Indian Ayurvedic treatments.
Business and Conference Facilities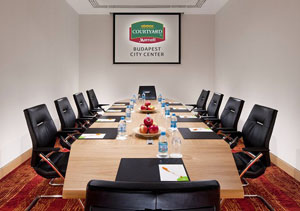 The Courtyard by Marriott is an idela venue for large-sacle events: conferences, business meetings, weedings, balls and other.
It has 7 meeting rooms named after famous Hungarian actresses including a spacious 195 sqm Ball Room.
The hotel can also assist you in organizing an event. State-of-theart audio visual equipment is provided t for a successful presentation.
See more information on the hotel's website.
Parking
If you come by park you can leave it in the hotel's underground garage.
Highlights from Travellers' Reviews
What do guests say about the Courtyard by Marriott Budapest City Center?
Things To Do & Attractions Near the Hotel
The Courtyard by Marriott is agreat base point for exploring the city.
Both downtown Budapest (district V.) and the outer areas, like the City Park are easily accessible from the hotel.
Budapest's former Jewish district is just a step away from the hotel. Do visit the beautiful and the world's second largest synagogue in Dohány utca. The Jewish quarter offer many trendy clubs, ruin bars, pubs, street food ppalces and a unique, quaint city scape.
The city center with the riverside is easilyaccessible by metro: walk along the Danube Promenade to marvel the vista.
The Central Market Hall with an assortment of local produce and food is also must-visit attraction of the city.
Margaret Island (take tram 4 or 6 from Blaha Lujza tér in fron tof the hotel and get off Margitsziget stop)is a marvelous green jewel in the middle of the Danube. Great for a walk or you can bath and get tanned in Palatinus Bath, one of the world's most beautiful outdoor pool.
Related:
More 4-Star Budapest Hotels – Corinthia Hotel Budapest – St. George Residence All Suites Hotel – Hilton Budapest City – Romantic Budapest Hotels – Downtown Budapest Hotels