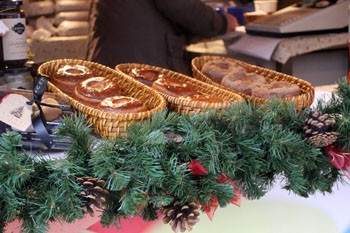 Cronut has hit Budapest in late 2013. The new delicacy is a hybrid cake: a fusion of croissant and donut and invented in New York but you can taste it in some Budapest cafes too: the Centrál Cafe in the city centre, and in Briós Cafe in Újlipótváros neighbourhood (district XIII.).
After the macaron craze (this fluffy sweet biscuit-like treat is so popular that it has its own festival called Macaron Day organized in spring in pastry shops and confectioneries across Budapest) has reached its pinnacle, the Hungarian capital was ready for a new gastro invention and it didn't have to wait long.
Following its outstanding debut in New York City, cronut has arrived in Budapest and you could first taste it in Briós Cafe and at the stall of Central Cafe on the Christmas market in front of the Basilica in 2013.
Is It Really That Good?
The short answer is NO. Of course have one if you happen to drop by Briós, Centrál Cafe, or Yogurt Fabricca but it isn't worth queuing for.
I've tasted the Centrál Cafe version: flavored with forest fruits jam: nothing special really, although I haven't tried Ansel bakery's so cannot compare it to the original. The round-shape pastry is bigger than a standard donut, and you can see the flaky layers reminiscent of a croissant.
You can rarely get decent croissant (try á Table French bakery in Arany János utca) or donut (Donut Library at Pozsonyi utca 22. is a good place) here, so it's not a surprise that Budapest won't be a cronut capital. Anyway, if you're in the mood for a heavy, sugar-loaded pastry then definitely go for it.
The problem might have been that it wasn't fresh, right out of the oven since I've had it at the Advent Market, so I'm going to give cronut one more try to form a fair conclusion (the inventor pastry chef, Dominique Ansel recommends eating it fresh, because it goes stale within a few hours).
The Best Cronut Places in Budapest
People aren't queuing for the hybrid-pastry here like in New York (the Dominique Ansel Bakery in Manhattan started to sell it in May 2013 at $5, with long lines in front of the shop every day since then), so you can get a taste of the sweet treat much more easily and for less (cc. $2.5 – $3.20).
Central Cafe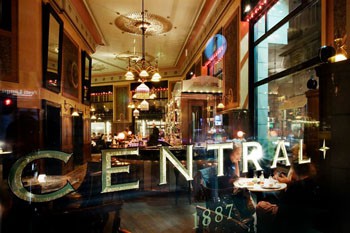 Address: Károlyi utca 9., district V.
Open: every day: 08.00-23.00
Centrál is a classic coffee house founded in 1887, in the heyday of coffee culture in Budapest.
Today it's an elegant place on the pricey side (but hey it's a grand, historic cafe once frequented by the cream of Hungary's intellectuals) with a restaurant and cafe section.
I've tasted their cronut on the Christmas Fair at St. Stephen's Basilica and wasn't impressed by it. The baked-on-site pastry comes in four flavors:
vanilla
cinnamon, and
forest fruits jam.
A piece costs 400 HUF, cheaper then in Briós (much cheaper than in New York)
They also have Oreo, macaron and other international sweet-remakes.
Donut Fabbrica (Yogurt Fabbrica)
Address: Hajós utca 21., district VI. (close to the Opera on Andrássy Avenue), M1 underground Opera stattion, or Trams 4, 6 Oktogon stop
Open: Mon-Sat: 8.30 – 20.30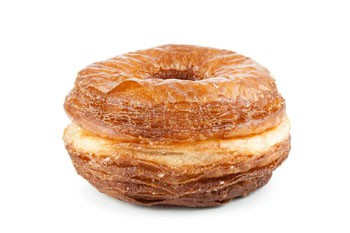 Donut Fabbrica shares shop with Yogurt Fabbrica, a place offering yogurt ice cream (opened in June 2013.).
According to he story, the owner of Yogurt Fabbrica visited the Big Apple in summer 2013 where he tasted Ansel's creation and become hooked on the sweet so much so that he commissioned a Hungarian pastry chef to create a version (to avoid trademark infringement) that he can sell in his Budapest shop.
The layered, crunchy pastry is covered with sugar and filled with vanilla cream.
The croissant-fánk is made in a Budapest-based bakehouse and filled with the cream onsite. This is the cheapest cronut so far in the city: sells for 490 HUF.
Besides the cronut-copy, traditional American donuts with chocolate topping or filling, one choice of ice cream with various toppings (till spring, then more choices will be available), coffee, tea, smoothie are on offer in Donut/Yogurt Fabbrica.
Briós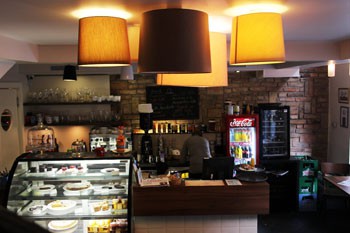 Address: Pozsonyi utca 16., district XIII., tram 4 or 6, Jászai Mari tér stop
Briós Cafe – a homey, kid-friendly cafe in Pozsonyi utca near Margaret Bridge and Szent István Park – was the first place that started to offer cronuts in Budapest in November 2013.
A Viennese bakery makes and delivers the pastry to the cafe each morning (so it is not freshly baked which takes away from the enjyoment).
Cronuts are bit on the heavy side, especially the chocolate flavored one which is filled with a massive heap of buttery chocolate cream. It takes an effort to finish the whole pastry in one sitting. Also the cream and topping is fake, and tastes boring.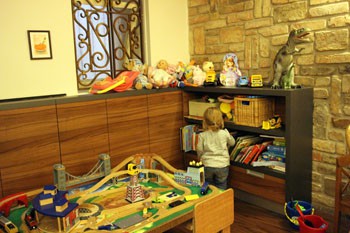 Price: unflavored: 590 HUF (comes with lemon cream or you can rev it up with Nutella, homemade strawberry or apricot jam), chocolate, vanilla, caramel-peanut, lemon-maple syrup topping: 650 HUF.
Otherwise Briós is a favorite place of mine and the family: an ideal breakfast place (coffee is not the best, but I'm a coffee snob, drinking coffee made from freshly roasted specialty beans) with a balanced choice in food (scrambled egg, soft boiled egg, omelettes, french toast, Croque monsieur, Croque madame, sandwiches, bagel, croissant and other pastries, fresh fruits, smoothies, teas, coffee drinks).
They also have light meals for lunch/supper (soup of the day with salad or sandwich is 1390-1490 HUF). There's a nice play nook on the gallery for toddlers and a nice variety of food for children.
Kemence Pék Bakery at Oktogon
Address: Teréz körút 26., Tram 4, 6 Oktogon stop
This one comes the closest to the original New York bakery version, though they call it crofánk to avoid trademark issues (fánk is donut in Hungarian) and it is not always available.
Cronut Facts
The name is a registered trademark of the Ansel Bakery – and Mr. Ansel threatens to sue anyone using the name.
The Time magazine voted cronut as one of the "25 Best Inventions" of 2013.
According to the website of the Ansel Bakery the making of cronut takes 3 days. A croissant-like dough is fried in grapeseed oil then rolled in sugar, filled with cream and topped with glaze.
The bakery sells different flavor cronuts each month in January 2014 Peanut Butter Rum Caramel will be on sale.
Due to the hype surrounding cronut it created a black market – some were selling a piece for $100 (the original price is $5).
And if you think nothing new can come after cronuts then watch out for crookies: croissant filled with two Oreos and with another one on top: you feel the creamy vanilla filling and the crunchiness of the biscuits surrounded with the feel and taste of buttery croissant pastry.
Related:
Ice Cream Shops in Budapest – Hungarian Desserts – Trendy Cafes – Classic Budapest Cafes – Specialty Coffee Bars in Budapest – Gerbeaud cafe – First Strudel House of Pest – Food Specialties in Hungary