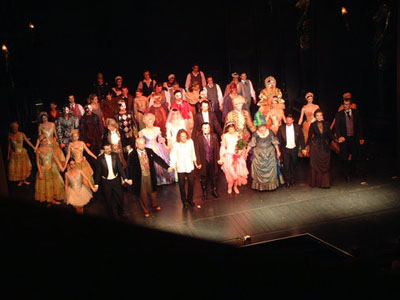 If you're looking for cultural entertainment you have a wide range of cultural venues in Budapest to choose from.
Budapest is not only the cultural centre of Hungary but the city is renowned for its versatile cultural life including festivals like the Budapest Spring Festival and the CAFE Budapest Autumn Festival all over the world.
No matter in which part of the year you come, the Hungarian capital offers a cultural event or program that you wouldn't want to miss.
Check our recommended events in Budapest which lists the major festivals, exhibitions, concerts taking place during the current year.
Table of Contents – Cultural Venues Budapest
Major Cultural Venues in Budapest
The Hungarian capital boasts a handful of larger cultural centers where most of Budapest's cultural life takes place.
Palace of Arts (Művészetek Palotája)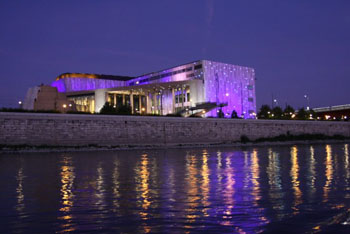 Address: Komor Marcell utca 1., tram 2. Közvágóhíd stop, HÉV from Boráros tér
The massive edifice at the Pest side of Rákóczi Bridge is the focal point of Budapest's cultural life.
The building was finished in 2005 as part of a major reconstruction plan of Ferencváros, the IX. district of Budapest.
The spacious building (the net floor size covers 70 000 m2) houses:
the Béla Bartók National Concert Hall,
the Festival Theatre,
the Ludwig Museum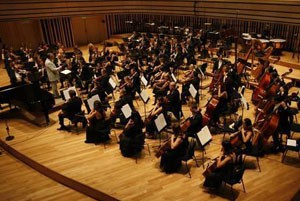 The Palace of Arts has a 130-seat hall equipped with modern multimedia like the built-in interpreters' box is perfect for conferences, workshops and business meetings.
For more concert venues see our page about Budapest Concerts.
The Palace of Arts is a major venue of many concerts during the Spring Festival and the Autumn Festival.
TIP:
Concerts in the Béla Bartók National Concert Hall:
This modern concert hall ranks among the world's top five regarding acoustics and architectural design.
It regularrly hosts classical music concerts all the year round.
Should you get hungry after a concert or an exhibition, you can have dinner in the Bohém Restaurant, have coffee in the P'Art Coffee House or just get a sandwich from the snack bar.
Vigadó Hall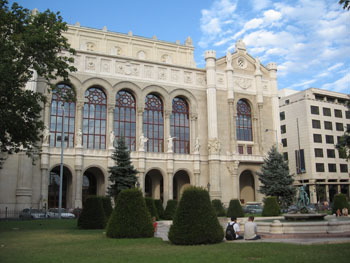 Address: Vigadó tér, district V., tram 2, M1, M2, M3 metros Vörösmarty tér station
Open: every day: 10.00 – 19.30
The white building, used to called the Redoute, was built in the first half of the 19. century by the designs of Mihály Pollack.
It was the largest and most popular concert and event hall for the Pesti people at the time.
The building had witnessed some grandiose balls.
A couple famous composers gave concerts here including
the two Johann Strauss
Richard Strauss
Franz Liszt
Ferenc Erkel,
Béla Bartók
The building got destroyed at least two times. The latest reconstruction restored the Vigadó almost to its original state:
The ornate facade features famous Hungarians. The interior is likewise elegant (or kitch depending on one's taste) with lots of gilding.
The lobby, the main staircase, the music hall, the gigantic chandeliers all have been renewed (except for the frescos and statues) with new room added:
a lecture and exhibition hall on the 5th floor,
and a terrace offering fine panorama on the 6th floor.
Concerts in the Vigadó & the Danube Palace 2022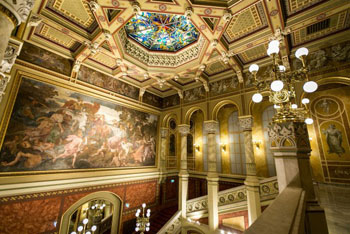 The Vigadó's concert hall gives home to splendid gala concerts.
A 2 x 45-minute show of classical music, ballet dance, operetta songs, gypsy music and cimbalom solo in two historic buildings of the city.
A one-of-a-kind program that showcases the inherent musical spirit and rich cultural heritage of the Hungarian people.
Performance Dates in the Vigadó:
July: 08, 15, 29
Aug: 05, 19, 26.
Performance Dates in the Danube Palace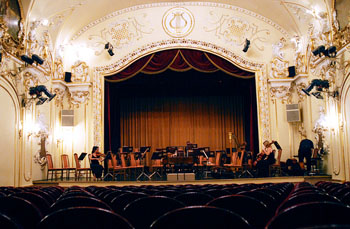 The charming neo-Baroque Duna Palota (built in the middle of the 19. century) in the vicinity of the Basilica in downtown Budapest (address: Zrínyi utca 5., district V.) is a another excelelnt concert venue.
May: 06, 13, 20
June: 17,
July: 01,
Aug: 12,
Sept: 02, 9,16, 23, 30
Oct: 07, 14, 21, 28
Dec: 25, 27, 30.
Our festive concerts in Budapest page lists other classical music performances on major holidays: Christmas, New Year, Easter.
TIP: For more concert venues see our page about Budapest Concerts. The Hungarian National Opera House on Andrássy Avenue is worth a visit not only because of the opera performances but the fine architecture of the building.
Find out more about the history and architecture of the Opera House in Budapest. Andrássy Avenue in itself is a major cultural hub of Budapest.
Millenáris Park
Address: Fény utca 20-22, tram 4-6, Széna tér stop, M2 metro Széll Kálmán tér station Millenáris is a great multifunctional cultural centre on a reconstructed industrial area in Budapest offering entertainment for the whole family.
See more tips on Activities for Children in Budapest. The Millenáris Teátrum has various theatrical, dance, concert, and cabaret performances.
Pesti Broadway – Nagymező Street
Nagymező utca in district VI., a side street of the elegant Andrássy avenue, is called the "Pesti Broadway" and gives home to the Budapest Operetta Theatre (Nagymező utca 17.) and the Thália Theatre (Nagymező utca 22-24.).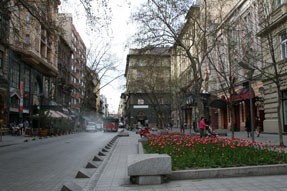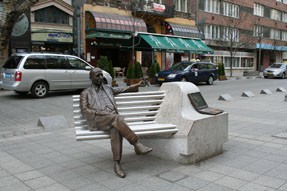 Theatres in Budapest
National Theater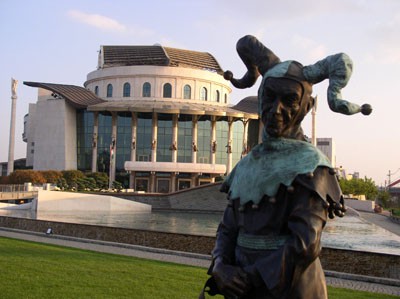 Address: Bajor Gizi park 1., district IX., tram 2 and 24 Vágóhíd utca stop, tram 1 Rákóczi híd stop, suburban train (HÉV) from Boráros tér
Budapest has a dozen or more theatres, the most significant is the National Theatre next to the Palace of Arts.
This is also a fairly new cultural venue in Budapest, its inaugural performance took place on 15th March 2002.
A nice, well-tended park, the Bajor Gizi park, featuring bronze statues of famous Hungarian artists and a ship-shaped pool surrounds the theatre.
The Katona József Színház in the V. district, or the Vígszínház (Comedy Theatre of Budapest) on Grand Boulevard near Nyugati Train Station are two other great theatres in Budapest.
National Dance Theater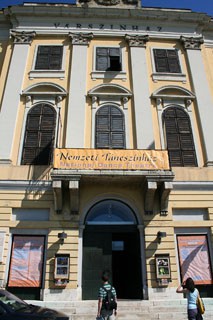 Address: Színház utca 1-3., district I. The National Dance Theatre in Castle District stages all sorts of dance performances from ballet to contemporary dance.
During the summer months they have the Dances in the Carmelite Courtyard program that consists of the best performances of the company.
The theatre also houses exhibits of modern fine and visual art in its Dance Theatre Gallery and the Passage Gallery.
Admission to the exhibits is free, and can be visited every day from 13.00 to 18.00 (to 21.00 on days when there are performances)
Trafó – House of Contemporary Arts
Address: Liliom utca 41., district IX., Website:Trafó
Trafó is a unique blend of modern arts: theater, dance, music, visual arts and even contemporary circus.
Budapest Spring Festival
The spring festival is usually held in the last two weeks in March or in the first half of April.
Classical music and jazz concerts, theater, opera, ballet and dance performances, exhibitions take palce over the 14 days at various venues.
Find out more about the Spring Festival in Budapest.
Budapest Summer Festival
June-July-August
The Summer Festival offers a diverse cultural entertainment during the summer months:
concerts,
opera,
dance performances,
comedies,
children programs welcome everybody on various venues on Margaret Island (Open-Air Theater, Water Tower, monastery ruins), and in the Városmajor Open-Air Theater in district XII., Buda.
Find out more about the Budapest Summer Festival.
CAFE Budapest Autumn Festival
The 2-week long Cafe Budapest Contemporary Art Festival is organized in mid-October.
English-language Theater Performances in Budapest
Merlin Theater (address: Budapest, Gerlóczy utca 4. district V., 2 minutes walk from Deák tér metro station) used to be the center of theater performances in English but currently they are moving to a new place.
Galleries and Exhibition Halls in Budapest
Apart from large cultural venues in Budapest has some small-sized exhibitions halls and galleries.
Műcsarnok (Kunsthalle)
Address: Dózsa György út 41., Heroes' Square, XIV. district, M1 (yellow) line, Heroes' Square station Tel: (+36 1) 460 7000 Opening Hours:10.00-18.00 daily, 12.00-21.00 on Thursday, closed on Monday
Website: Műcsarnok
The largest exhibition hall is the Műcsarnok near Heroes' Square. It doesn't have its own collection but regularly organizes exhibits on various themes.
Mai Manó House – House of Hungarian Photography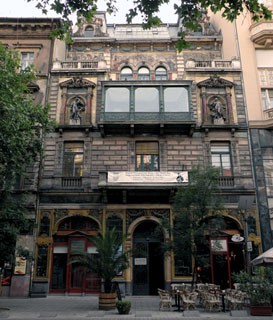 Address: Nagymező utca 20., VI. district, M1 metro Opera station, trams 4, 6 Oktogon stop
Tickets: adults: 1 000 HUF, students, pensioners: 500 HUF, family ticket (2 adults + 2 kids): 2 000 HUF, the exhibition in the Bookshop is free to visit
The Mai Manó House gives home to the Hungarian House of Photography. Mai Manó was a professional photographer in the 19th century.
He had a modern studio in an elegant 8-storey mansion in Nagymező utca, the building that today gives home to various exhibitions on three floors.
Mai Manó's famous Daylight Studio, where he did his photography, can be visited on the 2nd floor.
On the mezzanine level in the Kis Manó Gallery there are small exhibits occasionally from the works of talented, aspiring photo artists.
The first-floor exhibit hall consists of 4 interconnected rooms and it houses thematic shows. The second floor also has various exhibitions.
KoGart House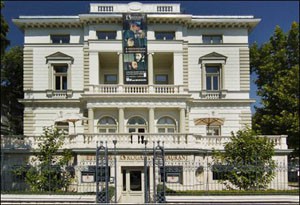 Address: Andrássy út 112., M1 metro Bajza utca stop
Website: Kogart
Founded by a Hungarian businessman, this great venue in a stylish villa organizes 5-6 temporary exhibitions a year introducing different periods and artists from Hungarian Contemporary Art and from the world of International Art.
Kogart house is a fine combination of art and gastronomy.
It has a fine restaurant where you can taste specialties of International cuisine while listening to live jazz music.
The extensive wine list of the restaurant includes fine wines from different wine regions of Hungary as well as the owner's Kogart label wines.
Akvárium Klub
Address: Erzsébet tér, district V., M1, M2, M3 metro lines Deák tér station, trams 47, 49 Deák tér stop, buses 9, 15, 16, 16A, 105, 109, 115 Deák tér stop
Opening hours: Mon-Sat: 18.00-02.00, Sun: 16.00-02.00
The Akvárium Klub opened in spring 2012. in the place of the former Gödör Club.
It is a prominent center of Budapest cultural life and night entertainment.
The spacious building hosts concerts, exhibitions and small-scale festivals.
French Institute (Francia Intézet)
Address: Fő utca 17., I. district, M2 Batthyány tér station,
Open: Situated in a modern building on the Buda embankment of the Danube, the French Institute incorporates French cultural things including a gallery, theatre, and a bookshop.
It regularly houses concerts, exhibitions, literary evenings, as well as lectures on various themes.
The Cafe Dumas serves great coffee drinks, French crepe, breakfast, and lunch.
The daily menu includes the chef's recommendation for around 1 500 HUF. Other highlights of the cafe is the free internet and a tiny exhibition featuring parts from Alexander Dumas' books about gastronomy.
Ernst Museum
Address: Nagymező utca 8., VI. district, M1 metro Opera station,
Opening hours: 11.00-19.00, Tue-Sun
A private art collector, Lajos Ernst founded this small museum in 1912. It has temporary exhibitions introducing the versatility of modern Hungarian art.
Part of the Ernst Museum is the Dorottya Galléria near Vörösmarty Square (Dorottya utca 8.) in downtown Budapest which presents works by young Hungarian contemporary artists . Items exhibited in both venues can be purchased. See more museums in Budapest.
Folklore Programs in Budapest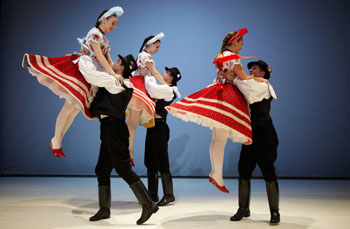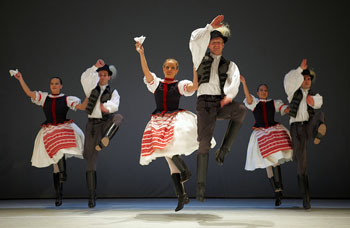 For Hungarian Folklore programs attend one of these performances listed on this page.
Related:
Hungarian Railway Museum – Budapest History – Hungarian Natural History Museum