The Best-Value Boat Tour In The City!
If you want to see the most romantic face of Budapest take a cruise on the Danube.
Choose From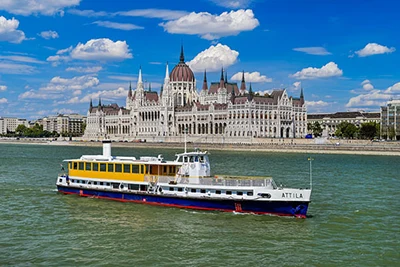 All cruises are available with meal (traditional Hungarian or interanational menu) or if you prefer not to eat then you can choose the programs with wine tasting/craft beers/cocktails or just a welcome drink.
Quick Links:
All tours are on air-conditioned/heated ships, and operate all year round.
Program lasts 1.5 hours, evening cruise starting at 19.00/7 pm is 2 hours long.
You Can Book Each Cruise With
Buffet meal (international/Hungarian mixed menu)
Hungarian lunch (Goulash soup with beef, Chicken paprikash, Strudels with various fillings)
Wine tasting – 7 Hungarian wine samples
Craft beer tasting – 5 local specialty brews
Cocktails: – 3 cocktails of your choice or
Drink only.
The ships are spacious, with large, clean panorama windows allowing you to see the many sights along the banks of the river.
The staff on board the ship are friendly and assist you with everything.
Evening Cruise With Dinner & Folk Dance Show & Live Music
TIP: We higly recommend taking the 19.00 o'clock evening tour with a multi-course buffet dinner, accompanied by a spectacular Folk Dance Show & Live Music.

In summer and early autumn, at this time you can admire the beautiful city scape draped in warm colours by the setting sun.

Dates: every day at 19.00 – 21.00 (except for 14. Feb, 20. Aug, 24. Dec and 31. Dec)
Prices (2023):
Cruise with Dinner (3 Courses, International Dishes) & Folk Show + Live Music: full price: 72 EUR, students: 69 EUR
Cruise with Hungarian Dinner (Goulash, Chicken Paprikash with Noodles, Strudels) & Folk Show + Live Music: full price: 55 EUR, students: 52 EUR
With Wine Tasting & Folk Show + Live Music: full price: 45 EUR, students: 42 EUR
With Craft Beers & Folk Show + Live Music: full price: 42 EUR, students: 39 EUR
With Cocktails & Folk Show + Live Music: full price: 35 EUR, students: 33 EUR
Budget Option: With A Drink & Folk Show + Live Music: full price: 17 EUR, students: 15 EUR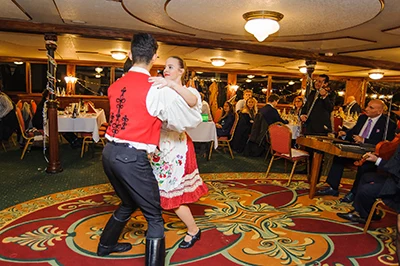 What Will You Get On The Evening Cruise?
Depending on which river tour you choose you will enjoy the followings:
A 2-hour river tour where you will see the charming city scape at sunset and that's is part of the UNESCO's World Heritage project
Welcome drink + additional drink at dinner
Warm buffet dinner (if you choose this option): international dishes or Hungarian-style dinner, with a glass of wine/juice + a small bottle of mineral water (See dinner menu here!)
Tasting of 7 local wines or 5 craft beers (dependig which options you book)
2 Cocktails of your choice: Cuba Libre, Old Fashioned, Mojito, Pina Colada, Sex on the Beach, Tequilla Sunrise, Gin Fizz
Folk Dance Show, and
Live music by a Gypsy orchestra – with each option.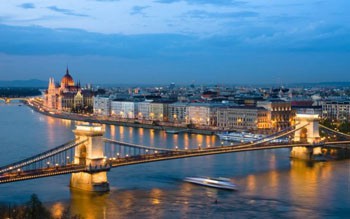 Make your stay in the Hungarian capital unforgettable by going on a one and half hour excursion on the river with a pleasant four-course buffet dinner and live music.
Besides the fine meal, a welcome drink, a bottle of mineral water, a glass of wine/beer or soft drink, are also included in the price.
See the beautifully refurbished Parliament in Pest, the elegant neo-renaissance buildings of the Castle Bazaar (also renewed in 2014) and the other prominent sights under the protection of the UNESCO's World Heritage program.
Following dinner you can enjoy the romantic night vista of Budapest from the upper deck of the boat.
TIP: Visit this page if you want to know more about the Evening/Sunset Cruise in Budapest and view more photos!
Cruise With Lunch/Wines/Craft Beer/Cocktails – Friday, Saturday At 14.00
Daytime River Tours At 14.00 – Recommended for Families with Kids
Although Budapest is striking at night with the bridges and buildings all lit up, you can also have a memorable sightseeing boat tour at daytime.
The Lunch Tour departing at 14.00/2 pm is a great program for kids too (ours love it) – they'll surely enjoy a boat trip on the river complete with food – 3-course buffet meal – and drinks.
The journey is not too long – 1,5 hours – so even toddlers or babies will have a good time, not to mention their parents!
Prices (2023):
Cruise with Lunch: full price: 52 EUR, students: 49 EUR
Wine Tasting (7 Hungarian wines): full price: 45 EUR, students: 42 EUR
Craft Beer Tasting: full price: 42 EUR, students: 39 EUR
Cocktails – 2 glasses of your choice: full price: 35 EUR, students: 33 EUR
TIP: Read more and see our photos taken with the kids on the Early Afternoon Budapest Sightseeing Cruise.
Christmas, New Year's Eve & Other Holiday Specials
A perfect way for you to celebrate some wonderful holidays in Budapest is by going on a unique river tour that allows you to experience the magic of the city within the comforts of a spacious panorama ship (400 sqm, has space for 220 guests).
We offer the following exclusive river excursions with fine dinner on a festively decorated panorama ship on these specail occasions:
New Year's Eve and Day Cruises,
Valentine's Day Cruise,
River tours on Easter weekend, and on
Please note that availability is limited for these programs!
New Year's Eve Cruise With Dinner & Party – Unlimited Drinks Included
Date & Time: 31. December 2023/01. January 2024, 19.00
Say farewell to 2023 on a fabulous cruise with 5-course gourmet dinner, live music with dance show and party till dawn.
Relaxed atmosphere on a spacious 400 sqm event ship delicious food served at your table, second dinner at midnight and open bar the all-inclusive drinks guarantee a memorable New Year's Eve in Budapest!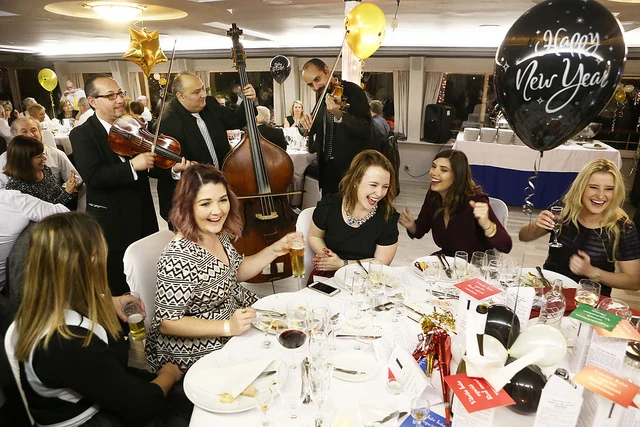 Price:
TIP: Find out more about the New Year's Eve Party & Dinner 2023-24!
Night Cruise With Dinner, Starting at 22.00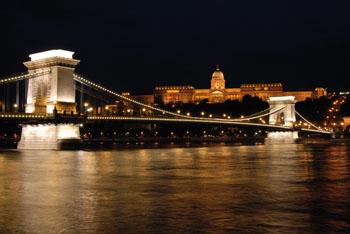 On specific dates, see on the booking page through the link below!
The city is just magnificent after sunset when the lights turn on in the streets, on buildings and the bridges.
You'll see Budapest in a whole new light on our 1.5-hour river excursion starting at 22.00.
A multiple-course dinner served buffet style makes the program even more pleasant.
TIP: Can be booked without dinner: with wine tasting, craft beer tasting, cocktails or just a drink of your choice.

Tickets To The 10 PM Cruise + Live Music (2023)
Cruise with Dinner & Live Music 22:00: full price: 58 EUR, students: 54 EUR
With Hungarian Dinner & Live Music: full price: 38 EUR, students: 35 EUR
With 7-Tier Wine Tasting & Live Music: full price: 36 EUR, students: 33 EUR
With Craft Beer Tasting (5 Local Brew Samples) & Live Music: full price: 33 EUR, students: 29 EUR
With 3 Cocktails of Your Choice & Live Music: full price: 29 EUR, students: 26 EUR
Budget Option Cruise & Drink & Live Music: full price: 14 EUR, students: 13 EUR
Dates in 2023 (Mostly On Fridays & Saturdays):
01. May – 31. October Every Friday and Saturday
Cruise starts at 22.00 and ends at 23.30.
TIP: You can combine a night cruise with a Hungarian folk dance show or Organ Concert in St. Stephen's Basilica. See package deals and booking below!
TIP: See more information and photos on the Night Cruise With Dinner in Budapest!
Danube Cruises With Wine Tasting Or Drinks
If you want to skip the food you can choose from three boat tours with drinks.
7-tier wine tasting –
Cocktails or beer, and
Craft beer – samples of local artisan brews
Date & Time: at 14.00 on Fridays, Saturdays, at 19.00 every day, at 22.00 Fridays, Saturdays
Taste Hungarian Wines While Cruising The Danube!
TIP: If you don't want to have a meal you can sip some excellent local wines on the Wine & Cruise program starting at 14.00 (1,5 hrs), 19.00 (2 hours) or at 22.00 (1,5 hrs)
Price of Wine Tasting & Cruise (2022):
Full price: 36 EUR,
Students: 33 EUR.
You'll be served 7 top-quality Hungarian wines, 8 cl of each.
Tokaji Furmint Grand Selection
Hilltop Premium Merlot
Juhász Blue Frankish Rosé
Bodri Szekszárdi Civilis Cuvée
Bárdos Pincészet Pinot Grigio
Tokaji Szamorodni Sweet
Tokaji Aszu 3 Puttonyos
Sunset Cruise With Cocktails & Music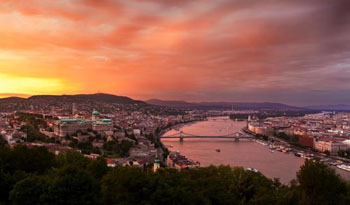 Date & Time: every day between 19.00 – 21.00
See the city at its most beautiful when the rays of the setting sun paints it in the hues of orange, pink and blue.
A great time to make some memorable photos while cruising on a boat and sipping cocktails to the tunes of an orchestra!
Prices:
You can choose to enjoy the sunset cruise with dinner/wines/craft beer/cocktails – prices vary accordingly!
Craft Beer Tasting & Cruise, At 14.00 (Fri, Sat), 19.00 (Every Day) & 22.00 (Fri, Sat)
Date & Time:
14.00 on Fridays & Saturdays (1.5 hrs)
Every day at 19.00 (2 hrs), and
At 22.00 on Mostly On Saturdays (1.5 hrs), see dates when you book the program.
Prices (2022):
Full price: 33 EUR,
Student: 29 EUR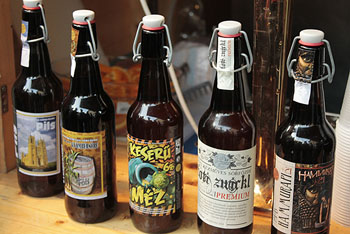 Discover the exciting world of Hungarian artisan beers!
Sample 5 high-quality craft brews by the country's best micro breweries on a 2-hour river excursion.
Each sample is 150 ml and at the end you'll get an extra pint of your choice of the tasted beers.
Live Gypsy music, snacks, and you can soak in one of the world's most captivating cityscapes from a deck of a sightseeing ship.
Cruises With Buffet Meal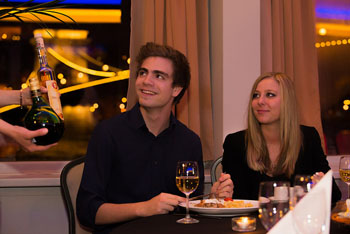 There are 3 sightseeing boat tours with a 4-course buffet meal every day (starting at 14.00, 19.00 and 22.00).
A glass of wine (or juice) + 1 bottle of water (0,33) are also included in the price.
the 19.00 Evening Dinner Cruise with Folk Dance & Music lasts 2 hours,
the Lunch Cruise at 14.00 and the
Night Cruise with Dinner and Music at 22.00 are 1,5 hours long
Fireworks Show & Cruise On 20th August 2022
Budapest hosts a spectacular Fireworks Show on 20th August National Holiday to celebrate the foundation of Hungary by King St. Stephen (975 – 1038).
The fireworks are launched form ships anchored on the Danube and some of the bridges. No doubt, a crusie ship provides an excellent viewing spot for the shop.
You can also enjoy a fine 3-course dinner served buffte style.
Price:
145 EUR (Full price only.)
Note: Tickets usually sell out quickly for this event so if you want to ensure your place book the program in advance.

You will receive an E-Ticket with all the details in email, that you just present to the hosts/hostesses (on your mobile/tablet or in print form). No need to stand in queue in the summer heat!
Buffet-Style Dinner/Lunch Menu:
Meaning of symbols: G: gluten-free, L: lactose-free, V: vegetarian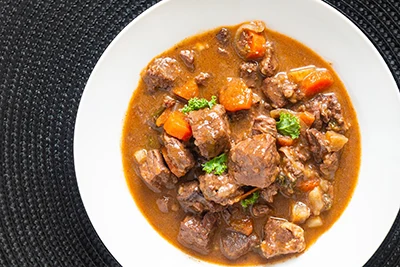 Soups:
Alföld style Goulash soup with noodles (L)
Vegetable broth (G, L, V)
Main Courses:
Stuffed cabbage (G)
Traditional chicken paprikash
Roast pork with grilled vegetables (G)
Eggplant tower in marinara sauce (G, L, V)
Garnishes & Vegetarian:
Grilled vegetables (G, L, V)
Homemade dumplings (V)
Hash-brown potatoes (G, L, V)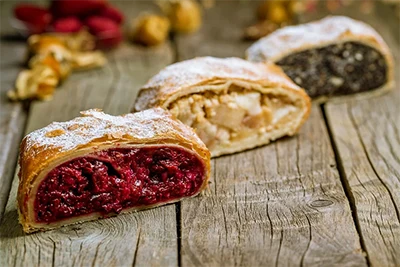 Salads:
Fresh seasonal salad with two types of dressing (G, V)

Desserts:
Home-made strudel selection (V)
Trifle (English-style, sponge cake pieces layered with custard, fruit, jelly heavy cream)
Drinks:
1 glass of wine (or juice) + 1 bottle of water (0,33) or soft drink
Practical Information – Program Details
Length of the boat excursions: each program lasts for approx. 1.5 hours.
Meeting is 30 minutes before the start of the river tours.
Meeting Point: Gróf Szechenyi Ship – Akademia Port (1. ponton) – Address: Budapest, 1051
Note: After payment you'll receive a confirmation in e-mail with all the details including meeting point.
15 minutes before the start of the program: Hosts/hostesses accompany the guests to the ships docked at the Pest side of the river (just a couple of minutes walk).
After boarding the ship you are welcomed with a glass of drink and shown to your table.
10 minutes after the program starts the ship departs, taking you on a scenic tour between Margaret Bridge and Rákóczi Bridge, and the open buffet dinner/lunch is served (see the menu below).
During the tour: a second round of drinks are served, and you can have further drinks in the ship's bar.
1,5 hours – or in case of the 7 pm evening tour – 2 hours after the program start: the ship returns to the pier. The hosts/hostesses will call you a taxi if you would like one.
Our Sightseeing Tour on the Danube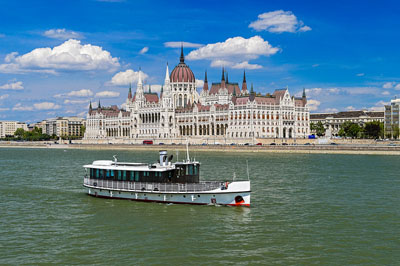 We took the evening boat trip with live music and dinner on a pleasant summer day.
The sightseeing ship departed from the Kossuth Ship at the foot of the Chain Bridge in Pest.
The Kossuth Museum Ship (or Kossuth Vénhajó) is a standing ship with a small exhibition about the 20th-century history of navigation in Hungary
While the ship was gliding through the greyish foams of the river – contrary to the title of the Strauss waltz, The Blue Danube, it rarely is that colour- we had a tasty dinner with a glass of wine and enjoyed the breathtaking view basking in the golden light of the setting sun.
We've always known – and many tourists, travel websites, blogs, magazines agree – that Budapest is one of the most beautiful cities in the world but we tend to forget it living and working here day by day.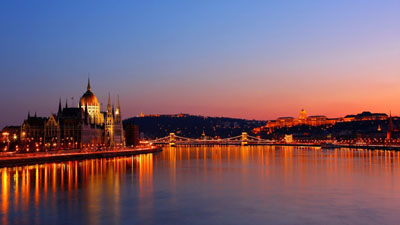 This river tour reminded us of this fact and we were really enchanted by the
striking view of the many monuments lit up after dusk,
romantic ambience created by the gently rocking ship,
magical melodies of the gypsy music (only on tours starting at 19.00) and
fine food. (The wine and champagne also helped.)
The river bisects the city into two different parts:
the hilly and more peaceful Buda on the right side,
and the buzzing Pest on the left.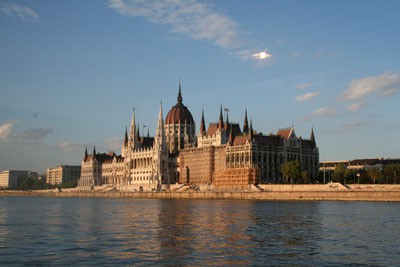 Both river banks offer many sights: right at the start of the cruise the graceful tower of the Matthias Church and the Fishermen's Bastion draw your eyes to the historic Castle District.
Further up the building of Budapest Parliament dominates the Pest shore.
Joggers do their regular rounds on the picturesque Margaret Island (Margitsziget), named after a medieval Hungarian princess.
At the north end of Margaret Island the ship turned and went down the river as far as the National Theatre at the Pest end of the Rákóczi Bridge.
The fine building of the Gresham Palace – today an exclusive luxury hotel of the Four Seasons chain – stands at the Pest end of the Chain Bridge.
The dolomite rock of the Gellért Hill towers above the water between Elizabeth Bridge (Erzsébet híd) and Liberty Bridge (Szabadság híd).
The Gellért Spa and the refurbished Rudas Bath originally built by the Turks in the 16. century can also be seen at the foot of the hill.
The modern-style National Theatre marked the final attraction of our excursion on the Danube:
Related Articles:
Recommended Budapest Tours – Unique Walk Tours – Buda Castle Walks – Day Trips from Budapest – Downtown Budapest – Hop on Hop Off Bus Tours