Date is Not Official Yet!
Budapest's city centre regularly gives home to a 3 day festival with concerts, good food and drinks. This year the event is held over the last weekend of May at 5 central venues.

On 26, May, Sunday the park at Szabadság tér give shome to family programs focusing on children activities since it will be International Children's Day.
The Gastronomy Programs in the Downtown Market Hall (Belvárosi Piac will take place on 25 – 26. may, 2019, Saturday and Sunday.
The main locations are easily accessible from various points of the city.
Quick Links: Friday/24.May – Saturday/25. May – Sunday/26. May
Venues of the Downtown Frestival 2019:
Szabadság Square – near the Parliament, will also host a Family Day on Sunday, 26. May.
Erzsébet Square – close to Deák tér metro hub (M1, M2, M3 metro lines)
Vigadó Square – on the Pest bank of the Danube named after the Vigadó Hall
Zrínyi Street – a busy street leading to St. Stephen's Basilica
Downtown Market in Hold Street (Belvárosi Piac) – a popular gastro venue with a couple of street food joints up on the gallery, while on the ground floor you can shop for veggies, fruits meat and dairy.
Friday, 24. May 2019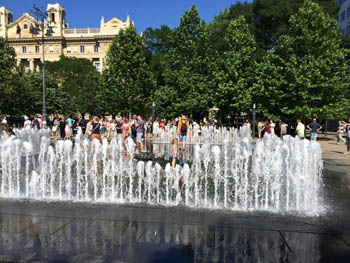 Main Stage – Szabadság Square
16.00 Mongooz and the Magnet
17.00 Supernem
18.30 30Y20.30
Vad Fruttik
23.00 Csend-disco
World Music Stage – Erzsébet Square
16.00 Performance of the sister towns of Downtown Budapest
20.00 Cimbaliband
Nostalgia Stage – Zrínyi Street
16.00 Yesyes
17.00 Nosztalgia Show – Rita Bognár and Csaba Tihanyi Tóth
18.30 Viki Marót and the Nova Kultúr Band
Saturday, 25. May, 2019
Main Stage – Szabadság Square
16.00 Platon Karataev
17.30 New Level Empire
19.00 Bagossy Brothers Company
20.30 Honeybeast
23.00 Csend-disco
World Music Stage – Erzsébet Square
14.00 Nyuszifül formation ifj. Béla Szakcsi Lakatos and Gyula Horváth
14.30 Rila Band with Szlobodán Vertetics and the Martenica Bulgarian Folk Dance Ensemble
15.00 Mydrosz Greek Band
15.30 Maleszlowjanki Polish Band
16.00 Lohr Kapelle German Brass Band
16.30 Lipa Slovak Folk Group
16.30 Group Duduk Armenian Brass Band
17.00 Fáklya Croatian Art Group
17.30 Ceatara Romanian Folk Dance Ensemble
18.00 Pontess-mostovi Triest Serbian Folk Dance Group
20.00 Csík Band
Nostalgia Stage – Zrínyi Street
16.00 Miklós Varga
17.00 György Korda and Klári Balázs
18.00 Night of the Divas – Nelly Fésűs and Judit Ladinek
Literary Music Stage – Vigadó Square
17:30 Margó Extra: Gábor Zacher talks with László Valuska
19:00 Márton Simon and Iamyank
20:30 Péter Závada and Huba Ratkóczi
Gastronomy Program – Downtown Market/Belvárosi Piac, Hold utca
12.00 The Downtown Gypsy Band plays
18.00 Gourmet dinner in the restaurants of the market
Sunday, 26. May 2019
Main Stage – Szabadság Square
17.00 Kelemen Kabátban
18.15 The Biebers
20.00 Irie Maffia
World Music Stage – Erzsébet Square
14:00 Fangler's
15:15 Tibes
16:30 Goodbye Darjeeling
20.00 Roby Lakatos Ensemble
Literary Music Stage – Vigadó Square
16:00 Budapest Show Kórus
17:00 Margó Extra: Anna Ott talks with Gábor Máté
18:30 Tibor Babiczky and Apey
20:00 Libikóka – Krisztián Grecsó and Róbert Hrutka
Gastronomy Program – Downtown Market/Belvárosi Piac, Hold utca
Asparagus Brunch – by the chefs of the Downtown Market
Family day at Szabadság Square, Sunday, 26. May
Pici Market – design fair,
Csilingelő Music Club,
animal petting zoo,
art and craft workshops,
face painting,
Toys of the old times: wooden toys, carousel, fire engine, police car, ambulance
Stage Programs:
10.00 Farkasházi Réka és a Tintanyúl
11.00 Szalóki Ági
12.30 Bartha Tóni puppet show
Related
More events and programs in Budapest in May – Budapest Folk Fest – Summer mini concerts 2020 – Summer Festival – Pentecost/Whitsunday Programs