Events, Festivals, Things To Do Around Easter
Date: 09 – 11. April 2023
Location: Various Venues In Budapest
Do you plan to spend Easter in Budapest? The Hungarian capital offers plenty of attractions and activities for a wonderful Easter weekend.
Plan your city break well, so that you can get the most of your time.
See our things to do tips below along with some useful information about
Public transport,
Opening hours of shops/thermal baths and the
Weather around the holiday.
Quick Links:
TIP: Danube Cruise With Dinner/Folk Show at Easter – Spring & Easter Market At 3 Venues – Easter Market At Gozsdu Court – Jewish Heritage – Sightseeing Tips – Wine Tastings – Hotels – Hungarian Easter Customs – Programs For Families With Kids – Day Trip Suggestion – Weather
Note: Most shops, and markets are closed on Good Friday, Easter Sunday and Monday. Public transportation operates according to holiday schedule. Thermal baths will be open according to Sunday opening hours and pricing.
TIP: Read also our complete list of Easter opening hours in Budapest (baths, museums, attractions etc.)
Easter Cruise With Dinner/Drinks & Folk Dance Show
Date & Time:
06., 07., 08., 09., 10. April, 2023., at 19.00 Tickets Are Available in Limited Number!
Make the spring holiday memorable by going on a boat tour on the Danube.
It is an ideal way to see the World Heritage-listed sights (Buda Castle, the Parliment, Gellért Hill) and city scape lying on the banks of the river.
On the 2-hour excursion you can not only admire the captivating view but enjoy a 3-course warm buffet dinner and a spectaular folk show and live music by the Hungaria Orchestra.
The cruise can be booked with tasting of 7 local wines/craft beers or two cocktails (without dinner).
Book Your Cruise – E-Ticket Sent In E-Mail
More Boat Tours Around Easter
Spring & Easter Market At Vörösmarty Square, Városháza Park (Town Hall Park) & Deák Ferenc Square
TIP: Check out the Easter & Spring Market in the city centre at 3 locations for local craft products, food and drinks.

Concerts, craft fair & workshops and other family activities in the afternoons and over the weekends, including Easter, offer varied programs for everyone.

The top attraction of the event is Easter Egg Exhibition by the Míves Tojás Múzeum showcasing an assortment of beutifully crafted Easter eggs made with various techniques.
Location, Getting There
Városháza Park & Deák Ferenc tér, M1/M2/M3 metro lines, get off at Deák Ferenc tér
Vörösmarty tér: M1 Underground (Yellow Line), Tram 2 Vigadó tér stop on the Danube Promenade (3 minute walk).
Opening Hours Of The Easter Fair:
Every day: 11.00 – 20.00
Open on Easter Sunday and Monday too, from 10.00 am
Why Visit The Fair?
It's centrally located so you can easily get there both by walk and public transport.
The fair is the most popular event of the spring season in Budapest so it's sort of a must experience for visitors to the city.
You can sample traditional local food, including Easterd dishes, get a special gift at the craft market and view the spectacular Easter Egg Exhibition.
Craft fair – 5 – 10 % discount with Budapest Card,
Traditional Hungarian Easter foods,
Drinks,
Activities for children,
Folk dance performances, and
Concerts on the main stage offer a great time for everyone.
Popular Activities To Experience The City
Easter Market At Gozsdu Court, 07 – 10. April 2023
Address:
Király utca 13. – Dob utca 16., Budapest, 1075, District VII.
Sightseeing Tips For The Easter Holiday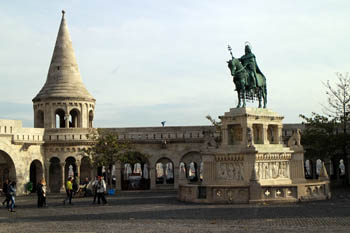 By Easter Budapest revives from its winter sleep and the parks and gardens are lively green.
Spring and especially the Easter weekend is a wonderful time to travel to Budapest and explore its numerous sights and attractions.
What To See & Do?
You will find historic sights and fine architecture at every corner,
Recreation in any of the Thermal Baths and Spas,
Just walk and admire the beautiful vista from Castle District or Gellért Hill,
Go dancing and clubbing until dawn in one of the numerous Budapest Nightclubs, or get crazy at a Spa Party
Shop in the Great Market Hall or in one of the numerous Shopping Centres (except for Good Friday, Easter Sunday and Monday when markets, shops are closed).
The Castle District
Budapest has historic sights and fine architecture at every corner.
You can easily explore the top attractions during the Easter Weekend.
The Castle District in Buda offers magnificent views from the Fishermen's Bastion.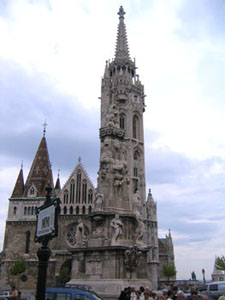 The Castle District forms the centre of historic Budapest and some of the most important cultural monuments stand in the area, like the Royal Palace and Matthias Church.
The Palace houses two museums:
The Budapest History Musuem telling the story of the city from ancient times till today, and the
Hungarian National Gallery – with some outstanding paintings and other artworks.
The narrow cobbled streets are ideal for romantic walks.
The district has some fine restaurants and cafés many of them housed in renovated old mansions that contain medieval architectural elements.
Unique Budapest Programs We Highly Recommend
Taste Wines In A Historic Cellar
End your sightseeing in Buda Castle with wine tasting in a romantic stone cellar within the Hilton Hotel.
The vaulted cellar is a part of the underground labyrinth system built by the castle inhabitants during the middle ages.
English-speaking wine experts will introduce you to the wines and wine regions of Hungary.
You can choose from several tasting menus based on wine producing regions.
The cellar also offers tasting of pálinka, a traditional Hungarian fruit spirit – there's a choice of 30 types of pálinka.
Restaurant & Cafes in Buda Castle
Castle District has plenty of restaurants ranging from traditional Hungarian like
the 21 Restaurant, or
the Pest Buda Bistro, both in Fortuna utca
or Italian like the fairly new Jamie's Italian in Szentháromság utca close to Matthias Church.
Dine With A View – Halászbástya Étterem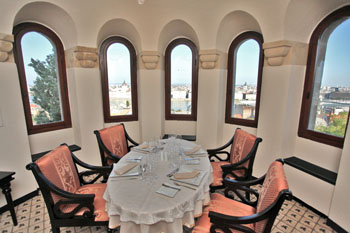 The Halászbástya Restaurant is located inside Fishermen's bastion. It's the place where you can enjoy the best panoramic views while eating.
The terrace is open from spring to autumn with a gypsy band playing in the afternoons.
There are
4 set menus (Hungarian Gourmet – 65 EUR, Halászbástya – 85 EUR, Deluxe – 235 EUR and Vegetarian – 50 EUR),
a la carte dishes as well as
chef's offer from seasonal ingredients.
Some splendid wines and cocktails to go with the fine meals no to mention the exceptional view. A great place for a lunch and dinner while visiting the castle.
TIP: The Rétesvár Strudel Shop in Balta köz, a narrow passage opening from Szentháromság tér, offers traditional strudel with various fillings (sweet cottage cheese, sour cherry, poppy seed).
They also have sajtos pogácsa (scones with cheese), and cocoa snail – typical Hungarian snacks that you can munch while walking.
For a slice of creamy torte with a cup of coffee and old-world coffee house ambience try Ruszwurm Cafe and Confectionery in Szentháromság utca.
Read more details about other attractions in Budapest Castle District.
After Buda Castle Head For Pest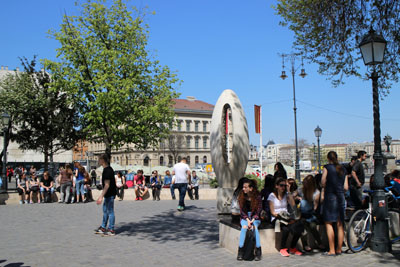 The Funicular (Budavári sikló) takes you down from the hill to Clark Ádám tér in a few minutes
Tickets:
one-way: 1 200 HUF/adult, 700/children between 3-14 years of age,
return ticket: 1 800 HUF/adult, 1 100 HUF/children between 3-14 years of age).
If you prefer walking, you can
take the steps leading down from Buda Castle to Clark Ádám tér, where the 0 km stone of Hungary stands,
or one of the winding streets at the foot of the hill.
Near the Pest end of the Chain Bridge stand two architectural masterpieces on Széchenyi Square
Vörösmarty Square & Váci Street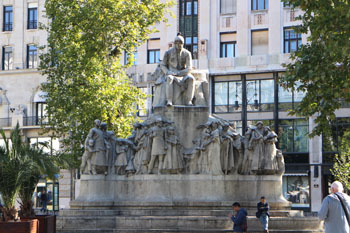 Walk down along the river on the Danube Promenade and turn onto Deák Street at the Vigadó Hall.
The street takes you to Vörösmarty Square, the heart of Budapest.
The white Carrara statue of the famous 19th century poet, Mihály Vörösmarty, dominates the square.
The prominent Gerbeaud Café flanks the side of the plaza.
Sit in for a cup of coffee (prepared now from freshly roasted, farm-selected beans) with a slice of delicious Hungarian cake (the Dobos torte or Gerbaud cake are both delicious) and absorb the traditional coffee house aura.
The famous pedestrian and shopping street, Váci utca opens from the south end of the square.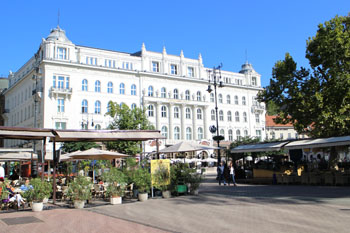 The street together with Vörösmarty tér is a centre of social and cultural happenings that attract both tourists and locals throughout the year.
Fancy boutiques and shops,
chic cafés line the sides of the street that mainly target tourists.
You can have better bargains at the Great Market Hall at the south end of Váci utca.
Ferris Wheel On Erzsébet Square
Take a ride on the Budapest Eye, towering above the city at 65 m height.
The view is amazing from the cabins.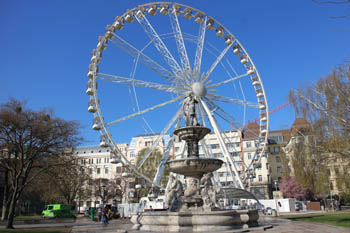 It's open every day – even on publ. holidays – from 10.00 till late night (23.00/24.00)
Tickets: a 8 – 10 minute ride is
2 700 HUF/9 EUR/adult,
1 500 HUF/5 EUR for children between ages 2 – 12,
family ticket (2 adults + 2 kids): 6 900 HUF/23 EUR
Andrássy Avenue, Liszt Ferenc Square
A walk along this tree-lined hip boulevard connecting downtown Budapest with the City Park abounds in
fine architecture,
cultural institutions,
trendy restaurants and cafes, and
high-end shops.
Find out more about attractions along Andrássy Avenue.
More Budapest Sightseeing Tips.
Jewish Heritage In Budapest
If you really want to immerse yourself in the city's culture and history you must explore its Jewish heritage.
Although the Buda side has some Jewish monuments, Pest, and mainly district VII., aka the Old Jewish Quarter, is what really offers the best and most in-depth experience.
Our guided Jewish Heritage Tours will show you all the important sights, like the
Heroes's Temple or the
Raoul Wallenberg Memorial Garden.
There's a shorter 2-hour and a longer 3.5-hour tour. See dates, time, duration, prices below.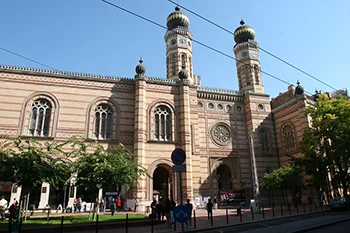 Book A Guided Jewish Tour
Splashing In The Thermal Baths
After long hours of walking, refresh yourself in Budapest Spas.
In the famous Gellert Bath you can admire the fine interior while relaxing in the hot water.
The grand Széchenyi Bath belongs to the largest spa complexes in Europe. The water in the outdoor pool is hot enough to enjoy bathing even in cold weather.
The baths are open on Good Friday, Holy Saturday, Easter Sunday & Monday according to their Sunday schedule and pricing.
Note: The Veli Bej Turkish Spa is closed on the Easter weekend.
Walking In Parks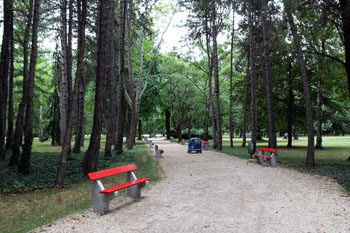 If you have time and long for lots of green, trees, fresh air take a walk in one of Budapest's parks,.
The largest is the City Park with Zoo and other amenities.
TIPS:
Margaret Island is another peaceful gem of Budapest, between Margaret Bridge and Árpád Bridge.
The following pages provide you further help in planning your sightseeing during your Easter vacation:
During the Easter weekend there'll be some great parties in the city so you won't be bored at night either.
Easter Programs for Families with Kids
Children's Day in Gozsdu Court On Easter Monday, 10. April, 10 am – 16 pm
Address: Király utca 13. – Dob utca 16., Budapest, 1075, District VII.
Besides the craft market on the holiday weekend, Easter Monday welcomes kids with exciting activities:
They can solve a giant bunny-themed jigsaw puzzle, burn their excess energy in the bouncy castle, try their hands at target throwing, get a face painting, play a sound memory game or do crafts,
Easter Bunny Hunt in the Hungarian Railway Museum, Easter Monday, 10. April
Address: Tatai utca 95., district XIV.
Opening Hours: 10.00 – 18.00
Getting there:
Budapest-Esztergom train service from Nyugati Train Station,
Buses 30 and 30A from Keleti Train Station (M2, red metro line), and Újpest Központ (M3, blue metro line)
Get off at Rokolya utca stop, the museum is a two-block walk towards east, or
Bus 120 form Árpád Bridge Pest end (get off at the end Reitter Ferenc utca)
Admission With Regular Entry Tickets
Free for kids ages 0-3,
Children, ages 3 – 18: 1 000 HUF
Adults: 2 400 HUF,
Family (2 adults + 2 kids aged 3 -18): 6 000 HUF,
Retirees: 1 300 HUF.
The large railway park in Budapest's district XIV. opens the season with fun family programs on Easter Monday, April 10.
Programs, Activities
11:00 – Puppet Show: Csacsi & Bari Wandered Off
The Vaga Band stilt troupe will perform a lively spring greeting show. This talented group will song traditional Easter songs and rhymes while showcasing impressive skills such as egg juggling, all while dressed in eye-catching and spectacular costumes.
Kids can look for painted, carved wooden bunnies hidden at various spots in the park.
A small craft corner with Egg painting, face painting, glitter tattoosand an animal petting area with bunnies, llamas, mini ponies and alpacas will also welcome the little ones on both days.
Other activties that you can try with your little ones:
Riding on a horse tram,
In a Tchaika car,
Garden railway,
Hand-operated cart.
Visit Vajdahunyad Castle In City Park
Address:
Vajdahunyad Castle in City park/Városliget, distr. XIV.,
Getting there: M1 underground (yellow metro), Széchenyi fürdő stop, Trolleys No. 70, 72, 75, 79 (various stops), buses No. 20, 30, 105
Admission: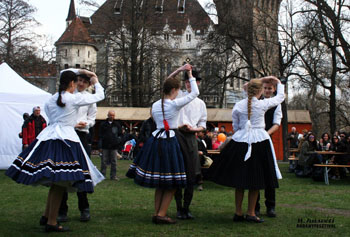 The fairy-tale looking mock castle in the city's largest park, Városliget incorporates several architectural styles.
It was constructed for the 1896 Millennial events when the country celebrated the 1000th anniversarary of Hungary's foundation.
Vajdahunyad Castle today is home to the Museum of Hungarian Agriculture, with very good temporary exhibits each year, usually for families with kids.
Tower Tours
TIP: Tower Tours in Vajdahunyad Castle: You can visit the two previously closed towers of the mock castle that houses the Hungarian Agricultural Museum (Magyar Mezőgazdasági Múzeum) and some unique exhibitions in City Park.
Climb up to the Gate Tower (Kaputorony) and the Apostles' Tower (can be visited only on a guided tour that departs hourly) and enjoy a spectacular vista of City Park Lake, Széchenyi Island and the surrounding buildings.
The Gate Tower can be visited without guiding and is open every day: 09.00 – 20.00,
Tickets:
Gate Tower: 400 HUF
Apostles' Tower: 600 HUF
free for children under 3 who can attend the tower under the supervision of an adult
Cashier is closed: 12.00 – 12.30, and 18.00 – 18.15.
Opening hours of the museum:
Tue – Sun: 10.00 – 17.00.
Closed on Mondays but it's open on Easter Monday.
Tickets to the museum:
full price: 1 600 HUF,
children, retirees: 800 HUF,
combined tickets (museum + tower tours) are available.
Where To Stay at Easter?
Most hotels offer special Easter packages.
Note that you should book your accommodation well in advance, because a lot of tourists visit the Hungarian capital at Easter every year.
TIP: Stay at a 5 or 4 star downtown hotel and everything important will be within easy reach. Price of Easter packages in 5 or 4 star hotels is around 500 – 600 EUR/double room/2 nights.
Some Hungarian Easter Customs
Lent, Holy Week
A 40-day lent precedes Easter when people rarely eat meat. Some have meatless meals only on Fridays.
Women clean the whole house, wash the windows and a few days before Easter they start baking cakes and pastrie.
They prepare kocsonya, a rich jellied soup cooked with pork meat, skin, smoked meat and spices.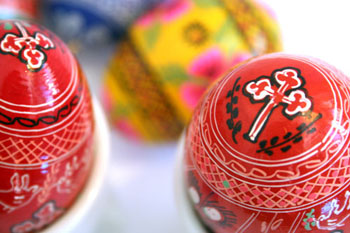 The traditional forms of easter egg painting (egg shoeing and other techniques) are practiced mainly in the villages, though today you can learn them at Easter festivals and craft workshops.
On Good Friday afternoon religious people go to the church to commemorate the crucifixion of Jesus Christ and participate on the symbolic procession that follows Christ's final route.
It's a day of mourning and fasting, many people also avoid doing household chores.
Churches Remain Unadorned:
No flowers are placed,
Candles are not lighted,
Statues and icons are covered.
The church bells will remain in silence until Sunday, the day of resurrection.
On Holy Saturday the religious commemoration continues with the consecration of fire, the holy water and lighting the Paschal candle.
People make a solemn procession into the church where the first mass since Maundy Thursday begins after dusk.
Traditional Easter Dishes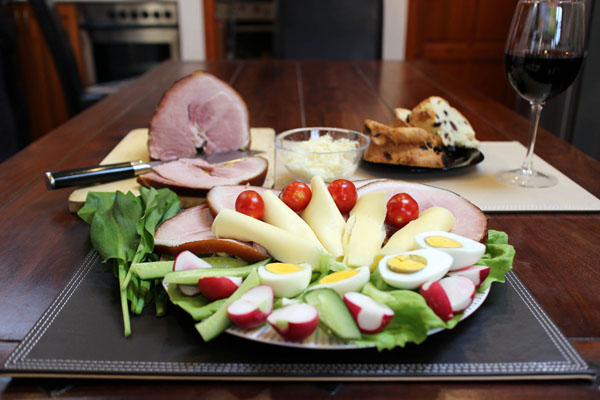 Saturday evening marks the end of the Lent and people have traditional dishes:
smoked ham with pickled horseradish
hardboiled eggs and
fresh white bread or milk-loaf.
On Easter Sunday morning the Easter bunny brings presents for the little ones.
In our family kids make a nest from grass for the bunny to place the gifts and sweets.
The little ones rush out of the house early morning to see what surprises had the bunny placed in the nest or hidden at other places in the garden.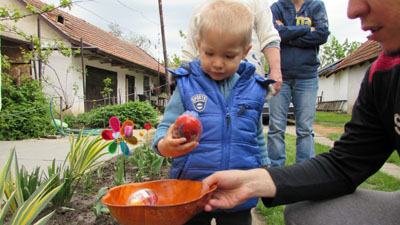 They usually have their fill of chocolate eggs, bunnies, chicks, and other sweets over the weekend.
The master or the mistress of the house takes a basket packed with
Ham,
Eggs,
Horseradish,
Milk loaf and
A bottle of wine to the church where the priest blesses the food.
The content of the basket varies slightly from region to region.
The family eats all the blessed meat for breakfast, not a crumb should be wasted because the blessed food considered to possess magical powers.
For example the crumbs of the milk loaf are given to the hens so that they lay more eggs.
Mainly meat dishes (poultry, pork, lamb, and rabbit) dominate the traditional Easter Sunday lunch with various garnishing.
Many housewives bake beigli (pastry rolls with walnut or poppy seed stuffing) not just for Christmas but for Easter too.
See also our Hungarian Easter Recipes.
Easter Monday
On Easter Monday morning boys and men sprinkle women with perfume or with cold water, for which women give chocolate eggs or some change in return.
Men of course gather strength with a shot of pálinka (Hungarian fruit distilate) and they usually spend the rest of the day with more boozing.
Public Transport, Opening Hours at Easter
On Holy Saturday public transport vehicles run according to Saturday schedule.
Good Friday, Easter Sunday and Monday are public holidays so public transport operates according to holiday schedule, with less frequent service.
You'll find exact information on public transport schedules during the holiday on this page.
On the above three days most shops, food markets, banks, post offices are closed.
On Holy Saturday shops, food markets are open according to Friday or Saturday schedule.
See opening hours of shops on this page.
On Easter Sunday and Monday shops, markets, supermarkets and large stores are closed, however some shops and services may be open.
Some of the types of places that are open during the holiday:
florists,
sweet-shops,
24-hour (non-stop) shops,
restaurants,
cafés and confectioneries,
Day Trip – Easter Festival in Hollókő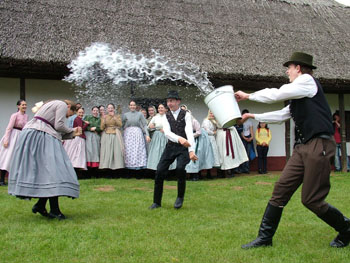 The picturesque Hollókő village lies in Nógrád county in the North East corner of Hungary.
It's about 100 km far from Budapest.
You can get there in two hours by car.
The village people will wear folk costumes and revive the Easter traditions.
You can taste traditional Easter meals and enjoy various folk programs.
Getting To Hollókő:
If you're planning to visit Hollókő, you have a couple of transportation options available.
One option is to take the regional bus, which departs from Puskás Ferenc Stadion and takes around two hours to arrive at the destination. You can reach Puskás Ferenc Stadion easily by taking the M2 metro. The first bus leaves at 08:30 am, and the last direct service back to Puskás Ferenc Stadion departs from Hollókő at 16:00.
Alternatively, if you prefer to travel by car, it's advisable to set off early as large crowds are expected.

Take the M3 motorway as far as Hatvan and
then drive on route 21 towards Salgótarján,
before Pásztó the road branches off,
take the road to Szécsény-Hollókő direction.
Here's the official website of the Easter Festival in Hollókő if you want to find out more detail.
The Weather Around Easter in Budapest
By Easter the city awakens from its winter sleep. The first buds on the trees appear and spring flowers adorn the parks and squares.
The sun shines warmer and warmer, though the weather is rather unpredictable in spring.
Daily temperatures can vary from 5 to 15°C/41-59°F.
At some nights temperature can go below 0°C/32°F. Usually there are some rainy and windy periods in March and April, so don't forget to pack in your umbrella and warm sweaters.
See more on weather in Budapest in spring.
Related:
Gozsdu Easter Market – March Events, Things To Do – Spring Fair At Városháza Park (Downtown) – April Programs in Budapest – May Day Programs