Date is Not Official Yet!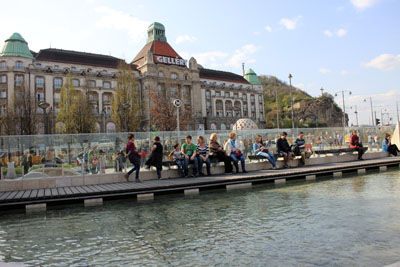 The rapidly developing Bartók Béla út (a road starting at Gellért Sqr. in the Buda side, in district XI.), hosts the Eleven Spring Weekend on 18. and 19. May 2018.
The name is a word game on the district number XI. and the Hungarian meaning of eleven: energetic, lively.
The programs of the 3-day festival will be themed around Portugal: its culture and gastronomy.
The aim of the event is to bring more culture, designers, unique shops, and creativity in the neighbourhood that already gives home to a range of
small galleries,
lovely coffee houses (Hadik Cafe and Szatyor Bar, Gallery at 36-38. Bartók Béla út, Moha Cafe at 11. Bartók B. út, Cafe Créme Gottier at 9. Bartók B. út, Tranzit Art Cafe, La Nube-a charming Mediterranean cafe at Bartók B. út 41.)
wine bars (Borháló, Palack Wine & Tapas Bar), and
shops.
Entry is free to all programs.
Main Venues Include:
Bartók Béla út – cafes, art galleries, shops, bars.
Szent Gellért tér (the square in front of the Gellért Baths and Hotel).
Feneketlen tó (a small lake and park near Móricz Zsigmond körtér) and surrounding area.
Gárdonyi Square – a small plaza with the statue of Géza Gárdonyi novelist in the centre.
Best way to get there:
M4 metro (green line) Szt. Gellért tér station
Some of The Programs
We will publish the 2019 programs as soon it is available.
06. May, Friday
Opening Ceremony– The event opens on Friday, 06. May at 16.00 on Gellért Square in front of the M4 Metro Station with an outdoor concert and exhibition.
Saturday
"1 Artist 1 Place/1 Művész 1 Porta" Art Installations along Bartók B. út, Closing Ceremony – Saturday, 07. May, at 18.00 – During the whole week preceding the festival you can view how a local artist and a place ( shop, cafe etc.) create a unique installation from reusable materials while at night you can admire the finished works of art illuminated by lamps from Gellért Square to Kosztolányi Dezső Square. On Saturday the art works will be auctioned off in Danubious Hotel Gellért at 18.00
Miénk a Tér – We Own the Square, Gárdonyi tér, Saturday, 23. Apr., 10.30-13.00 – a relaxed gathering of locals living in the area as well as everyone else who wants to partake in shaping the future of BBB, short for Bartók Béla Boulevard. Exchange some cakes, pastries and ideas and have fun with local people at Gárdonyi Square on Saturday .
Guided walk along the Boulevard lead by Szilvia Péter – Saturday, 23. Apr., at 11.00: meeting at Gellért Sqr.
Guided walk to view the street installations of "1 Artist 1 Place/1 Művész 1 Porta"
Family programs in Pagony, a Garden Bistro opposite the Gellért Baths (at Kemenes utca 10.): this cute outdoor cafe/restaurant hosts an interactive investigation of children stories and tales the result of which will be a story book installation.
Chocolate weekend in Cafe Gottier (Bartók B. út 9.) – chocolate-themed movies, craft bonbon fair, chocolate workshop and tasting by the 9s Chocolatier.
Children programs
07. May, Saurday, 15-30 – 17.00- Workshop – make your own sea diorama/model about Portugal's rich water life
Venue: Szatyor Bar & Gallery, Bartók B. út 36
The Pagony Bookshop – specializing in children literature – will also host a couple of programs on Friday and Saturday.
Wine Tastings on Both Days
Bartók Béla Boulevard has a couple of wine bars and shops where you can buy and taste splendid, high-quality Hungarian wines. They offer wine tastings on the Eleven Design Weekend:
Palack Bor & Tapas Bar, Gellért tér 3., district XI.
"Red & White" – pairing of one red and one white wine with snacks
Borháló Wine Shop, Fadrusz utca 5., (at Kosztolányi Dezső Sqr.)
Wine tasting for beginners, Friday and Saturday, 22-23. Apr., at 18.00 – Artistic Wines, Artists of Wines
Bor és Kézműves Üzlet-Műhely-Galéria (Wine & Craft Shop-Gallery), bartók Béla út 8.
Exhibition, wine bar: Szekszárd Quartett, milk bar (milk shakes): 22-23. Apr., at 18.00
You can find the detailed program of the event here (In Hungarian) or on Facebook.
Related:
April Programs, Things to Do in Budapest – May Day in Budapest – Gourmet Festival – International Book Festival Millenaris Park – Summer in Budapest