Pioneer of New Wave Coffee in Budapest
Address: Arany János utca 15., district V., Basilica neighbourhood
Opening Hours: Mon-Fri: 7.30-19.00, Sat-Sun: 9.00-17.00
Facebook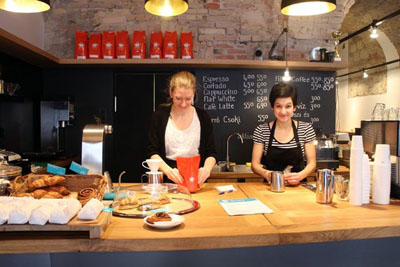 If you appreciate exceptionally good coffee then you must drop by Espresso Embassy in Budapest's centre, at a short walk from the picturesque Danube Promenade.
Espresso Embassy was among the firsts to offer coffee prepared in alternative ways (AeroPress, Vario V60, Chemex), from fresh, lightly roasted beans, sourced from local and international roasters.
The aim is to discover and enjoy flavours, aromas characteristic of the coffee beans' producing area, the terroir, similarly to wines, highlighted by the lighter degree of roast and the gentle preparation method.
The owner, Tibor Várady (barista champion, 3rd on Hungarian Aeropress Championship) moved to the downtown location from Printa (a gallery, silkscreen studio and cafe in Rumbach S. Str. in district VII., also deserves a visit while you're in Budapest) in 2013.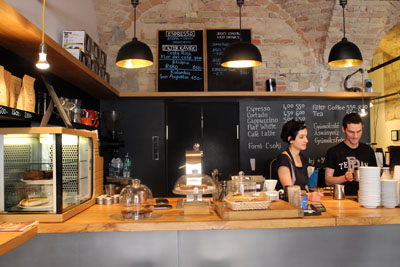 Since then EE has become a favourite of many coffee enthusiasts both locals, including me who always has a nice brew or flat white when in the city centre, and tourists.
The vaulted, cellar-like interior is dotted with interesting details, black industrial-style lighting, natural wood furnishing, (besides chairs and tables you can take your coffee at two long counters perched on bar stools) and there's a small terrace on busy Arany J. street too.
The clean, minimal design is the work Sporaarchitects known also for the design of two M4 metro stations in Budapest (the one at Fővám tér and the other at Szt. Gellért tér).
A nice feature is the water tap for customers with glasses and pitchers next to it that provides cleared water should you get thirsty or wish to counterbalance caffeine's diuretic effect.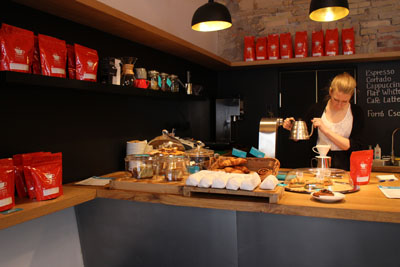 Champion baristas prepare your choice of coffee drink from the single origin beans of a local micro roastery, Casino Mocca and other international roasteries (Double Shot, Drop Coffee, Has Bean, Square Mile).
The full spectrum of espresso based drinks are available prepared on a shiny new, uber-high-tech Victoria Arduino VA388 Black Eagle machine.
: espresso, cappuccino, cortado, flat white, and latte.
For the artfully decorated latte creations they use a local farmer's, Hétforrás Birtok, full milk, but if you're cannot tolerate cow milk you can have your drink made with a almond milk (supplied by a local juice bar, Superjuice).
The place is quite busy all day but actually it's not too noisy so you can happily enjoy your coffee, answer e-mails, post to Facebook or Twitter, or if a small background buzz doesn't disturb you can do some work on your laptop.
The staff is extermely friendly, ready to help you choose a drink, telling you about the coffee beans, preparation methods and so on.
Prices (depending on coffee beans/drink size): espresso: 400-650 HUF, cappuccino: 500-650 HUF, flat white: 650 HUF, filter coffee: 550-850 HUF.
You can nibble a tasty croissant, cocoa snail (by Pékműhely Bakery), cookies, cakes (DynamoBake) or per-packaged (but great quality) sandwiches.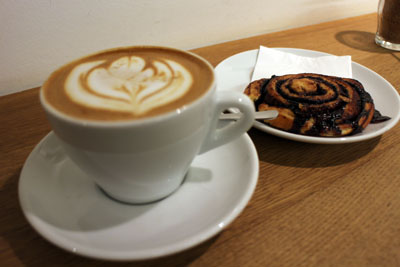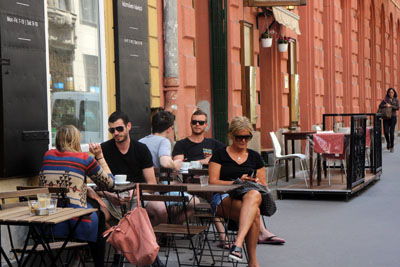 If you loved the coffee you can buy the beans (costs cc. 2 600-3 200 HU/200 g): they are on the shelf right next to the entrance along with assorted coffee making equipment (mugs, Hario mill, AeroPress).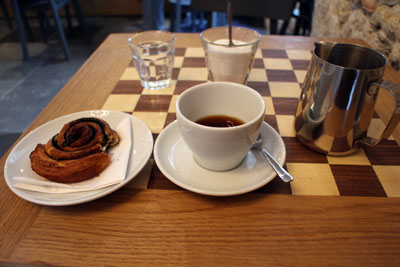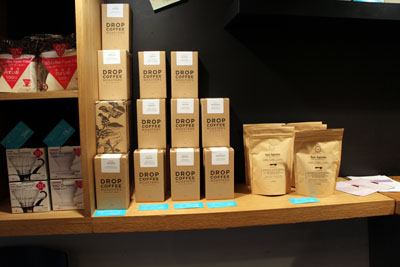 See also our list of Specialty Coffee Shops in Budapest!
TIPS: Places to Try Nearby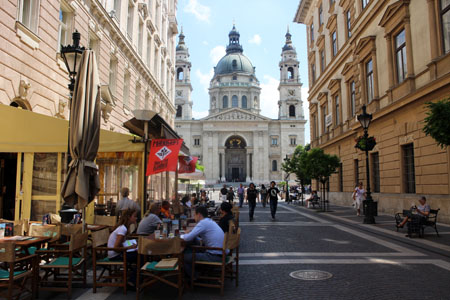 The neighbourhood and the street is rich in attractions and restaurants and other foodie places:
Gelateria Pomo D'oro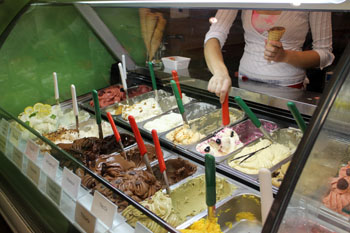 Just a couple of metres on the other side of Arany J. street you'll find the best ice cream shop in Budapest, Gelateria Pomo Doro
You'll get real, rich, creamy Italian gelato in a dozen of flavours (3 types of chocolate, coffee, gorgonzola, salted caramel, pistachio, strawberry etc), gelato con brioche (warm brioche bun filled with a fat dab of ice cream, granita in 3 flavours, coffee, some cakes and desserts.
The owner of the gelateria, Gianni Annoni, also has one of the top Italian restaurants in the city, Trattoria Pomo D'oro a few metres, across the street.
A Table Boulangerie
Address: Arany János utca 13., district V.
Open. Mon-Fr: 7.00-19.00, Sat: 8.00-16.00, Sun: 8.00-15.00
A Table is a French bakery offering buttery goodies: croissant, eclair, pain au chocolat, pain au chocolat pistache, mille feuilles or tarte au citron. Savoury delights include sandwiches, croque madame, and fougasse.
They have a couple of other shops in the city: in Retek utca Buda, in Mammut Shopping Centre and in Wesselényi utca in the Jewish district.
Coffee is not as good as in Espresso Embassy but the pastries are really good and fresh, literally dripping with butter.
Madal Espresso & Brew Bar, Fernciek tere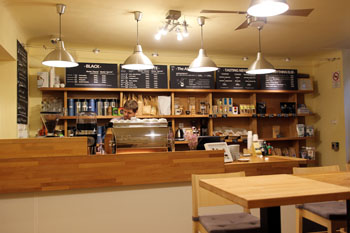 Address: Fernciek tere 3., district V., city centre (M3 metro/blue line)
Opening Hours: Mon-Fri: 7.30-19.30, Sat-Sun: 8.30-19.30
Madal opened its first cafe in a semi-pedestrian street near Margaret bridge in 2014.
Riding the wave of the increasing popularity of third wave coffee, they launched a new, bigger shop on two levels at a busy square, Ferenciek tere.
The new Madal Espresso & Brew bar in Budapest' city centre welcomes gourmet coffee lovers seven days a week with exceptional coffees (both espresso and filter-style prepared from carefully selected and roasted beans supplied by a couple of European roasteries as well as Madal's own roasting project, Beyond Within), a dash of spirituality, pastries, cakes and kind, coffee expert staff.
Higgs Field Art Gallery & Cafe
Address: Hercegprímás utca 11., district V., near the Basilica
Opening Hours: Mon-Fri: 12.00-19.00
Higgs Field Gallery & Cafe is just 100 m by walk from one of the most popular attractions of Budapest, the St. Stephen Basilica.
Although it's not strictly a specialty coffee shop and opens only at noon, coffee is still great here made from Casino Mocca roasts both as espresso and filter drinks (AeroPress).
Besides modern art and design works, video installations, and superb coffee, you can also grab some splendid food here: creative sandwiches made from natural, quality ingredients. The freshly pressed vegetable and fruit juices are a huge plus too.
Related:
Historic Cafes in Budapest – Best Budapest Restaurants – Trendy Cafes in Budapest