Have a wonderful Christmas Eve cruise on the Danube and enjoy a four-course dinner, live music and festive atmosphere.
People in Hungary spend the Eve of 24. December – that kicks off the Christmas and New Year holiday – with their family. Budapest calms down for the next two days:
Christmas Day on 25 December,and
Boxing Day on 26. December.
A festive cruise with 4-course dinner (see menu below) on the Danube on the Eve of Christmas, 24. December 2022 at 19.00.
Prices:
Full price: 95 EUR,
Children (ages 7 -12): 50 EUR
Free for children under 6 years
Date & Time:
24. December 2022., at 19.00
Duration 2 hours
Meeting time: 18.30
Book Your Place
Why Go?
Most restaurants, cafes, shops close in the afternoon on 24. December and stay closed over the next two days.
Apart from some winter holiday concerts, there aren't much things to do in the city on Christmas Eve, so a boat excursion with festive dinner by candlelight offers a memorable and romantic program.
The Danube banks are home to Budapest's oldest and most famous landmarks from the imposing Parliament in Pest, to the Royal Palace in Buda Castle or the Gellért Hill.
You can admire these sights and the captivating night city view during the 3-hour excursion.
After dinner you can also enjoy the panorama from the open upper deck of the ship and snap photos to put on Instagram/Facebook.
Price is affordable and includes the 3-hour river tour, a warm buffet dinner of 4 courses with 2 drinks: a glass of Hungarian wine – you can swap it for a non-alcoholic drink – and a glass of mineral water (0.33 liter), authentic gypsy music by the renowned Hungaria Folk Orchestra.
Program Details
Dress Code
No special dress code is required. Guests usually are dressed casually elegant.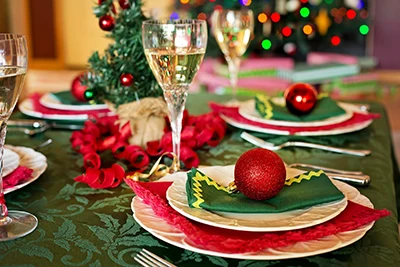 How To Book?
The simplest, quickest and safe way is to book your place online. You can pay through Paypal: either from your balance or using a bank card/credit card.
After payment you'll automatically receive an E-Ticket/voucher and all the instructions and details in e-mail.
No need to queue for tickets just print and bring your ticket with you to the meeting point!
TIP: See also our Things to Do Recommendations for 24. December/Christmas Eve!
Menu Of The Festive Christmas Eve Dinner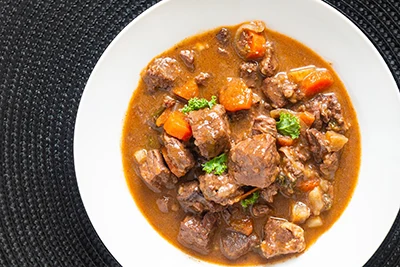 Soups
Alföld-style Goulash Soup (LF) (GF)
Vegetable cream soup (LF) (GF) (V)
Salads
Fresh season salad with dressing (GF) (V)
Pasta salad (V)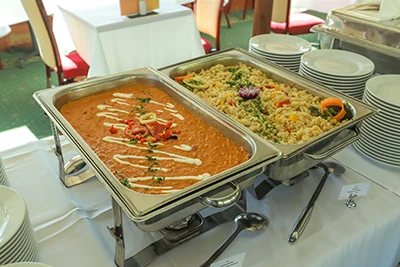 Main Dishes & Garnishes
Chicken Paprikasch (GF) (LF)
Traditional stuffed cabbage (GF) (LF)
Roasted chicken thigh (GF)
Dumplings (V)
Vegetable Casserole (V)
Oven baked potatoes and onions (V)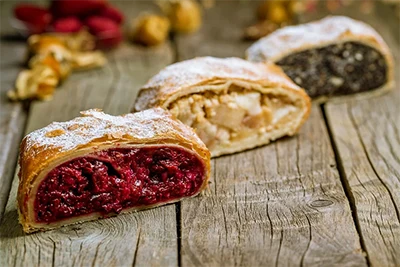 Desserts
Hungarian Strudel variety (V): sour cherry, apple, poppy seed filling
Somlói galuska – layered dessert with rum-soaked sponge cake, vanilla sauce, ground walnuts, chocolate sauce and whipped cream (V)
Bejgli – traditional festive pastry roll filled with ground walnut or poppy seed (V)
Drinks
1 Glass of wine (or juice) and 1 bottle of mineral water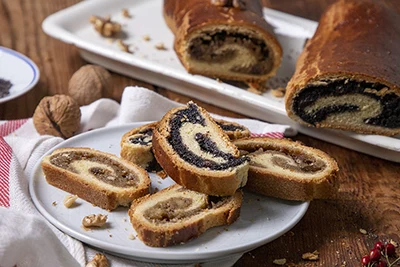 TIP: Check out also our festive Cruise with Dinner and Music on Christmas Day & Boxing Day, 25-26. December 2022.
More Programs in Budapest
Terms and Conditions
By booking the program you are agreeing to the terms and conditions.