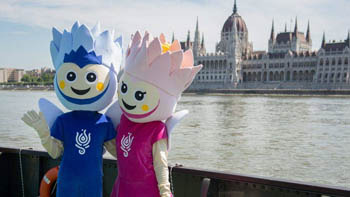 The 17. FINA World Championships in water sports take place in Budapest and Balatonfüred, a charming lakeside town 130 km west of the capital, between 17. June – 03. July 2022.
The two main locations in Budapest, the Danube Arena and the Alfred Hajós Aquatic Complex/Margaret Island have fan zones where you can watch the races on giant projectors for free while having a snack or street food with a drink.
The Margaret Island fan zone is located in the Athletic Center – next to the Aquatic Complex – abbreviated as MAC on maps and brochures.
Both places have a pop-up Aldi shop should you want to buy a bottle of water or snack.
Quick Links: Fan Zone Margaret Island – Fan Zone Danube Arena – Batthyány Square – City Park Lake
Programs for FREE at the Aquatics Fan Zones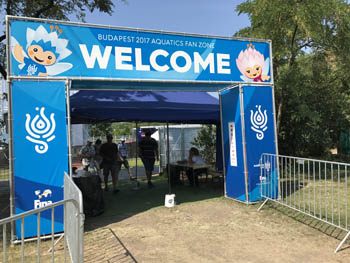 The fan centres at the Danube Arena and on Margaret Island, called FINA Market Street also offer a range of
family activities related to water sports: Xbox Kinect, VR Glass, Quiz
concerts and
gastronomy delights: burgers, crepe, lángos – a local street food, specialty coffee, fruit juices, beers.
What's more, you can follow the competitions on large screens and cheer along.
Food and drink prices vary: a mug of beer is 750 HUF, iced coffee: 750 HUF, a burger is around 1 600 HUF, but you can get bread pizza bake din clay oven for 1 000 HUF.
At most places you can bay with bank card.
Opening Hours of the Fan Zones:
Margaret Island (in the Athletic Center): every day: 10.00 – 22.00, then After Chill Party to dance away all the stress
Danube Arena: programs, opening hours depend on the daily sport event schedule
Browse our guide to see
what to do near the venues,
what to do near the venues,
where to eat and drink and
to cheer for your favourite swimmer or water polo team.
Where to Buy Tickets ?
Tickets to the various competitions are available through the official ticket merchant of the event, Eventim. Tickets to the most popular events – swimming finals, water polo finals – are mostly sold out.
Prices vary from 500 HUF to 15 000 HUF.
Hotline for the FINA Budapest
Call the +36/1-907 0500 number if you need assistance with
travel,
tickets, the championship events
have a complaint or
in emergency – in this case it's better to dial 112 the direct emergency call number in Hungary.
Operators will help you in English or Hungarian 24/7 till 30. July then during the FINA Masters Championship between 06.00 – 22.00 till 22. August.
Venues: Scenic Locations on Both Sides of the Danube
The swimming competitions will take place in the Danube Arena, a brand new Aquatics Complex on the bank of the Danube in North Pest, district XIII.
The other venues are similarly spectacular:
Best Ways to Get Around Budapest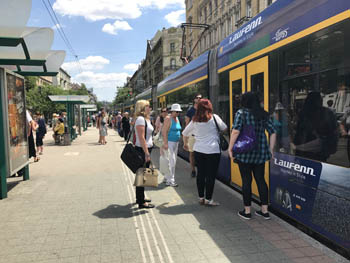 Budapest has a fairly efficient public transport system with
4 metro lines (M1, M2, M3, M4), – the first 3 lines converge at Deák Ferenc tér in the city centre.
lots of tram lines – tram 4, 6 travelling on Grand Boulevard/Nagykörút, tram 2 along the Danube in Pest
bus services (incl. night services)
trolley buses,
public boat lines, use D11, D12 lines.
TIP: You can also bike around the city using the lime green public bikes of the BuBi, or you can rent one from one of the numerous bike rental companies.
You can park your bicycle at the bike racks located around the main venues.
Public Transport Tickets: a single ticket is 350 HUF, but you can buy a pack of 10 tickets for 3 000 HUF. There is also a 24-hour, 72 hour or 7-day travel card.
TIP: If you plan to do lots of sightseeing, museum hopping then get a Budapest Card ( 24h, 48h, 72h, 96h and 120h). Includes free use of public transport, free entry to 10 museums/art galleries, free entry to the Lukács Bath, among many other discounts and benefits.
Where to Buy the Mascots – The Officials Symbols Of The Championships?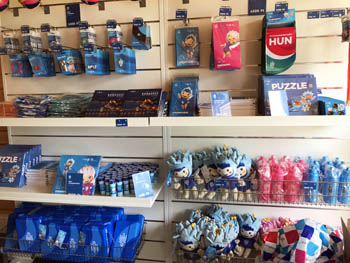 You can purchase the plush water lilies, named Lili (pink) and Lali (blue), along with other merchandise, at the shops in the Fan Zones.
They are also available through the webshop of the FINA Budapest 2022 for 4 990 HUF + delivery.
Note: delivery price can be quite hefty!
Danube Arena – Swimming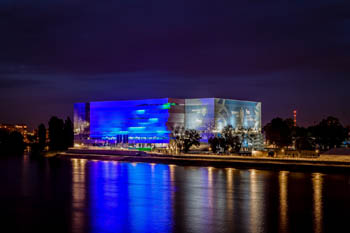 Address: Népfürdő utca 36., Budapest 1135, distr. XIII.
Getting there:
M3 metro (blue line) – get off at Forgách utca from there the entrance is 8 – 10 minutes by walk
tram 1, towards Bécsi út/Vörösvári út – get off at Népfürdő utca/Árpád híd, a the Arena is 10 minutes by walk
public boat lines D11, D12 – get off at Népfürdő utca, boat ticket: single trip: adult: 750 HUF, child (up to 15 years of age): 550 HUF
Buses 15 and 115 – get off at Dagály Fürdő, the Arena is juts a few steps from the bus stop.
A newly built aquatics complex in the northern side of Pest.
The swimming and diving competitions will be held here in the 2 Olympic-size pools in the main building.
Swimming rounds take place between 23 and 30. July.
Fan Zone at the Danube Arena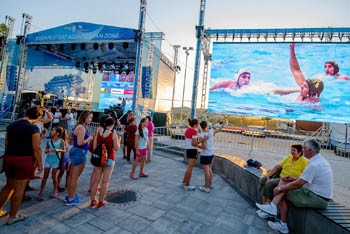 Opening hours: depends on the daily program schedule
The fan zone, named FINA Market Street is located in the open air area surrounding the main building.
All programs are free to attend.
Here you can
follow the sport events on giant screens and cheer for the athletes,
enjoy concerts, and
try out some cool activities.
Fun Things To Do at the Danube Arena Fan Center
Be a High Diver! – with a VR Glass
Compete Against the Bets Swimmers! – with Xbox Kinect
Aquatic Sports Quiz
Concerts
Concerts by local bands will entertain visitors at the Duna Arena fan centre usually late afternoon, starting at 17.00.
Performers include:
Kállay Saunders Band,
ByeAlex,
Ocho Macho,
Animal Cannibals,
Balkán Fanatik,
the Csík band,
Belmondo,
Ghymes.
Street Food at the Danube Arena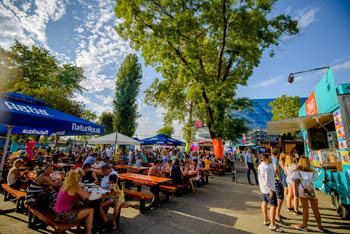 Taste the best local street food offered by the most-popular food trucks in Hungary.
You can also have chilled drinks – alcoholic, non-alcoholic – of a wide variety. Prices are around 1 000 – 3 000 HUF for a meal.
Food vendors
Babushka, 25 -30 July – Russian fast food with some vegetarian offers
Zing Burger – one of the best known and first street food makers in Hungary know for their tasty burgers (a delectable version of a McDonalds fare)
Kanálgép (The Spoon Machine) – meatballs, cheese steak, stroganoff sandwiches, and everything else that's delicious!
Kolbice by Kobe: grilled sausages in a cone-shape bread with braised onion or other toppings, sauces
Paneer – fried cheese sandwiches
Twist & Chips – twist-shaped potato chips for 900 HUF
Go-Free – waffles with various toppings (they can be also found in the city centre, at Dohány utca 9., district VII, near the Great Synagogue).
Mr. Funk – donuts
Juice Up – freshly squeezed fruit juices
Jaromir '68 – Czech beers by craft breweries
Borkas – wine spritzers, non-alcoholic fruit syrups
Vespresso – top-quality coffee drinks from in hot and chilled form, a glass of iced coffee is 750 HUF.
Alfréd Hajós Swimming Complex, Margaret Island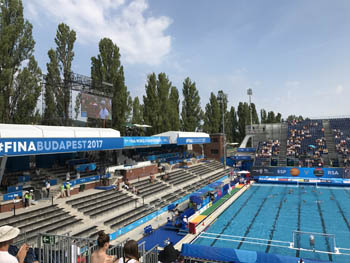 Address: Margitsziget, 1138 Budapest
Getting there:
trams 4 and 6, get off at Margitsziget/Margit híd stop, a 8 min. walk to the complex
bus No. 26 – the only public transport service that travels through the island, get off at Hajós Alfréd uszoda stop
Competitions: water polo rounds between 16 – 29. July
Water polo athletes entertain the crowds in the legendary Alfred Hajós Swimming Complex (named after the first Olympic gold medal winner of Hungary).
The sport complex is located on Margaret Island, a green isle in the middle of the Danube between Margit Bridge and Árpád Bridge.
TIP: The grandstand is uncovered so visitors are not protected from the sun or rain. Wear a sun hat, sunglasses, put a wet towel around your neck and have a water or other drink with you while watching a match.
You can grab
a sandwich,
water
fizzy drinks, fruit juices and
beer at the buffet located at the entrances to main sections of the grandstand.
You will also find mobile toilets there.
Aquatics Fan Zone on Margaret Island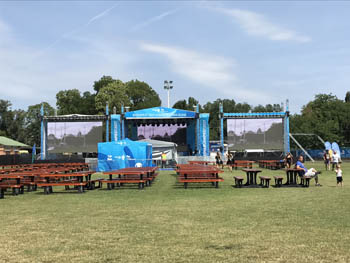 Open: every day: 10.00 – 22.00, then After Chill Party till dawn
The fan zone is in the Athletic Center, next to the Musical Fountain, at just a short walk from the swimming complex.
Here you can follow the competitions on extra large screens while sipping a cold drink.
Unfortunately there isn't much shade only some umbrellas above the blue bean bags and the couple of deck chairs.
The rows of wooden benches are on the sun.
Food & Drinks, Shops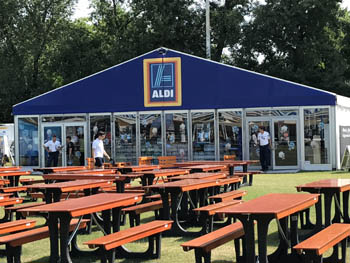 A wide range or programs, concerts, activities, street food, and drinks await visitors at a designated food court.
In the Aldi Shop you can get bakery goods, drinks and other staff at moderate prices.
Shops, sponsor pavilions line the running track of the Athletic Center.
You can get a box of to-go fruits or coffee here.
The merchandise shop is also here offering a series of souvenirs.
the water lili mascot costs 4 999 HUF,
a small water polo ball is 4 500 HUF.
a bubble blower is 490 HUF while
you can get the now trendy hand spinner for 2 500 HUF.
Food Court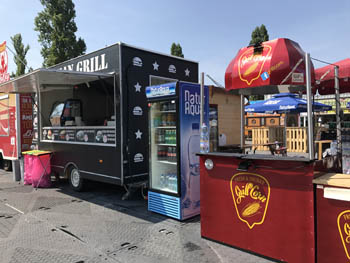 A handful of street food trucks stand next to the grassy area. They are a bit overpriced, so if you are budget conscious stick to the Aldi shop.
Balkan Grill – burgers, chevap, pljeskavica – average quality at not so average price. We had a mediocre cheese burger for 1 700 HUF (without fries).
Note:
In the morning only 1 -2 street food vendors are open, the food court gets more active in late afternoon-evening. At around noon we only found the Balkan Grill and the Crepezilla open.
Buddog – a hotdog food truck – they have good stuff, we have tried their food in their other location, Rombusz Terasz in Ráday Street, at No. 10 – 12. A simple dog is 1090 HUF
Vespresso – espresso, iced coffee and other caffeine-laden drinks.
Crepezilla – crepes in savoury and sweet versions between 600 – 2 300 HUF
Bread pizza: 1 000 HUF
Photos – Fan Zone Margaret Island
Batthyány Square, Buda
Address: Batthyány tér, district I.
Getting there: M2 metro (red line)
Events' date: 28 – 30. July
The Batthyány Square hosts the most spectacular competition, the High Diving.
Men competitors dive from the height of 27 metre while women from 20 metre.
A magnificent location with the Castle Hill in the background and the grandiose Parliament on the opposite side of the river, flanked by two beautiful bridges,
City Park Lake/Városligeti tó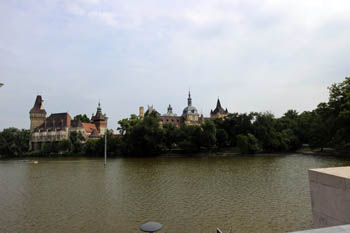 Address:
Getting there: M1 underground (yellow line), get off at Hősök tere
Events' date: 14 – 22. July
Synchronised swimming is held in the temporary pool built in City Park Lake next to Heroes' Square/Hősök tere.
What To Do in City Park?
Visit the historic Zoo and Botanical Garden that besides a range or animals, an activity center in the Magic Hill and lots of rare plants hosts concerts in the evenings.
See the program of the Summer Concerts in the Zoo.
TIP: The iconic spa complex, Széchenyi with several indoor and outdoor pools, massage treatments stands in the park. You can get special skip-the-line tickets with cabin use/massage through our webshop.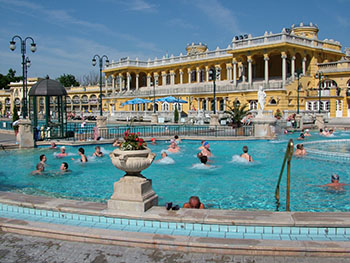 The fairy tale like Vajdahunyad Castle at the lake houses the Museum of Hungarian Agriculture.
The courtyard is also a place for classical concerts in July and August.
View the program of the Summer Concerts at Vajdahunyad Castle.
Eating Out in City Park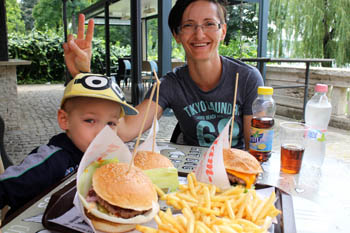 The park has a couple of places to grab a meal ranging from
fine dining spots like the Gundel
burger bistros like Pántlika
The lakeside dining restaurant Robinsons offers superb steaks, other meat dishes along with panoramic views.
In Városliget Cafe you can get delicious cakes, strudel, ice cream and other desserts, coffee as well as typical Hungarian dishes.
Tips to Get Through the Sweltering Heat in Budapest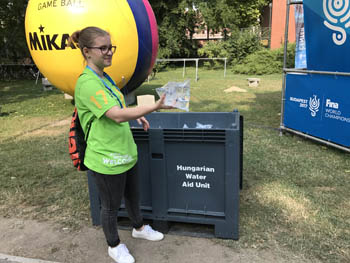 July is the hottest month in Hungary with daily temperatures above 35 deg. Celsius.
Put on a sun hat, sunglasses and a light white shirt or blouse to avoid sunburn.
Drink plenty of water or fruit and veggie juices.
At the FINA Sport events and other busy locations drinking water is dispensed in bottles or plastic bags.
The official ice cream of the championships, Anjuna, is also very refreshing.
The ice pops are 100 % natural, made without dairy products and sugar.
They come in mostly fruit flavours: mango, raspberry-lime, apricot … A piece is 890 HUF.
Read more on what to do during a heat wave in Budapest
Balatonfüred – How to Get There?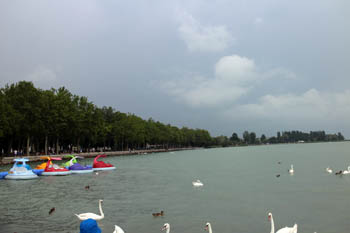 The romantic lakeside town of Balatofüred is on the northern shore of Lake Balaton, 130 km west of Budapest.
You can view here the 10 km open water swimming between 15 – 21. July.
The best way to get there is by car on the M7 motorway. The trip is 1,5 h long (without any accidents holding up traffic).
Emerald green water dotted with white sail boats and swans is the typical view here that you can bets enjoy from the Tagore promenade.
Useful websites: official event website
Related – More Events, Activity Tips
A handful of other events take place in Budapest in July from concerts to gastro festivals.