A Beer Festival with Family Programs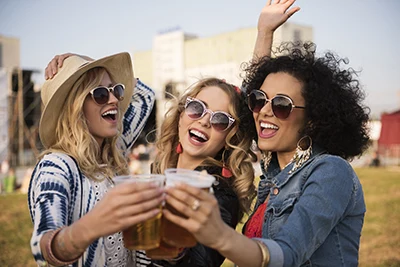 Beer lovers cannot complain of lack of beer festivals in Budapest.
After the Downtown Beer Festival, Czech and the city gets its own Oktoberfestat the Fröccterasz-Télikert, right next to Erzsébet Square downtown Budapest.
The best craft breweries from Hungary, Bavaria and other countries will be present on the two-day event offering a choice of 300 beers.
FREE Entry with a gratis Oktoberfest mug!
The night programs starting after 23.00 can be attended with a ticket that you can buy on the premises.
Quick Links:
Location – Getting There – Opening Hours – Programs
Some of the programs of the 2-day festival:
The award-winner beer from the München OktoberFest along with other original OktoberFest brews
A wide choice of local and international beers
Great food selection
Cultural and children programs,
Concerts, Parties by Hungarian performers, bands and DJ-s.
Location – Two Venues In 2022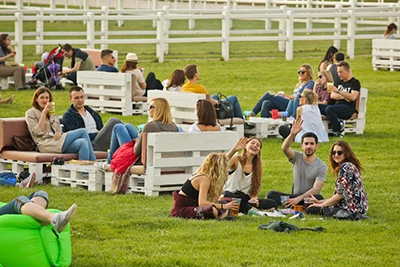 Fröccsterasz – next to Erzsébet Square in the city centre, Address: Erzsébet tér 11-13., Budapest 1051
Margaret Island-Gastro Promenade/Margitsziget-Gasztro Sétány, Budapest 1138
Getting There:
Fröccsteraszt at Erzsébet Square: Deák Ferenc tér metro hub (M1, M2, M3 lines), from there a a short walk
Margitsziget: take tram 4 or 6 to Margitsziget lejáró, get off and walk: the Gasztro Promenade at Pualnaer Beer Garden & Terrace is not far from the Musical Fountain, on the right shore of the island
Opening Hours
Friday/30. September: 17.00 – 22.00
Saturday-Sunday/01-02. October: 12.00 – 22.00
from 23.00: concerts, party and dancing on the terrace of Fröccsterasz-Télikert (tickets are available on the premises)
Food At The Festival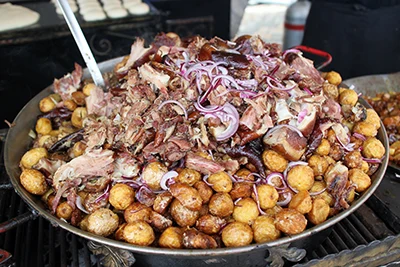 In the Bavarian Gastro Court you can have a taste of Bavaria with traditional dishes like
Wiesn-Hendl – grilled chicken with potato salad or coleslaw
roasted pork knuckle
grilled sausages and
Bavarian pretzel, the Brezn
Sweets & Desserts
heart-shaped gingerbread
strudel, and
kaiserschmarrn.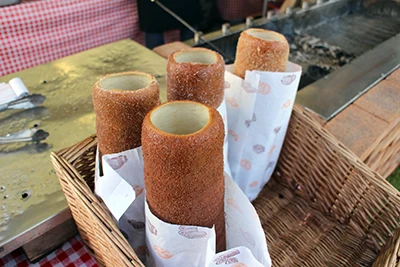 You can also taste Hungarian delicacies, street food, enjoy concerts by more than 50 performers.
Craft Beers & Food Trucks
Look also for the food truck area to sample the best Hungarian and international craft beers and street food.
Programs
Breweries That Will Be Present On the Oktoberfest: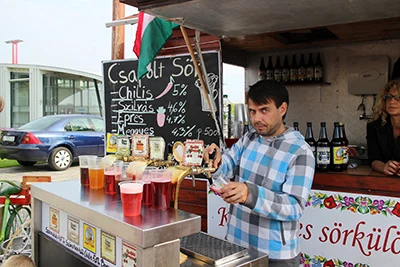 Warsteiner
Betyár Fekete
Fóti Kézműves Sörfőzde
Gyertyános Serfőzde
Bors Sörfőzde
Pécsi Sörfőzde
Mister Sörház
Beerfort Sörfőzde
Lehmann Sörfőzde
Rizmajer Brewery
Rotburger
Szent András Sörfőzde
Bador Sörfőzde
Heinken
Belga Sörök Háza (Belgian Beers)
Zirci Apátsági Sör
Csiki Sör
Hedon Sörfőzde
EPA Sör
Domján Sörfőzde.
Source: official webiste of the event
TIP: See more Beer Festivals in Budapest and browse also our October things to do and see recommendations.
View our Facebook photoalbum about the Oktoberfest in Budapest.
Related:
Belgian beer Festival Budapest Bálna – Czech beer Festival – Craft Beer Cruise – 19:00 – Craft Beer Cruise – 22:00