Date is Not Official Yet!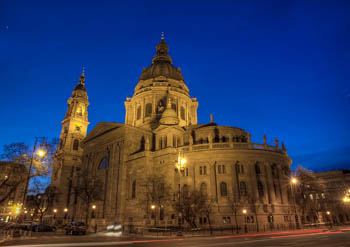 Enjoy the excellent acoustics of St Stephen's Basilica on an organ concert performed by one of Hungary's most talented pipe organ players Kolos Kováts.
The program includes a flute solo by Eleonóra Krusic a famous Hungarian flute player who regularly performs with other European orchestras.
The concerts are held every Thursday at 20.00 from March till the end of December.
Program of the Concert
Antonio Vivaldi (1678-1741) – Johann Sebastian Bach (1685-1750): Concerto in D minor BWV 593 (Allegro, Adagio, Allegro)
Tommaso Albinoni (1671-1751): Adagio
Alessandro Stradella (1639-1682): Pieta Signore
Wolfgang Amadeus Mozart: Andante in C major K 315
Franz Schubert (1797-1828): Ave Maria
Liszt Ferenc (1811-1866): Fantasy on the name B-A-C-H
Georges Bizet (1838-1875): Agnus Dei
Johann Sebastian Bach: Menuet and Badinerie from suite in B minor BWV 1067
Johann Sebastian Bach: Toccata and Fugue in D minor BWV 565
Dates in 2017:
Concert start at 20:00, and is about 70 minutes long, without break.
May: 18, 25
June: 01, 08, 15, 22, 29
July: 06, 13, 20, 27
August: 03, 10, 17, 24, 31
September: 07, 09, 14, 21, 28
October: 05, 12, 19, 26
November: 09, 16, 23, 30
December: 07, 14, 21, 28
2018. January : 05
Prices:
1st cat: 30 EUR, student: 28 EUR
2nd cat: 26 EUR, student: 24 EUR
3rd cat: 19 EUR, student: 17 EUR View map of seat categories!
VIP: ticket: 77 EUR: includes: private transfer from and to your accommodation, 40 minutes guided tour up to the cupola, to the treasury of the Basilica and to one of the chapels where you can have a look at Hungary's most sacred artifact, St. Stephen's mummified right hand, called Szent Jobb /Holy Right Hand/.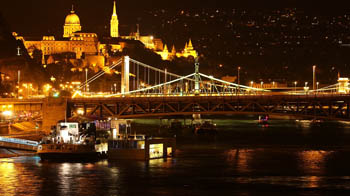 TIP: You can also book the concert with a night cruise on the Danube starting at 22.00 at a discounted package price.
4-course dinner served buffet style,
welcome drink, a glass of wine/beer,
a bottle of mineral water, and
a 2-hour long sightseeing are all included.
After the concert hostesses will show you to the cruise boat, a short 7-8 minute walk from the Basilica on Szt. István Square.
Two wonderful programs in Budapest at a special price!
Ticket Purchase
Payment with PayPal or Bank Card, Credit Card! After payment you receive your E-Ticket automatically.
Please present it in print form or on your mobile/tablet to our staff at the entrance of the Basilica.
About the Venue
St. Stephen's Basilica, the largest church and the 2nd tallest building of Budapest, was built between 1851 – 1905. The 96 m high temple can seat nearly 8 000 people.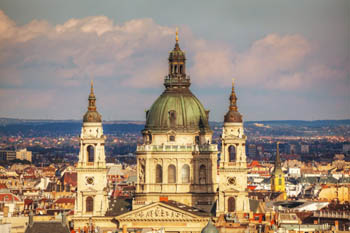 The Neoclassical elements are the works of József Hild archietct. After his death Miklós Ybl reworked the plans in a more flamboyant neo-Renaissance style.
Hungary's most sacred relic the Szent Jobb/Holy Right Hand of Hungary's first King St. Stephen (969 – 1038) can be seen in a chapel to the right of the main altar.
You can enjoy a panoramic view from the lookout terrace up in the right-hand dome:
Opening hours of the Panorama Lookout:
4
01. November – 31. March: every day: 10.00 – 16.30
April, May, October months: every day: 10.00 – 17.30
June, July, August, September months: every day: 10.00 – 18.30
Admission: full price: 600 HUF, students, retirees: 500 HUF.
Related