Szimpla Sunday, Belvárosi Piac, Pancs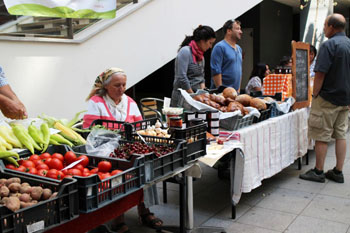 Budapest has several farmers markets held on weekly basis where you can shop for tasty organic produce, food, spices and herbs.
Friendly atmosphere,
kind people,
quality products – these events and venues make our city more and more appealing to locals and tourists alike.
Visit at least one of these markets while you're in Budapest to decide whether you agree.
Table of Contents – Farmers' Markets in Budapest
Quick Links:
Szimpla Kert Sunday Market – Belvárosi Piac (Hold utca, city centre)
Közös Piac Farmers' Market Central Passage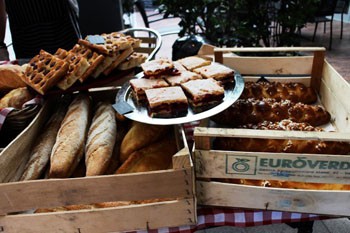 Pick up some organic produce and craft food on the Közös Piac Farmers' Market at the Central Passage (Király Street 8., district VII., the location of the Gödör Klub).
The market is organised every Saturday since spring 2013, and its is aim is to offer an opportunity for small-scale farmers, artisan food makers to sell and promote their products.
If you pay attention to what you eat, what source it comes from then drop by the Central Passage in Király utca on Saturdays between 10.00-17.00.
Besides stocking up on organic veggies and healthy food, you can also taste some real delicacies on the market:
jams,
honey,
cheeses,
salamis and sausages
yummy pastries and bread (my favourite is the Panificio il Basilico, an Italian-Hungarian artisan bakery located at Városmajor utca 34. in Buda. district XII., near Széll Kálmán tér).
TIP: If you missed your morning caffeine dose, have a cuppa in a lovely cafe nearby: the My Little Melbourne: they take coffee seriously so espresso and other coffee drinks are made from freshly roasted, direct trade coffee beans). No need to rush and bustle around on Saturday morning!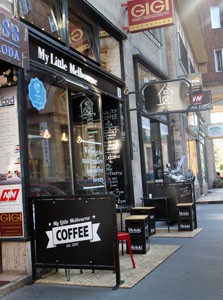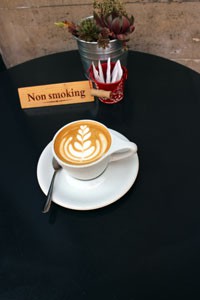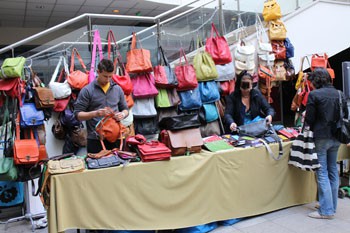 The Közös Piac usually cooperates with other programs like the Stilblog Design Weekend (05. October 2014, 10.00-19.00) within the Budapest Design Week where you can browse among the creations of the most talented Hungarian clothes and accessory designers.
see more photos taken on the Farmers' Market.
Szimpla Sunday Market (Szimpla Háztáji Piac)
Local Farmers in a Popular Ruin Pub
Address: Kazinczy utca 14., district VII.
Dates: every Sunday: 09.00 – 14.00
Looks like Budapest's Jewish Quarter attracts farmers and organic food producers.
Not far from the Közös Piac venue in Király Street, the city's oldest and most famous ruin bar, the Szimpla Kert in trendy Kazinczy Street, also organises farmers markets each Sunday starting from 9.00 to 14.00.
The place is quite small so don't expect such large selection of goods as you can find in the Central Market Hall. But what you find tastes marvelous due to organic production and care.
A wide choice in fruits, vegetables, fresh herbs, jams and preserves, sausages, hams, cheese and other dairy products. Programs for children to keep them busy while you do your shopping.
TIP:
If you miss the Sunday market, check out the Farmer's Shop (also by Szimpla) at 7., Kazinczy utca:
homemade bakery goods and strudels
pies and cakes, sandwiches,
gourmet hot dog with mangalica pork sausages,
soups and other dishes prepared from natural, seasonal ingredients,
fresh coffee made from direct trade specialty coffee by Has Bean (UK).
Ideal for a leisurely breakfast. Another great place of which Budapest offers more and more!
Belvárosi Piac in Hold Utca – Downtown Market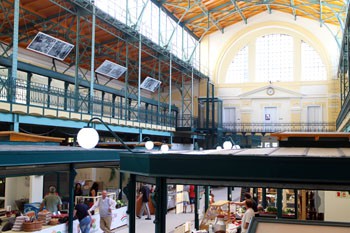 Address: Hold utca 13., district V., M2 metro Kossuth tér, M3 metro Arany János utca
Open:
Mon: 6.30 – 17.00
Tue-Fri 06.30 – 18.00
Sat: 06.30 – 16.00
Sun: closed
The market in Hold Street in downtown Budapest undergone a refurbishment in spring 2014 so now you can shop in a beautiful, organized building.
The aim of the refurbishment was to help farmers sell their produce and products to more and more city people.
This way farmers can sell more of their produce while city dwellers can get fresh, seasonal, and organic food without having to travel to the countryside.
Free range eggs, organic fruits and veggies, jams, preserves, honey, salamis, cheeses and other dairy products, bread, homemade pasta – the choice is wide.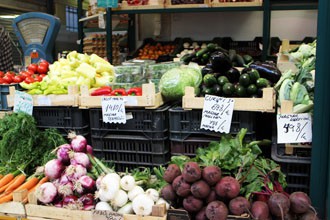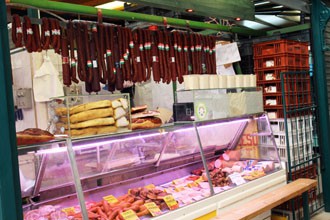 TIP: After shopping you can grab a bite at one of the street food places on the gallery:

Séf Utcája – (by Lajos Bíró who manages the famous Bock Bistro on Erzsébet krt., Grand Bld.) simple, tasty Hungarian fare from fresh ingredients,

Russia-isnpired food in MoszkvaTér Bistro or

Simple, homey food in Lakatos Műhely.
Related:
Street Food Show & Főzdefeszt – Hungarian Food Specialties – Hungarian Dishes – Hungarian Paprika – Hungarian Wines