Celebrating Folk Crafts in Buda Castle
Date: August 18 – 20, 2023
Location: Buda Castle
Visit the Festival of Folk Arts & Crafts in Budapest's Castle District between 18. and 20. August/Friday-Sunday if you want to find out more about Hungary's and other nations' rich folklore and crafts straight from the horse's mouth.
Entry to the festival is free.
Travel back in time at the Festival of Folk Arts: come and experience the atmosphere of old fairs held in the Castle, and have a wonderful time with your family during your Budapest vacation!
Table of Contents – Festival of Folk Arts in Budapest
Organised for the 37th time, the Festival is the most significant forum for living folk culture in Hungary.
The most renowned local artists and craftsmen from different regions of the country will introduce their skills handed down from many generations.
Guest Nation: Czech Republic
This year's guest of honor is the Czech Republic, and in cooperation with the National Institute of Folk Culture based in Strážnice, Czech craftsmen will participate also present their rich folk heritage and crafts.
Witness traditional folk crafts practiced in front of your eyes such as
Weaving,
Indigo dyeing,
Woodworking,
Embroidery, and
Wool processing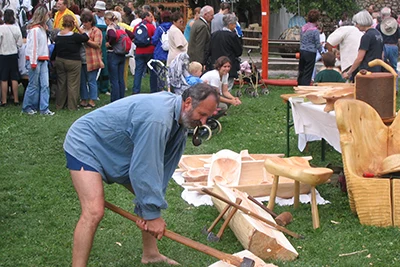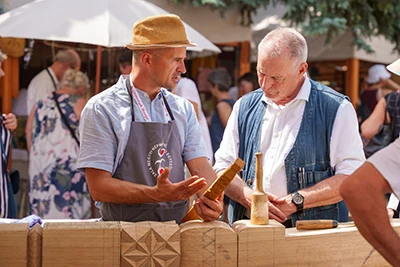 in the workshops of these skilled artisans.
Getting There:
Bus No. 16 between Deák Ferenc tér Metro Station and Díszt tér in the Castle
Bus No. 16A, Bus No. 116 from Széll Kálmán tér, (travel between Széll Kálmán tér and Dísz tér in the Castle)
Bus No. 216 from Deák tér Metro Station: bus service that runs only during the festival, takes you directly to the venue.
The termini of the buses is at Dísz tér, at the gate to the Royal Palace.
Opening Hours:
August 18 – 20, 2023
18. August, Friday: 10.00 – 21.00
20. August, Saturday: 10.00 – 21.00
21. August, Sunday: 10.00 – 20.00
Craft Workshops/Programs/Folk craft fair: 10.00 – 21.00 each day
Ticket: Entry Is FREE
As Part of the August 20th State Ceremonies everyone can visit the craft festival free of charge.
Why Should You Go?
If you want to learn more about local folk culture and craft at a scenic, historic location, Buda Castle then this event is definitely must go on your "Budapest to do list".
Furthermore, if you love good food and trying out the traditional dishes of the country you're visiting then the Folk Art Festival is an ideal place to do that.
Vacationing with kids? A range of children activities and programs will be there to keep the little ones entertained.
NEW: Folk Pub – Good Music, Dancing & Food
Location: Zsolnyai Fountain on Tóth Árpád Promenade (Zsolnay kút, Tóth Árpád setány)
This is a new venue and program and provides a cool, chill-out oasis for adults.
Besides relaxing to the tunes of melodic folk music of the Carpathian Basin, you can taste local food and beer and other drinks here.
If you'd like to take home traditional Hungarian souvenirs, the fair at the festival is a good place to buy them.
TIP: The festival is connected to the festivities of the August 20th St. Stephen's Day-National Holiday when Hungary celebrates its first king, St. Stephen, and the foundation of the Hungarian state.

The event closes with an amazing Fireworks Show over the Danube that you can watch from the upper deck of a cruise boat.
Things To Do & See On The Festival of Folk Arts in Budapest
Kitchen Utensils In The Focus
The highlighted theme of this year's event is connected to the Petőfi Memorial Year. Sándor Petőfi (1823 – 1849) was a famous Hungarian poet and the festival will be focusing on one his popular poem's first line: "I turned to the kitchen…" , highlighting the utensils of traditional peasant kitchens.
The craftsmen will present kitchen tools that can also be useful accessories for today's modern kitchens, including
Pottery products,
Baking and cooking utensils,
Home and kitchen textiles,
Storage containers, as well as
Functional objects made from wicker, straw, and reed.
Around 800 Hungarian and 150 foreign folk artist will present their work and talent over the 3 days.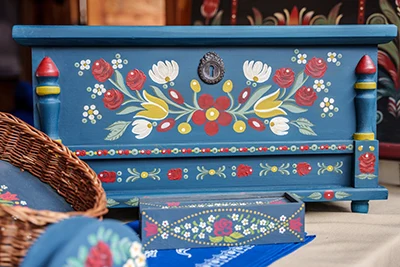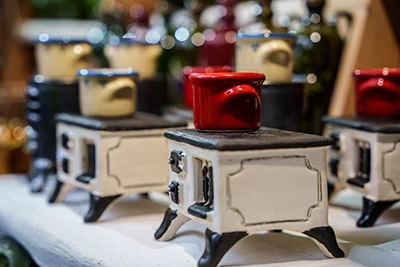 Guest of Honor Country In 2023
Craftsmen and women from the Czech Republi will show their talents on the festival.
The festival hosts a couple of workshops where you can try and learn the authentic folk crafts:
Wood carving,
Making musical instruments,
Embroidery,
Pottery making,
Weaving, spinning
Smithery, etc.
Children Activities, Fashion Show, Folk Dancing
The youngest attendees will enjoy the various children's programs including traditional folk games from bygone times, while adults can look forward to fashion shows and folk dance sessions in the suburban section of Buda Castle, along
Tóth Árpád Promenade,
Táncsics Mihály Street,
Tárnok Street, and all the way to
Dísz Square.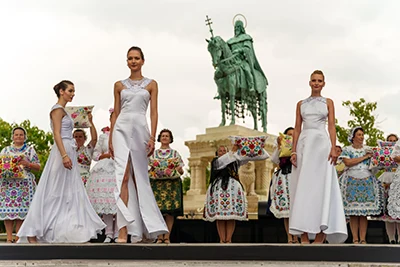 Venue – The Historic Buda Castle
Programs Will take Place At The Following Spots:
The quaint squares and streets of the Buda Castle have given home to the festival for many years now.
Royal Castle in Budapest's Castle District:
Dísz tér
Szentháromság tér (Holy Trinity Square)
Szentháromság park (Holy Trinity Park),
Tárnok Street
Tóth Árpád sétány (Tóth Árpád Promenade),
Táncsics Mihály Street,
Margareta Terrace, between the Hilton hotel and Fishermen's Bastion (Craft Fair/Food & Drinks)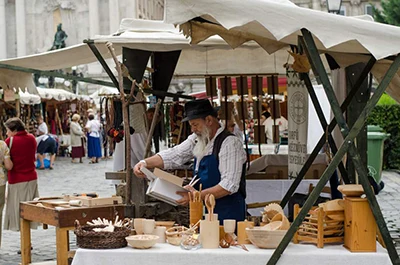 Programs At The Folk Art Festival, Buda Castle
Besides the folk art and craft fair, workshops, spectacular music and dance performances, as well as special gastronomic experiences await you if you go to Buda castle between August 18 and 20.
On top of the workshops and fair, there are many other programs to entertain you each day.
Concerts, Folk Dance, Fashion Show On The Main Stage
Venues: main stage in Holy Trinity Square/Szentháromság tér
Musical performances,
Fashion show
Folk music and dance,
World music.
will entertain visitors each day on the main stage at Holy Trinity Square (Szentháromság tér).
The Opening Ceremony of the Festival will be on Saturday at 17.00 also at Holy Trinity Square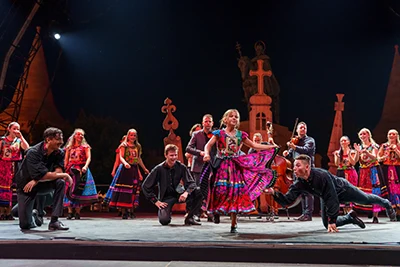 August 18, Friday – Stage Programs
Main Stage – Holy Trinity Square/Szentháromság Tér
Venue: Holy Trinity Square/Szentháromság Tér
16.00 – Folk Dance: Zoltán Farkas Batyu and the New Gereben Ensemble
17.00 – Opening Ceremony of the Festival
21.00 – Concert by Mónika Lakatos and the Romengo Ensemble
August 19, Saturday – Stage Programs
Main Stage – Holy Trinity Square/Szentháromság Tér
10.30 – Julcsi Paár – Harmonizing: Kerekerdő – Storytelling Concert for Families (100th performance – surprises included!)
11.30 – ViGaD Ensemble – Enchanting South Slavic Music (featuring dancers from the Tanac Folk Dance Ensemble)
14.00 – Tatros Ensemble – Moldavian Folk Music
16.00 – Sára Tímár and her Band: Petőfi Poems Turned into Folk Songs
20.00 – Kerekes Band – Concert
August 20, Sunday – Stage Programs
Main Stage – Holy Trinity Square/Szentháromság Tér
14.00 – Celebration Program by Örökség National Children and Youth Folk Art Association
15.00 –

Blessi

ng Of The New Bread
16.00 – Folktrend! – Tradition is old, style is new – Fashion show/Costume Presentation by the Fitos Dezső Troupe
18.00 – 18:00 Szalonna and His Band
19.30 – Human Dance: Performance by the Fitos Dezső Troupe
Folk Art Market – A Great Place To Get a Souvenir
Folk artists from all over Hungary and the Czech Republic present their craft goods that make an excellent souvenir:
Pottery,
Leather bags and accessories,
Woodcraft,
Glassware,
Enameled products
Handmade soaps,.
The fair is open every day between 10.00 and 21.00.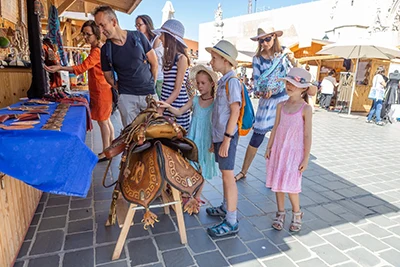 Gastronomy
You can treat yourself to tasty fair food:
Töki pompos: bread pizza baked in clay oven with various toppings,
Kürtöskalács/Sekler cake: A swirled, cylinder shaped pastry baked over open fire then coated with sugar, ground walnuts, cinnamon, cocoa, or coconut chips).
Meat lovers can indulge in roast pork knuckle, grilled sausage and meats, and home made pickles.
You can also sample traditional food of the Hungarian countryside
Spritzer, beer, pálinka, soft drinks to wash down the tasty food.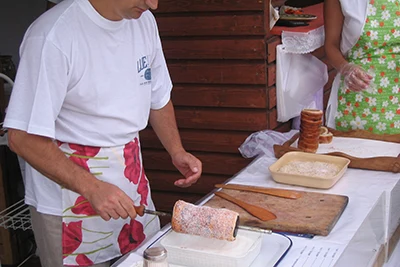 Folk Pub – Food & Drinks, Folk Music & Dance House
Head for this place if you've had enough of the festival whirl. The folk pub is located on Tóth Árpád sétány/Promenade ,a scenic walkway at the southwestern side of the Castle.

A relaxation area where you can grab a cool beer or spritzer and food while enjoying the lovely folk music and songs of the Carpathian Basin.
Every day new performers:
Folk music performers,
Dancers,
Story tellers will entertain the guests here.
Who knows, after a couple of beers you may want to join the singing and dancing?
Programs For Kids – Stage & Play House – Dísz tér/Royal Palace
Children won't be bored either, there'll be plenty programs for them, as well every day from 10.00 till 20.00.
In the play house at the Dísz tér kids can try their hands at various handicrafts:[checklist]
Weaving,
Felting,
Rope making,
Sewing,
Rag doll making,
Paper folding,
Beading, enamelling,
Candle dipping,
Making a magical felt carpet
Toddlers can play with memory games, skill board games, wooden toys and enjoy a merry-go-round.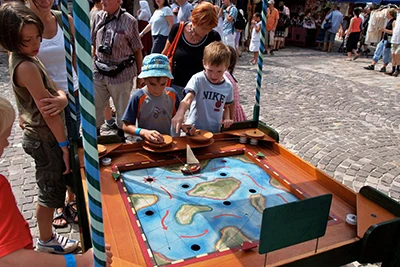 Harvest Process & Blessing of the New Bread, August 20.
On 20th August we also celebrate the end of crop harvest and the new bread and the ceremony of the so called "blessing of the new bread" will take place at the stage at the St. Stephen Statue next to Matthias Church following a spectacular harvest process.
Harvest Process
View the festive procession starting at 14.30 on Aug. 20. Sunday featuring ornate harvest wreaths and a ceremonial blessing of the new bread.
The route – the procesison departs from the
Statue of András Hadik – proceeding from
Szentháromság Street to
Tóth Árpád Promenade, then
through Dísz Square and T
árnok Street, finally arriving
at Szentháromság Square, where the ceremonial bread blessing will take place at 15.00.
Blessing Of The Bread
You can witness this sacred and traditional act on 20. August, Saturday at 15.00 at Holy Trinity Square/Szentháromság tér (View On Google Maps)
See detailed program schedule on the organiser's website.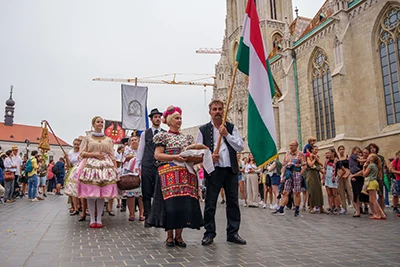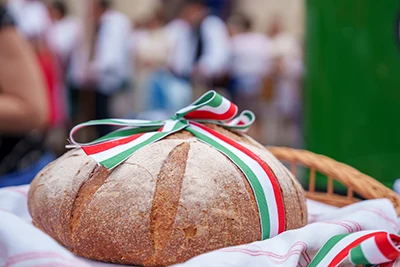 TIP: Check out also the Street of Hungarian Flavours festival between Várkert Bazaa and Szilágyi Dezső Square on 19 – 20. August. See also more August Events in Budapest.
More Summer Events:
Folk Festival in May – Summer Festival – Sziget Festival – Jewish Summer Festival – Top Summer Things To Do – Beer Festival in Downtown Budapest