Walking down on the streets of Budapest is undeniably an immersive experience. Not only we can witness the marks of the city's long standing and profound history but also the brilliant examples of 21st century architecture.

This eclectic mixture of past and present is truly an outstanding feature of of the capital. Because of this constant change in the city's outlook, neglected and run-down houses are an inevitable part of the local landscape.

And this exact reason gave rise to street art, specifically firewall paintings, in Budapest. With the contribution of many creative artists, a growing number of bare walls are being served as enormous canvases, breathing new life to these dilapidated buildings.
What's more, this new wave of art's sole purpose is to turn public areas into art galleries without any commercial intention, often times spreading awareness, reflecting on our lives or simply being ironic and humorous.

These murals or graffities are scattered throughout the city, so hunting for street art is a great way to explore Budapest and absorb her atmosphere.

TIP: The Jewish Quarter in Budapest's District VII. also known as the 'party district', is a perfect place to start. This particular area is located around Király u. and Wesselényi u. nearby the Károly Boulevard (Károly körút). If you stroll with open eyes, you can almost discover firewall paintings on every corner.

In order to give you some guiding, I collected some of my favourite pieces of firewall paintings in the above mentioned neighbourhood.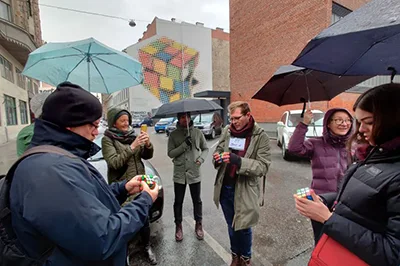 Discover a different facet of Budapest through this unique street art walking excursion. Accompany your knowledgeable local guide as you unveil concealed art pieces throughout the city, while gaining insights into their political and societal commentaries.
Our Favourite Fiewall Paintings – A Self-Guided Tour
What Does Being Hungarian Mean to You? / Alice in Wonderland
Address: Kertész u. 27., Distr. VII.
This mural depicts the Hungarian culture through colourful and ingenious figures from the Rubik's Cube, the traditional sausage from Gyula, and the Hungarian Grey Cattle to a brain, wearing national colours, representing the numerous geniuses of the nation.
Right next to it we can find the growing Alice trying to breakout from the tiny house, escaping from the 'strings' attached to her.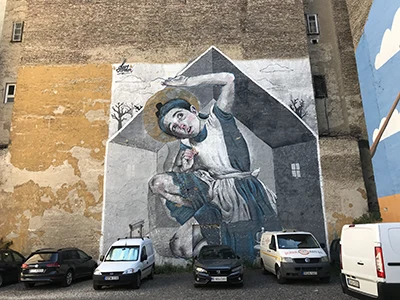 Man Of The Year
Address: Wesselényi u. 40., Distr. VII.

The original Times Magazine cover for the 1956 Hungarian revolution against Communism. It was a crucial event in the national history, though we couldn't get entirely rid of the Russian influence. The cover honors the brave freedomfighters of Hungary.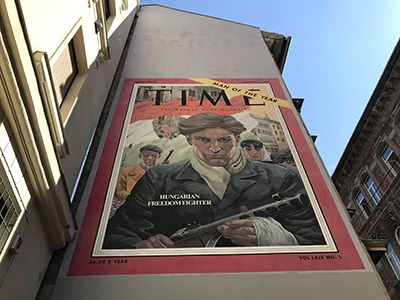 Bookline
Address: Akácfa u. 27., Distr. VII.
Made for Bookline, the popular local online bookshop.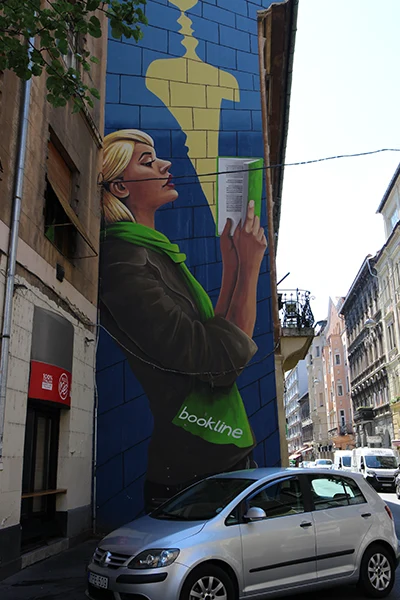 Polaroid Eyewear
Address: Akácfa u. 27., Distr. VII.

This is without a doubt one of my favourite of all.
With the support of the well-known optic brand, this painting absolulety captures the vivid and intricate city life.
A true colour patch of the street.
But its most bewildering feature is the Airlite painting it was made of.
It neutralizes Co2 and other harmful fumes, clearing the air of the city.
It has the cleansing effect of a same area of trees and is also activated by sunlight and humidity.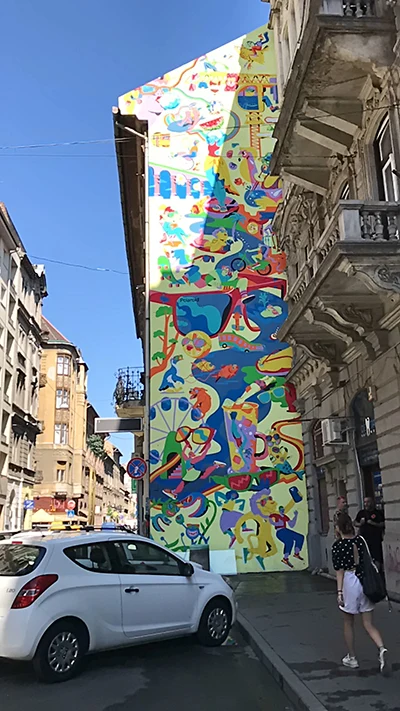 CONVERSE City Forests
Address: Dob u. 35., Distr. VII.

This one has is a very similar concept to Polaroid but with the initiative of the Converse footwear brand.
It uses the same painting invented by the Nasa to absorb exhaust fumes as in the Polaroid painting.
The mural embraces the love and importance of nature.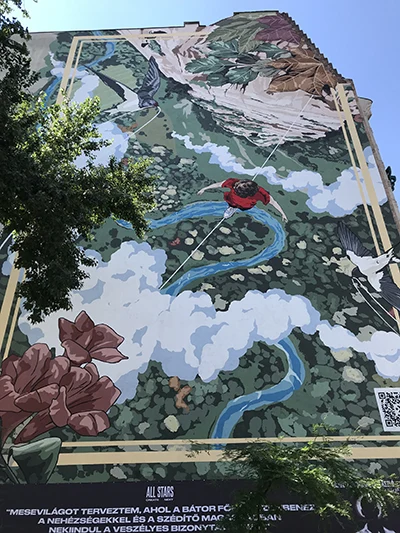 Canga/Bike
Address: Akácfa u. 9/B, Distr. VII.

This retro designed painting draws attention to the city' buzzing cycling life.
Good to know that 'canga' is a Hungarian slang word for bicycle.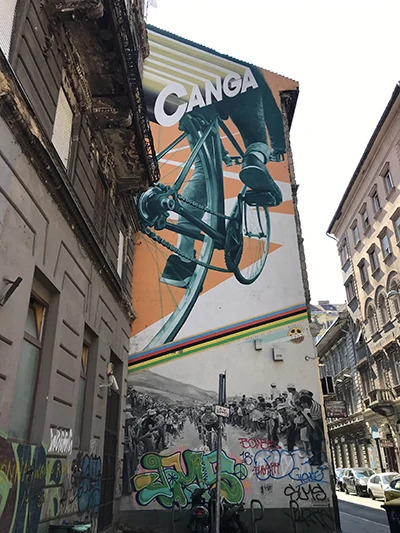 Polish-Hungarian Tree of Friendship
Address: Klauzál u. 26., Distr. VII.

Numerous green crystal leaves made up the tree's green foliage reflecting on the relation of Hungary and Poland throughout history.

Both countries had very similar backgrounds, had mutual rulers and supported each other despite hardships and difficult times.
his crystal tree was made to commemorate the friendship between the two nations.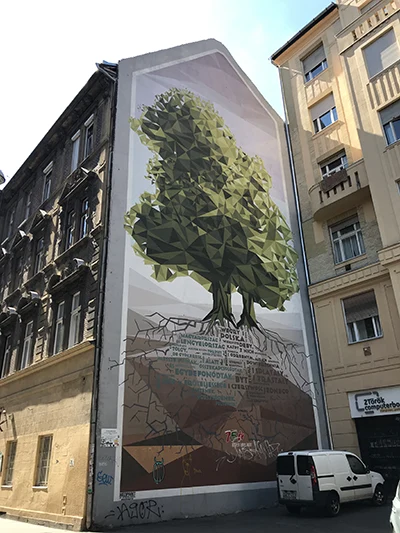 Beef Encounter
Address: Kazinczy u. 43.

If you happen to walk down on Kazinczy street it's impossible for you to miss this mural.
The monumental painting shows a long-horned Hungarian grey cattle who is about to bite in a tasty-looking tuft of grass.
Beyond question this is one of the coolest pieces of street art in the city centre.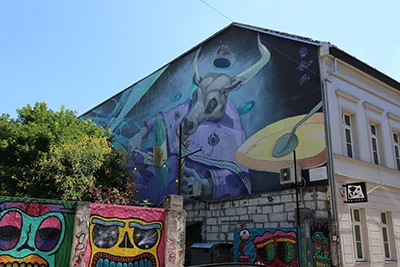 Rubik's Cube
Address: Dob u. 10.

One of the most widespread Hungarian invention is the theme of this street art.
Looking closely at the painting you will see that it is comprised of many colourful dots, which blend together to create a full picture of a whole Rubik's cube if you view it from distance.

The main message of the art is that there is always a solution, usually even more than one.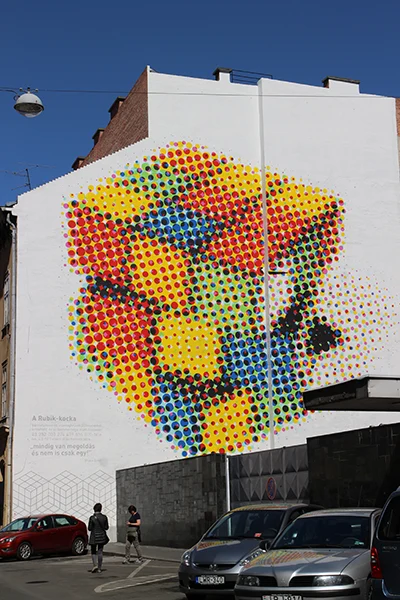 Chill or Rampage
Address: Akácfa u. 27.

The main concept here was the visual representation of the contrast between placidity and rampage.
The artist chose swallows, a kind of bird nesting in Hungary, as a symbol of calmness and peace.
On the other side of the building you can check out the pair of this mural.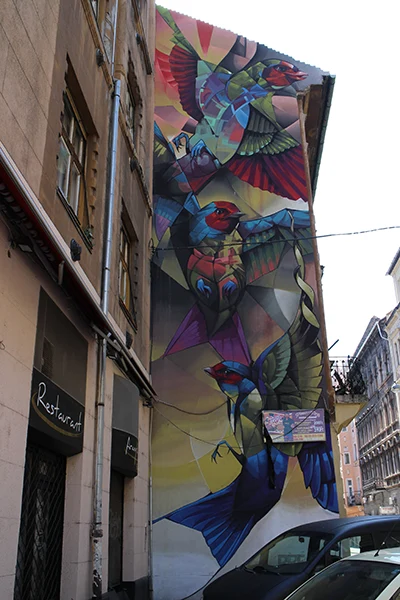 Ukranian Refugees
Address: Klauzál u. 30.

The painting was made for the world-day of refuges with intention of spreading empathy and awareness.
It was based on a photo, taken on the Hungarian-Ukranian border, of a young mother carrying her baby.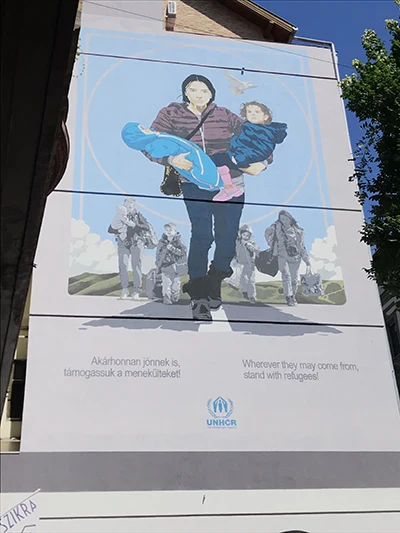 Painting For The 2014 World Refugee Day
Address: Gozsdu Courtyard

Just like the mural before, this was also made by the assistance of the United Nations' Refugee Agency for Central Europe.
Gozsdu Courtyard is quite a beloved spot of Budapest crammed with bars and restaurants, so the thought-provoking painting can get a tremendous amount of attention, reminding us how hard it is for those who had to leave their country behind.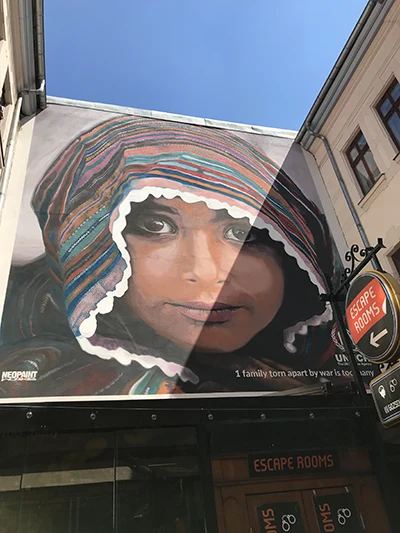 Everybody Has A City
Address: Dob u. 38.

The approach to this particular picture was the idea that what if cities were real, living people with defined personality traits.

Looking at the painting many questions can arise in our heads. For instance, contemplating about different cities' lifestyle, the relations between them, their likes and dislikes.
We can also notice some contrasts with the depiction of the sunny and stormy parts, as well as envision the division between Buda and Pest side.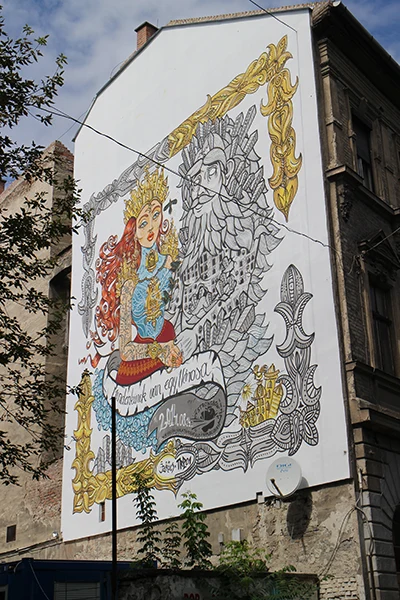 Sunrise or Sunset
Address: Kazinczy u. 55.
I've already mentioned that this district also goes by the 'party district', and this piece of art proves it again, given that it's basically an enormous map of the ruin bars located in the area, with everything listed in order.