Top 5-Star Hotel with Superb Views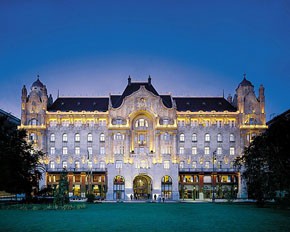 Address: Széchenyi István tér 5-6., district V.
The Four Seasons Hotel Gresham Palace is one of the best luxury hotels in Budapest.
Owned by the Canadian Four Seasons group guests of this magnificent palace hotel in downtown Budapest will get exceptional high standard services while enjoying the best panoramic view a hotel has to offer.
The Art Nouveau building was restored to its original splendour and opened as a five star hotel of the Four Seasons chain in 2004.
Since its opening the Four Seasons Gresham Palace has received a couple of renowned awards like:
The Travel & Leisure magazine ranked it 15th on the Top 100 Hotels in World list in 2007, while the hotel finished at 2nd spot among European Hotels.
The Condé Nast Traveler magazine said that the Four Seasons Hotel Gresham Palace was one of the best hotels in the world in 2005 and 2006.
Table of Contents – Four Seasons Hotel Gresham Palace
Why Stay There?
Location
Four Seasons Gresham Palace stands on Széchenyi Square on the Pest side of the Danube embankment.
The location cannot be more superb offering a combination of beautiful vista of the Danube with the Chain Bridge and Castle Hill on the opposite side of the river and many key attractions in close proximity.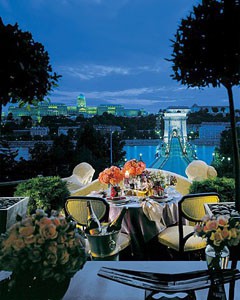 The area is in district V., which is downtown Budapest packed with
historic sights,
restaurants,
cafes,
places of entertainment within easy access.
The famous Váci utca shopping street is just a few blocks from Four Seasons Gresham Palace starting on Vörösmarty Square where the Christmas Market is held in every December.
You can get to Budapest largest church St. Stephen's Basilica in a few minutes on foot.
Should you need to use public transport to reach farther parts of the city the Deák tér metro station ( 3 metro lines of Budapest meet there) is about a 10-minute walk while the M1 underground line stops at Vörösmarty Square.
Tram 2 runs along the Danube on the Pest side and it has a stop at Széchenyi Square.
Architecture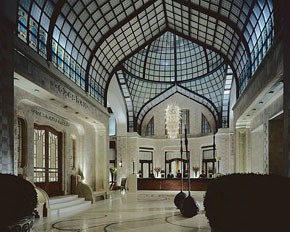 The building of the palace was commissioned by the Gresham Life Insurance Company and the construction was finished in 1906.
The stunning Art-Nouveau architecture of the palace was praised all over the world even then.
The most talented craftsmen were invited to work on the building.
Unfortunately bombings during World War II did a lot of damage to the building.
During the 5-year reconstruction project overseen by the Four Seasons chain much of the original architectural elements, art and decor have been beautifully restored providing elegant and refined environment for guests of the upscale hotel.
Even if you don't stay in the Four Seasons Hotel Gresham Palace, do drop by and visit the magnificent lobby with its vaulted glass roof.
Rooms & Suites
The hotel has 179 rooms including 17 suites all decorated in stylish yet modern taste providing all modern conveniences to pamper guests.
| | |
| --- | --- |
| Room Type | View from the Room |
| Danube Premier Room (42-60 sq. m): | the Danube, the Chain Bridge, Royal Palace, Buda Hills, Fishermen's Bastion |
| Danube Deluxe Room (33-37 sq. m) | the Danube, the Chain Bridge, Royal Palace, Buda Hills, Fishermen's Bastion |
| Danube Superior Room (33-35 sq. m) | the Danube, the Chain Bridge, Royal Palace, Buda Hills, Fishermen's Bastion |
| Gresham Room (38-47 sq. m) | the courtyard, or Zrínyi Street, or Mérleg Street |
| Deluxe Room (34-37 sq. m) | the courtyard, or Zrínyi Street, or Mérleg Street |
| Superior Room (33 sq. m) | the courtyard, or Zrínyi Street, or Mérleg Street |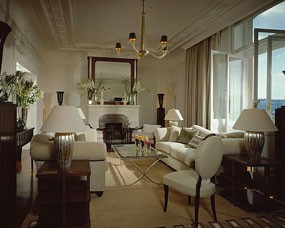 Suites
Royal Suite (136 sq.m)
Presidential Suite (131 sq.m)
Crown Suite (85 sq.m)
Palace Suite (85 sq.m)
Tower Suite (64 sq.m) – the bedroom is located in the dome of the palace's, 5 steps up from the living room area.
Park Suite (65-67 sq.m)
All suites have spacious work area with writing desk, sofa, armchairs, large bedroom, and marble bathroom with deep bathtub. Bathrooms are stocked with L'Occitane toiletries.
The most luxurious room is the Royal Suite featuring original Art-Nouveau pieces, lavish interior decor, large furnished balcony, exceptional panorama
In-Room Services and Amenities Include:
Wired or wireless Internet access
Satellite TV with DVD player
Clock radio
Complimentary newspaper
Down pillows and duvets
Fax machine on request
Hair dryer
Hypo-allergenic pillows on request
In-room safe
Make-up mirror
Multi-line telephone(s) with voice mail
Refrigerated private bar
Thick terry bathrobes
Twice-daily housekeeping service
All of the suites offer splendid views of the the Danube, the Chain Bridge, the Royal Palace, the Buda Hills, and the Fishermen's Bastion.
Restaurants
KOLLÁZS Brasserie & Bar
Opening Hours:
Breakfast: 06.30 – 11.30,
Lunch: 12.00 – 15.00,
Afternoon snack: 15.00 – 18.00,
Dinner: 18.00 – 22.30
Sunday Brunch: 12.00 – 15.00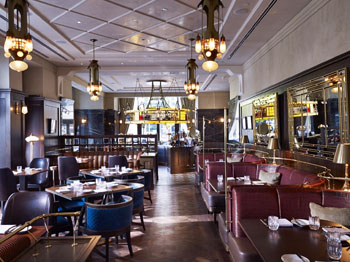 A new dining palce opened in the place of the formal Páva restaurant in summer 2015.
KOLLÁZS boasts a superb, well-thought-out Art-Deco interior evoking the ambience of the 1920-s.
Lots attention were given to every detail and only the highest quality of materials (marble from Italy, cement sheets from Marrakesh, steamed acacia wood floor by Hungarian craftsmen) were used to create a refined, understated elegance.
Despite the 5-star hotel location the bisro has a relaxed ambience and the waiting staff is kind and attentive.
KOlLÁZS is among Budapest's premium dining places for sure.
They have breakfast menus (continental for 7 900 HUF, American for 9 700 HUF) along with specialties like goose liver and wild mushroom omelette but you can also choose a la carte.
The lunch and dinner menu represents a collage of Hungarian and international dishes. There's also a charcoal rotisserie where grilled meat and fish dishes are prepared.
The wine list is extensive showcasing the best of Hungarian wines as well as international bottles.
Spa & Wellness in the Four Seasons Hotel Gresham Palace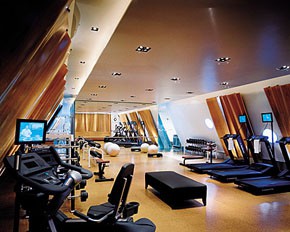 The top floor of the Gresham Palace houses modern spa allowing guests to refresh and revitalize by rejuvenating massages and treatments in 7 private rooms.
Whirlpool, Vichy showers, separate steam rooms for women and men, unisex sauna, fitness facilities
There's also an indoor pool (39 m long) and a small whirlpool adjacent to the spa center.
Spa facilities are open between 6.00-22.00 every day.
The fitness center (named Health Club) has top-notch work-out equipment. Certified trainers help guests with their work-out.
Other Spa & Wellness Hotels in Budapest.
Business Centre
The Four Seasons Hotel Gresham Palace has a business centre on the ground floor providing services and facilities all day round that business travellers need.
Business Services Include
24-hour business centre
multilingual concierge service
computers with fast speed internet
secretarial service
airline reservation service
translation and interpretation service
For Families & Kids
The Four Seasons Gresham Palace is family friendly hotel with all kinds of services to pamper the younger ones.
Children under 18 can share their parents' room free of charge.
For the most little ones a reliable baby sitting service (for an hourly fee) can be arranged within 6 hours upon request.
Crib and/or roll away beds are provided without extra charge along with diapers, wipes, lotion, shampoo, baby bathtub, high chairs, games, books, colouring books, crayons etc.
Child size bathrobes, toiletries for children, children's menu are also provided.
TIP: see more recommended things to do for children in Budapest.
Conferences & Meetings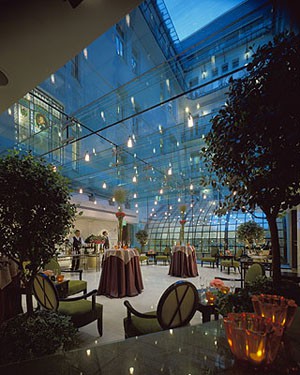 The Four Seasons Hotel Gresham Palace has a range of meeting and event rooms , 3 on the ground floor and 6 on the Mezzanine floor.
The largest and most spectacular is the so-called Télikert with its glass roof ceiling.
One of the side walls is also glass adding bright and aerial feeling.
The room has all the modern technical equipment a conference or large meeting might need.
Apart from business purposes, the meeting rooms are perfect for social events including wedding parties.
See other hotels in Budapest recommended for business travellers.
Christmas/New Year in the Fours Seasons Gresham Palace
The hotel has unique events and programs in the festive season.
The whole palace is decked out in spectacular Christmas decorations and the new KOLLÁZS Brasserie & Bar prepares with special melas and menus for the Christmas period.
Festive Hotel Package, 23. December – 03. January
Celebrate the end-of-the-year holidays in style!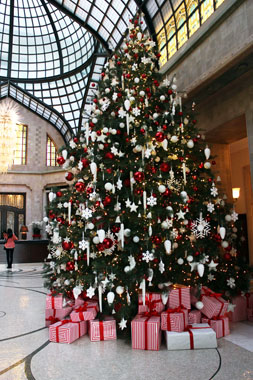 Christmas Package:
Daily American Breakfast in KOLLÁZS – Brasserie & Bar
Christmas Dinner with entertainment on December 24.
Christmas Brunch with entertainment on December 25.
New Year's Eve Package:
Daily American Breakfast in KOLLÁZS – Brasserie & Bar
New Year's Eve Dinner with entertainment on December 31.
New Year's Day Brunch on January 01.
The offer excludes taxes (18% VAT and 4% Tourism Tax on room charges and 27% VAT on food and beverage charges).
Cancellation policy: rooms may be cancelled without charge until 6pm local time, 7 days prior to arrival.
Check rates and read reviews by travellers!
Christmas Eve Dinner in the Kollázs Brasserie & Bar, 24. December
A fabulous 5-course dinner will be served in the hotel's brand new restaurant on Christmas Eve. Live gypsy music provides the tunes to the special event.
Some of the dishes:
Foie Gras Tarte with Quince, Chestnut Cream Soup with Coquilles, Lamb Stuffed Cabbage, Pike Pearch with Puy Lentil and Caramelized Onion or Venison Duo with Parsnip and Pear, Buche De Nöel.
Price: 25 000 HUF/person, or 33 000 HUF/person with wines recommended by the head sommelier.
Travellers'Reviews
The Fours Seasons Gresham Palace is one of the best rated hotels in Budapest.
Tourists who slept in this hotel all praise the fantastic central location and the wonderful view of the Danube with the Chain Bridge.
Interestingly a lot of travellers have found the rooms large enough and furnished in great taste, some of them however have complained that the rooms are too small.
Also some people said that the rooms are not standard Four Seasons but they have character and exude understated elegance.
The palace in itself is impressive and represents one of the finest examples of Art Nouveau architecture in Europe.
The gym is said to be very well fitted.
Many reviewers were satisfied with the excellent concierge service.
The fix priced airport transfer (cc. 5500 HUF) is another plus offered by the Four Seasons Hotel in Budapest.
Other Strenghts according to Travellers' Reviews:
spacious, well-equipped spa & fitness center occupies the entire top floor: 7 private massage rooms, unisex sauna, separate steam rooms for men and women.
There's a complimentary newspaper and housekeeping is done twice a day.
the beds with down pillows are comfortable,
professional and attentive staff
Cons:
buffet breakfast is too expensive – not enough variety for the price.
Similar Hotels:
See also our Facebook page for fresh news.