If you want to savour the flavours of French cuisine have dinner in one of the French restaurants in Budapest listed here.
Quick Links: Pavillon de Paris – Arcade Bistro – Le Bourbon – Cafe Bouchon – Cafe Chagall – Noir et L'or –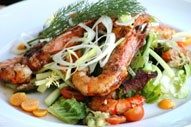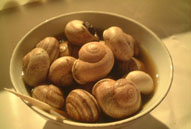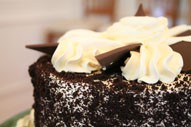 Pavillon de Paris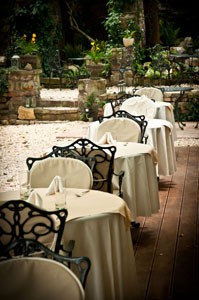 Address: Fő utca 20., district I., M2 (red) metro, Batthyány tér station, or across Chain Bridge from Pest by walk
Open: Tue-Sat: 12.00-23.00, Sunday, Monday: closed
A romantic French restaurant with a lovely courtyard in the Buda side in the place of the Le Jardin restaurant.
Two lovers of the French cuisine opened the place in 2010 with the aim to bring a little bit of Paris gastronomy to Budapest.
The menu is changing weekly. The kitchen is overseen by a young Hungarian chef. An excellent choice for romantic dinners, or family celebrations.
Prices: two-course menu: 2 990 HUF, three-course menu: 3 500 HUF.
The wine list contains French and Hungarian wines from which about a dozen are served by the glass.
See other restaurants with garden in Budapest.
Arcade Bistro (with BIB recommendation from Michelin)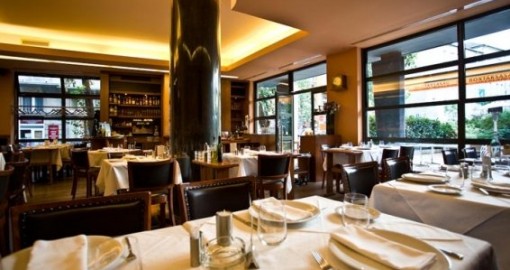 Address: Kiss János alt. utca 38., district XII.
Tel: (+36 1) 225-1969
An elegant restaurant in Buda near the Southern Train Station. It has a creative menu and an excellent wine list.
Price guide: soups: cc. 1000 HUF, main dishes: 2500-4500 HUF, desserts creme brulée, chocolate mousse, cottage cheese souffle with strawberry sauce): cc. 1000 HUF, cheese plate: 2450 HUF
Le Bourbon Restaurant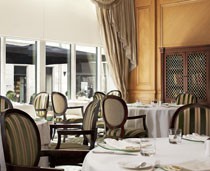 Address: Deák Ferenc utca 16-18., district V., inside the (Le Meridien Hotel)
Tel: (+36 1) 429 5770
One of the top hotel restaurants in Budapest. Fine antique furniture, graceful standing lamps, large chandeliers create an elegant interior where you'll feel at ease.
One of the best Sunday brunch (between 12.00-15.00) in Budapest is offered by Le Bourbon: buffet offering international and local flavours, children's menu and a separate corner for them, live music. What else do you need for a pleasant Sunday lunch?
Friday evenings (starting at 19.00) are devoted to Hungarian cuisine and wines with a folklore dance show (price: 8500 HUF/person).
Chez Daniel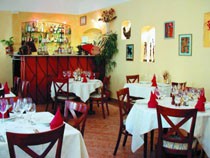 Address: Sziv utca 32., district VI., M1 (yellow) metro, Kodály körönd station
Open: every day: 12.00-15.00, 19.00-23.00
Tel: (+36 1) 302 4039
The southern-French-born chef Daniel Labrosse runs the kitchen in this homely French restaurant in downtown Budapest.
Quality of food and service fluctuates but it's still a fine dining place in Budapest. You can buy French wines and fresh vegetables within a shop in Chez Daniel.
Cafe Bouchon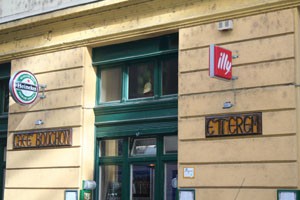 Address: Zichy Jenő utca 33., district VI., M1 (yellow) metro, Opera station
Open: Mon-Fri: 9.00-23.00, Sat: 10.00-23.00
Tel: (+36 1) 353 4094
If you long for friendly French bistro-atmosphere, try Cafe Bouchon located in a peaceful side street in the busy VI. district, the Pesti Broadway. Well-prepared, flavourful meals at very reasonable prices.
Price guide: main dishes: 2 000-3 500 HUF, desserts (the Crepe Suzettes and the French chocolate cake : 760-890 HUF
Cafe Chagall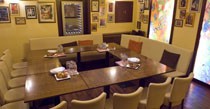 Address: Hajós utca 27. district VI.
Open: Mon-Sun: 9.00-24.00, Kitchen: 9.00-23.00
Located in a one of my favourite neighbourhoods in Budapest, near the Opera House, Cafe Chagall offers breakfast and coffee in the mornings (from 9.00 till 11.00), international dishes for a pleasant lunch or dinner.
The food is not strictly French (you can get Hungarian classics like goulash or Újházy chicken broth) but the Parisian-style terrace is a nice place to sip your coffee or tea at. They have weekend 3-course menu for 2 990 HUF.
Noir et l'or Cafe & Restaurant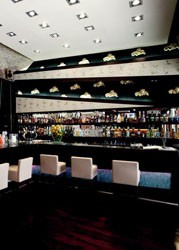 Address: Kiraly utca 17., district VII.
Open: every day: 12.00-24.00
Tel: (+36 1) 413 0236
A fairly new restaurant that needs to find a balance between trendiness and the quality of food. They say they maintain French-based exotic cuisine but it can definitely bear a little bit of refinement.
Two and three-course menus are offered at set price from Monday to Friday between 12.00 and 15.00.
Price guide: soups: 850-1450 HUF, main dishes cc. 1820-7000 HUF, desserts: 850-1480 HUF, cheese plate: 2180 HUF