The Gellért is the most grandiose of all the baths in Budapest. Well, it's often a topic of discussion whether the Gellért or the Széchenyi Bath is the grandest.
The Gellért Bath stands at the Buda side of the Danube embankment, at the foot of the Gellért Hill, next to Liberty Bridge (Szabadság híd).
TIP: Even if you don't want to try the healing waters of the thermal spa, do take a walk at the front of it to see its beautiful architecture.

You can admire and take photos of the interior too without having to buy a bath entry ticket.

Another good way to combine programs is to hike up and enjoy the panoramic vista from the top of Gellért Hill then have a splash in the pools of the bath.

Note: The wave function in the outdoor wave fool doesn't operate in summer 2022.
Table of Contents
Location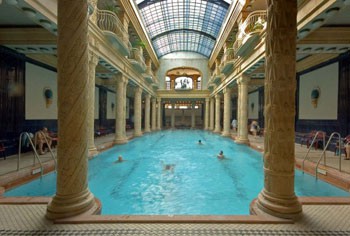 Address: Kelenhegyi út 4., Bp., 1114, district XI., Buda,
Getting There:
The bath is at the bridgehead of the Szabadság Bridge, at the foot of Gellért Hill.
Trams 47, 49, (from Deák Ferenc tér metro hub in Pest), get off at Gellért tér stop, or
Trams 19, 48, 49, 56, 56A also ahve a stop at Gellért Bath
Buses 7, 133
Tel: (+36 1) 466 61 66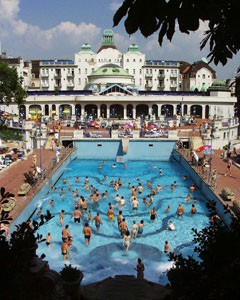 Opening Hours
Indoor pools – all year round (even on public holidays like Christmas/New Year, Easter): Monday – Sunday: 06.00 – 19.00,
Outdoor wave pool – Note: Wave function dosen't operate in 2022. (May-October, depending on the weather): Monday – Sunday: 06.00 – 19.00. On very hot summer days the bath stays open till 20.00.
Ticket Prices 2022/2023
Weekdays: 7 100 HUF (cc. 18 EUR, use of locker is included)
Weekends/Holidays: 7 600 HUF (cc. 19 EUR, use of locker is included)
Unfortunately there are no student or other discounts available. When you buy your ticket you will get a plastic wristband, that you need to get through the gates to the changing and pool area.
Note: Locker use to keep your belongigs safely closed is included in the price. The lockers aren't too big though. A mid-size backpack, your shoes, coat etc. will fit in though.

You close the locker with the plastic wristband you received from the cashier when you bought your ticket.

Just swipe it before the lock and when the green light flashes turn the lock to closed. Do the same to open it.
TIP: Bring your own towels, slippers, and also a swim cap if you want to do some laps in the indoor swimming pool.
Book a Full-Day Gellért Spa Ticket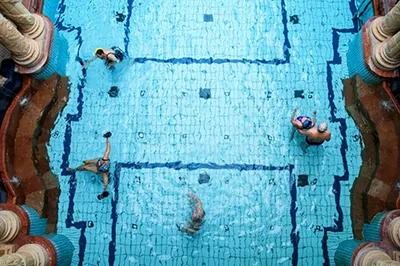 Take a break from the hustle and bustle of Budapest and treat yourself to a full day of relaxation at the Gellért Spa! Our full-day ticket includes access to all of the spa's thermal pools, saunas, and wellness treatments. You'll leave feeling refreshed and rejuvenated.
Christmas/New Year Opening Hours
24 December/Monday: Help Desk: 09.00 – 13.00, bath: 06.00 – 14.00
25 December/Tuesday: Help Desk and Bath: 10.00 – 18.00
26 December/Wednesday: Help Desk: 09.00 – 18.00, Gellért Bath: 06.00 – 20.00
31 December/Monday: Help Desk in both baths: 09.00 – 17.00, bath: 06.00 – 18.00
01 January/Tuesday: Help Desk and bath: 10.00 – 18.00
As of 1st January 2023 the Gellért is a fully co-ed bath (see the dress code), open for both women and men every day.
Buy Your E-Ticket to the Gellért Spa Online:
No need to queue, just print the confirmation you receive in e-mail about your ticket purchase and you can enter the bath through a special entrance.
Tickets private, no-queue entry, includes the use of a cabin:
Bath entry (cabin use): 30 EUR, With Locker use: 29 EUR
Bath entry + 20 min aroma massage: 41 EUR
more massages with bath entry & cabin use are available through the booking page below!
Note: children under the age of 14 are not allowed to use the hot thermal pools (due to potential stress to the heart and circulation). But they can splash in the outdoor wave pool and adventure pool.
TIP #1:

Massages in the Gellért Bath

Treat yourself to a luxurious massage of 20 – 60 minutes.
Refreshing Aroma Massage – 20'/45′ minutes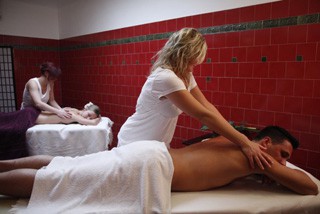 Swedish style refreshing full body massage with high-quality, skin-friendly oil that contains bioactive essential oils of herbs and flowers.
It helps to eliminate stress, relax your mind and body.
Prices
20-min aroma massage: 68 EUR/person (entry ticket + cabin use + 20-min aroma massage are incl.).
45-min aroma massage: 95 EUR/person (entry ticket + cabin use + 20-min aroma massage are incl.).
Aromatherapy Essential Oils They Use:
Yasmine – the oils of the fragrant white flower calms the nerves, helping you relieve everyday stress and get rid off negative thoughts. After the massage you'll feel relaxed, balanced and more positive. The certified organic moisturizing ingredients will do wonders to tired, middle-aged skin.
Rose – the oils of the sweet scented flowers cleanse and rejuvenate the tired skin, while helping you leave all the problems and stress behind.
Citrus – refreshes, cleans and energizes your skin and mind.
Vetiver – the oil of the vetiver grass has been known and used since ancient times because of its numerous health benefits. It cools and soothes the body, reduces inflammations, aching joints and muscles also benefit from massage with vetiver oil. Due to its woody, earthy scent it is especially recommended for men.
TIP #2:

Romantic Program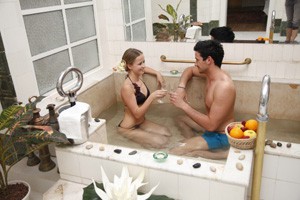 Private Bath + Couple's Aroma Massage + Boat Cruise with Dinner & Music

You can also enjoy a romantic private bath in the Gellért Spa's Ornamented Bath Hall.
This part is secluded from the rest of the spa complex so you can have complete privacy.
The Zsolnay-tiled bath is filled with healing water for your utter reinvigoration.
During the 3-hour bath you treated to a bottle of chilled champagne and a plate of fruits.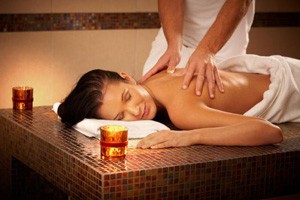 After the bath you'll be treated to a revitalizing, 50-minute massage:
a Harmony Aroma Massage for strengthening your immune system and revitalizing your body and soul.
To make the romantic program complete you'll go on a boat excursion with Dinner and Music on the Danube (you get this for 50% less in the package).
About The Bath
It is the most popular bath with tourists thus the most pricey as well along with the Széchenyi Spa in Városliget/City Park.
The grandest of all baths in Budapest nestles at the foot the Gellert Hill.
The elegant spa complex was built in Art-Nouveau style in 1918. Thermal springs from inside Gellért Hill feed the pools.
It has indoor and outdoor swimming pools, children's pool, thermal baths, steam bath, saunas, and offers various massages, and curative services.
If you don't have time to soak in the pools do admire the marvelous interior:
Colourful ceramic tiles,
Roman-style columns,
Stone lion heads, and
Stunning clourfuly painted glass roof and windows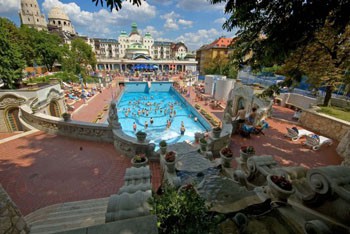 The outdoor pool was modernized not long ago when a wave machine was built in that switches on for ten minutes in every hour.
It's unfortunately out of service in 2022.
The steam baths used to were separate for men and women.
The roof terrace has decks invite you to lie down and get a nice tan.
Dress Code – Swimsuits, Swim Cap Only In The Swimming Pool
Visitors to the baths often enquire about dress code and etiquette in the thermal baths.
As of 1st January 2013 both women and men can enter the baths simultaneously every day so the "age of apron wearing" is over, and everyone must wear a swimming suit.
Nudity is not allowed.
Swim caps are also compulsory in the swimming pool, located inside. This dress code doesn't pertain to the private bath of the Gellért where you can enjoy some romantic time with your loved one.
Some of the Services in the Gellért Bath: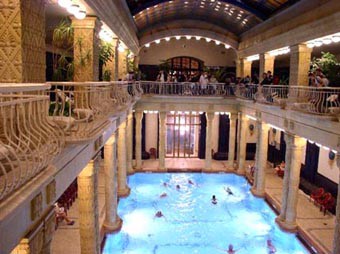 Co-ed thermal baths
Swimming pools
Wave pool (in the outdoor bath, during the summer season: May – Oct, out of service in 2022)
Whirlpool
Sunbeds
Carbonic-dioxide bath
Various massages (foot massage, refreshing massage, aroma massage, underwater jet massage etc.)
Physiotherapy
Dry and steam saunas, Finnish saunas with cold dive-pools
Visit also our main page about Budapest Baths.
Restaurants, Cafes Nearby
If you walk along Bartók Béla Boulevard, a busy avenue starting at Szt. gellért tér in front of the Hotel gellért, you will find quiete a few great bistros and cafes.
TIP: There is a vegan place, Vegan Love (bartók Béla út 9.) at just a short walk from teh Gellért where you treta yourself to tasty meatless burgers and other streetfood.
Búsuló Juhász
Address: Kelenhegyi út 58., district XI., on the top of Gellert Hill
Tel: (+36 1) 209 1649
A good place to try traditional Hungarian cooking. Price guide: soups: 950-1 600 HUF, main dishes approx.: 1 400-5 900 HUF
Related:
Ottoman Baths – Rudas Spa – Király Spa – Veli Bej – Rách Bath and Thermal Hotel – Széchenyi Spa Complex – Lukács Bath – Palatinus Oudoor Bath – Our Facebook page