Date is Not Official Yet!
This year paprika, the traditional spice of Hungary is in the focus of the gastro event. Novelty that more children programs welcome families visiting the festival in 2019.
Good to Know About the Gourmet Festival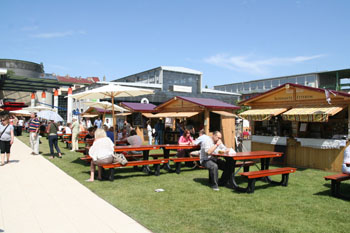 Date: 16 – 19. May 2019., Thursday-Sunday
Opening Hours:
16. May/Thursday: 17.00 – 23.00,
17. May/Friday: 12.00 – 23.00
18 – 19. May/Sat-Sun: 11.00 – 23.00
Getting there:
Venue: Millenáris Park, Buda
Trams 4, 6, M2 metro Széll Kálmán tér stop – cc. 5 minute walk from there.
Other trams: 17, 56, 56A, 59, 61, Buses: 5, 16, 16A, 21, 21A, 22, 39, 91, 102, 116, 128, 129, 139, 149, 155, 156,
Entry to the festival area: from Fény utca
Tickets to the Festival
Daily ticket: 15 EUR/day, 4-day pass: 29 EUR:
Included are:

a Spiegelau wine glass,
Jameson Whiskey tasting (for the first 500 visitors of the day),
street food bite,
Young wine-maker of the Year wine tasting
Esterházy Green Veltliner or Esterházy kékfrankos tasting (for the first 500 guests of the day)
Beer tastings: Stella Artois, Leffe, Hoegaarden or Belle-Vue Kriek beer tasting
Rauch Juice Bar 0,33L fruit juice (for the first 1 000 guests of the day)
Children tickets: free for kids under the age of 14.
Where to Buy Tickets?
On the venue – but expect to stand in queue.
Akvárium Klub Ticket Office on Erzsébet Square, downtown – Open: Mon – Sun: 12.00 – 20.00,
BP Shop, Wesselényi utca 24., district VII., Open: Mon – Sat: 11.00 – 18.00, Sun: 12.00 – 18.00
BP Shop WestEnd City Center shopping mall: Open: Mon – Sat: 11.00 – 15.00, 19.00 – 21.00, Sun: 11.00 – 18.00
Online purchase through the official event website for a 300 HUF handling fee.
Payment at the Festival
You can pay for food, drinks, products with
the Festipay Electronic card,
with MasterCard, Maestro contactless bank cards, or
with the Simple virtual prepaid bank card by OTP (no need to have Hungarian bank account) – you can pay with your mobilephone
Cash is not accepted by any retailer.
You can get your card and add a certain balance (minimum is 2 000 HUF) at any of the Card Top-Up points located in the venue.
You can use cash or credit card (in case of the latter an additional 100 HUF fee is charged).
A 500 HUF deposit will also be charged which you'll get back upon returning the card at the end of the festival.
You can top-up the card and check the balance on it any time during the festival. You can get the remaining balance back in cash during the opening hours of the Gourmet Festival.
Why Go?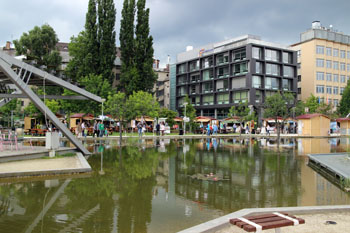 The Gourmet Festival in Buda has become unanimous with the best of Hungarian gastronomy.
International restaurants and chef stars you can meet include:
Heinz Reitbauer, Steirereck – The world's 10th best restaurant with 2 Michelin stars and 19/20 Gault Millau points and its legendary chef
Kamilla Seidler – The best female chef of Latin America
Maksut Askar executive chef of Neolokal – Long-forgotten, local ingredients in a modern guise from Istambul, Turkey
Bib Gourmands from Warsaw: Butchery & Wine, Brasserie Warszawska, Kieliszkina Próżnej, Rozbrat 20
Besides famous Hungarian and international wine producers, artisan cheese makers, gourmet food shops, cafes and restaurants will also offer their delicacies in Millenáris Park for four days in May.
The festival is an excellent opportunity to to taste the finest local food Budapest and other parts of Hungary can offer.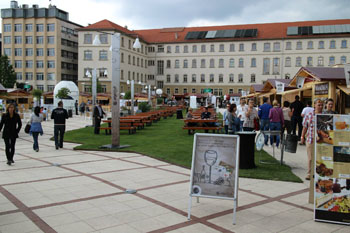 You can meet and chat the best Hungarian chefs and try the food of the best restaurants at one place.
This year game and fish dishes will be in the limelight, prepared in both traditional and modern ways.
Good food is even better washed down with great wines and you'll have no shortage of fruity roses, fresh whites or heavier reds on the Gourmet Festival.
But if you fancy a mug of chilled beer no problem, look far the pavilion of the Reketye Sörfőzde (owner of the Jónás Craft Beer House in the Whale Shopping & Entertainment Centre), or the Etyeki Sörmanufaktúra, both are new craft breweries in Hungary with some awesome quality brews.
Award-winning restaurants (Borkonyha, a Michelin star awardee, Costes, Costes Downtown-the newest Michelin-star restaurant of Budapest, Chateau Visz, Rosinante),
confectioneries, (Pataki, Zazzi, Auguszt, Desszert.Neked, Gerbeaud),
artisan ice cream makers,
wineries as well as
gourmet shops and
cheese specialists (Stelázsi, Sarki Fűszeres, Szega Camembert, Etyek Sonkamester) offer exquisite culinary experience during the 4-day festival.
Who'll be Present?
The list is not complete only includes the must-try places.
Restaurants, Gourmet Shops & Cafes – Dumplings, Caviar & Champagne
Babel – a fine dining place near Március 15. Sqr, in Piarista köz, their aim is a Michelin star and they are certainly not far from getting one.
Baricska Csárda from Balatonfüred, Lake Balaton: Hungarian cuisine and wines
Anyukám mondta – mum's cooking on a higher level, one of the best restaurants in Hungary located in a small village Encs in north Hungary, fresh, quality ingredients, homemade goodies, simple flavours.
Fülemüle Restaurant from Distr. VIII. – brings the best Jewish and Hungarian dishes.
Dobrumba, from Dob utca, district VII. – Middle Eastern, Mediterranean and Caucasian flavours.
ÉS Bistro – another great hotel restaurant with laid-back atmosphere and Austro-Hungarian dishes, grilled specialties (Kempinski Hotel Corvinus).
Deák St. Kitchen – wine & grill restaurant inside the Ritz Carlton Budapest Hotel.
Buddha Bar Budapest – from the hotel of the same name in Váci Street: superb Asian fusion cuisine with the biggest sushi offer in the city.
Kollázs Brasserie & Bar – another excellent hotel restaurant, this one from the Four Seasons Budapest Hotel: a blend of traditional and modern, including Hungarian classics, prepared creatively.
Arany Kaviár, Buda Castle – one of the best fine dining places in Budapest.
The four Michelin-star places will be present too: BorKonyha, Costes, Onyx – won its 2nd star this spring, Costes Downtown: received the coveted star in spring 2016.
Confectioneries, Cake Shops, bakeries, Chocolatiers
Pataki Confectionery from Érd – known for traditional Hungarian cakes and pastries, their ice cream is also delicious. It's located in a small town south of the capital so the Gourmet Festival is a good opportunity to sample their offer.
Naspolya Nassolda – the trendy cake shop and cafe uses all-natural, organic raw ingredients to create healthy and nutritious cakes and savoury delights. Address: Káldy Gyula u. 7, Bp. 1061, distr. VI.
Chez Dodo – a charming macaron shop and cafe in the Basilica neighbourhood (Sas utca 7.)
N'iceroll – the newest ice cream makers in the city that specializes in making artistic ice cream rolls right in front of the customers. Address: Radnóti Miklós u. 41, Bp. 1137, distr. XIII.
Sütizz! – a confectionery located in Buda founded in 2017. The two owners make French-style cakes based on their own recipes. Address: Neszmélyi út 82, Bp., 1112, distr. XI.
Gerbeaud – not my favourite though many associate Gerbeaud with quality cakes, good coffee and top-notch service, they've become very touristy and overpriced to my taste. You must visit once though, it's right in the heart of Budapest at Vörösmarty Square, for the classically elegant, historic setting.
100 Éves Cukrászda/Hundred-Year Old Confectionery from Gyula. The historic cake shop will bring their Cadeau bonbons and tartlette to the festival.
Zanggio – one of the top Hungarian artisan chocolatiers. You can find them in the old Jewish Quarter: Wesselényi u. 6, Bp., 1075, distr. VII.
Harrer Chocolatier & Confectionery – The Sopron-based chocolate makers are regulars on the Gourmet Festival. The Austrian owners use top quality chocolate and other ingredients to make exquisite confectioneries based on decades old family recipes.
Á table – a boulangerie at four places in Budapest (in Arany János utca city centre, Wesselényi utca district VII., Retek utca in Buda, Mammut 2 Shopping Centre/Level 3): quality French pastries: croissant, pain au chocolat, baguettes, pastries: mille feuille, éclair.
Some of the Programs 2018
Cooking shows, workshops, tastings will entertain visitors from Friday to Sunday (there's no special program on Thursday).
Stage Programs – May, Friday
17.00 – The World of Sweet Pizzas – by Szabi Szabadfi award-winner baker and Dani Sass. The duo will make Nutella pizza topped with pistachios and raspberry caviar.
18.00 – Zazzi – Sweet Dream – owners of the recently closed cake shop will make their most popular dessert: Sweet Dream
19.00 – Attila Bicsár, Sauska 48 – Village Gourmet
Stage Programs – May, Saturday
13.00 – The HER presents: Balla Mama – Balla Mama is from Hajdúszoboszló, a small town in Eastern Hungary, in the Great Plain/Alföld region. She will prepare traditional Alföld-style dumplings.
14.00 – Warsaw's Bib Gourmands – Polish spring time food
15.00 – Heinz Reitbauer, Steirereck** – Mushrooms in the Focus
17.00 – Maksut Askar, Neolokal – the Turkish cuisine in a new light
18.00 – Villa Rosa – Flavours of Csallóköz, a region of southwestern Slovakia that is rich in fish and game. Villa Rosa is an award winner gourmet restaurant from Dunaszerdahely, Slovakia. Chefs Imre Bindics, Péter Czucz, and Róbert Tatai will cook and tell us stories about the old-new region.
19.00 – Gold Caviar – How is caviar prepared? Szása Nyíri caviar expert and chef of the Arany Kaviar restaurant talks about the secrets of caviar making. Visitors can have a taste of the delicacy.
Stage Programs – May, Sunday
13.00 – Strudel making with Tímea Krusper (Poroszló's Strudelhouse)
14.00 – No Salty presents: Ready, set, cook! – Márk Lakatos and Dávid Kárai
15.00 – Kamilla Seidler – Latin America's best female chef
16.00 – Café Gerbeaud is 160 years old. Cacao Barry Or Noir 1858, a unique chocolate that was chosen specially from the French Cacao Barry manufactory for the 160th birthday of Gerbeaud. You can also learn about the history of the iconic confectionery.
17.00 – Onyx** – Two Adams, two dumplings, two stars, one team
18.00 – Ádám Pohner, Kistücsök (Small Cricket) – Bocuse d'Or reloaded
19.00 – Gourmet Awards and Closing Ceremony
Children Programs, 19 – 21. May
Opening Hours of the children programs: 19. May/Thurs: 15.00 – 19.00, 20 -21. May/Sat-Sun: 12.00 – 19.00
A separate spot with playground will be dedicated to kids' activities:
cooking school
baby kitchen for the littlest ones
craft workshops for toddlers, kindergarteners cooking school
Cooking School by Chefparade
Recommended for ages: 6 -14 Friday: 14.30 – 19.30, Saturday-Sunday: 11.30 – 19.30 The young chefs can choose from two menus to prepare[tie_list type="checklist"]
Gombóc Artúr menu: parmesan coated fried gnocchi in tomato sauce, fruit caviar pearls
Gubanc menu: crab-cake with freshly made citrus-avocado mayonnaise, walnut/popy seed bread pudding (guba – a Hungarian Christmas dessert) with passion fruit sauce
Gourmet Workshops – 2 400 HUF
The Workhops are a great way to learn or improve your cooking or baking skills.
Vegan cooking with Gréta Stőhr (Great Bistro)
Coffee and Gastronomy – Discover the base flavours with Ákos Sárközy Michelin-star chef (BorKonyha), 20. May
Baking bread with Szabolcs Szabadfi from the Panificio il Basilico bakery  – 21. May
Strawberry jam making with Dóra Havas TV chef- 21. May
The world of leavened bread, Misi the baker from Jacques Liszt Bakery – 21. May
Similar Events
May Day in Budapest – Eleven Spring Weekend Bartók Béla Boulevard – Belgian Beer Festival – Beer Festival Buda Castle – Street Food Show & Főzdefeszt Craft Beer Festival – Budapest Wine Festival – Budapest Events, Activities in May
Related Articles
Taste Budapest – Best Hungarian Restaurants – Best Ice Cream Shops