Shopping & Sightseeing in Központi Vásárcsarnok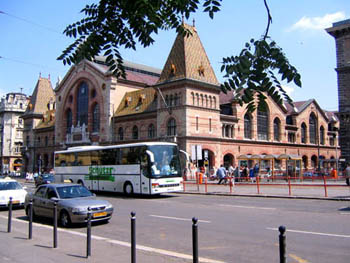 Visit the Great Market Hall (aka Central Market Hall) at the Pest end of Szabadság Bridge to combine shopping with sightseeing.
A great place to stroll even in cold and rainy weather.
It is favoured not only by tourists but many locals do their everyday shopping there too.
Table of Contents
Although I don't live close to the market, I drop by quite often to
browse among the stalls and counters,
admire the attractively arranged seasonal produces, and
to pick up some exotic spice, quality meat, salami or pastry.
I try to time my visit to the national days organised monthly, featuring gastro and cultural events of various nations.
The three-storey hall offers you plenty to do and see at least for 1-2 hours.
The Great Market Hall's sheer size and splendor make it one of Budapest's top attractions.
Guided Tour with Tastings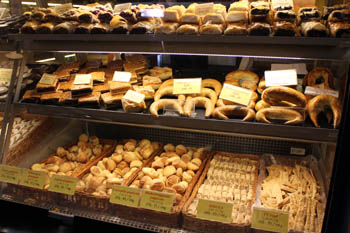 Visit the Market and Váci Street on a guided tour to
learn about their history,
experience how Budapesti people do their everyday shopping, and
sample authentic local food: freshly baked pogácsa (the Hungarian scone), various salamis, lángos, truffle paté, pickles, gourmet jams (plum, lavender), and
for dessert some really delicious strudels
before visiting the market you will walk along Váci utca, the city's world famous pedestrian shopping street.
Book a Food and Wine Tastings Tour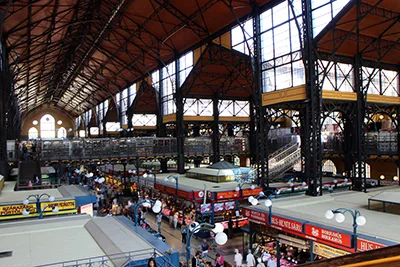 Discover the best Hungarian cuisine tasting experience in Budapest with our guided tour! Enjoy a mouth-watering selection of traditional dishes and drinks while learning about the history and culture of Hungarian gastronomy.
Opening Hours
Monday: 06.00 – 17.00,
Tuesday – Friday: 06.00 – 18.00,
Saturday: 06.00 – 15.00,
Sunday & National Public Holidays: closed.
Getting There
Address: Vámház krt. 1-3., district IX., Pest end of Liberty Bridge, trams 2, 47, 49, the nearest metro station is at Kálvin tér (M3 blue line)
Programs for Tourists in the Central Market Hall
Each week from Thursday to Saturday a different nation introduces its culinary delights as well as cultural, and natural treasures.
So browse the schedule below, and pick a nation the cuisine and culture of which interest you the most and head for the Great Market Hall in Budapest.
National Days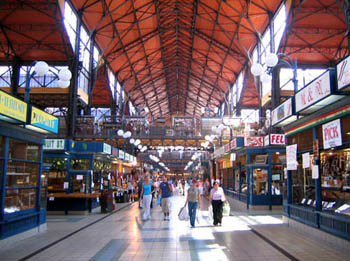 Opening hours: Thursday – Friday: 09.00 – 18.00, Saturday: 09.00 – 15.00
13 – 15. August, Persian Days
10 – 12. September – Date Festival
17 – 19. September – Hungarian Days
24 – 26. September – Polish days
08 – 10. October – Bulgarian Days
15 – 17. October – Székely days
09 – 11- October – Transylvanian Days
12 – 14. November – Japanese Days
TIP: See the Central Market on a guided tour have breakfast there then attend a Hungarian Cooking Class in a centrally located school where you'll be making a 3-course meal, learn about local cuisine, fun stories and have a great time.
History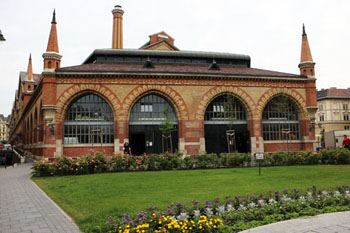 At the turn of the 19th-20th centuries, after Budapest was formed by unifying Buda, Pest and Óbuda, the city begun flourishing and expanding.
The chaotic outdoor markets could no longer adequately supply the growing number of inhabitants with fresh produce.
The city leaders decided to build covered market halls similar to those in Paris and other Western European cities.
Construction of the Great Market Hall started in 1894 according to the design of Samu Petz.
In 1896 a few days before the hand over fire destroyed about half of the roof.
After repairing the roof, the market opened on 15th March 1897 together with the other four Budapest Markets, built at the same time.
Budapest's Great Market Hall belonged to the most modern indoor markets at that time, with up-to-date lightning and refrigeration.
Originally the vendors shipped their products into the hall through a network of indoor channels.
They aren't in use anymore. The Hall was reconstructed between 1991-94.
Beautiful Zsolnay tiles cover the enormous roof structure, that make it the most spectacular element of the building from outside.
Explore the Central Market Hall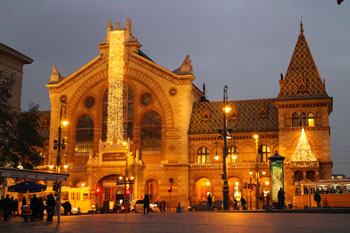 You'll only become aware of the hall's spacious interior under the gracious roof structure when you enter.
The rich aroma together with the vivid colours of the fresh products displayed in the stalls will dazzle you.
Strings of red paprika and garlic,
Hungarian salamis, sausages, hams and other meat products,
fresh pastries,
dairy products,
Hungarian wines and pálinka,
just to give you ideas for buying souvenirs. Walk row by row and take your time to absorb the vibrant atmosphere.
Ground Level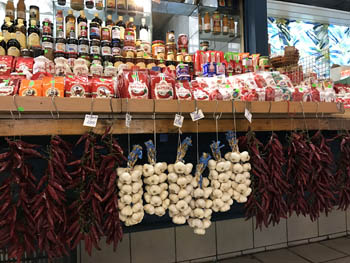 Out of the three levels the ground floor is the busiest.
To the right of the main entrance you'll find exotic fruits and vegetables from around the world.
Hungarian paprika powder in attractive packaging, strings of garlic and paprika and other authentic Hungarian food stuffs will entice you to buying, though this row is pricier than the other, less pretentious aisles.
No wonder this part has the nickname "rich row".
TIP: You can get saffron here at reasonable price.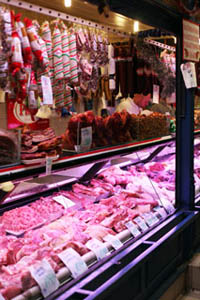 Hungarian paprika powder,
Pick salami,
Honey
Dried fruits,
Tokaji aszú are the other temptations.
To get good bargains, look around further inside where the more modest stalls offer
Fresh vegetables and fruits,
Paprika,
Fresh meat, salami and other products.
On the north end of the hall you can get fresh and dried mushrooms, craft dairy products and homemade honey.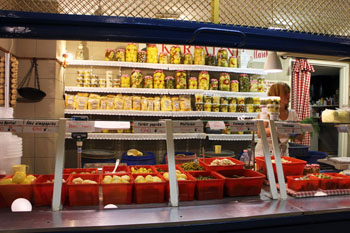 Basement
Take the escalator to go down the basement where you'll find an
Aldi shop,
Fishmongers,
Game and
Pickles.
TIP: Try the pickles: gherkins, pearl onions, paprika stuffed with cabbage.
Hungarians are experts in making them. We usually have pickles with meaty main dishes, but they're excellent appetizers too.
Hungarikum Street
Take a tour of the Hungarikum Street in the basement opened in 2015.
The 140 sqm display area showcases the best-known Hungarian goods, food specialties and scientific achievments.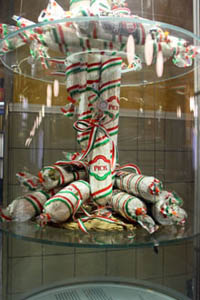 You'll find
Bottles of Tokaj aszú wine,
Pick salamis,
Gyulai and Csabai sausages,
Honey,
Paprika from Szeged and Kalocsa,
Goose liver/Foie Gras
Zsolnay porcelain,
Béres vitamin drops
Rubik cube and
Unicum liqueur on display with short description on the history of each.
Gömböc (a self-righting geometric shape with two points of equilibrium: one is stable and the other is not), that was thought to have existed only in theory for a long time, can only be seen here in Hungary.
The existence of the shape was proved by two Hungarian mathematicians: Gábor Domokos and Péter Várkonyi.
At the end of the "street" you'll find a great intro to Hungarian wines and wine regions with a 3D map.
Upper Level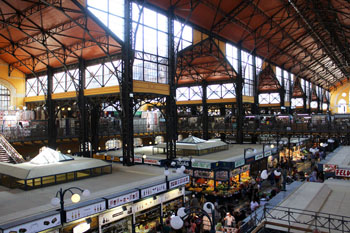 The upper floor attracts lots of tourists because of the rich selection of Hungarian embroidery, white peasant shirts and other art and craft products.
And this is the place to grab tasty and cheap Hungarian food, within unpretentious environment.
Visitor Experience
by Bruce and Laura, from Bantam, Connecticut, USA
A must experience place to shop.
My wife and I are American and toured Eastern Europe in May of 2009.
We both love history, so we thought Hungary would be a good place to start because it hasn't totally given in to tourism and is still breaking it's way out of Communism.
In other words, unpolished history.
We were correct on these points and we loved Hungary's architecture both ancient and post communist and the public bathes were in perfect condition, the water was clean, the mix of native bathers were beautiful and polite and as curious about us as we were about them.
In the Market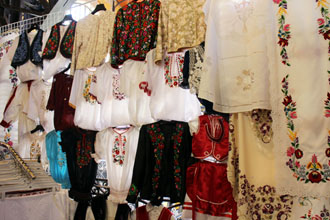 We went to the Central Market Hall (aka Great Market), and my wife loved the clothing and Christmas do-dads and huge assortment of scarves to fish through.
I liked the displayed hanging meats and cheeses and things you just never see in the USA anymore and then I got to the food court and watched what people ordered until something looked interesting and ordered the same.
Food We Ate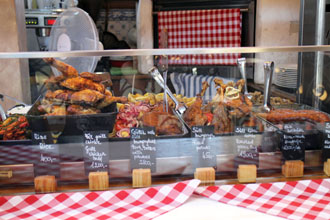 My sausage in a roll was as good as it looked, but my wife ordered a mixture of crumbled meat, chopped potatoes and cabbage dish that was great and if I knew how to make it, I would share it with friends in America.
Next time I am in Budapest, I will ask for the recipe.
We do not speak Hungarian and the written words (street signs) can not be spoken phonetically, so you look for a street name that starts with a letter that is followed by 6 or 7 other random letters.
Don't even try to pronounce it, just match the letters.
All in all, the Central Market Hall in Budapest is a great place to visit as we will again.
TIP: After you finished exploring the market hall and you're still up to some sightseeing head for Váci Street that starts opposite the market on the other side of the road and ends at a central, historic plaza Vörösmarty Square.
There are many other attractions in downtown Budapest that you can easily reach from the market by walk.
Where and What to Eat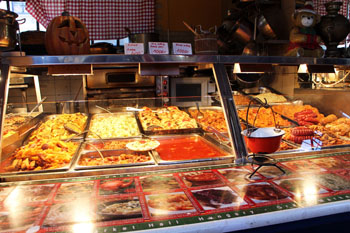 Food stalls (Fakanál is a favorite among tourists) on the upper floor sell Hungarian fast food:
Fried sausages,
Black pudding (véres hurka),
Lángos (deep-fried disk-shaped pastry, rub in some garlic and spread sour cream and grated cheese on top)
Pancakes.
Wash down the snacks with draught beer. There are also some restaurants if you prefer to sit down, like the Fakanál but they're rather pricey.
TIP: Fakanál offers ample choice of spicy Hungarian dishes, gulyás, stuffed cabbage, lecsó.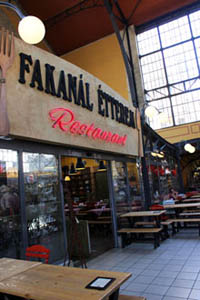 A pretty good value eatery if you really want to have your fill of authentic local food.
You can also have your first meal of the day here since they serve
Breakfast: scrambled eggs with sausages costs 790 HUF.
Soups: goulash or Fishermen's soup: 890 HUF,
Main dishes (beef stew, roasted goose thigh, stuffed bell peppers: 1 700-3 200 (without sides).
Or Try Kolbice, that is said to be the original Hungarian street food: grilled sausages served in a peculiar, cone-shaped bun with various toppings.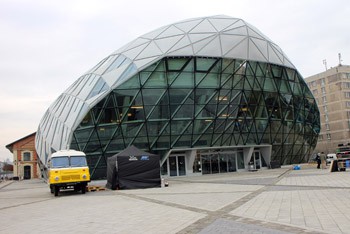 TIP: Drop by the Budapest Whale Shopping, Cultural and Entertainment Centre next door (a very short walk, roughly 100 m from the southern end of the Great market hall, on the Pest side of the Danube between Liberty Bridge and Petőfi Bridge
Some historic warehouses were restored and converted into a huge complex with some
unique shops,
cafes and restaurants,
a terrace with amazing views of the Danube and the Buda side
a biomarket on weekends and
exhibition halls (New Budapest Contemporary Art Gallery).
Summer Concerts in the Market Hall
TIP: You can enjoy 15 – 20-minute Gypsy concerts in the market on Mondays and Fridays at 11.00 and 11.30 till 18. August 2019.
The concerts are free.
You can listen to more free concerts at 15 more venues in Budapest till mid-August.
Related:
Food Markets – Farmers' Markets – Shopping Malls – Hungarian Food Specialties – Street Food Show & Főzdefeszt – Our Facebook page