A Tribute to Hungary's National Identity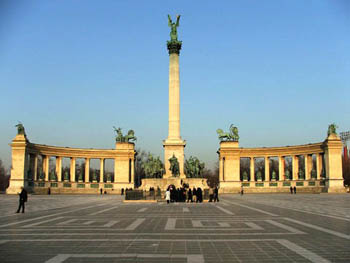 Walking down on Andrássy Avenue from Oktogon towards City Park, the spacious Heroes' Square and the nearly 40 m high column with a statue on the top draw the eye.
The imposing open plaza is one of the most emblematic and photographed sights of Budapest.
Location: at the end of Andrássy út, next to City Park in the VI. district
Getting there: M1 (yellow) metro line, Hősök tere station
TIP: There's a Tourist Information Point in the building of the City Park Ice Rink should you have questions or need help with your sightseeing.
Quick Links:
Brief History of the Square – Nearby Attractions – Restaurants near Heroes' Square
History and Architecture of Heroes' Square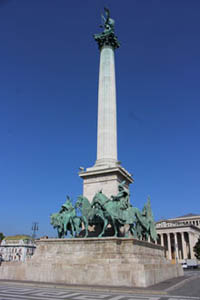 The monument was built for the 1896 Millennium celebrations, that's why it is called Millennium Monument.
Hungary celebrated the 1000th anniversary that its ancestors found a place to settle down in the Carpathian Basin. Every part of the monument plays tribute to determining parts of Hungary's history.
The memorial won the first prize at the 1900 World Exhibition in Paris. The monument was completely finished in 1929 and the square received its name then too.
Since 2002 the Millennium Monument together with Andrásy Avenue is part of UNESCO's prestigious World Heritage sites.
Who is on the Top of the Central Column?
The 36 m high Corinthian column dominates the square with Archangel Gabriel on its top holding St. Stephen's Crown.
According to the story, Gabriel appeared to St. Stephen in his dream and offered him the crown of Hungary.
Pope Sylvester II indeed sent a crown to him acknowledging Hungary and King Stephen as a defender of Christendom.
Today you can view the Holy Crown in Budapest Parliament.
The equestrian statues of the seven Magyar (Hungarian) tribes' chieftains encircle the column.
The seven tribes lead by Árpád arrived first in the Carpathian Basin around 896 AD to find out whether the area was suitable for settling down.
A semicircled colonnade encompasses the column with statues of Hungarian kings and heroes.
Statues of Kings & Heroes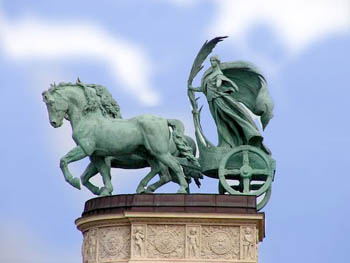 From left to right you can see:
King St. Stephen – Hungary's first king, founder of the Hungarian state
St. László– a noble and strict king, several miracles are attributed to him
Kálmán Könyves King Coloman de Beaiclerc-annexed Croatia and Dalmatia to Hungary
András II – participated in the Crusades
King Béla IV – rebuilt the country after the Mongol invade in the 13th century
Charles Robert – created a strong and wealthy Hungary in the first half of the 14th century
I Nagy Lajos (Luis the Great)-son of Charles Robert, during his reign Hungary reached the greatest expansion of its territory
King Matthias – a Renaissance King who made Buda Europe's cultural centre in the 15th century, Matthias Church in Buda castle is name dafter him.
István Bocskai– as a result of his fight against the Habsburg reign Transylvania became independent in 1606
Gábor Bethlen – prince of Transylvania in the 17th century, leader of an anti-Habsburg uprising
Imre Thököly – leader of Hungarian Protestants against the Habsburg rule
Ferenc Rákóczi- leader of the War of Independence against the Habsburgs in the 18th century
Lajos Kossuth – great patriot and statesman, leader of the 1848/49 War of Independence
Symbolic figures on Top of the Corner Pillars: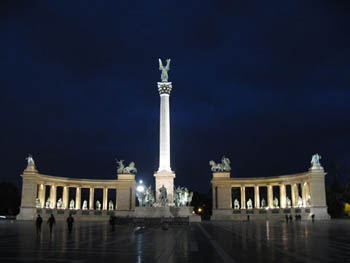 War
Peace
Work and Welfare
Knowledge and Glory
The Hungarian War Memorial stands in front of the column.
It commemorates heroes died for the independence of Hungary.
A popular spot for wreath-laying ceremonies on national holidays.
The square has witnessed several 20th century key events of Hungary's history.
During the Communist era the place saw coreo graphed demonstrations on holidays.
The reburial ceremony of Imre Nagy, leader of the 1956 revolution took place here in 1989.
Today you'll find many skateboarding teenagers on Heroes' Square manoeuvring among tourists.
Attractions Near Heroes' Square
Two great museums flank the the Square:
Museum of Fine Arts
Note:
the Fine Art Museum is closed due to a massive renovation project. It will reopen in 2018.
Both its permanent and temporary exhibitions worth a visit –
Some of the collection (50-60 items) can be viewed in the Hungarian National Gallery located in Buda Castle.
Look for the buildings A, B, C, D of the Royal Palace. (address: Szent György tér 2., Buda District I. )
Hall of Art (Műcsarnok)
Hosts Hungarian and international contemporary art exhibitions. Open: Tue-Sun: 10.00-18.00, Thursday: 12.00-20.00, Closed on Mondays and most National/Public Holidays.
City Park
Budapest's most popular park, the City Park (Városliget) stretches behind Heroes' Square.
You can see the parks most spectacular architecture, Vajdahunyad Castle from the square.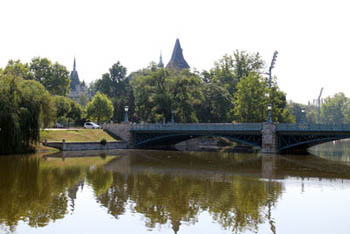 Many attractions – especially for kids:
Holnemvolt Park (the former Amusement Park, closed in fall 2013)
Read more about Budapest History.
Where to Eat Near Heroes' Square?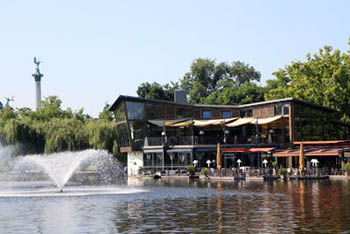 Robinson
Address: Állatkerti körút, on a small island on the lake
Open: Mon–Sun: 12:00–16:00, 18:00–23:00
Tel: +36 1 343 3776
Website
An enchanting restaurant on a small island with Mediterranean and Hungarian cuisine.
Robinson is the best-value choice in the area, even if it's not a budget place.
The lake side location and its above average cuisine make your dinner memorable.
Nice offer of local and international wines.
Main dishes: 2700 – 8 900 HUF.
Gundel
Address: Állatkerti körút 2., XIV. district
Open: Mon–Sun: 12.00 – 24.00
Tel: +36 1 321 3550
Website
Only if you curious about and must try this once legendary place then have authentic Hungarian dishes in the famous Gundel restaurant.
If not for the somewhat uninspiring cuisine than drop by for the elegant, turn-of-the-20th-century decoration.
Because of its fame it's still one of the most expensive restaurants in Budapest.
There's Sunday brunch between 11.30-15.00: all-you-can-eat buffet for 6 500 HUF, 3 400 HUF for children under 12 years of age and free for kids under 4.
An extensive wine list with offers from their own cellar as well as other wineries in Hungary.
Prices:
Soups: 3 600 – 4 800 HUF,
Main dishes: 5 800- 49 000 HUF (a langouste dish),
Desserts: 2 200 – 2 900 HUF,
3-course daily menu: 3 900 – 6 500 (you can get way mor better and cheaper than this in other restaurants of the city)
See also our page about Best Restaurants in Budapest or our recommendation of Hungarian Restaurants in Budapest.