Popular Soups, Mains and Desserts
When you visit Budapest do not forget to taste some tasty Hungarian dishes.
Hungarian cuisine surely has some delights for you including hearty soups, stews and game dishes, simple but tasty casseroles and luscious cakes and pastries.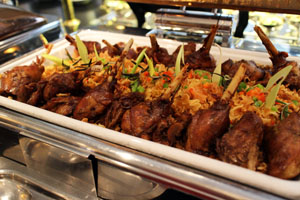 This page gives you tips on what typical dishes to try and where during your stay in Budapest.
TIP: Hungarian Dinner with Folk Show: a great combination of good, local food/wines and cultural entertainment: have a 4-course dinner showcasing some traditional Hungarian dishes in an elegant restaurant accompanied by a 30-minute folk music & dance program.
Every Friday at 19.00 in a centrally located restaurant.
Some basic ingredients and cooking techniques make Hungarian dishes hearty and spicy.
Hungarian paprika powder gives a unique taste and fiery colour to typical Hungarian meals, however don't think that dishes made with paprika are burning hot.
Usually sweet paprika is used to make stews, goulash, paprika chicken and hot paprika is offered separately.
Braising onions in hot lard and adding paprika to it are the first basic steps of making authentic Hungarian stews, paprikás or goulash.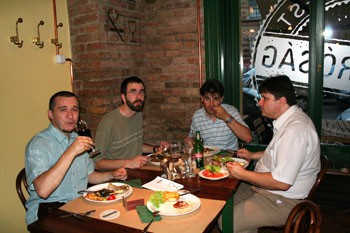 Sour cream is another essential ingredient in Hungarian recipes. It's added to soups, pastas, casseroles and desserts.
Some other common ingredients are onions, garlic, caraway seed, black pepper and a variety of herbs including parsley, bay leaves, tarragon, celery, thyme, savory.
Although most authentic dishes require lard, nowadays restaurants and housewives use vegetable oil instead of pork fat.
Table of Contents – Hungarian Dishes
Hungarian Soups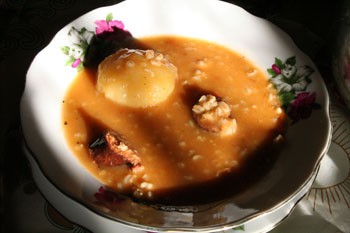 Hungary is a soup-eating nation. A complete three-course meal always starts with a soup. It can be a hearty meat soup like the world-famous goulash or a sweetish fruit soup.
Almost every part of Hungary has its own way of making goulash. Green beans are added to Palócgulyás, Alföldi gulyás is made with potatoes, carrots and parsnip. Bean soups are also popular hearty soups in Hungary.
In restaurants you'll probably find Jókai bean soup on the menu. Fisherman's soup is a another must to try when you're in Hungary.
Újházy chicken broth (Újházy tyúkhúsleves) is another tasty Hungarian soup that you'll find on restaurant menus.
Price Guide for Soups: depending on the place a bowl of soup costs around 400-1 000 HUF.
Hungarian Main Dishes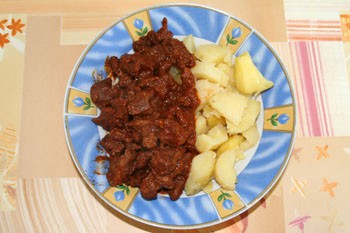 Soup is usually followed by some kind of meat dish with potato, pasta or rice garnishing. Pickles or salad made from seasonal vegetables accompany meat dishes.
Pörkölts and paprikás are the most popular meat dishes. Pörkölt is a ragout made from pork, beef or mutton, or chicken with onions and Hungarian paprika powder as the main spice.
Paprikás is made in the same way as pörkölt, the only difference is that sour cream is mixed in the red paprika and onion sauce to add a nice creamy texture to the meal.
Fried goose liver (Libamáj) and game dishes are also must-try Hungarian delicacies.
Stuffed cabbage (Töltött káposzta) is a traditional delicious Hungarian dish that is often made for holidays like Christmas or Easter.
There are a range of pasta dishes that our peculiar to Hungarian cuisine. Túrós csusza (pasta with cottage cheese) káposztás tészta (egg squares with braised cabbage), savoury pastas.
Sweet pasta dishes include túrógombóc (cottage cheese dumplings), szilvásgombóc (plum dumplings) and palacsinta (pancakes).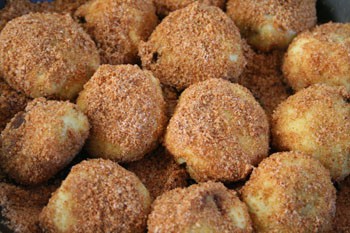 If you're vegetarian try Főzeléks which is vegetables simmered usually in water and thickened with roux. Try tökfőzelék (marrow with dill and sour cream), or finomfőzelék (mixed vegetables thickened with white sauce).
In restaurants they are served with stew, pork chop, or fried eggs depending of the type of the Főzelék. Smoked meat or sausage is essential for the cooking of some Főzeléks, like Babfőzelék (made from beans). If you're a strict vegetarian ask the waiter before ordering a főzelék that whether meat or meat stock was used during its preparation.
Price Guide for Main Dishes: between 1200-3000 HUF again depending on the place (some touristy restaurants can charge even more).
TIP # 1: Always check on the menu whether the garnish is included in the price of the meal.
TIP #2: Above we listed only a few of our favourite Hungarian main dishes. Download A Taste of Hungary ebook, and you'll have a unique collection of authentic recipes.
Hungarian pastries, cakes, snacks
If you have a sweet tooth you do not want to miss luscious Hungarian cakes, scrumptious pastries. Coffee houses, cafés are the best places to try these sweet delights. Take your time to select from the array of cakes and gateaus behind the counter.
Must-try desserts include: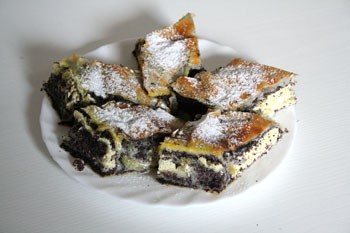 Dobos torta (Dobos cake) – sponge layered with rich chocolate cream and coated with crunchy caramel
Eszeteházy torta – cake layered with walnut cream
Krémes – light vanilla cream filled between two layers of crunchy puff pastries
Rigó Jancsi – chocolate sponge filled with light chocolate mousse and coated with chocolate
Rákóczi Túrós – cottage cheese cake
Strudels (Rétes), a flaky pastry with various fillings (cottage cheese, apple, poppy-seed and cherries etc. ) are all-time favourites among Hungarians.
Kürtős kalács (a hollow, cylinder shaped pastry coated with castor sugar, cinnamon or walnut) is usually sold on festivals and outdoor events.
Gesztenye püré Chestnut puree) or Somlói galuska (Somló sponge cake: sponge dumplings with chocolate sauce, rum and whipped cream) are typical luscious Hungarian desserts.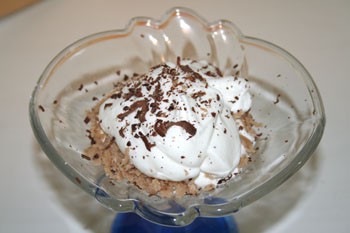 For quick morning snacks try Túrós táska (pastry filled with cottage cheese) or Kakós csiga (cocoa snail: rolled pastry filled with chocolate) pastries from bakeries.
Lángos, a round, deep-fried dough is a savoury snack that you can get at food stalls in vegetable markets. Pogácsa, a kind of salty biscuit with various flavourings (cracklings, cheese, cabbage) is another option for a quick bite.
Price Guide: pastries and snacks cost around 150-200 HUF, a slice of cake is between 200-400 HUF (in touristy cafés they cost more)
Restaurant Recommendation
Kiskakukk Étterem
Address: Pozsonyi út 12, XIII. district, tram 4-6 Jászai Mari tér stop
Tel: (+36 1)50 0829
Rézkakas Étterem
Address: Veres Pálné utca 3., V. district M3 Ferenciek tere stop
Tel: (+36 1) 26 70349
Öreghalász Étterem
fisherman's soup and other fish dishes
Address: Árpád út 20., IV. district
Tel: (+36 1) 231 0800
For Főzelék lovers
Főzelékfaló
self-service food bars, there are couple of them in Budapest
Address: Hercegprímás u. 3., V. district or at Nagymező utca 18. (M1 Oktogon station)
Tel: (+36 1) 302 3856
Green's Sőröző és Főzelékbár
Address: Dob utca 3., VII. district
Tel: (+36 1) 352 8515
For more restaurants serving Hungarian dishes visit our Hungarian restaurants in Budapest page.
See also Our Facebook page.