Hungarian Easter Recipes – Traditional Easter Dishes in Hungary
A 40-day lent (begins on Ash Wednesday and lasts until Holy Saturday) precedes Easter, when people rarely eat meat. Some have meatless meals only on Fridays.
Those who stayed away from meat during the lent, dinner on Holy Saturday (Nagyszombat) is a real feast.
Cooked smoked ham with hard-boiled eggs, fresh milk-loaf (kalács) and pickled horseradish make up the festive dinner.
You can also find fresh spring vegetables: lettuce, radish, green onions, cucumber on the table. Housewives decorate the table with colourful spring flowers: daffodils, tulips and pussy.
On Easter Sunday Hungarians have meat dishes (pork, poultry, rabbit, roast lamb or beef, meat loaf) with different garnishes.
Beigli is a popular pastry not just for Christmas but for Easter too.
See our Beigli recipe on our Hungarian Christmas recipes page.
Quick Links: Cooking Ham – Pickled Horse Radish – Milk Loaf
Table of Contents – Hungarian Easter Recipes
Hungarian Easter Recipes-Cooking Ham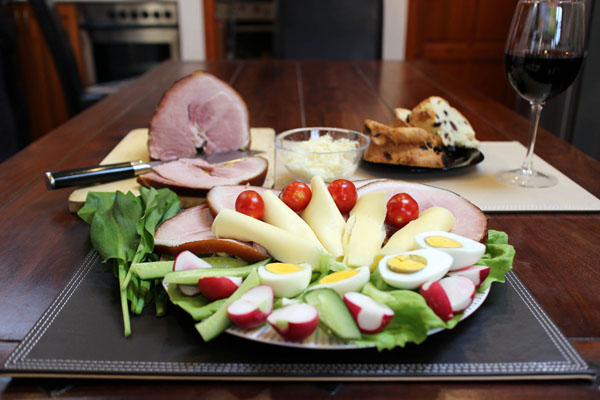 People in the country raise their own pork and in winter butcher at least one or two within a big family gathering that turns into drinking and partying by night (disznóölés is the name of this event in Hungarian).
All parts of the pork is processed for black liver puddings, spicy sausages, and pork cheese.
Some parts, like the ham gets smoked. Before the era of refrigerators people preserved meat with salt and smoking.
Despite that today every household has refrigerator and deep freeze, Hungarian countrymen still smoke ham and they treasure it for Easter.
TIP: Hungarian homemade ham tastes much better than the ones you can get under the name of ham in the supermarkets. You can get real traditional ham at the food markets.
A Sonkás, at the Fény utcai Market in Buda (not far form the Mammut Shopping Centre) offers a wide variety of local and Mediterranenan hams.
You can try one of the couple of ham bars in our city too: Sonkaarcok along Main Street of Budapest at Egyetem tér, Sonkapult in Rumbach Sebestyén utca 7.: serves breakfast too (district VII., Jewish Quarter), or Divin Porcello in the city center (at Apáczai János utca 7., behind the Marriott Budapest Hotel)
Tips for cooking tender, juicy ham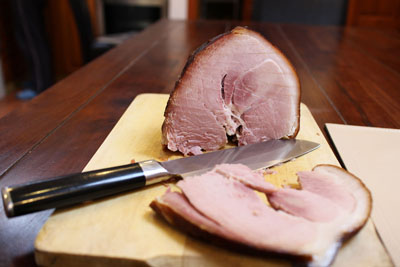 Requires time and patience.
Ingredients (for 4 persons)
Get around a 1 kg whole, homemade, smoked peasant ham (it has some fat under the skin) or other good quality ham.
a few bay leaves
whole black peppers
2-3 whole garlics
Instructions
Put the ham in a pot of cold water and let it soak for a night. This way the extra, unwanted salt from the meat dissolves in the water.
Rinse and wash it well before cooking (you can use the water in which it soaked for boiling eggs or making bean soup later)
Put the ham in a pan of cold water that covers the whole meat, add the spices and the garlic and start cooking it.
It should boil a little during the cooking. Do not add salt, the smoked ham is rather salty.
To get tasty and tender ham you have to cook it at least for about 2-3 hours.
Do not use pressure cooker, though it saves time but the ham will be dry, because the juicy fat will be extracted into the water due to the high temperature!
Let the ham cool out in the stock (the water in which it was cooked).
Slice it up and serve it with hard-boiled eggs, pickled horseradish, milk-loaf, green onions and other spring vegetables. You can make a decorative cold buffet.
Pickled Horseradish
Ingredients
1-2 fresh horseradish (you can get this white root in vegetable markets)
some salt
some sugar
some broth
lemon juice or vinegar
Instructions
Peel the horseradish and grate it.
Beware, the vegetable's volatile oils will make you cry, so grate it in open-air if you can.
Sprinkle the grated horseradish with some lemon juice otherwise it will turn grey and will taste bitter.
Tip: Let it air in a warm place for a while or put in a hot oven or a microwave for a few moments to make it less hot.
Add some sugar according to your taste.
Have tender milk loaf with the ham and the pickled horse radish and you'll feel as if the flavours explode in your mouth. See below how to prepare the milk loaf.
Milk Loaf (Kalács) with Dried Fruits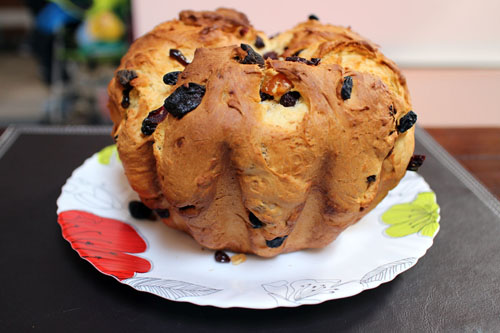 According to a recipe published in a Hungarian weekly for women.
This feathery, slightly sweet milk loaf enhances the smoky-salty taste of the ham. That's why I always bake it for Easter.
Ingredients
300 g flour
50 ml lukewarm milk with a coffee-spoon of sugar in it
25 g yeast
25 g yeast
50 ml rum
50 g sugar
2 sachets of vanilla sugar (20 g)
2 eggs
80 g butter + a little bit for greasing the baking form
1 coffee-spoon oil
150 g dried or candied fruits (raisins, prunes, apricot)
grated rind of a well-washed orange
1 egg yolk
Instructions
Wash raisins in hot water, drain them and let them soak in rum.
Crumble fresh yeast in the lukewarm sugary milk.
Sieve flour in a deep bowl and make a small hollow in the middle with the back of your fist.
Pour milk and yeast mixture in the hollow, sprinkle some flour on top, cover it with a tablecloth and let it rise in a warm place (takes about 15 minutes).
Melt the butter and let it cool a bit.
Slightly beat up 2 whole eggs, mix them with 50 g sugar, rum strained from the raisins, and grated rind of a well-washed orange.
Add this mixture and butter to the dough and knead it well until you get dough that has an elastic, blistery consistency.
It also pulls away from the sides of the bowl. It takes some time and it's a great physical exercise.
Butter a baking form. Place dough on a slightly floured board and knead it well.
Roll it out to make about a 25×40 cm rectangle.
Sprinkle raisins and dried, candied fruits over it.
Roll it up and form a ring by sticking together the two ends of the roll.
Place the ring in the baking form, cover it with a kitchen cloth and let it rise until it fills out the form (about 30-40 minutes).
Preheat oven up to 220 °C and place a heat-resistant bowl or can with hot water in it on bottom of the oven (the steam is necessary for baking the batter).
Cut zig-zag forms in the top of the dough with scissors.
Mix egg yolk with oil and brush dough with the mixture. It'll give a nice glaze to the milk loaf. Tip #1: You can sprinkle the top with some peeled almonds.
Bake dough in the middle of the oven for 10 minutes at 220 °C, than reduce heat down to 200 °C and bake it for about another 60 minutes.
Tip: Cover dough with foil should the top start to brown.
Let milk loaf cool a bit in the form then remove it onto a tray.
Slice it up and sprinkle it with castor sugar.
Have a slice with a cup of coffee or hot chocolate! Stays fresh wrapped in cling film for a couple of days, but can be frozen if you think you cannot finnish within that time.
TIP: Do you want more traditional Hungarian recipes? Buy one of our recipe ebooks A Taste of Hungary or Hungarian Desserts and make more main dishes and/or sweets
Related:
Easter in Budapest – Typical Hungarian Dishes – Learn to Cook Hungarian – Hungarian Paprika – Christmas in Budapest – Gerbeaud Cafe – See also our Facebook