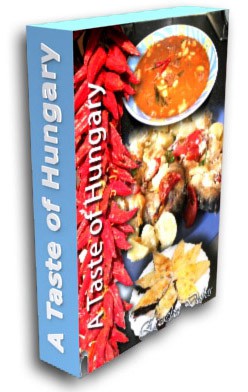 Here are two Hungarian Recipe ebooks if you want to learn about Hungary's cuisine, make traditional dishes like goulash, stuffed cabbage, strudel or beigli.
Written by a local housewife, these two easy-to-follow recipe ebooks include lots of hints and tips about Hungarian cooking that only a practiced cook knows.
Both ebooks are loaded with photos showing the main steps of preparation to help you visualize cooking or baking.
A Taste of Hungary – Hungarian Recipe Ebook
If you want to create Hungarian tastes in your home then this ebook is for you:
It contains all the classic recipes that made Hungarian cuisine famous all over the world.
Learn how to cook with paprika powder the mascot spice of Hungary.
You'll get a glimpse into history of Hungarian cooking.
Learn about the major Hungarian cooking ingredients.
Step-by-step recipes from in easy to follow format.
Hungarian Desserts Ebook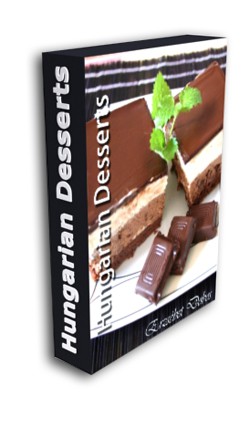 Hungarian desserts earned well-deserved reputation in the world too.
Now you can make these classic Hungarian cakes and pastries yourself:
Dobos torte,
Krémes,
Gundel pancakes,
Beigli
are all included in this attractively designed recipe ebook
Colourful photos and detailed, easy-to-follow instructions make you able to prepare any of the delicious desserts.
Related: