Places To Enjoy The Best of Local Fare
No visit to the Hungarian capital is complete without having a meal in one of the numerous Hungarian restaurants in Budapest.
Our list includes the best of them. Of course "best" means slightly different to everyone.
Qucik Links:
Elegant Hungarian Restaurants in Budapest – Unpretentious Hungarian Restaurants – Fisherman's Soup in Budapest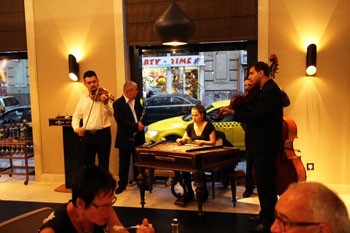 We compiled lists of places that have the right combination of
Quality of food,
Friendly and attentive service as well as
Atmosphere.
Most restaurants offering traditional local dishes have live gypsy music in the evenings.
Price Guide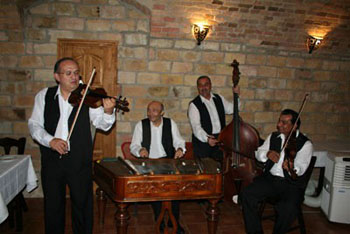 To help you choose according to your budget we indicate the price category (prices are per person without drinks and tip) after the name of most restaurants listed here:
Very expensive (main courses above 6 000 – 8 000 or more HUF) – $$$$
Expensive: (main courses cost around 5 000 – 6000 HUF – $$$
Moderate (main courses cost cc. 3 000 – 4 000 HUF or less) – $$
Cheap (around 2 000 – 3 000 HUF) – $
Note: Most resturants also charge around 10 – 13% service fee.
Elegant Hungarian Restaurants in Budapest
The best fine dining places where you can enjoy well prepared meals made from fresh, quality ingredients and enjoy som fine local wines within an elegant setting.
This list includes some of the "must visit" places too. These established restaurants usually have long time traditions, fine cuisine and service and their name ring a bell in foreign countries too.
Needless to say that prices are usually high, though they offer discount for certain occasions (e.g. Sunday brunch).
Try a meal at these places if you don't mind digging deeper in your purse and if you want to impress your friends and relatives at home telling them about your culinary experiences in Budapest.
Buda Side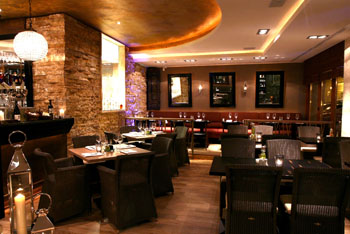 21 Magyar $$$-$$$$
Address: Fortuna utca 21.
Tel: +36 1 202 2113
Open: every day 12.00 – 24.00
A friendly, bistro-style place in Buda castle with traditional Hungarian dishes prepared in modern way.
Some great wines from Hungary's best wineries are offered, a few of them by the glass.
Búsuló Juhász $$$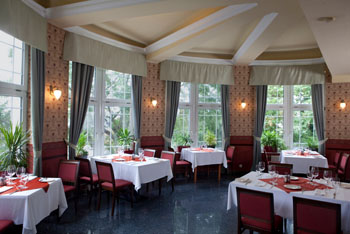 Address: Kelenhegyi út 58., district XI., Buda, on the top of Gellert Hill
Tel: (+36 1) 209 1649
Open: every day: 12.00 – 24.00
Website
Búsuló Juhász is a classy restaurant within a relaxing, green surrounding.
A perfect place to have delicious meal after strolling on Gellért Hill.
The cuisine is a combination of traditional Hungarian cooking with a touch of modern gastronomy.
Quality is good but nothing special, but the view is superb.
Meals are a bit expensive: goulash soup: cc. 990 – 1 390 HUF, main dishes: cc. 3 000 – 6 700 HUF.
Csalogány 26 $$ – $$$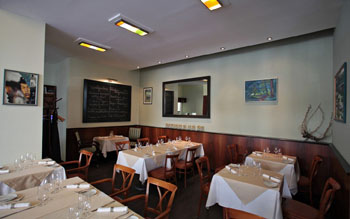 Address: Csalogány utca 26., district I., Buda, M2 metro, Batthyány tér station
Tel: (+36 1) 201 7892
Opening Hours:
Tue-Sat: 12.00-15.00 and 19.00 – 22.00,
Sun – Mon: closed
Despite its unassuming look and non-creative name (named after the address), Csalogány 26 offers some of the best Hungarian food among Budapest restaurants.
The menu changes frequently according to the season's offerings.
The daily menu of 3 courses is 2 500 HUF + 10% servcie charge.
Hunyadi Restaurant $$$-$$$$
Address: Hunyadi J. utca 17., district I., Buda
Tel:(+36-1) 212 7740
Opening Hours:
Mon-Thurs: 17.00 – 23.00,

Fri-Sun: 12.00 – 23.00
Website
A lesser known eatery with mainly local meals on the menu:
goulash,
paprikás,
duck,
lamb,
beef,
pork dishes
Around 20 Hungarian wines are on offer all of them available by the glass.
Pest Side
BorKonyha (WineKitchen), Michelin star, $$$-$$$$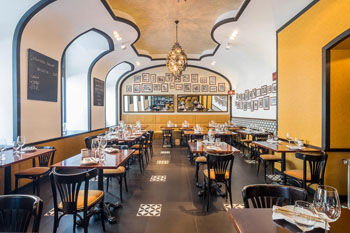 Address: Sas utca 3., district V. near St. Stephen's Basilica
Tel: (+36 1) 266 0835
Opening Hours: Mon-Sat: 12.00 – 24.00, closed on Sundays and holidays
This Michelin-star awardee is located in a street near the Basilica on Szt. István Square.
BorKonyha is a fusion of a French bistro and a contemporary Hungarian restaurant with a relaxing atmosphere.
The menu represents this concept so don't expect to find hearty local dishes prepared in traditional way.
As the name suggests wines play an important role here: around 200 mainly domestic bottles 48 by the glass are offered for drinking or even purchasing at reasonable prices.
Seasonal dishes made from fresh, quality ingredients prepared in inventive ways by the talented chef Ákos Sárközi earned a Michelin star for the restaurant in early 2014.
The daily offer is written on a board and includes delicacies like: breaded veal leg with polenta, venison ribs with sweet potatoes, peaches and melon, or roasted mangalica pork knuckle with steamed mushrooms.
Service can be slow during the busiest hours and in the tourist season.
Prices: soups: 3 000 – 3 500 HUF, mains: cc. 7 950 – 11 550 HUF, desserts: cc. 3 450- 4 000 HUF. Website of the restaurant.
Aszú Restaurant, $$$-$$$$
Address: Sas utca 4., district V., close to the Basilica
Tel: (+36 1) 1 328 0360
Opening hours: every day: 12.00 – 24.00
Website
Next to BorKonyha you can continue sampling delicious Hungarian dishes and sipping the best Tokaj wines.
It has a refined, elegant interior with lots of gold and brown colours, crystal chandeliers, crisply white tablecloths: ideal for a romantic dinner.
The well-designed menu is short and contains some classic local food like the Aszú Stuffed Cabbage 2014, fillet of duck breast filled with Hungarian letcho, or paprikash chicken, as well as seasonal offerings.
The dishes are nicely paired with the wines.
For dessert try the Aszú-style Somlói evolution: crispy walnut layer followed by chocolate sponge layer, silky smooth vanilla cream dotted with golden raisins soaked in Aszú wine, sprinkled with chocolate sauce.
Attentive, efficient service. Sit outside if the weather allows.
Prices: soups: 1 600-1 800 HUF, mains: 2 900-6 900 HUF.
Bock Bistro $$$ – CLOSED Down In 2022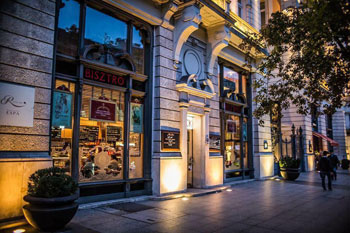 Address: Erzsébet körút 43-49., district VII.
Tel: (+36 1) 321 0340
Opening hours: Mon-Sat: 12.00-24.00, closed on Sundays
One of the best places to enjoy fine local wines and gourmet meals.
The place opened in 2004 within the historic Corinthia Hotel Budapest on the Grand Boulevard. It is a joint venture of József Bock wine maker from Villány and Lajos Bíró chef.
Spacious interior with lots of light through the large windows overlooking busy Erzsébet körút.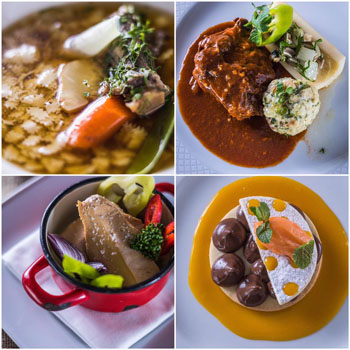 Famous, must-try dishes include: the foie gras sushi or the ox cheek retro.
Ample choice in fish dishes, and one of the best fisherman's soup (unfortunately it is only made on Saturdays, and around Christmas time) in the country,
lamb,
goat,
mangalica dishes can also often be found on the menu card or among the daily offers written on a black board (Cold gourd stew with goatling's liver, Black cod fish with hippophae, Veal noodle with Kräuter).
Excellent wine list containing many bottles form the Villány region but other wine growing areas of Hungary are also represented:
Szekszárd,
Somló,
Csopak,
Eger,
Tokaj.
Staff is extremely professional and helpful.
Prices: soups: 1 100 HUF, mains: 3 700-7 400 HUF
Százéves Étterem $$$ (100-year-old Restaurant)
Address: Piarista utca 2., district V.
Tel: (+36 1) 318 3608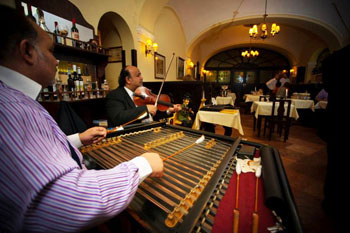 Opened in 1831 the Százéves Étterem is Budapest's oldest inn.
The beautiful baroque building has a rustic interior that provides an excellent atmosphere to taste Hungarian dishes.
In the evening candlelight and gypsy music make it a fine place for a romantic dinner.
The building is a protected monument.
Some of the kitchen utensils are historical pieces too. There's a small terrace for al fresco dining.
Prices: Soups are around 1 500 – 2 000 HUF, traditional goulash is 990 HUF/2 dl, Fishermen's soup is 1 190 HUF/ 2dl. Main dishes are around 3 000 – 4 000 HUF or more if it's goose live ror grey cattle beef.
You can also go for the 3 course daily menu (12 – 15 EUR).
Gundel $$$$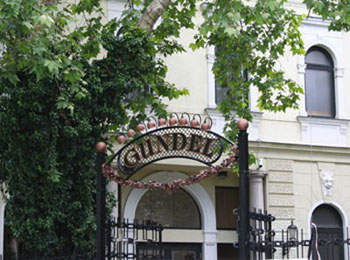 Address: Állatkerti körút 2., district XIV.
Tel: +36 1 468 4040
Opening hours: every day: 12.00 – 24.00
Website
Perhaps the best known Budapest restaurant by foreigners. It's located out of the city centre in Városliget/City Park next to the Zoo.
The elegant, turn-of-the-20th-century decoration, the fine cuisine and service make your dinner unforgettable.
You can admire masterpieces by Hungarian painters on the wall while you're waiting for your meal.
Because of its fame Gundel is one of the most expensive restaurants in Budapest.
There is daily 3-course lunch menu for 6 900 or 7 900 HUF, and Sunday brunch for 7 900 HUF (Sundays: 11.30 – 15 00).
They have a range of foie gras dishes.
Try one of the tasting menus:
degustation menu, 5 courses- 25 000 HUF (without wines)
Gundel Grand Menu, 6 courses – 35 000 HUF (without wines)
Try the Gundel pancake (palacsinta in Hungarian), it has rich walnut stuffing and is served with velvety chocolate sauce.
The wine list is quite impressive including some 20 wines by the glass, the Gundel wines from Tokaj region, other wines form Hungary's main wine regions and some imported wines.
ÉS Bistro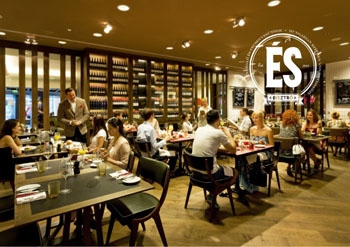 Address: Deák Ferenc utca 12-14., district V. (inside Kempinski Corvinus Hotel)
Opening hours: Mon-Sun: 11.30 – 22.30
Website
An elegantly designed, spacious bistro inside the 5-star Kempinski hotel in Fashion street.
The terrace is a nice spot to enjoy life in central Budapest with themed events on Friday and Saturday nights in summer.
The menu is not long and it showcases dishes characteristic of the Austro-Hungarian Monarchy along with tasty grilled meats, burgers, fish and other seafood.
You can have only nibbles with your drink if you feel like:
an assortment of Hungarian-style spreads with homemade bread,
Baked bone marrow topped with tuna tartare and red radish
Tafelspitz ( a national dish of Austria originating form the Hapsburg era and a favorite of emperor Franz Joseph: beef rump boiled with some vegetables in a specific way) sandwich with chips.
Classic Hungarian soups:
goulash (1 850 HUF) and
Viennese beef soup with vegetables, and semolina dumplings (1 850 HUF).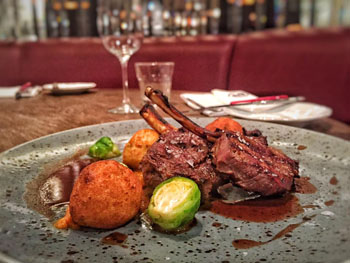 You can also choose from a range of grilled meats and burgers. Watch out also for the blackboard specials.
You must try one the traditional Hungarian desserts:
Rigó Jancsi cake (1 950 HUF: chocolate mousse cream between two thin, dark sponge cake layers),
Rákóczi Túrós – curd cheese pastry with meringue on top (1 950 HUF)
Daily selection of strudels (1 680 HUF).
Some unique wines (more than 20 available by the glass: 1.25 dl) and craft beer to sip with your meal.
Excellent, friendly service.
Bábel Restaurant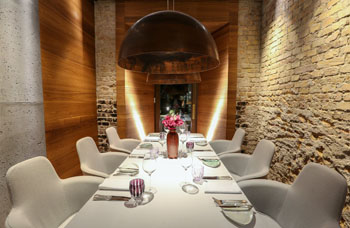 Address: Piarista köz 2., district V.
Tel: (+36 70) 6000 800
Opening hours: Tue-Sat: 18.00 – 24.00
One of the top 5 gourmet restaurantss of the city is loctaed on the riverfront, at the foot of Erzsébet bridge in Pest.
Bábel offers Hungarian regional fine dining with wide selection of Hungarian quality wines.
there's a seasonal a' la carte menu and
a 4- and 6-course tasting menu offering a taste of local cuisine.
130 bottles of wine form Hungary's current and historic wine regions, wide choice in pálinka and champagnes round off the high-quality of food.
Prices: 4-course tasting menu: 20 500 HUF (without wines), 6-course tasting menu: 29 500 HUF (without wines). Main dishes: 5 800 – 11 500 HUF, desserts: 3 400 HUF
Unpretentious Hungarian Restaurants in Budapest
Buda Side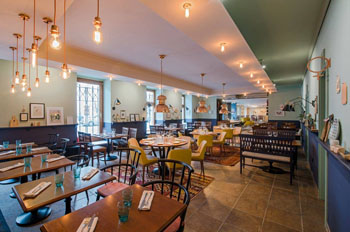 Vár: A Speiz Restaurant $$$-$$$$
Address: Hess Andráss tér 6., district I., Buda Castle, across the Hilton Hotel
Tel: (+36 1) 488 7416
Opening hours: Tue-Sat: 12.00 – 22.00, Sun: 12.00 – 17.00
Website
It is a cozy place with a modern vibe in the heart of Buda Castle known for traditional Hungarian dishes with a touch of innovation.
There's
goulash soup for 1 790 HUF,
lamb ragout soup with tortellini (1 650 HUF),
chicken paprikash with spaetzle and cucumber salad (3 900 HUF), or
Wiener schnitzel with roast potato and baby lettuce (4 800 HUF)
An ideal choice for a relaxed lunch or dinner after exploring the sights in the Castle district.
They have a special menu of breaded and deep fried meat dishes.
The wine card includes some lesser known bottles by Hungarian wine makers. Quite a few of them can be ordered by the glass.
Vendéglő A KisBíróhoz $$$-$$$$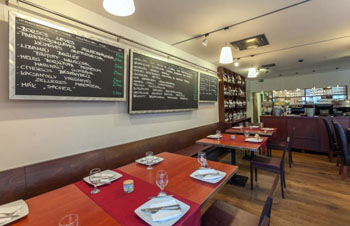 Address: Szarvas Gábor út 8., district XII, Hegyalja, Buda
Tel: (+36 1) 376 6044
Open: Tue-Sun: 12.00 – 23.00, closed on Mondays and holidays
A less bustling version of the Bock Bistro in Pest, bearing partially the name of its executive chef and co-owner: Lajos Bíró.
Laid-back bistro atmosphere with a nice cellar and a circular terrace in summer offering a great vista of the Buda hills.
You can expect similarly high quality both in the meals and the service than in Bock Bistro in Pest.
The seasonal, weekly changing menu includes new interpretation of classic local dishes:
oven-baked lamb, goat,
veal neck,
large steaks,
fresh fish,
offals prepared in innovative ways,
home-baked bread.
Traditional fish soup from fresh fish every Saturday. The pork goulash is 1 500 HUF/bowl.
Wide choice of wines from the Bock winery in Villány and advice from expert sommeliers make the experience a memorable one in this vendéglő in Buda.
Prices: soups: 1 400 – 1 500 HUF, mains: 3 400 – 6 700 HUF, desserts (Eszterházy cake or Somló-style sponge cake): 1 400 HUF or try the bizzare ice cream creation made with tobacco, basil and sausage (1 600 HUF). Sounds weird but it's delicious! See full menu here.
Náncsi Néni Vendéglője $$ (Aunt Náncsi's Restaurant)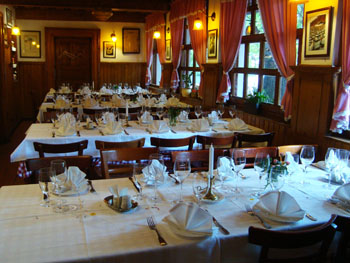 Address: Ördögárok u. 80, Budapest, II. district, take a taxi to get there
Tel: (+36 1) 397 2742
Website
This family-run restaurant is a bit out of the city center, way up in the Buda Hills.
If you want to have home-style Hungarian dishes in rustic surroundings and enjoy the peacefulness of the leafy hills, Náncsi Néni is the place for you.
The restaurant received its name after the niece of Budapest's first mayor.
You can have your meal in the garden under shady trees from spring till autumn
If you have a baby or little kids, you have all the facilities here to enjoy your meal: baby dresser, high chair, playground, swing, washroom and considerate staff.
To make your Hungarian dining complete, you can listen to live Gypsy music in the evenings.
See other fine garden restaurants in Budapest.
Kéhli Restaurant $$-$$$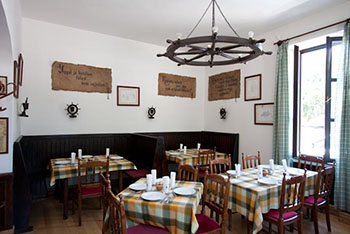 Address: Mókus utca 22., district III., Óbuda
Tel: (+36 1) 368 0613
Open: 12.00-22.30 every day
Although Kéhli is also a bit out of the city center it's worth the effort of getting there to try its traditional Hungarian cuisine.
The Kéhly family opened it at the end of the 19th century.
Do try their speciality, the bone marrow on toast, though it might not seem tempting, it's delicious.
The hearty Hungarian soups in cup (chicken broth, goulash, fisherman's soup, bean soup, cc. 700-900 HUF) are also worth a try.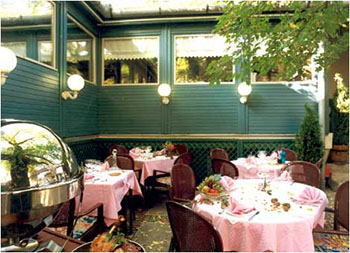 Kisbuda Gyöngye Restaurant $$$
Address: Kenyeres utca 34., district III., Óbuda
Tel: (+36 1) 368 6402
Open: Tue-Sat: 12.00-23.00, Sun, Mon: closed
Kisbuda Gyöngye represents another "pearl" of traditional Hungarian cooking (literally translating the name means pearl of small Buda).
A small but charming restaurant in the outer Óbuda district in Pest that offers excellent food and wines and old-world ambience.
Pest Side
Borbíróság Restaurant $$$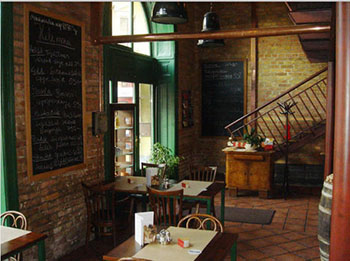 Address: Vámház körút, next to the Great Market Hall
Tel: (+36 1) 219 0902
Opening hours: Monday-Saturday: 12.00-23.30
Website
An excellent wine restaurant offering approx. 100 high-quality Hungarian wines.
The menu used to offer a culinary travel through Hungary, introducing the typical dishes of the various country regions.
Today it has more refined meals prepared with healthier ingredients using modern cooking techniques.
Try the Confit duck leg with soft polenta and tomato salad with a glass of red wine.
Around 36 wines – all Hungarian bottles – that can be asked by the glass (prices start form 650 HUF/dl)
Prices: soups: 950 – 1 150 HUF, mains: 2 250 – 4 450 HUF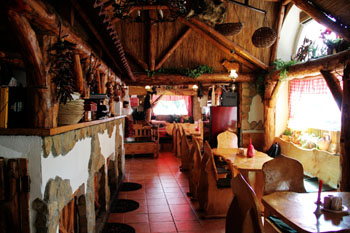 Paprika Restaurant
Address: Dózs György út 72., district VII.
Tel: (+36 20) 294 7944
Opening hours: every day: 12.00 – 23.00
Fülemüle $$$ – $$$$
Address: Kőfaragó utca 5. district VIII., M2 metro or trams 4, 6 Blaha Lujza tér stop
Tel: (+36 1) 266 7947
Opening hours: Mon-Sun: 12.00 – 22.00
Website: Fülemüle
A more homey than sleek place favored by locals, expats and tourists alike. Large portions of hearty Hungarian and Jewish fare are served.
Regős Vendéglő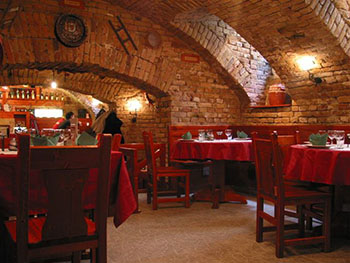 Address: Szófia utca 33., district VI.,
Tel: (+36 1) 321 1921
Opening hours: every day: 12.00-22.00
Website
A very good and cheap traditional Hungarian inn located in a basement where you can eat a whole range of local specialties.
The daily menu (soup and main course) costs 850 HUF.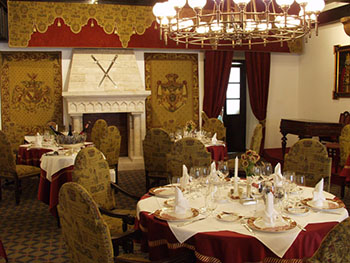 Hunyadi Kisvendéglő $$
Address: Hunyadi tér 10., district VI., near Oktogon, tram 4 and 6
Tel: (+36 30) 504 7462
Opening Hours: Mon-Sat: 10.00-22.00, Sun: closed

A pleasant inn offering no-nonsense, tasty Hungarian dishes.
The wines are not remarkable but inexpensive (240-300 HUF/1 dl).
A very good-value place especially if you don't feel like going in a fancy, expensive restaurant.
Where to Eat Authentic Hungarian Fisherman' Soup (halászlé)?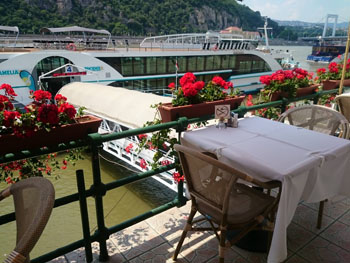 Szegedi Halászcsárda
Address: Belgrád rakpart, district V., next to the International Boat Station
Open: every day 11.00 – 24.00
Seems to be a bit touristy at first glance due to the location at the Pest side of the Danube in the city centre but the food is quite good and portions are huge, plus the view is gorgeous.
Fisherman's soup is prepared from fresh fish delivered from Szeged town 4-5 times a week.
You can choose from half a dozen halászlé-s.
Try the mixed one (included carp and catfish fillets, costs 2 700 HUF) or the one with carp fillets (0.5 l is 2 300 HUF, small portion: 1 200 HUF).
Other classic local food is also avaialable.
You can see the menu here.
Sípos Halászkert $$
Address: Fő tér 6., district III., Óbuda
Tel: (+36 1) 368 6480
One of the best places to try halászlé is the Új Sípos Halászkert right in the centre of Old Buda on Main Square/Fő tér.
Besides fish dishes they have lots of Hungarian specialties on the menu.
Horgásztanya $
Address: Fő utca 27., district I., not far from the Chain Bridge
Tel: (+36 1) 212 3780
If you want to stay in the city centre you can have delicious fish soup at Horgásztanya at the price of slightly grumpy service and kitch decor (fishing net hanging from the ceiling and a boat at the back of the room).
Öreghalász Étterem $$
Address: Árpád út 20., district IV.
Tel: (+36 1) 231 0800
Offers a variety of fish soups (you know that every region in Hungary has its own style of making fish soup, don't you)? A wide selection of meat dishes and some vegetarian courses too.
See our Fisherman's Soup recipe on our Hungarian Christmas Recipes page.)