After a delicious paprikás csirke or foie gras rinse your throat with excellent Hungarian Wines! Our country has been blessed with a climate and soil perfect for viticulture and winemaking.
Yet, apart from Egri Bikavér (Bulls Blood) and Tokaji aszú most Hungarian wines are lesser known in the world.
Take the opportunity to discover them!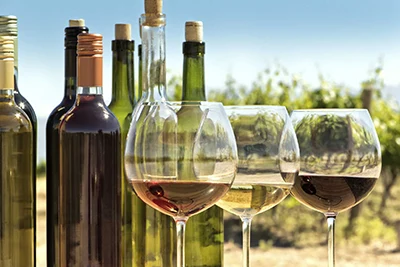 Table of Contents

Table of Contents – Hungarian Wines & Wine Regions
Wine Tasting In Downtown Budapest
The best place to sample local wine – if you don't want to venture in the countryside – is going on a wine tasting program in a wine bar or restaurant.
The Hungarian Wine Tasting Experience offers a 9-tier tasting showcasing some truly exceptional wines (4 red, 4 white and a dessert wine from Tokaj).
During the two-hour program you'll be served 9 matching snacks (chesse, salami, ham, dried fruits etc.) sourced from local producers so you can fully appreciate the wines. The tasting takes place right in the heart of Budapest, so you won't have to travel a lot. Places are limited, so make sure you book in advance!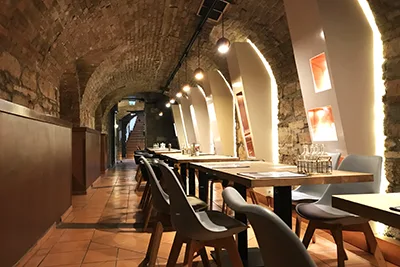 Wine Tasting Experience in Palinka Museum
Savor the complexity and heritage of Hungarian wines as you explore a curated selection, ranging from the renowned Tokaj to the robust Kadarkas of Villány, guided by our knowledgeable specialists.
9 different wines for tasting / 9 different charcuteries
Duration: 120 min. – Price €57
Find out more details about the Hungarian wine tasting in Budapest city centre!
What Makes Local Wines Good?
Hungary's climate is very favourable for quality wine growing because the average temperature is much higher than let's say in Northern France.
In addition, autumn is rather dry with warm, sunny weeks until mid-October (a period often referred to as Indian summer).
This allows Hungary to produce the entire range of classic wines:
Whites,
Roses,
Reds, and
Natural, sweet dessert wines, like the world-famous Tokaji aszú.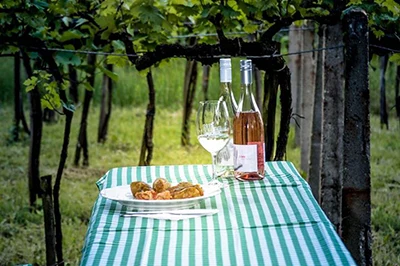 Add the slopes of volcanic origin, and you get a combination of natural conditions that with the the expertise of talented wine makers result in fine wines.
Today a rich diversity of both international and local grape varieties are grown in the 22 Hungarian wine regions and a great variety of wines are made from them.
Major Grape Varieties in Hungary
The Renaissance of Hungarian Wines
Huge wine factories in the communist regime emphasized quantity over quality.
Luckily, in the 21st century several Hungarian wine producers make wines not just because it's good business, but they want to revive and preserve the quality and fame of local wines.
Wine drinking habits are changing as well.
A glass of delicate wine with or after your meal is becoming more and more common.
Young consumers look for quality wines that encourages wine makers to enhance the quality of local wines even more.
There are hundreds of private wineries and thousands of winemakers. They've won several prizes on international wine festivals and competitions in recent years.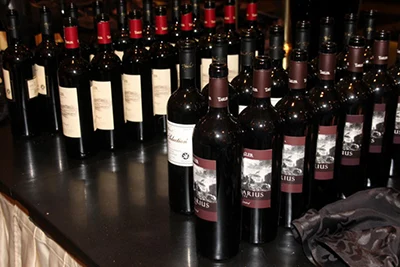 Wine-growing is drifting towards mainstream nowadays, however the native varieties are still hanging on.
You'll find many newborn wine-clubs, and wine routes all over the county as well, not to mention the numerous wine bars and restaurants in Budapest where you can sample some delightful classics.
Bull's Blood from Eger,
Egri kriályleányka- translates to princess, a fruity white originating in Transylvania,
Kadarka from Szekszárd,
some excellent Pinot Noirs from Villány, as well as
great cuvées.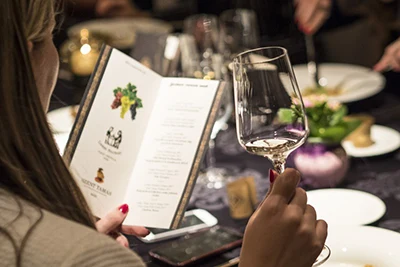 What to Taste & Buy?
Tokaj Aszú – The King of Wines, Wine of Kings
Tokaji aszú is one of the best sweet wines of the world and you must taste it while visiting Hungary.
Grape is left on the vines until botrytis cinerea, a type of noble mold, shrivels the grapes concentrating the sugar content.
Aszú has a very sweet almost nectar like quality and a warm amber colour.
The quality of Aszú is determined by the number of putton.
A wooden bucket that can be put and carried on the back and in which grape was gathered during harvests in the past).
The number of puttony indicates how many buckets of pressed, botrytis-matured grape were added to the still wine.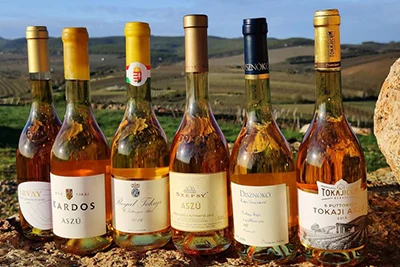 The higher the number the more complex and sweeter the wine. Higher number puttonyos aszús (5, 6. 7) cost around 8.000 – 20.000 HUF or more.
The year of the harvest also has impact both on the price and the quality.
According to a new regulation that came in effect in 2014, only 5 and 6 puttony aszú-s are allowed to be called Tokaj aszú, the others (3 and 4 puttonyos) are called
late harvest or just
sweet wine.
Price Of A Bottle Of Tokaj Aszú:
depending on the number of puttony-s, age, cellar: around 8 000 – 50 000 HUF/0.5 L bottle
The Best Aszú-s Are Produced By The Following Wineries:
Chateau Dereszla
This renowned wine estate is in Bodrogkeresztúr, Felső u. 2., 3916 HU –
The 5 puttony 2007 Aszú made the 20th spot in the list of The World's 100 Best Wines by Wine Spectator magazine.
The historic cellar is stretching 1 km long and 3 storeys deep under the Dereszla vineyard. They welcome tourists, wine lovers for tasting in 25 or 60 prs rooms.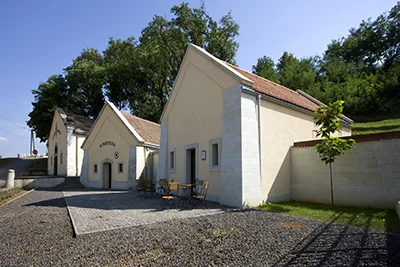 Hétszőlő Estate
Demeter Zoltán's Winery,
Address: Tokaj, Vasvári Pál utca 3., 3910
6-puttony aszús of 2007, 2008, Holdvölgy aszú, He also has very nice furmint, and hárselevelű.
Tokaji Oremus Aszú-s
Address: Bajcsy-Zsilinszky Endre utca 45, 3934 Hungary.
prize winner bottles,
The winery/cellar – owned by the Spanish Tempos Vega Sicilia – is located in Tolcsva town, some 30 kms north of Tokaj: Tasting tours can be arranged.
Tokaj-Hétszőlő Estate
Address: Bajcsy-Zsilinszky utca 19, 3911 Hungary, on the southern slopes of the Tokaj Hill
The historic Rákóczy cellar is also owned by the company.
Michel Reybier, French wine maker from Bordeaux, bought Hétszőlő in 2009 and resurrected wine making, bringing the deserved fame and acknowledgment of wines made there.
The Furmint, Sárgamuskotály (yellow muscat) are also exceptional. See website for more information.
Wine Regions in Hungary
Hungary has 22 wine regions that boast not only with
excellent quality wines but
beautiful scenery and
interesting sights.
Besides wine tasting, these regions offer colourful programs to entertain visitors throughout the year.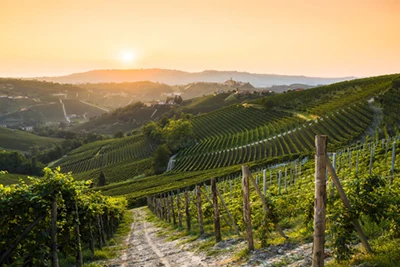 Etyek-Buda Wine Region
The Etyek-Buda region is the closest to Budapest and offers
Some trully excellent wines,
Tasty local food,
Fresh air, and
Friendly people who are happy to talk about wine making and their way of life.
These regions boast not only excellent quality wines but beautiful scenery, local gastronomy and interesting sights.
The best time to get to these regions to taste wines and discover the beauty of Hungarian countryside is
late spring-early summer or
in September-October, when grape harvests are accompanied by festive events and programs.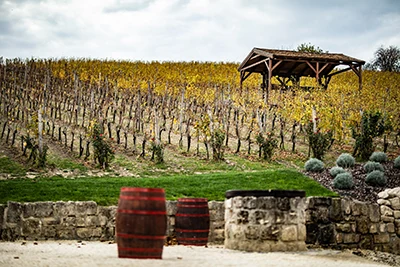 Wine Regions – North-East Hungary
Northern Hungary gives home to two world-famous wine regions.
Tokaj-Hegyalja
Perhaps the best-known of all Hungarian wine region is Tokaj where
excellent sweet dessert wines and
full-bodied whites are produced.
The honey-like aszú dessert wine, that brought fame to this wine growing territory, is considered to be among the first three of the best wines in the world,
Noble botrytis gives the sweet, nectar-like quality of the Aszú made in Tokaj.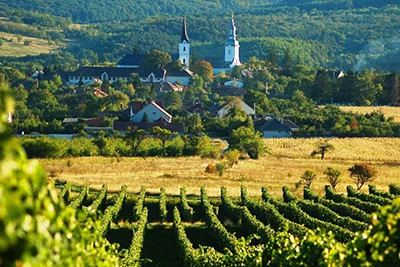 The uniqueness of Tokaj stems from occurence of several natural attributes:
Major Grape Varieties & Wines:
Furmint,
Hárslevelű (Linden-leaf),
Yellow Muscat.
Eger
The Eger Wine Region is also well-known outside Hungary mainly for its full-bodied red, the Bull's Blood.
It was widely advertised and exported to western countries during the communist era.
Talented wine makers resurrected viticulture in the region and today not only the red wines but whites like the
indigenous Leányka,
Királyleányka,
Tramini,
Olaszrizling (Italian Riesling) are on par with some of the top-quality international white wines.
The Szépasszony Völgye (Valley of Beautiful Women) just outside Eger offers a scenic place for tasting wines of Eger.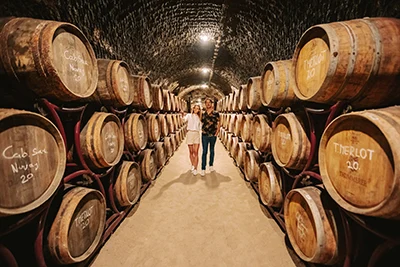 Major Grape Varieties & Wines:
reds: Kékfrankos (Blaufrankish), Merlot, Kékoportó forms the basis of Bull's Blood,
whites: Leányka, Királyleányka, Tramini, Olaszrizling (Italian Riesling)
Southern Transdanubian Wine Regions
Two regions produce outstanding reds in the Mediterranean area south of Lake Balaton known as Southern Transdanubia.
High number of sunny hours in a year,
long history and
traditions of wine making, as well as
the unique soil make the following two regions among the best red wine producing areas both on local and international level.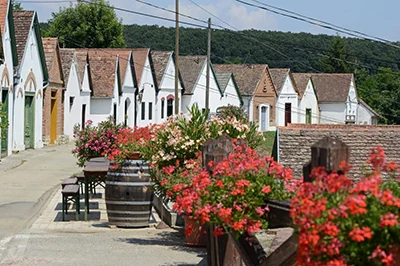 Villány-Siklós Wine Region
Exquisite reds are produced on the gentle slopes of Villány and Siklós Hills produce.
In my opinion the best Pinot Noir in Hungary comes from the Villány region, but you'll enjoy other red varieties too.
Major Grape Varieties & Wines:
Reds:
Kékfrankos (Blaufrankish),
Portugeiser,
Merlot.
Whites:
Italian Riesling (olaszrizling),
Leányka an indigenous variety, with elegant body,
Linden-leaf (hárslevelű), which is excellent for making dessert wines.
Wonderful wine routes and local cellars welcome wine lovers who want to enjoy great wines within beautiful surroundings in
Villánykövesd and
Palkonya.
TIP: Time your visit during the Villány Wine Festival organised around the first weekend of each October.
Szekszárd
Kadarka, a rich, full-bodied local variety, was once the leading wine variety in the Szekszárd.
The region lies in southern Transdanubia in the vicinity of Pécs town.
In the 19th century it was even exported to France because the Kadarka matched the quality of their reds.
Unfortunately, similarly to other wine varieties, Kadarka was neglected and almost brought to extinction during the communist decades.
Luckily, devoted wine makers managed to preserve this special wine that goes well with traditional Hungarian dishes made with paprika.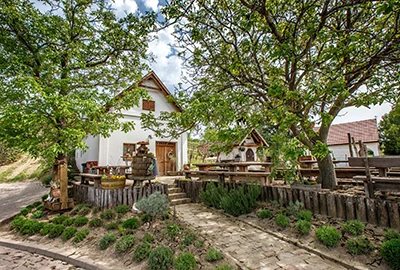 Due to the area's perfect blend of natural qualities besides Kadarka, some beautiful other reds come form Szekszárd:
Cabernet Franc,
Cabernet Sauvignon.
Szekszárdi people consider their Bull's Blood more authentic and of better quality than the one produced in Eger. My husband and I (amateur wine connoisseurs) also prefer Szekszárd Bull's Blood because of its fiery, velvety texture and rich fragrance.
Major Grape Varieties & Wines:
Cabernet Franc,
Cabernet Sauvignon,
Kékfrankos (Blaufrankish),
Merlot
TIP: The Szekszárd Harvest Days Festival (Szekszárdi Szüreti Napok) around mid-September is a great time for wine tasting and visting the cellars.
Wine Regions at Lake Balaton
Both the northern and southern shores of Lake Balaton has been made for wine growing.
During a wine tasting tour around the lake you can not only discover some delightful Hungarian wines but the experience will be enhanced by
the beauty of the landscape and
countless activities the Balaton offers throughout the year.
The nearness of the lake creates a sub-Mediterranean climate. Wines vary from cellar to cellar depending on which slope the vineyard is on.
Badacsony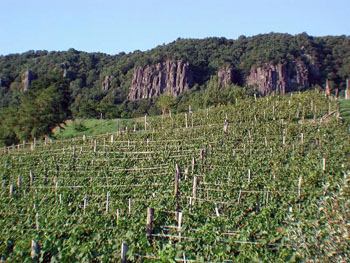 The basalt slopes rising on the northern shore of Lake Balaton offer the pleasant combination of breathtaking view and delicious local wines.
Whites dominate the wine scale produced on the volcanic hills of
Szt György,
Gulács, Csobánc and
Tóti Hills.
The colour of wines are an excellent blend of yellow and green, the sight of which makes you want to taste it right away.
Szürkebarát (Pinot Gris) and a local variety, Kéknyelű, are the cream of the crop wines in the Badacsony wine region.
Major Grape Varieties & Wines:
Italian Riesling,
Pinot Gris,
Kéknyelű.
Balatonfüred-Csopak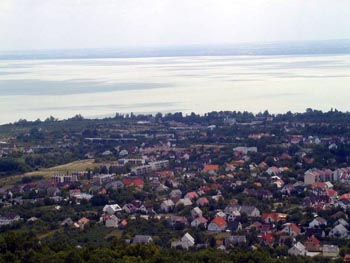 The Balatonfüred-Csopak wine region nestles in the northeastern corner of Lake Balaton.
The combination of
the healing waters and
the wines make Balatonfüred a popular tourist destination all over the world.
The nearby Tihany Peninsula also belongs to this region.
Italian Riesling riches its full potential in this wine region.
Its fine bouquet and the bitterish taste resembling almond are unmatched.
The rich, earthy aroma of the Balatonfüred-Csopaki wines is attributed to the red soil characteristic of this region.
Balatonboglár
Very good, light, fruity whites are made on from the grapes produced on the flat area on the south shore of Lake Balaton.
Balatonboglár wines with their balanced acid content provide excellent basis for champagne making.
Wine Regions in North-Western Hungary
Sopron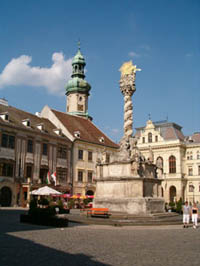 The Sopron area in the North Western crook of Hungary is one of the most significant red wine producing regions in Hungary.
Lying near the border with Austria, the Sopron wine region produces wines very much similar to wines made in Burgenland.
The rich, deep red Soproni Kékfrankos (Blaufrankish) is slightly tarter than the ones produced in other Hungarian wine regions.
Due to the cool climate wines have
high tannin content and
are a bit acidic.
In the Baroque town of Sopron you can admire stunning buildings and cityscape. The proximity of the Lake Fertő promises plenty of opportunities for active relaxation.
TIP: Hay or pine wreaths hung on the gates of houses indicates that you can taste local wines there. White or red ribbon marks whether white, red or both wines are offered.
Ászár-Neszmély Wine Region
Ászár-Neszmély in Western Transdanubia lies on the slopes of the Gerecse Hills along the Danube, on 1500 hectare area.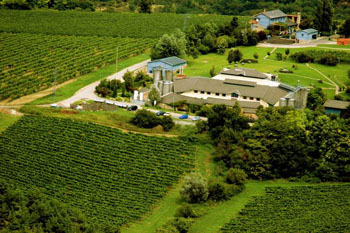 Mostly white wines are produced – with some experiments with red grape varietals – in this winemaking area of Hungary that include major international varieties like:
Chardonnay,
Sauvignon Blanc,
Rhine Riesling,
Tramini
Muscat Ottonel, and
Irsai Olivér.
The climatic conditions are favourable for making fragrant, elegant whites with high acid content.
Ászár Neszmély Wines need at least 5-6 years to develop into top-quality wines.
Cserszegi Fűszeres, a unique Hungarian variety, produced in the region by Neszmély Hilltop winery won the award of "White Wine of the Year" in Great Britain in 1998.
Somló Region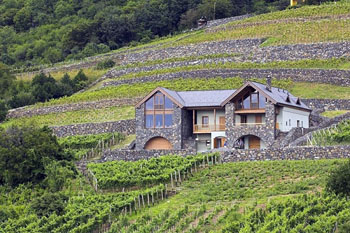 Three hills comprise this small wine region of Hungary in Central Transdanubia where only white varieties are grown.
The volcanic soil is rich in minerals, which gives an earthy character to Somló wines.
You can explore the area on 4 wine routes while enjoying the beautiful vista and the historic sights like the
St. Margaret Chapel along with three chapel ruins or
the Somló Castle.
Wine making looks back to great traditions here.
Similarly to Tokaj, Somló wines were also considered to have medicinal and magical qualities, like the wines of wedding nights.
Full-bodied,
well-rounded, a
cidic wines that require long ageing in wooden casks comprise the majority of Somló wines.
Major Grape Varieties & Wines:
Somlói Juhfark a native variety (Hungaricum),
Furmint,
Italian Riesling
Recommended Wineries – Kreinbacher Estate
The Kreinbacher Estate is the most dynamically developing winery in the Somló area, founded in 2002 by József Kreinbacher entrepreneur.
They work on 40 hectare land and planted exclusively native grape varieties in 2003.
They also come out with a champagne in 2014 prepared with the Méthode Traditionnelle method:
Extra Dry,
a Brut Classic,
Brut Nature, and
Brut Prestige.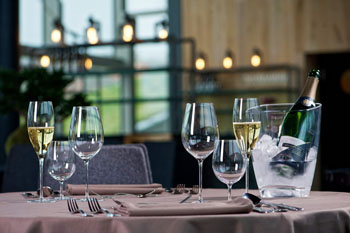 21-st century technology, rolling hills, unique terroir and hospitality characterize the estate.
Tourists, wine enthusiasts are very welcome to tour the winery and the vineyards.
You can also spend a couple of days in the 16-room hotel (Accent chain) on the estate.
There's a Wine Bar & Bistro with
delicious countryside dishes,
breakfast,
gourmet diner or
wine diner form 10 people.
If you only come for a couple of hours you can enjoy the fantastic view form the terrace with a cup of coffee and snack.
Most notable wines:
Öregtőkék Bora
Hárslevelű Válogatás
Juhfark Selection 2013
Nagy Somlói 2012 and 2013.
Visit the estate's official website for more details.
Wine Festivals and Events in Budapest
To buy good quality Hungarian wines, look for wine shops.
They have wide selection of wines and the shop assistants will give you a helping hand to choose the bottles that match your taste the best.
TIP: Discover Budapest wine bars on a unique tour on an afternoon in either June or July. Taste wines and meet the wine makers at 28 bars, cafes and bistros in both parts of the city!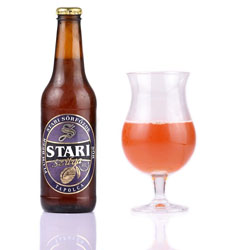 TIP: Enjoy the Local Craft Beers!
On our Budapest Craft Beer Cruise you'll taste 5 x 150 ml of the best Hungarian specialty brews + you'll choose your favourite and get 1 pint for FREE!
A 2-hour boat tour, snacks, live music are also included in 33 EUR price.
Book online!