Best Places to Enjoy Italian Food
Restaurants specializing in Italian cuisine belong to the very best establishments regarding of the city's overall restaurant scene.
Several Italian restaurants in Budapest were given culinary awards that mark the quality of food, service and atmosphere of these places.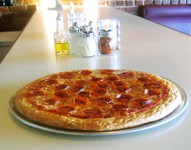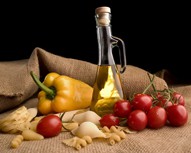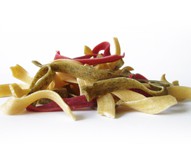 So if you are craving delicious pasta, pizza or seafood and romantic, Mediterranean atmosphere, visit some of the restaurants listed below.
Table of Contents
Pest City Centre (districts V., VI., VII.): Trattoria Pomo D'oro – Casa Pomo D'oro – Akademia Italia (next to the Basilica) – Trattoria Toscana – Fausto's – Osteria Fausto's – Ape Regina (All You Can Eat) – Il Terzo Cerchio – Millennium da Pippo
Pizza Places: Igen (Madách Sqr., distr. VII.) – Pizza Me (several places in downtown Pest) – Pizzica (nagymező Str., Distr. VI.)- Focacceria (Ráday Str., distr. IX:)
Pasta Places: Pasta & Sugo (Hold utca Market) – 2sphagi (Gozsdu Court, distr. VII.) – A Presto (district VI:) – Bellozo (Oktogon, Grand Blvd.)
Italian Food in Buda
Jamie's Italian Restaurant Buda Castle – Opens in May 2016
Address: Szentháromság utca 9-11., district I., Castle
Opening Hours: every day: 12.00-23.00
Jamie Oliver British star chef opened his Italian restaurant in the heart of Buda Castle, just a moment's walk from Matthias Church, Fishermen's Bastion, and other historic landmarks and next to a classic cafe and confectionery, the Ruszwurm.
The restaurant chain's first member in Hungary and Central Europe (the second in continental Europee after the Amsterdam location) opened in May and offers genuine Italian food at affordable price.
Freshly made pasta and other simple but tasty dishes made from fresh, top-quality Italian and Hungarian ingredients are the highlights of Jamie's Italian that the chef crated with his mentor Gennaro Contaldo (they opened the first resturant in Oxford in 2008).
The quality (GMO free, ethical tretament of animals, cleanliness) and freshness of the ingredients is strictly controlled and will be regularly checked by both the Hungarian partner, the Zsidai Group (its already established several reputable and highly recommended restaurants in Budapest, most of them are located in the Castle area: 21 Hungarian Restaurant, Spíler Biergarten, Baltazár, Pierrot, Pest Buda Bistro) and from London.
Guests can enjoy their meal on the large terrace. Laid back atmosphere, good food in a scenic, historic setting. Cant' wait to try!
Riso Ristorante & Terrace
Address: Lovas út 41., district I., Castle, near Bécsi kapu/Vienna Gate, entrance also from Várfok utca
Open: Mon-Sun: 11.30-23.00, Lunch menu: Mon-Fri: 12.20-15.00
As you can guess from the name Riso is specializing is risottos and other rice dishes.
The location is terrific right at the foot of Castle Hill so you can have lunch/dinner here when you explore the area.
There's daily menu (2 courses), pizzas, homemade pastas, main dishes at very friendly prices.
Not haute cuisine but value for money in a very charming environment.
TIP:
you get 15% discount if you book a table through their website (it's in Hungarian but pretty clear to figure out).
They have menu for kids – popular dishes loved by most children (2 soups/590 HUF and 2 mains/1 190-1 390 HUF)
Due Fratelli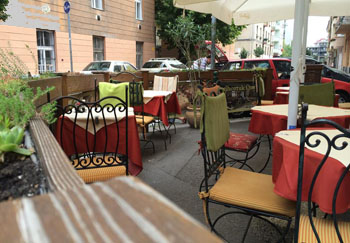 Address: Erőd utca 9., district II.
Open: Mon-Sun: 11.00-22.00
A small, no-fuss place located in a basement in Buda in a sidestreet of Margit körút/Boulevard (tram 6 Széna tér stop).
Great pastas, pizzas and other Italian fare at fare price.
Gluten-free options are also available. Seat on the patio in fine weather.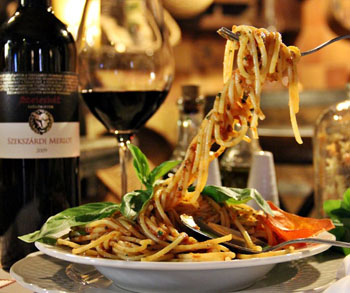 Porcellino
Address: Ady Endre utca 19., II. district, Buda (quite close to Millenáris Park)
Open: every day 12.00-24.00
Tel: +36 1 886 7880
A pleasant place with rustic interior in the upscale part of Buda side. Quite popular by locals so make sure you reserve a table.
Gluten free and whole wheat options can be ordered upon request.
There's children menu which families with smaller kids will sure appreciate – soups for 790 HUF, basic children's favourites for 990-1 500 HUF (tomato soup, penne with tomato sauce and parmesan etc.).
Nice terrace with plenty of trees.
Pastas: cc. 1 990-3 990 HUF, pizzas: 1 700 -4 000 HUF, fish dishes cc. 3 000-6 000 HUF (grilled fish plate is 7 700 HUF), meat dishes: cc. 3 000-6 000 HUF.
Italian Places in Pest City Centre (District V., VI. and VII.)
Trattoria Pomo D'oro
Address: Arany Janos utca 9., V. district
Tel: 302 6473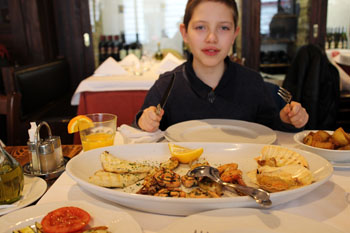 Trattoria Pomo D'oro belongs to Gianni Annoni an Italian-born chef, restaurateur and media celebrity. In fact the whole Arany János street in downtown Budapest seems to be run by him by 2016.
He also has a wine bar (D. O. C. Vino Bar) offering a taste of fine Italian wines and the best ice cream shop in Budapest, Gelateria Pomo D'oro also belongs to him. Both places are across the Trattoria. See also Casa Pomo D'oro below.
Gianni also owns and manages several Itaian fast food places in Budapest: Pasta & Sugo in the Downtown Market n Hold utca 8district V.), and launched the Pizza Me franchise a couple of years ago with 3-4 joints in the city centre (Király Street, Sas Street, Deák tér 3., Erzsébet krt. 51/Grand Blvd.)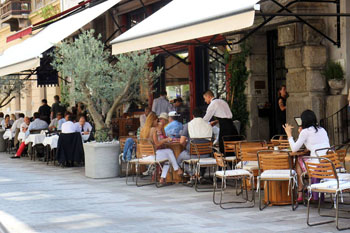 So he definitely knows how to run a successful restaurant. It used to be one of our go-to-places when we wanted tasty Italian food but it lost its lustre over the years.
Frequented by tourists and businessmen working in the neighbourhood so it's quite noisy and busy during lunch and dinner time.
The menu is quite long, it's hard to choose from the many starters, spoups, pasta dishes, pizzas, meat and seafood.
The dessert menu is rather excessive too but everything is made with care, from fresh, high quality ingredients. Service is professional and kind.
Prices are mid-range regarding the central location.
Casa Pomo D'oro
Address: Arany Janos utca 7., V. district
Open: Mon-Fri: .0.00-24.00, Sat-Sun: Closed
Located right next to the Trattoria Pomo D'oro this new enterprise of Gianni Annoni functions as a multifunctional place: restaurant, cooking school, wine tasting palce, event venue (both for family ocassions and business/company events).
It's a fun, dynamic and interactive place recommended mainly for large families/groups. Food is very good and you can join and help the chef at any time.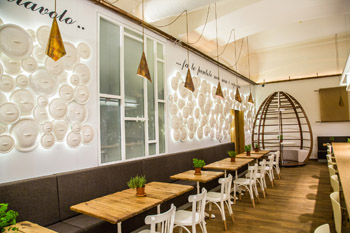 Akademia Italia
Address: Szent István tér 2., district V.
Open: Mon-Wed: 7.30-23.30, Thurs-Fri-Sat: 7.30-23.00, Sun: 7.30-23.30
Akademia Italia right next to St. Stephen's Basilcia is the city centre's newest spot specializing in all things Italian. The restaurant downstairs is airy and bright, decorated in the shades of white for minimalism.
Alessandro Arena from North Italy but with family roots in Sicily runs the kitchen with dedication and professionalism.
You can store up on top quality Italian food stuff in the deli shop located on the first floor: gourmet olive oils, pastas, coffee and wine.
The food in Akademia is prepared from high-quality, fresh ingredients sourced from proffesional, reliable suppliers.
The minestrone is a Milanese version-light but flavourful. The Tortellini in Brodo is also splendid. Both soups cost 1 400 HUF.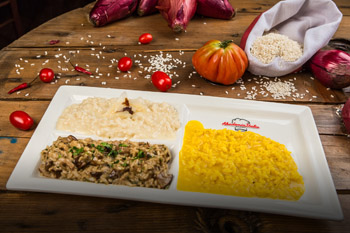 If you like risotto try the 3-in-1 Trisotto (3 000 HUF): one is seasoned with truffels, the other with prosecco, and there's also a traditional risotto giallo/risotto alla milanese: yellow from saffron.
The pizza and freshly made pastas are also excellent. Don't miss the classic Italian desserts: panna cotta with fruits of the forest or millefoglia, both are to die for (1 000 HUF).
If you happen to be in the vicinity during brekafast time (it opens at 7.30) do drop by for true Italian style coffee/cappuccino (greatly appreciated beside the growing number third wave coffee shops serving undrinkable espressos from under-roasted beans.
Croissants, cornetto (with marmalade, vanilla or Nutella), egg dishes, sandwiches or yogurt – the choice is ample. Good value for money at a superb, central location.
Trattoria Toscana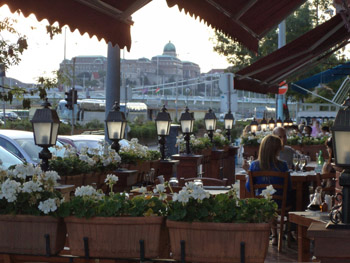 Address: Belgrád rakpart 13-15, district V.
Open: every day: 12.00-24.00
Trattoria Toscana is one of the oldest Italian-style restaurants in Budapest that managed to preserve a reliable quality in both food and service.
The location is unbeatable: on Danube Promenade a picturesque walkway on the Pest side of the Danube.
Attentive service, good food at corrcet prices.
Rustic interior, with warm atmosphere. Sitting on the terrace overlooking Buda Castle on a fine, sunny day is a must.
Fausto's Ristorante (recommended by Michelin)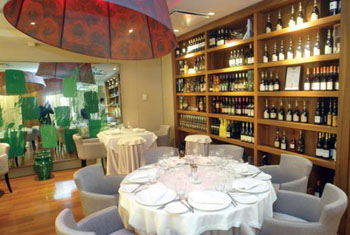 Address: Székely Mihaly ut 2., VI. district
Open: Mon-Fri: 12.00-15.00 and 19.00-23.00
Tel: +36 1 877-6210
One of the oldest high-end Italian restaurants in Budapest (opened in 1994).
Elegant but cozy interior, excellent food, friendly service.
The quality remainded top level after more than two decades so you cannot go wrong with it.
Price guide: three course lunch menu: 5 000 HUF, tasting menu 15 000 – 22 000 HUF, main dishes: 8 500-9 500 HUF, it's pricey but worth a try.
Osteria Fausto's
Address: Dohány utca 5., VII. district
Open: Mon-Sat: 12.00-23.00
Tel: 269 6806
Website: Fausto's
A less upscale version of Fausto's at its original location in the former Jewish quarter of Budapest.
Though it's less refined than its predecessor, Osteria Fausto's is still one of the top quality restaurants in Budapest with divine food and attentive and friendy staff.
Il Terzo Cerchio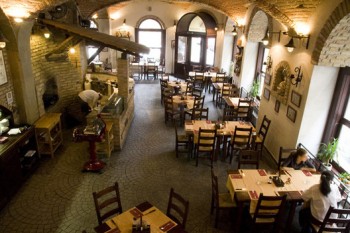 Address: Dohány utca 40., VII. district
Open: every day: 11.30-23.30
Looks like Italian restaurants love Dohány utca because the street has another highly recommended place specializing in Italian quisine: Il Terzo Cerchio
The interior with its brick-covered vaulted ceilings and large windows exudes warm, homey atmosphere.
The place is quite busy in the evenings so if you prefer to have a more relaxed meal drop in the afternoon.
Il Terzo Cerchio is also a great place for business meetings.
You can select from a range of classic Italian starters for about 2 150 – 3 950 HUF.
Soups: the menu offers 3 soups in the range including simple but tasty Tomato soup (1 250 HUF) and a classic Italian zuppa: Minestrone (1 350 HUF).
Main dishes include a wide variety of delicious homemade pastas (between 2 200 – 4 000 HUF), fish, and meat dishes.
If you have room for dessert you can try the usual Italian sweet dishes like tiramisu, panna cotta or profitterol. Desserts are between 750-1200 HUF. The wine list includes 22 Hungarian wines out of which 5 can be ordered by the glass. There's also a nice selection of Italian wines.
By the way the weird name of the restaurant means "the Third Circle refering to Dante's Inferno. Perhaps their motto represents the best what you can expect in this fine trattoria in Budapest:
"On the third level of Dante Infernal
Gluttony was punished with acid rain
In our hell,tasty and fresh food is the punishment"
The secret of the constant high quality of Il Terzo Cerchio lies in the fresh ingredients and the care with which the food is prepared and the guests are treated.
Vapiano Pasta & Pizza Bar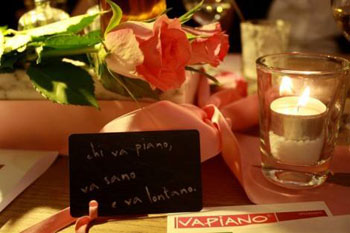 Address: Bécsi utca 5., Fashion Street, district V.
Open: Mon-Thurs: 11.00-23.00, Fri-Sat: 11.00-24.00, Sun: 11.00-23.00
Tel: 411 0865
A self-service chain restaurant with several places in Budapest: Fashion Street, MOM Park and West End Shopping Centre.
It offers basic pastas, pizzas risottos and desserts.
Prices are cheaper than in the other restaurants listed on this page, quality varies.
Millennium da Pippo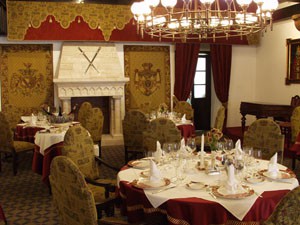 Address: Andrássy út 76., VI. district
Open: every day: 12.00-24.00
Tel: 374 0880
A small, cozy family-run trattoria on the chic Andrássy Blvd (near Kodály Körönd on the way to Heroes' Square) where the Sicilian chef makes home-style dishes from original ingredients brought from his homeland.
Main meat and fish dishes are around between: 2 700 – 5 000 HUF, pizzas: 1 700 – 2 800 HUF, pastas & risottos: 2 100 – 4 000 HUF.