Finding Japanese restaurants in Budapest isn't as difficult as it was a couple of years ago. Now you'll find more than a dozen eateries specializing in Japanese and/or Pan-Asian cuisine.
There are a couple of high-end places but you will also find some good-value, fast-food restaurants as well.
To tell you the truth neither of us is a fan of raw fish, but many of our friends are, so we rely on their opinion to pick the places that make the best sushi in Budapest.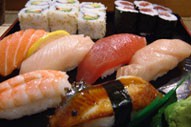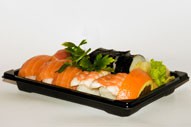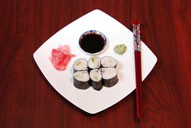 Table of Contents – Japanese Restaurants in Budapest
Japanese Restaurants in Downtown Budapest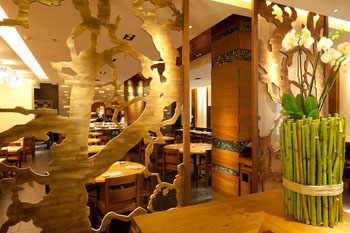 Nobu
Address: Erzsébet tér 7-8., district V., inside Hotel Kempinski Corvinus
Open:
Mon – Sun Lunch 12:00 – 15:00
Mon – Sun Dinner 18:00 – 23:45
Mon – Sun Lounge Bar 12:00 – 01:00
Mon – Sun Reservations 10:00 – 17:00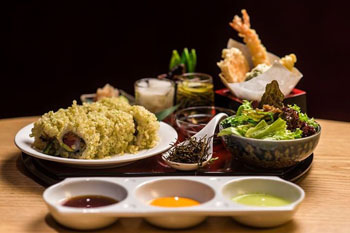 An outlet of the world-famous Japanese restaurant family, Nobu opened in downtown Budapest in October 2010.
The menu includes all the exquisite dishes that make Nobu unique: Yellowtail Sashimi with Jalapeno, Alaskan Black Cod with Miso, Beef Toban Yaki, New Style Salmon Sashimi.
Perhaps the best place to taste oriental dishes in Budapest though not the cheapest.
More on Nobu Restaurant in Budapest.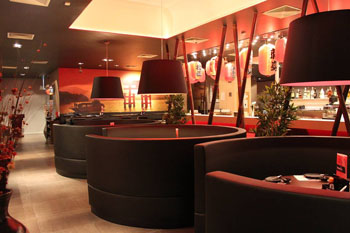 Itoshii – All You Can Eat Restaurant
Address: Teréz körút 55-57., district VI.
Open: Mon-Sun: 11.30-22.30
Tel: (+36 1) 426 4055
Facebook
Itoshii – meaning love – opened in spring 2014 on busy Nagykörút close to Nyugati Railway Station. It is an all you can eat place. You can order from the around 100 dishes on tablets.
Don't expect authentic Japanese dining experience but food is great and made from fresh ingredients. The interior is tasteful and modern done in black and red.
Service is friendly and professional. You pick and order through Samsung tablets. You can order 5 dishes at a time and follow the state of order on the tablet.
There's lunch menu for 1 800 HUF: a choice of 4 menus that include sushi, fish dishes, meat dish, miso soup, rice or udon pasta.
You can have your meal or just a refreshing lemonade on the terrace.
Prices: lunch: 4200 HUF, dinner: 6 500 HUF, children dinner price (ages: 5-10): 3 300 HUF
Komachi Bistro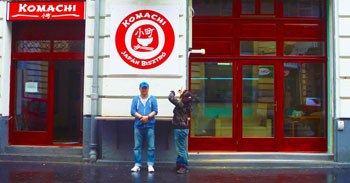 Address: Kertész utca 33., district VII.
Open: Mon-Sat: 11.00-22.00
Website
It looks like the Jewish district is magnet for street food type places. Following the success of Bors Gastro Bar, Kisparázs, El Rapido, now you can enjoy Japanese fast food in the neighbourhood.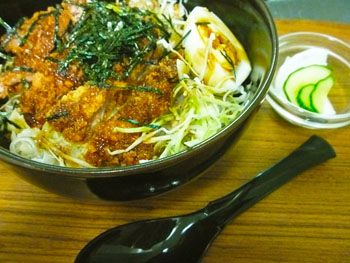 Not far from Ramenka listed above, Komachi is another good place to grab tasty food characteristic of the Land of the Rising Sun.
It is named after Ono no Komachi, a 9. century Japanese poetess who represents sophistication and female beauty in Japanese culture.
The specialties here are homemade udon noddle dishes, kare (Japanese curry), fresh salads and other seasonal dishes at moderate prices. A wide choice of drinks are available both alcoholic and non-alcoholic.
Prices: udon noddles: 890-1280 HUF, Japanese curry: 890-1680 HUF
Momotaro Ramen
a good fast food-style place (more Chinese than Japanese)
Address: Széchenyi utca 16., district V., a couple of minute walk from the Parliament
Open:
Tue – Sun Lunch 12:00 – 22:30, closed on Monday
Tel: (+36 1) 269 3802
Many people who tried Momotaro say that it makes the best ramen soup (Japanese noodle soup) in Budapest though they cook it in a lighter Chinese style.
There are other good Asian dishes on the menu: stir fries, jiaozi, dim sum, spring rolls.
It is an unassuming place in the city centre with affordable prices (Ramen soups start from 1 150 HUF,
Ramenka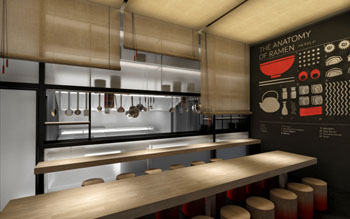 Address: Kazinczy utca 9., distrcit VII.
Open: Mon-Sat: 11.30-22.00
Website
A new place (opened in June 2014) serving pretty good ramen soups in the buzzing Kazinczy Street. Ramen is a traditional Japanese soup: a broth simmered for 5-6 hours is enriched with some kind of meat (it's pork in Ramenka), wood ear mushrooms, boiled egg, vegetables (bok choy, onions), naruto and oodles of noodles (homemade).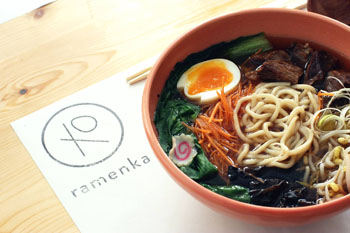 A bowl of ramen costs 1 380 HUF – it's a large bowl so it will fill you up.
Other soups you can ladle up are: waggie (a veggie choice: 1 380 HUF, beefoo (with beef, 1 480 HUF), shifudo (with prawns and mussels, 1 980 HUF), chikin (made with chicken).
If you aren't a soup love then try gyoza: a sort dumpling filled with a ragout of mince meat and two types of onions served with soy sauce (6 pcs. 480 HUF).
All in all a great place for a quick, healthy meal in the middle of the party district.
Planet Sushi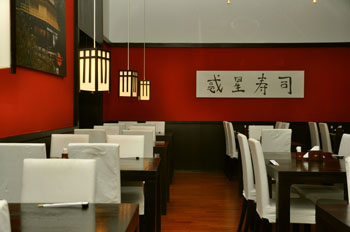 Address: Deák Ferenc tér 3., and Oktogon tér 3., district VI. , trams 4-6, Oktogon stop
Open: 11.00-24.00 every day
Tel: (+36 1) 413 7830
A chain restaurant run by a Russian with two places in town (besides Planet Sushi, T.G.I. Fridays at Oktogon also belongs to the chain): in the city center in Fashion Street (Deák Ferenc tér 3. M1, M2, M3 metros) and another at Oktogon on the Grand Boulevard (Oktogon tér 3., district VI., tram 4 or 6, M1 underground).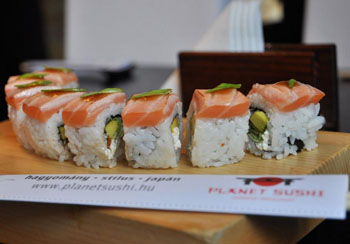 Not outstanding in food quality and service, but it's worth a try if you can't find anything else close by. Wide selection in food, prices are quite budget-friendly.
Prices: soups: 450-1 250 HUF, salads & starters: 700-2 250 HUF, sashimies: 1 150-1 850, maki sushi: cc. 950 -3 000 HUF, rice & pasta dishes: 1 300-2 400 HUF, main dishes: 1 600-3 000 HUF, desserts: 1 150-1 550 HUF.

Tokio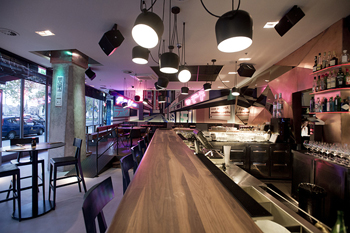 Address: Széchenyi tér 7-8., district V., M1 metro Vörösmarty tér station, tram 2.,
Open: 12.00-24.00 every day
Tel: (+36 1) 801 9862
Website
A modern Japanese place (opened in 2013 in pace of the former Kyoto Restaurant) in central Budapest with a magnificent view of the Chain Bridge and Buda Castle.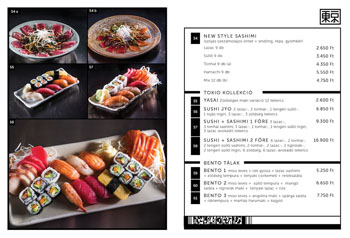 A pleasant restaurant offering professional service and great food though not as good as Fuji.
Due to the location, Tokio is a bit expensive but sushi fans should try it anyway. It is is ideal if you fancy exotic food and good drinks in a hip bar.
Takebayashi-Bambuszliget Japanese Restaurant & Sushi Bar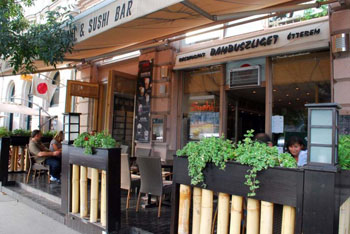 Address: Belgrád rakpart 18., V. district
Open: Mon-Fri: 11.30-23.00, Sat-Sun: 12.00-23.00
Tel: (+36 1) 318 1144
Website: Takebayashi
The restaurant has two floors, furnished in Japanese style with two tatamies on the ground floor.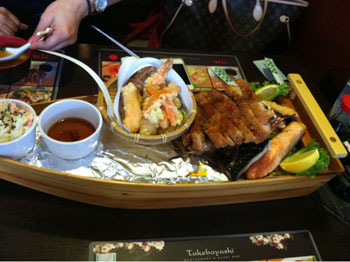 Wide selection of sushi and other Japanese culinary specialties (sushi dons, rolls, maki sets, nigiri sets, cold and warm starters, soups, sashimis ets, Teriyaki dishes, Tempura, meals prepared at your table).
A highly recommended place on the Danube Promenade if you want to eat authentic Japanese dishes and learn about Japanese culture and gastronomy.
Wasabi Running Sushi & Wok Restaurant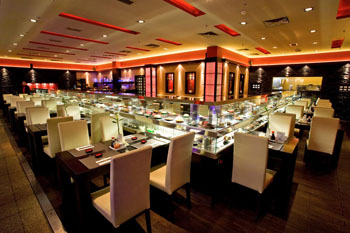 Address: Podmaniczky utca 21., VI. district
Open: 11.30-23.30 every day
Tel: (+36 1) 374 0008 Home delivery: 430 1057, 06 20 3901 325
They have another place in district III., Óbuda at: Szépvölgyi út 15.,
Open: 11.00-23.30 every day
Tel: (+36 1) 430 1056 Home delivery: 430 1057, 06 20 3901 325
Website: Wasabi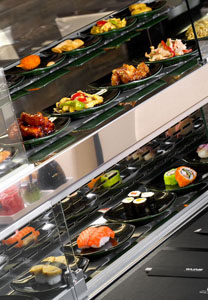 A conveyor belt is running around continuously delivering the food to the guests.
The belt has two decks with the hot meals (meat, vegetable and fish dishes prepared in wok) on the top and the cold snacks (sushi, kimchies, salads, and desserts) lower belt.
For a set price you can eat as much as you want.
Prices: Monday-Tuesday: lunch: 4 990 HUF, dinner: 5 990 HUF Wednesday-Friday: lunch: 5 490 HUF, dinner: 6 490 HUF, , weekend and holidays: 6 490 HUF, Teppanyaki: 6 490 HUF, free for children under 6, 50 % discount for kids under 12.
Tokyo Restaurant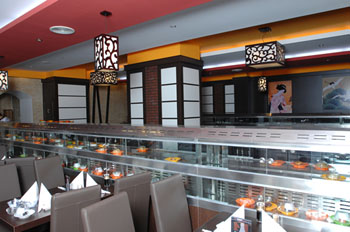 Address: Ajtósi Dürer sor 3., district XIV.
Open: Mon-Sun: 12.00-22.00
Tel: (+36 1) 788 7336
An all-you-can-eat place offering sushi, noodles, soups for a fast lunch or dinner.
Prices: lunch: Mon-Fri: 3 190 HUF/person, dinner: Mon-Fri: 3 990/person, Sat-Sun: 3 990 HUF/person all day.
Not for those who want to enjoy true Japanese cuisine and great sushi.
Arigato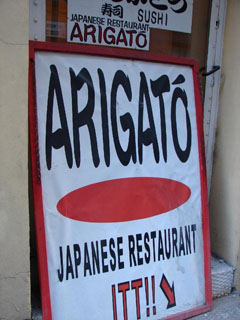 Address: Ó utca 3., district VI., M3 metro Arany János utca, or M1 metro Opera station
Tel: (+36 1) 353 3549,
Open: 12.00-15.00, 17.00-23.00, closed on Sundays
Arigato, owned and managed by a Japanese couple, is located in a cellar close to the Opera House.
The interior is a bit run down and lacks real Japanese atmosphere but it's a friendly place that apart from sushi has some very nice meat and rice dishes.
Prices are friendly.
Rickshaw Restaurant & Sushi bar

(inside Corinthia Budapest Hotel)
Address: Erzsébet körút 43-49. trams 4-6, Király utca stop
Open: Tue-Sat: 18.00-23.00
Tel: (+36 1) 479 4855
A very pricey restaurant specializing in pan-Asian cuisine, including Indian, Thai, Indonesian, Chinese and some Japanese meals.
Their specialty is the duck Peking style with rice pancake. Attentive service.
Other Japanese Restaurants in Budapest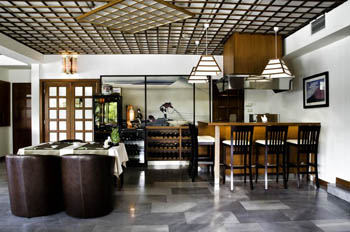 Fuji Japanese Restaurant
Address: Csatárka utca 54., (at the corner of Zöldkert and Zöldlomb utca), district II.
Open: 12.00-23.00 every day
Tel: (+36 1) 325 7111 Open: every day 12.00-23.00
Website: Fuji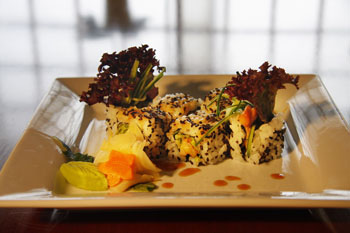 An upscale Japanese restaurant in Buda. They offer a wide variety of meals: sushi, soups, bento, hot pot specialties, seafood, noodles, grilled meats, tempura, rice dishes.
They also have a daily menu (three courses, on weekdays only) at affordable price: 1 990 HUF. There is a tasting menu of 10 dishes for 5 950 HUF.
Even native Japanese like food in Fuji so the quality is top notch and dishes are authentic. Home delivery is available.
Okuyama No Sushi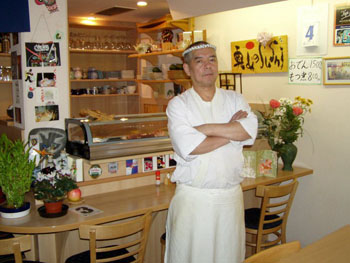 Address: Kolosy tér 5-6. district III., inside (Kolosy Üzletház shopping mall)
Open: 13.00-22.00 except Monday
Tel: (+36 1) 250 8256
A very good-value Japanese restaurant run by master chef Okuyama.
The place is often frequented by Japanese guests a good sign of quality, tasty food.
I Love Sushi
Tel: 336 1888
If you don't feel like going in a restaurant order sushi online from I Love Sushi.