A Cultural and Nightlife Centre in the Jewish Quarter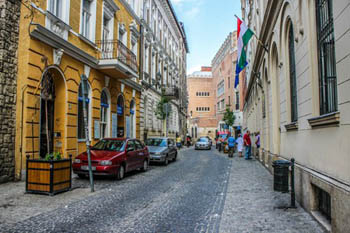 Kazinczy Street in Budapest's Jewish District (No. VII.) received a new look in spring 2012.
The prominent street, dubbed as Street of Culture (a Kultúra utcája), in the city's Jewish Quarter has been a a popular nightlife haunt since the revival of the ruin pubs (romkocsma) like
The rich historical and cultural heritage, together with the vibrant club and pub life, and good, affordable restaurants, and bistros make Kazinczy Street a very attractive sight to tourists and locals alike.
Quick Links:
Location – Attractions, Sights – Ruin Pubs, Clubs in Kazinczy – Restaurants, Gastro Bars, Street Food – Kosher (Jewish) Restaurants – Cake Shops
Location of Kazinczy Street
Getting There: tram 4 or 6, Király utca stop, from there it's just a short walk, (Kazinczy Street intersects Király Street)
Kazinczy Street connects Király utca with Rákóczi út in district VII. (Erzsébetváros).
The street is part of the city's Jewish Quarter; the area bordered by
Erzsébet körút (a section of the Grand Boulevard),
Király utca,
Károly körút, and
Rákóczi út.
Attractions, Cultural Sights in Kazinczy Street
The Orthodox Synagogue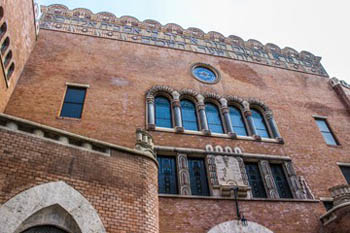 The most significant cultural sight is the Orthodox Synagogue, located around the middle of the street at No. 29-31..
The synagogue is attended by Budapest's orthodox Jewish community.
The neo-renaissance building was finished in 1912 according to the design of the Löffler brothers.
The traceries, hand-painted by Miksa Róth stained glass artist are beautiful ornamental elements of the Kazinczy synagogue.
Kosher restaurants, a bio product shop, cafes, bistros are in the immediate vicinity of the church. There's even a kosher pizzeria next door.
Kazimir Point
The Kazimir House at 34. Kazinczy Street is a new information center of Budapest's Jewish District introducing the
Historical,
Architectural, and
Cultural heritage of the Jewish community.
They also give nightlife, and clubbing tips, and organise guided thematic tours in the Jewish Quarter.
The Kazimir Point regularly hosts concerts, exhibitions, children programs.
Kazimir Bistro
Address: Kazinczy utca 34., Bp. 1075
Open: Mon – Fri: 10.00 – 18.00
Website
The Kazimir Bistro is a budget-friendly place offering Hungarian dishes (goulash, letcho, mangalitza pork paprikash etc.) at affordable price.
Coffee is only 190 HUF till 11.00,
Daily menu: 2 courses:1 250 HUF, or 3 courses 1 490 HUF,
3 dl lemondae: 2 90 HU.
A wide selection of Hungarian wines by the glass, beers, cocktails, and spirits are also available.
Hungarian Museum of Electrotechnics (Elektrotechnikai Múzeum)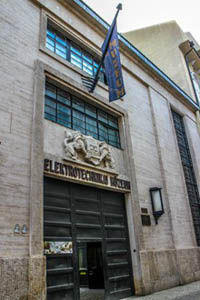 Address: Kazinczy utca 21.Opening hours: Tue-Fri: 10.00 –
17.00, Sat: 10.00 – 17.00Tickets: full price 800 HUF, studen
ts and pensioners: 400 HUF
A unique museum and one of the hidden places in Budapest for the technical minded. The exhibitions introduce the history of electrotechnics in Hungary.
The building of the museum used to be a transformator house that begun its operation in 1934.
The museum has three exhibitions rooms
Déry room,
Zipernowsky room, and
the Jedlik room.
The Zsolnay-tiled main stairway has been restored to its original state.
Going up the stairs period billboards of electrotechnical companies, advertisements adore the walls. The carbon-rod arc lamp is a real gem in the museum.
Events, festivals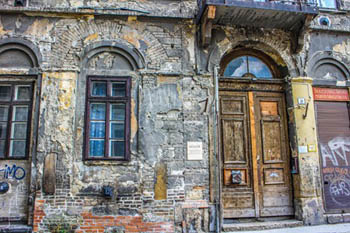 The street turns into a colourful festival spot during the Judafest event organised at the beginning of summer each year with cultural and gastronomy programs.
The Cholent Festival is also a popular gastro and cultural event taking over the street usually on the last Sunday of August.
Nightlife in Kazinczy Street
Ruin Pubs, Clubs, Outdoor Partying
At night the street is packed with party people, local regulars as well as tourists, wanting to see what's the hype about
Szimpla,
Ellátó, and other garden pubs.
The open-air gardens, clubs are also among the best summer party spots in Budapest.
Ruin Pubs (romkocsmák) A Must for Every Tourist Visiting Budapest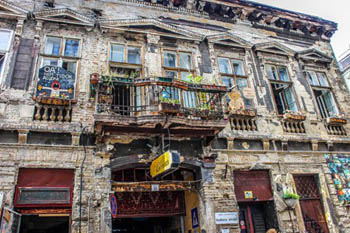 Ruin pubs or garden pubs have become icons of the city's nightclub scene.
Even if you're not into partying, drop by at least one to experience the multicultural and retro ambience of these pubs unique to Budapest.
Relaxed atmosphere, unusual interior decor, friendly people sum up garden pubs in Kazinczy Street and other parts of the city.
Most of them are open from mid-morning or the early afternoon hours till late night. They offer good, inexpensive food and a wide variety of drinks.
Mika Tivadar Garden (Outdoor Only)
Address: Kazinczy u. 45, BP. 1075
Open:
Mon – Wed: 16.00 – 01.00 am,
Thurs: 11.30 – 02.00 am,
Fri: 11.30 – 03.00 am,
Sat: 12.00 – 03.00 am,
Sun: 12.00 – 01.00 am
The Mika Tivadar Kert with its spacious garden is sandwiched between two colourful firewall paintings. You will find it at the opposite direction of the street from Szimpla.
The good things that it is open on Sunday, unlike most other Budapest clubs that stay closed on the last day of the week.
Laid-back feeling, trendy drinks besides the obligatory beer and house wine concerts, lovely garden
If you want to grab something to eat you won't have a long menu to choose from, some snacks and grilled sandwiches are available.
Bobek Garden
Address: Kazinczy utca 53.
Open: Mon – Thurs: 13.00 – 24.00, Fri: 13.00 – 02.00, Sat: 15.00 – 02.00, Sun: closed
Web: Bobek Kert
Bobek Garden is a lively place near Mika Tivadar Garden, across the street. Nice inner garden.
Light meals at affordable price: breakfast, ciabatta sandwiches, salads, all sorts of drinks (coffee, tea, lemonade, wines, beer, rum, gin, tequilas, liquors).
The spacious garden area opens from the cafe.
Szimplakert – Since 2002
Address: Kazinczy utca 53.
Open: Mon – Sun: 12.00 – 03.00
The godmother of all ruin pubs opened in 2002.
Housed in a run-down building, Szimpla is extremely popular both with locals and tourists. In a poll organised by Lonely Planet the Szimpla was voted for the 3rd most popular bar in the world.
They have film festivals, concerts, exhibits all the year round.
The latest addition to Szimpla's programs is the Sunday Farmer"s Market (Vasárnapi Termelői Piac) where you can get quality local bio products
See more on markets in Budapest.
TIP: If you can't get enough, drop by the Szimpla Cafe in Kertész utca (runs parallel with Kazinczy Street in the Jewish District) or the Szimpla Kaffeehaus in Berlin (Gärtnerstr. 15, 10245 Berlin).
Kirakat Bar & Bistro
Address: Kazinczy utca 3.
Open: Mon-Wed: 11.00 – 24.00, Thurs-Sat: 11.00 – 02.00
A lesser-known but great pub with friendly staff, and atmosphere. The two-course daily menu is 990 HUF (a very nice price in Budapest).
Ellátó Pub
Address: Kazinczy utca 48.
Open: Mon – Sun: 17.00 – 04.00
Another good club in district VII.. Affordable food (Mexican dishes), table tennis, darts.
Kék Ló Fashion Pub
Address: Kazinczy utca 11.
Open: Mon – Sat: 12.00 – 24.00
The Kék Ló (Blue Horse) represents a new kind of clubs in Budapest: Art Pubs where you get a bit of both worlds some culture, and good drinks.
The Kék Ló managed to surpass the art pub concept: it's all about clothes (and parties). While partying, you can browse among clothes, and accessories designed by Virág Tóth. A horse-headed mannequin is dressed up in the designer clothes – hence the name of the club.
TIP: Further Nightlife Spots

Nightlife Tips – overview of places of entertainment, safety tips.

Best Nightclubs & Bars – the best places for clubbing, dancing and having a great time in the Hungarian capital.

LGBH Clubs – the most popular gay and lesbian bars.
Restaurants, Street Food Bars in Kazinczy Street
Besides the garden pubs, and the Kazimir Bistro listed above, the street offers half a dozen more places to eat good and cheap.
Pirítós Pub
Address: Kazinczy utca 52/C, next to the 400 Bar
Open: Mon – Wed: 16.00 – 24.00, Thurs: 16.0 – 03.00, Fri – Sat: 14.00 – 03.00, Sun: 14.00 – 23.00
Web: Pirítós
The Pirítós Toast & Pub opened in 2011 next to the Ellátó Kert. It offers simple food (variations on toast),
Good draught beer by the Kaltenecker and Ikona Breweries, and lots of space to partying, chatting or just sipping your drink.
Kőleves Restaurant & Garden
Address: Kazinczy utca 37-41.
Open:
Restaurant: Mon – Fri: 08.00 – 24.00, Sat – Sun: 09.00 – 24.00,
Garden: Mon-Wed: 12.00 – 01.00, Thurs-Sat: 12.00 – 02.00, Sun: 12.00 – 24.00
Tasty Jewish dishes, vegetarian food, nice selection of Hungarian wines, professional service.
There is a nice inner garden to enjoy your food in good weather. Daily menu from 11.30 (2 courses with a fruit syrup drink): normal: 1 200 HUF, vegetarian: 1 350 HUF
Bors Gastro Bar – the New Favorite for Foodies
Address: Kazinczy utca 10.
Open: Mon – Sun: 11.30 – 21.00
A popular, small place (opened in 2012) that everyone raves about in Budapest. Bors (Pepper in English) is awesome food at budget price: soups, grilled dishes, inventive baguette sandwiches.
Small menu (soup with baguette sandwich): 1 200 HUF, big menu: 1 400 HUF
Kis Parázs Thai Soup & Wok Bar
Address: Kazinczy utca 7.
Open: Mon – Sun: 12.00 – 23.00
A tiny Thai food bar with fine soups, wok dishes at affordable prices. One of the best in Budapest in the category of inexpensive Asian street food.
They have two other joints nearby: in Jókai utca at no. 8., and Király utca at No. 53.
See more Budget Restaurants in Budapest.
Jewish (Kosher) Restaurants in Kazinczy Utca
Carmel Glatt Kosher Restaurant
Address: Kazinczy Stret 31.
Open: Sun – Thurs: 12.00 – 22.30, Fri (summer): 12.00 – 15.30, Fri (winter): 12.00 – 13.30
A bit touristy (=pricey) but the food is good in Carmel.
It had never been a cheap restaurant, but since its glatt kosher status prices have risen to the sky: soups are 1 400 – 1 800 HUF, mains are cc. 4 000 – 6 000 HUF, a Carmel plate for two is 11 000 HUF.
If you can afford it, try the Jewish specialties Carmel is known for:
pancake (Hortobágy-style): 1 990 HUF
goulash soup: 1 990 HUF
meat soup with Matzo balls: 1 490 HUF,
cholent with smoked meat: 3 990 HUF, and
flódni for dessert: 1 490 HUF.
They also have Sabbath menu fro 7 500 HUF.
Hanna Orthodox Kosher Restaurant
Address: Dob utca 37., district VII.
Open:
Sunday – Thursday: 11.30 – 23.00,
Friday: 11.30 – 14.00 (break), 21.30 – 24.00,
Shabbat: 12.00 – 15.00
The Hanna Ort Kosher Restaurant is located in the courtyard of the Kazinczy Synagogue, but entrance is from Dob utca, that intersects Kazinczy utca.
Hanna opened at the beginning of the 1960s and it offers traditional Hungarian and Jewish cuisine.
Cake Shops, Confectioneries Nearby
Noe Confectionery, Cafe & Garden
Address: Wesselényi utca 13., district VII.
Open: Mon – Sun: 10.00 – 19.00
A little cake shop in the vicinity of the Dohány Street synagogue run by Raj Rachel cake designer. They also have a design Torte Salon in Veres Pálné utca, in downtown.
Traditional Jewish cakes and pastries (the flódni is the best in Budapest), tea treats, croissant, sandwiches, and drinks.
Nice selection of diabetic cakes. Ice-cream in summer are alos on offer.
There's an intimate inner garden.
Related
Jewish Quarter Sights & History – Dohány Street Synagogue – Jewish Museum – Jewish Cultural Festival – Váci Street – Andrássy Avenue – Budapest's Main Street – Top Sights