A Historic Medical Spa in Buda
The Lukács was the first bathhouse in Budapest offering medical treatments by various Knight orders already since the 12th century.
It survived the Ottoman era, was completely rebuilt in the 19th-20th centuries, and after a thorough renovation in 2012 the Lukács welcomes bath enthusiats with modern, 21st century facilities and services.
The Lukács Thermal Bath is less touristy than the Gellért or the Széchenyi if you prefer to mingle with locals than travellers.
Table of Contents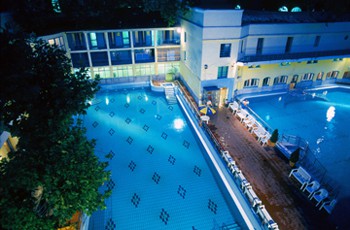 Location:
Frankel Leo út 25-29., district II., Buda,
Getting there:
trams 4 and 6: get off at Margit híd Budai hídfő (Margaret Bridge, Buda bridgehead, then a short walk on Frankel Leo út)
trams 17 and 19 (get on at Margaret Bridge Buda end)
buses 9 and 109 (departs from Batthyány tér in Buda)
Open: Monday – Sunday: 06.00 – 22.00, Sauna world: Monday: 14.00 – 21.00, Tuesday – Sunday: 09.00 – 21.00, drinking fountain: weekdays: 10.00 – 18.00
Tel: (+36 1) 326 1695
The Lukács Bath was refurbished in 2012 with renewed changing cabins, roof terrace for sunbathing, new wellness section, sauna world, fitness room and playroom, sections offering alternative medical treatments, beauty room, and salt cabin.
Did you you know that you can go partying in the Lukács? It hosts fantastic bath parties with music by DJ-s and light show on Saturday nights from October till mid-December.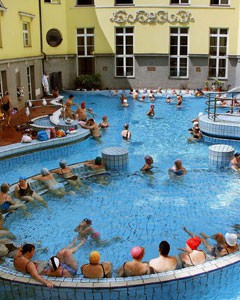 Ticket Prices in the Lukács Bath
TIP: Free with Budapest card. You can buy the cards online.
Weekdays

Weekends

Thermal all-day ticket-locker use

3 500 HUF

3 700 HUF

Thermal all-day ticket-cabin use

3 900 HUF

4 100 HUF

Morning (can be bought between 06.00 – 08.00, valid for 3 hours from time of purchase, 400 HUF deposit has to be paid) or Evening ticket (from 18.00) with locker use

3 100 HUF (only on workdays)

Morning (can be bought between 06.00 – 08.00, valid for 3 hours from time of purchase, 400 HUF deposit has to be paid) or Evening ticket (from 18.00) with cabin use

3 500 HUF (only on workdays)

Students and Retirees, locker

2 000 HUF

2 700 HUF

Students and Retirees, cabin

2 400 HUF

3 100 HUF

Daily ticket with Sauna entry (locker use)

4 500 HUF

4 900 HUF

Daily ticket with Sauna entry (cabin use)

4 900 HUF

5 300 HUF

2-hour swimming ticket, locker:

2 500 HUF

2 700 HUF

2-hour swimming ticket, cabin:

2 900 HUF

3 100HUF

from 2 800 HUF
See more on ticket prices and services at the bath's official site.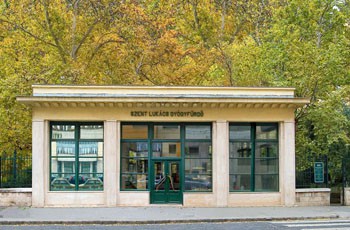 Inside the Lukács is a bit labyrinthine, you can easily get lost if you don't pay attention. It has:
indoor thermal pools (32 – 33°C, depth: 1.13 m, temperature in the medicinal thermal pool: 24 – 40°C),
two large outdoor swimming pools (water temperature 22°C and 26°C)
a sauna world with Finnish sauna, infra sauna, ice hut, Himalaya saltwall
a Turkish hammam, and
a sun terrace
Although the building dates from the 1920s, the baths were very popular in the early middle ages when priests of the Ordo Hospitalarius provided curative treatments at the site.
The bath was operating under the Turkish rule too, but the late 1800s brought the real improvement.
A spa hotel was built and a modern hydrotherapy department was established after 1884.
The drinking hall providing curative water dates from 1937. The sulphurous water is beneficial for digestive disorders (stomach, bile problems). People came to the Lukács Bath to heal from all over the world.
Read their praises on the marble tablet in the courtyard. You can get many different treatments in the renewed Lukács Bath today as well. It is a favorite bath by many locals and expats alike.
The large park with its stately sycamore trees is great for relaxing and getting some cleansing fresh air.
Services in the Lukács Thermal Bath
Health care Services:
thermal baths for both men and women
underwater traction-bath for men and women
carbon dioxide bath
various massages (underwater water jet massage, medical massage, aroma massage, refreshing massage, foot reflex zone massage
sauna
infra sauna
steam-bath
mud-treatment
salt chamber treatment, Himalaya salt wall
curative gymnastics
drink diets
Additional Services: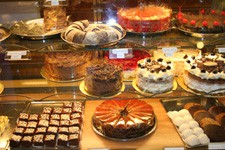 aqua fitness
solarium
sundeck
rental
safe-keeping
TIP: not far from the Lukács Bath, on 50. Szépvölgyi út you'll find one of the best cake shops in Budapest, called Daubner Cukrászda.
Mouthwatering cakes, pies, pastries, scones lie neatly on the counters. Their ice-cream is also worth a visit in summer. Do prepare to queue!
Official Site of Budapest Baths & Spas: check it for up-to-date information!
Related Pages
Király Bath – a fine spa in Buda from the Ottoman era.
Rudas Spa – Another Turkish Bath in the Buda side.
Veli Bej Bath – a newly renovated Turkish Bath nearby the Lukács.
Széchenyi Spa – a classic thermal bath in Central European tradition.