Where to Find Deluxe Holiday Rentals – Short or Long Term?
You have wide choice if you're looking for luxury apartments in Budapest. There are many exclusive apartments for rent both in downtown and in the green Buda hills.
Where to rent a flat for your stay depends on you needs and preferences, and whether you need it for a short holiday or for longer term
Table of Contents
Benefits of Renting a Luxury Apartment in Budapest
Why would you stay in a lavish flat when the city abounds in great luxury hotels?
There many advantages of staying in a fully-fitted, luxurious apartment over staying in hotel when visiting Budapest.
First of all, rental fee of most luxury apartments are up to 20 % cheaper than a room in upscale 4-star, or 5-star Budapest hotel.
Running a hotel where guests usually stay max. for 3 nights is more expensive than managing an apartment whose guests tend to rent for longer stays.
The extra services available in hotels such as restaurant, bar, laundry, room service, concierge have considerable costs that are all included in the high hotel room prices.
By renting an apartment during your visit (whether it's a deluxe condo in Buda or a cheaper flat in central Pest) you and your family will have a space of your own.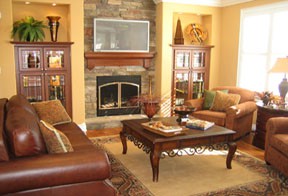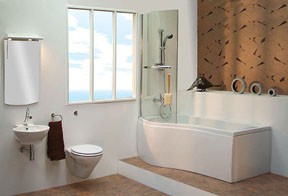 I'd definitely prefer a 70-100 sq. metre, large flat over a 25 sq.metre hotel room when going on a vacation. Especially if you travel with kids. In a spacious apartment children will have more space and freedom to entertain themselves and the whole family will enjoy their vacation more than they would when staying in a confined room of a hotel.
In the fully-equipped kitchen you'll be able to prepare your own meals instead of eating out in a restaurant which results in more savings.
Luxury Apartments in Budapest are usually 2-3 bedroom, good quality flats situated in the city centre with excellent public transport connections. There's usually a large living room with flat screen TV, DVD player, and stereo system.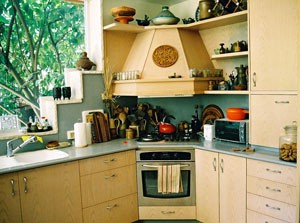 In the kitchen of an upscale apartment you'll find modern conveniences and cooking utensils like:
microwave oven,
toaster,
coffee machine,
pots and pans,
plates,
cooker, dishwasher,
washing machine,
fridge,
deep freezer etc.
There's also iron, ironing board, hair drier. Bed linen and towels are provided, usually of high quality material.
Most high-end apartments have air-conditioning but always check it before renting, especially if you come to Budapest during summer which tends to be very hot.
Luxurious residences are furnished in great, contemporary style any many of them are housed in newly renovated historic buildings in the downtown.
All in all renting a stylish, contemporary apartment during your vacation offers you the benefits of convenience and independence so that you can fully enjoy your visit to the Hungarian capital.
TIP: There are a couple of Luxury Apartment Hotels offering upscale, full-serviced accommodation in the city center.
Price – Luxury Apartment Rentals in Budapest
Rental fee of luxury rentals vary, but expect to pay around 70 -270 EUR per night.
Prices depend on the time of the year you travel to Budapest (price of an apartment is higher during the high season in July-August and during holidays like Christmas and New Year's Eve).
In most cases a minimum stay of 2 nights is required or you have to pay or some rental agencies ask cc. 25% surcharge for staying only 2 nights.
Best Locations for Renting an Apartment
The best areas within Budapest for renting a holiday flat are in the city centre, mainly in the V. and VI. districts. Apartments for rent in this neighborhood are very centrally located so that you'll have easy access to all the important sights in Budapest, the best restaurants, cafes, clubs and bars.
Váci Street and its neighborhood (district V.) offers some very nice upscale apartments. Andrássy Avenue and the area nearby the Hungarian Opera House also has some good-value luxury apartment complexes.
If you prefer more staying in a more quieter part of the city then consider holiday houses in Buda, in the I., and II. districts, in the vicinity of Buda Castle Hill.
Staying in an apartment in the neighborhood of the Gellért Hill you'll be surrounded by green landscape, away from noisy Pest and probably have beautiful view from the flat.
The III.district, Óbuda (Old Buda) is also recommended if you want the apartment to be in a peaceful, green area.
Whether you travel to Budapest on business or you're a leisure traveller renting a nice apartment is good alternative to staying in an overpriced hotel.
See also our Guide to Districts and Neighbourhoods.
Reliable Apartment Rental Agencies
Hip Homes Hungary – Cozy, Chic, Vacation Homes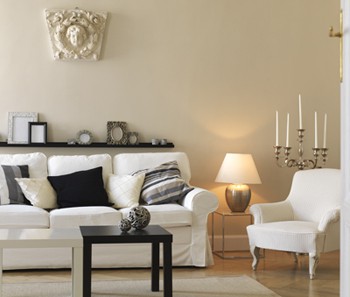 Hip Homes offer upscale rental homes for short term visitors and business travellers in Budapest and in the Hungarian countryside.
All rental are equipped modern conveniences that you can find in a luxurious boutique hotel:
LCD TV
WiFi
Well-fitted kitchen
Media players (DVD, CD)
High-quality towels, and bed linens
They offer 1-4 bedroom rentals in the inner city (district V.), on Andrássy Road and its neighbourhood, on Castle Hill and other parts of Buda. Rental fees vary between 70 EUR and 230 EUR per night. You can contact the agency here.
Boscolo Residence – Central Location (not the quietest part of the city), Great Price
Location: Osvát utca 2-8., district VII., near Blaha Lujza tér transportation hub (M2 metro, trams 4 and 6.).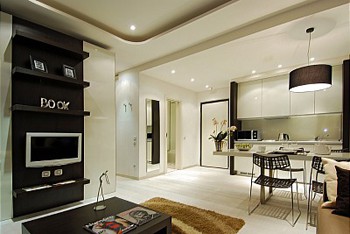 Spacious, well-located high-end apartments in a busy area but with good transport connections to other parts of the city.
They offer four suite types from 1 to 3 bedrooms:
Gallery Deluxe Suite
Gallery Grand Suite,
Gallery Prestige Suite, and
Gallery New York Suite.
All the conveniences of the 5-star Boscolo Budapest Autograph Collection Hotel in the New York Palace next door can be enjoyed by the residence guests
buffet breakfast,
spa,
fitness centre,
bar with piano music,
fine meals in the famous New York Café, and
an underground garage.
The Boscolo Residence received mixed reviews on Tripadvisor: some were totally in love with the apartment saying that it offers great value for its price, the staff is very helpful and attentive, others complained on the lousy cleaning service (cleaning is done once a week), and broken kitchen appliances.
Not all rooms have washing machine and dryer. See the official website for more info.
Rates: cc. 120-150 EUR/night
Fraser Residence – Very Good Value Modern ApartHotel
Location: Nagytemplom utca 31., district VIII., close to the Corvin Shopping centre, Trams 4, 6, and M3 metro Corvin negyed station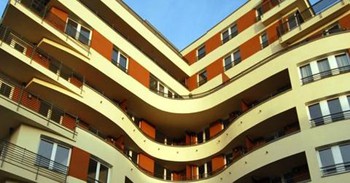 They have 51 fully-serviced apartments and suites in a popular and dynamically developing area of Pest, called Corvin Sétány.
A large shopping mall, plenty restaurants, cafes and bars are in the close proximity of the apartment complex.
Guests of the Fraser Residences can use the nearby fitness centre (includes swimming pool, jacuzzi, sauna, and modern fitness equipment) at discount price (1 100 HUF first visit, then 1 400 HUF).
A continental breakfast (only cold selections) is included in the apartment rental fee.
Further amenities include:
high speed WiFi internet
air-conditioned rooms
24-hour reception,
garden lounge,
safe in room,
large screen TV-s,
daily cleaning service,
underground parking,
business facilities,
two meeting rooms.
Some negatives mentioned by travellers: only one lift for the 7-stoyt building, otherwise most tourists are very pleased with the services, room size, cleaning, food and the staff.
Price: cc. from 60 EUR/night.
TIP: Browse also our list of 5-star hotels in Budapest to find a good-value, high-end accommodation.
Related:
Budapest Apartment Rental Guide – Luxury Budapest – Low-Cost Apartments