If you want to pamper yourself during your stay time to find out what luxury Budapest has in store for you.

Budapest is a great city to enjoy deluxe amenities at affordable prices, let them be upscale hotels, exclusive restaurants and clubs, or high-end shops.
Our city managed to preserve most of its old world charm that makes it an even more attractive luxury destination in the world.
The world heritage sites of Budapest reflect the best this old grandeur.
After a seeing all the sights you can pamper yourself in lavish spas and beauty centres for much less than in Western European cities.
Table of Contents – Luxury Budapest
For a more lavish way of getting to the city center why not rent an elegant limousine.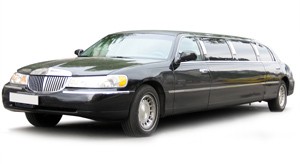 Your luxury Budapest vacation has to start with first-class services from the point your plane landed at Budapest Airport.
These limousines are air-conditioned, with lush leather seats, TV, Video , DVD player and mini bar and English speaking friendly chauffeurs.
Recommended company:
Limousine Service Hungary
Address: Nefelejcs utca 14., district XVI.
Tel: +36 1) 220 6120
Prices (for a black Lincoln limousine): an airport-hotel transfer (one way) costs cc. 200-220 $
Transfer to the city costs around 160 $. Kilometer rate: 1,70 $
See more on car rental in Budapest.
Luxury Accommodations in Budapest
Budapest has numerous luxury hotels and the list of five star lodgings is growing year by year.
Although we have a fairly comprehensive list of 5-star Budapest hotels let me recommend a few where I would stay if I wanted to be pampered:
Buddha Bar Hotel Budapest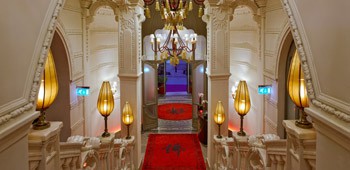 Location: Váci utca 34., district V., close to everything
A lavish 5-star hotel in a former palace located in the city centre on the famous shopping street Váci utca. A modern hotel with 102 rooms featuring Asian-Colonial design elements.
A fabulous spa (called Buddhattitude Spa), a great restaurant with Asian fusion cuisine, a fantastic bar, amazing interior decor are the highlights of the Buddha Bar Hotel.
A good choice for a a luxuripus experience in Budapest!
Corinthia Hotel Budapest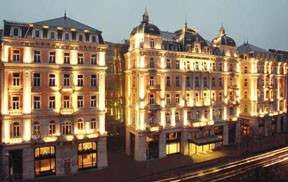 Location: Erzsébet körút 43-49., VII.district
Corinthia is perhaps the best-value luxury 5-star hotel in Budapest, and the numerous awards received in recent years and praising reviews by travellers justify this.
Includes a wonderful spa complex and lots of luxurious services to ensure a fabulous stay for leisure travellers, business people, and families alike.
Read a detailed review on Corinthia Hotel Budapest.
New York Palace Boscolo Hotel and the New York Cafe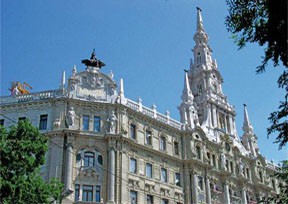 Location: Erzsébet körút 9-11, VII. district
New York Palace Boscolo Hotel would be my 2nd choice after the Four Seasons Gresham Palace Hotel if I had to decide on which luxury hotel to stay at in Budapest.
The historic palace built at the end of the 19th century has been converted into an upscale hotel by the Italian Boscolo group.
Staying at the New York Palace, you'll experience a wonderful combination of Italian Renaissance and elegance of the modern world.
Charming staff, quick and efficient services, rooms decorated in fine elegance, fresh-cut flowers, high-speed internet, satellite TV, marble bathrooms, exquisite toiletries, heated towel rails are a few amenities from the many New York Palace Boscolo Hotel offers to its guests.
TIP: The famous New York Cafe on the ground floor was once the most stunning coffee house in the world (back in its heyday in the beginning of the 20. century).
You can admire its impressive interior by a cup of coffee (an espresso is 990 HUF but I'm not sure if it's made from freshly roasted coffee) and a slice of cake or a light meal. The Salon restaurant offers first-class dining with seasonal menu and ample choice of Hungarian wines.
St. George Residence Hotel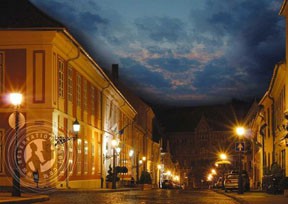 Location: Castle District, Fortuna utca 4.
A stylish, historic building has been remodelled into a 26-suite luxury hotel.
In the St. George Residence All Suites Hotel you'll experience historic atmosphere, and elegance combined with 21st century conveniences.
browse our list of best romantic hotels in Budapest.
Luxury Budapest Apartments
Renting a luxury apartment in Budapest is a good alternative to staying in a hotel especially if you want to enjoy more space and independence.
See also a selection of Budapest City Centre Hotels from upscale to budget accommodations.
TIP:
if you're looking for a good-value hotel with stylish decor and personal touch then stay in one of the many Boutique and Design Hotels in Budapest.
Upscale Dining in Budapest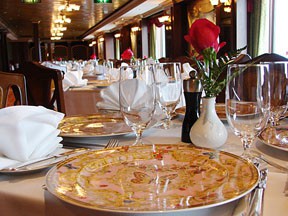 Besides Gundel that is perhaps the best known first class Hungarian restaurants abroad you can choose from a good many other luxury restaurants in Budapest.
At these places excellent food is combined with elegant interior, relaxing atmosphere and professional but friendly service.
You have dinner at these places not just because of the quality of food but because of the memorable experience that makes you want to go back from time to time.
Onyx Restaurant – Has a Michelin Star
Address: Vörösmarty tér 7-8., V.district) –
This first-class restaurant opened in 2007 and is part of the famous Gerbeaud Cafe. The interior decor is a mix of classic and modern creating a relaxed atmosphere. Food in Onyx is made only from fresh and the highest quality of ingredients.
The menu includes some very original and innovative dishes. They wre the second restaurant in the city that was rewarded with a Michelin star.
Costes (in Ráday utca) and Borkonyha (close to the Basilica in Sas utca) are the two other Michelin-star dining places in Budapest.
Nobu Restaurant – Japanese-South American Treats
Location: (inside Kempisnki Hotel Corvinus, Erzsébet tér 7-8., district V.
An outlet of the famous oriental restaurant chain, Nobu opened in October 2010 inside the Kempinski Hotel Corvinus (it is also accessible from Bécsi utca) offering luxury Japanese style dishes with a hint of South American taste.
More on Nobu Restaurant Budapest.
Arany Kaviár – a Piece of Russia at the Foot of Castle Hill in Buda
Address: Ostrom utca 19., I. district
Tel: (+36 1) 201 6737
As the name suggests caviar and dishes made with caviar are the specialties of this elegant but cozy restaurant, but you can taste other Russian delicacies, too.
Robinson Restaurant
Tel: (+36 1) 422 0222
Situated on an island on the City Park lake, Robinson is a perfect place for a romantic dinner. In summer you can enjoy the view of the lake and a fountain from the deck while in winter you can sit beside the fireplace inside.
Its menu offers Hungarian and Mediterranean dishes.
Fausto's, Krízia and some of the other Italian restaurants are among the finest dining places in Budapest.
See also our list of best Budapest restaurants and Hungarian Restaurants in Budapest to find more high-end eateries.
Wine Tasting in Buda Castle, Wine Tour to Etyek Village
Taste some of the best Hungarian wines in a rustic stone cellar in Budapest Castle situated within the Hilton Hotel. The arched cellar is part of the cave and labyrinth system underneath Buda Castle.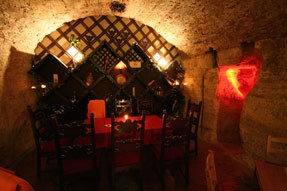 A talented sommelier will tell you everything about Hungarian wines and wine making.
You can choose from several tasting menus.
For a half -day program visit cellars in the Etyek wine village north of the city. The tour ends with a tasty dinner Hungarian sytle, Direct transfer from your hotel and back is included.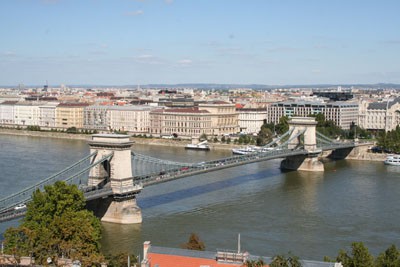 Luxurious Sightseeing Tours in Budapest
If I were to explore the most notable sights in Budapest and enjoy the wonderful panorama attributed to the unique location: a city divided by the river Danube with the rolling Buda hills in the background, I would go on boat tours that offer both convenience and stunning views of the city:
A cruise on the Danube with a 3-course dinner and live music is a very relaxing way to see some of the historic sights and the remarkable view along the Danube between Margaret Bridge and Rákóczi Bridge.
Spas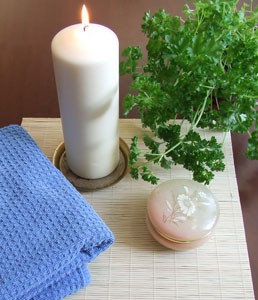 Budapest is famous for its spas and thermal baths. For a luxurious spa experience try the Gellért bath.
See our page about Spa and Wellness in Budapest for more recommended spa facilities.
If you wan to have more privacy while indulging in luxurious pampering visit one of the day spas in Budapest
SenSpa Massage
Address: Nádor utca 26., district V.
Open: every day: 10.00-22.00
Skilled Thai masseuses using natural Sens oils relieve stress and tension in this downtown spa centre. More information.
OrientCare Day Spa
Address: Hermina út 63., district XIV.
Open: Mon: 13.00-22.00, Tue: 7.00-15.00, Wed: 13.00-22.00, Thurs: 7.00-15.00, Fri: 13.00-22.00
A beauty centre and spa within luxurious settings near the City park. Massages and other body therapies, 21st century beauty treatments for complete rejuvenation. Physical well-being combined with spiritual balance.
Isis Day Spa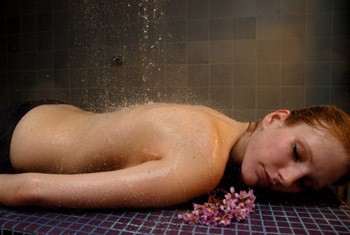 Address: Üllői út 14., district VIII. a 100-m walk from Kálvin tér metro station (M3 subway line)
Open: every day: 10.00-22.00
True to its name, in Isis day Spa you will get re-energized, ready to tackle life again with renewed vitality (Isis is an Egyptian goddess who, according to a myth, revived his brother-husband Osiris).
Various massages (Western- and Easter style), and body treatments, Turkish hamam, and other baths, steam cabin and saunas, beauty treatments, pedicure and manicure body toning are the main services you can get in Isis Day Spa.
It is also a good place for more private meetings: business or personal. See more on their website.
Luxury Shops in Budapest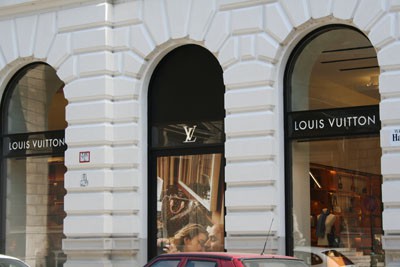 Many luxury fashion brands have outlets in the Hungarian capital and the number of designer boutiques is keep growing.
Just take a walk along Váci utca and the neighbouring streets, and you'll inevitably bump into a couple of luxury shops, like Furla in Párizsi utca representing Italian haute couture, or Manier at 68., Váci utca.
Andrássy Avenue is another great place for a luxury shopping spree.
The famous Párisi Department Store (commonly known as Divatcsarnok) houses an elegant bookshop, the Alexandra Bookcafe with wide range of English and other foreign language books, guide books on offer.
While there, do visit the cafe upstairs and admire the beautiful painted ceiling (by Karoly Lotz), and enjoy the old-world coffee house atmosphere by a cup of coffee and a slice of cake.
Streets around the Opera House are also good hunting spots for exclusive shops in Budapest.
Blanco for example in Lázár utca sells Italian designer shoes, handbags, and custom jewelry. And there's the Alberto Guardini shoe shop at 34., Andrássy út. Louis Vuitton, Guicci, Dolce & Gabbana also have outlets on the Avenue.
There is also a Nespresso shop should you have run out of your favourite gourmet coffee capsules.
Capsula – Another Multibrand Store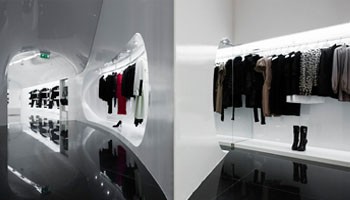 Address: Andrássy út 9.
Open: Mon-Sat: 10.00-19.30
A couple of blocks from il Bacio you can do more high-end shopping in Capsula, another elegant shop with well-known designer clothes on the racks: Givenchy, Paul Smith, Blumarine, Tom Ford etc.
Futuristic interior with lots of white and lighting in a former townhouse where the original indoor columns have been kept intact during the reconstruction.
See Our Facebook also for fresh news.