A spiritual place, with heavenly coffee, at Ferenciek tere, in Alkotmány utca at No. 4. near the Parliament in downtown Budapest and in Hollán Ernő utca near Margaret Bridge.
Madal opened its 3rd cafe in downtown Budapest in Alkotmány utca close to the Parliament building on Kossuth Square.
After exploring Ko
Location 1 – Hollán Ernő Street
Address: Hollán Ernő utca 3., district XIII., close to Margaret Bridge in Pest, tram 4, 6 Jászai Mari tér stop
Opening Hours: Mon-Fri: 7.30-19.30, Sat-Sun: 8.30-19.30
Location 2 – Ferenciek Tere
Address: Ferenciek tere 3., district V., city centre, M3 metro (blue line) Ferenciek tere station
Opening Hours: Mon-Fri: 7.30-19.30, Sat-Sun: 8.30-19.30
The two-storey place is much larger than most other 3rd wave coffee bars in the city.It too works with the quality beans of the London-based Square Mile Roasters as well as other guest coffees.
Madal also started its own roastery, called Beyond Within and uses the coffee roasted there at both its locations.
Location 3 – Alkotmány utca, Parliament
Address: Alkotmány utca 4., district V.
Opening Hours: Opening Hours: Mon-Fri: 7.30-19.30, Sat-Sun: 8.30-19.30
The first Madal Espresso & Brew Bar is located in a pedestrian street, Hollán Ernő utca, between Nyugati Train Station and Margaret Bridge is a tribute to Sri Chinmoy – there's a corner with his statue, photos and other memorabilia-, the famous spiritual teacher, whose nickname was Madal.
A Tranysylvanian-born dentist Dr. Sándor Fülöp owns the place, a devoted follower of Sri Chinmoy's teachings and a spiritual and meditation teacher himself.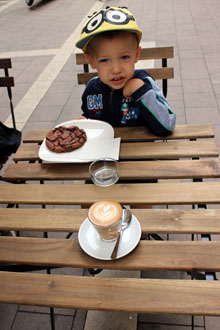 Coffee In Madal Cafe
The old classics, espresso, cortado, cappuccino, flat white and latte are the favourites here made from their own roasts (Beyond Within Roaster) or guest coffees from around the world (you can try new beans each month):
Square Miles from London,
Blue Bottle,
Intelligentsia Coffee etc.
You can buy the beans too.
The alternative, filter drink offer includes
Aeropress (690 HUF),
Hario V60,
Clever Dripper,
Kalita (790 HUF) and
a cold brew, Mizudashi (590 HUF).
The fruity, winey and floral beans of Kenya and Ethiopia are perfect for fans of new wave coffee drinks.
The baristas are well-trained and regularly participate on barista championships with good results.
It's clear that they love and know all things about coffee.
Cascara along with all sorts of fine teas (white, green, rooibos, herbal, black) are also on offer ( 590-690 HUF/4 dl).
On colder days you can sip hot chocolate (from quality stuff by Tibor Szántó, one of the best chocolatiers in Budapest, 590 HUF).
The first time (soon after their opening) I had a very nice flat white from a special blend, with croissant, the second (or third?) I've opted for a cortado from a Colombian coffee. Both were very nice.
Croissants (plain white flour or whole wheat), chocolate chip cookies, some cakes to go with your drink.
Simple, rather spacious interior with light-coloerd tables and bar stools along the windows facing the street as well as right outside the entrance.
At the Hollán Ernő Street location there's also a terrace shared with he Hummus Bar next door.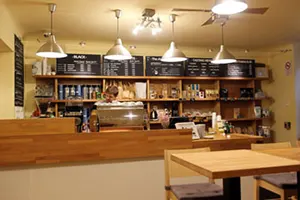 The shiny La Marzoco GB5 machine,
high-quality, freshly roasted coffees, and
helpful, expert baristas guarantee that you can't go wrong in Madal.
TIP: Ferenciek tere is part of Budapest's New Main Street, a partially pedestrians-only area with lots of cafes, restaurants, cultural and historic monuments.

Additional information: official Facebook page
More TIPS for Coffee Enthusiasts: See also one of our other favourite specialty coffee shops in downtown Budapest, Espresso Embassy.
For a comprehensive list browse our Specialty Coffee Bars in Budapest page or visit our list of Favourite Budapest Cafes.