Note: Program Is Not Official Yet!
Festivals, Things to Do Recommendations, 1st May/Labor Day
May Day in Budapest used to be a major holiday of the Communist Party. Large processions followed by beer and frankfurter in the City Park marked 1st May a couple of decades ago.
Today political parties still use May Day/Labor Day to advertise their programs and recruit followers, but luckily 1st May- Labor Day has become a family day with a range of festivals and programs in the capital, and other towns of Hungary.
The Big Race/Nagy Futam car show will be the greatest event on the 1st Day of May 2019.
This time without and Air Show and a at a new route: Erzsébet tér – Andrássy Avenue – Oktogon.
TIP: 1st May/Friday is a bank holiday in Hungary: shops, markets, most museums will be closed. Thermal baths will be open according to Sunday opening hours, public transport operates according to Sunday/holiday schedule and pricing.
Quick Links:
Race Car Show/The Big Race – Festival in City Park – Tabán Festival – Yoga Festival on Margaret Island
Race Car Show in Budapest City Centre, 1st May
Race car show route: Erzsébet Square – Andrássy Avenue – Oktogon
Entry:
free,
VIP tickets from 199 EUR if you want to enjoy the show from the best spot
VIP Terrace: Akvárium Klub (Erzsébet tér)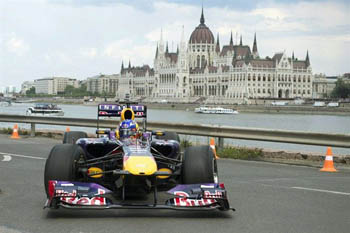 You can view the spectacular show and meet the pilots right in the city center.
The route of the race is Erzsébet Square – Oktogon – Andrássy Avenue.
You can Formula 1 pilots, Max Verstappen Jerome D'Ambrosio will be here.
One of the most exciting sights will be the race car of the ABB FIA Formula E championship.
You can visit the cars and meet the pilots in the Paddock near the Basilica, on Bajcsy-Zsilinszky road, downtown Budapest.
Note: the program can change and delays might occur due to weather, technical or other issues.
The Big Drift Race, Formula 1 & WTCR Cars, 1st May 2019
Paddock visit: 08.00 – 13.00 – Bajcsy-Zsilinszky Road at the Basilica
Big Race: 14.00 – 17.00 – along: Erzsébet tér – Oktogon – Andrássy út route.
Programs
08.00 – 13.00 Paddock visit at the Basilica
Cars lining up: Aston Martin Red Bull Racing, Oldtimers, ABB FIA FORMULA E, Rallycross/Autocross
14.00 – 16.30: Team EKS RX, Rally, Off-Road Rally, trucks, Formula Renault WS 3.5, NASCAR, WTCR and TCR
See more details on the event's webpage.
More Programs on 1st May
May Day Festivals: City Park (Városliget) – Majális – 28. Apr – 01. May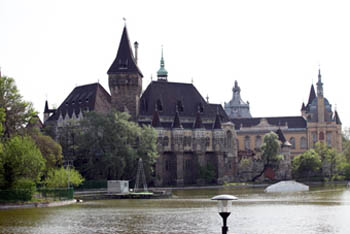 Venue: City Park, district XIV., M1 metro (yellow line) Hősök tere (Heroes' Square) stop
Entry: FREE
Budapest's largest park, the Városliget hosts a festival on each Labor Day.
Craft fair,
food and drinks,
concerts featuring local pop stars starting at 11.00 each day
cooking competitions,
a small amusement park,
children programs
Tabán Festival – 1st May, 2020, 15.00 – 24.00
Venue: Tabán, district I., Buda
Admission: Free
The Tabán Festival looks back to decades of tradition (except for a 10-year break).
Budapesti people celebrate the first day of May with live concerts from early afternoon till late night in the Tabán area in Buda.
This year's performers include prestigious Hungarian rock & blues bands:
15:00 Mégegykör
16:05 Ádám Török
17:10 Beatrice
18:25 Mobilmánia
20:00 Piramis -Évek
The Tabán concerts used to be all about rebelation against the communist regime, today it has a more relaxed atmosphere with the most popular Hungarian pop-rock bands giving concerts all afternoon.
Quick fact: The Tabán area is the hilly part between Buda Castle and the Gellért Hill in district I., and partly in district XI. It used to be a very idyllic city part around the turn of the 19th-20 century with lots of cozy cafes, bars and restaurants, the prototypes of Budapest's all popular ruin pubs today.
In the 1960s the Tabán underwent a landscaping project then the park slowly became neglected.
The area today is more or less organised and clean.
The renovated Rác Spa and Hotel, a former Turkish Bath of Budapest stands at the edge of the park.. The first May Day Festival in the Tabán took place in 1968.
More May Events, Festivals…
The rest of May offers a wide range of events and programs in Budapest.
Yoga Festival 01. May, 10.00 – 15.00, Margitsziget – Isle of Serenity
Margaret Island is another spacious green patch in the heart of the city; a perfect place to celebrate May Day in Budapest.
You can join an outdoor Yoga Festival on 01. May/Tuesday starting at 10.00 on the Nagyrét next to a big plane tree.
Location: the large green lawn between the Water Tower, the Open-Air Theatre and the Danubius Health Spa Hotel.
The program starts with 108 Sun Salutations then continues with an Astanga Yoga Class at 11.00. Bring some food, vegan snacks to end the program with a picnic.
Bring a yoga mat and water with you.
TIP: The outdoor yoga classes (donation based) on Margaret Island continue throughout summer on Weekdays and Sundays . In May classes start at 17.00 on Sundays at 11.00. June-September classes begin at 18.00 on Weekdays and at 11.00 on Sundays.
TIP: The musical fountain at the southern corner of the island welcomes visitors with a water and music show.
Twice a day a children playlist is played: at 11.00 and 16.00 featuring Hungarian kids' favourite tunes
Vuk by Kati Wolf,
Miki manó by 100 Folk Celsius,
Micimackó Winnie the Pooh by Zsuzsa Koncz etc.
Read more about attractions on Margaret Island.
Related:
Public Holidays in Hungary – Summer Things to Do in Budapest – Visit Budapest in June – Visit Budapest in July – Budapest in March – April Programs