Festivals, Things to Do Recommendations, 1st May/Labor Day
May Day in Budapest used to be a major holiday of the Communist Party. Large processions followed by beer and frankfurter in the City Park marked 1st May a couple of decades ago.
Today political parties still use May Day/Labor Day to advertise their programs and recruit followers, but luckily 1st May- Labor Day has also become a family day with a range of festivals and programs in the capital, and other towns of Hungary.
One of the most popular is the May Day Picnic in City Park, where locals and tourists alike gather to enjoy food, drink, and live music. There are also games and activities for kids, making it a fun event for the whole family.
TIP: 1st May (falls on Monday in 2023) is a bank holiday in Hungary: shops, markets, most museums will be closed. Thermal baths will be open according to Sunday opening hours, public transport operates according to Sunday/holiday schedule and pricing
Table of Contents
Budapest 150 May Day Festival, 01. May, 2023
Venue:
Városháza Park/City Hall Park, Budapest 1052, district V.
M1, M2, M3 metro lines – Deák Ferenc tér station, Trams 47,49 – Deák F. tér stop
Admission:
In 2023 Budapest celebrates the 150th anniversary of its foundation as a result of joining Buda, Pest and Óbuda to form a single city.
To commemorate this significant event Budapest welcomes everyone with an exciting May Day Festival in Városháza Park/city Hall Park right in the centre.
Free concerts, children's programs, theater performances, gastronomic experiences, in other words, a true urban festival awaits you!
Those who prefer the retro May Day experience won't be disappointed either, as on May 1st, the trade unions will also join the program series.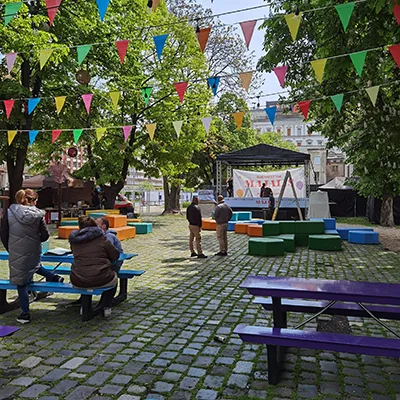 It's worth visiting City Hall Park all day long. Between 10 am and 6 pm, you will definitely find programs that both children and adults can enjoy.
Thanks to the Napfényes Art Workshop, you can join
Handicraft workshops,
Face painting, and
Getting glitter tattoos for children.
After being creative, you can even hop on a carousel.
Popular Hungarian bands give concerts in the afternoon:
Midlife Crisis begins to play at 17.00, then comes
Balkán Fanatik at 18.30, and
Kelemen Kabátban ends the festivities at 20.30.
May Day Picnic In City Park (Városliget), 01. May, 2023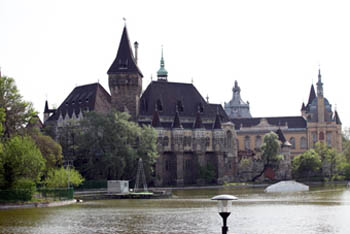 Venue:
City Park, district XIV., M1 metro (yellow line) Hősök tere (Heroes' Square) stop
Entry: FREE
Budapest's largest recreation area, the City Park/Városliget hosts a festival on each Labor Day.
This event is a local favorite and a great way to enjoy the spring weather.
City Park is a beautiful location with plenty of green space for picnicking, and the live music and dance performances add to the festive atmosphere.
In addition to the food vendors offering typical festival food (frankfurter/hot-dog, burger, lángos: the ultimate Hungarian street food: savoury dough deep fried in oil served with optional toppings like sour cream and cheese), there are also several activities for kids, including face painting and games.
Craft fair,
Food and drinks,
Concerts featuring local pop stars starting at 11.00 each day
Cooking competitions,
A small amusement park with boucy castle and carousel
Bring a blanket and join the locals for a relaxing day in the sun!
May Day In Pavilon Kert/City Park
Address: Városliget/City Park, Állatkerti krt. 3., Budapest 1146
Opening Hours: 11.00 – 19.00
TIP: if you want to avoid the madness of the May Day Picnic head for the Pavilon Kert, an awesome gastro garden and event venue, for some typical Hungarian delicacies such as

Buja Disznó(k)' Wiener schnitzel and other fried stuff,
Ligeti Lángos' potato langos and
Kató Néni Finomságai for sweet treats like: chimney cake specials and artisan ice creams.
Tabán Festival, 1st May 2023 – 15.30 – 20.30
Venue:
Admission:
The Tabán Festival looks back to decades of tradition (except for a 10-year break).
Budapesti people celebrate the first day of May with live concerts from early afternoon till late night in the Tabán area in Buda.
This year's performers include prestigious Hungarian rock & blues bands:
15:30 Maxisun
16:30 Varga Miklós és a Band
17:45 Mobilmánia
19:00 Deák Bill Gyula
20:30 Beatrice
Host: DJ Dominique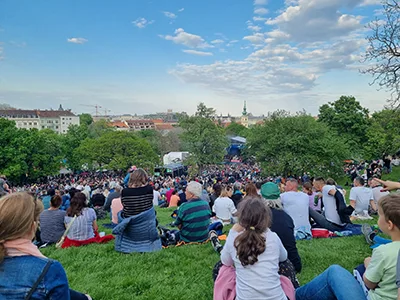 The Tabán concerts used to be all about rebelation against the communist regime, today it has a more relaxed atmosphere with the most popular Hungarian pop-rock bands giving concerts all afternoon.
Quick fact: The Tabán area is the hilly part between Buda Castle and the Gellért Hill in district I., and partly in district XI. It used to be a very idyllic city part around the turn of the 19th-20 century with lots of cozy cafes, bars and restaurants, the prototypes of Budapest's all popular ruin pubs today.

In the 1960s the Tabán underwent a landscaping project then the park slowly became neglected.

The area today is more or less organised and clean.

The renovated Rác Spa and Hotel, a former Turkish Bath of Budapest stands at the edge of the park.. The first May Day Festival in the Tabán took place in 1968.
Hungarian Railway Museum – Free Entry on 01. May
Opening Hours On 01. May/Monday:
On May 1st, Monday, you can enter the Hungarian Railway Museum & Park free of charge.
Don't miss this opportunity to see Europe's largest outdoor railway experience park and try some of the machines and activities for free like the turntable demonstration.
Although admission to the park is free on this day you have to pay to try most interactive programs, except the turntable demonstration which is free.
Riding on the garden railway: 600 HUF/person
Engine shed turntable (runs at the beginning of each hour): free
Handcar ride: 400 HUF/person
Ride on the 1026 steam locomotive: 2 000 HUF
If you're here in Budapest with kids then visiting the museum and park is an excellent program for the whole family.
Yoga On Margaret Island, 01. May – Isle of Serenity
Location:
Nagy-rét: The large green lawn between the Water Tower, the Open-Air Theatre and the Ensana Thermal Margitsziget Health Spa Hotel.
Price
The yoga classes are donation based meaning that there isn't a set fee. You pay what you think is afair price for the class.
Margaret Island is another spacious green patch in the heart of the city; a perfect place to celebrate May Day in Budapest.
You can join a outdoor beginner Yoga class on 01. May/Monday starting at 10.00 on the Nagyrét next to a big plane tree.
The program starts with 108 Sun Salutations then continues with an Astanga Yoga Class at 11.00. Bring some food, vegan snacks to end the program with a picnic.
Bring a yoga mat and water with you.
The outdoor yoga classes (donation based) on Margaret Island continue throughout summer on Weekdays and Sundays . In May, classes start at 17.00 on Sundays at 11.00. June-September classes begin at 18.00 on Weekdays and at 11.00 on Sundays.
TIP: The musical fountain at the southern corner of the island welcomes visitors with a water and music show.

Twice a day a children playlist is played: at 11.00 and 16.00 featuring Hungarian kids' favourite tunes

Vuk by Kati Wolf,
Miki manó by 100 Folk Celsius,
Micimackó Winnie the Pooh by Zsuzsa Koncz etc.
Read more about attractions and things to do on Margaret Island.
Unique Experiences
If you're looking for something truly memorable to do during your visit to Budapest, there are several events that are worth checking out.
Free Tours by Budapest Bike Maffia
For example, the Budapest Bike Maffia offers free bike tours of the city in exchange for a small donation, with all proceeds going to help fight poverty and social exclusion.
The tours are a great way to see Budapest from a different perspective, and the guides are knowledgeable and friendly.
Lower Embankment In Pest Is Open To Pedestrians, Bikers Etc.
Due to the traffic restrictions related to the visit of Pope Francis, the Pest lower embankment was closed on Saturday and Sunday, but on the public holiday of May 1st, it will be open again for those who want to move and relax.
Enjoy the car-free environment and walk, bike or roller skate along the section between the Irányi Street ramp near the Elizabeth Bridge and Margaret Bridge on May 1st, 2023.
Urban Soundwalk – Guided Audio Tour
Another one-of-a-kind May Day event is the sightseseing program by Urban Soundwalk, which takes you on a guided audio tour of Budapest's streets, squares, and buildings. The tour is designed to help you discover the city's hidden sounds, and you'll hear everything from street musicians to the clanging of trams as you explore.
Budapest Street Art Tour
If you're a fan of street art, don't miss the Budapest Street Art Tour. Join their guided walking tour of the city's most impressive murals and graffiti. The tour is led by local experts who can provide insight into the artists and their work, and it's a great way to discover a different side of Budapest's vibrant art scene.
Maypoles & Wildflower Wreaths
In Hungary and many other Central European countries, the Maypole, also known as the May Tree or Maypole Tree, is a traditional symbol of the arrival of spring. It's usually a tall, wooden pole that's erected in the center of a village or town square, decorated with colorful ribbons, flowers, and other decorations.
The tradition dates back to pre-Christian times, when people believed that erecting a Maypole would bring fertility and good fortune to the community. It's usually erected on May 1st – in some parts of the country on Pentecost, both being public holidays in Hungary and many other countries in the region.
The celebration of May Day and the erection of the Maypole is a fun and festive event, with
Traditional dances,
Music, and
Food.
In Hungary, the Maypole is also known as the "Majális fa", and the tradition is still very much alive today. Many villages and towns organize May Day celebrations with music, dance, and traditional food, and the Maypole is always the center of attention.
Another lovely May Day tradition in Hungary is to visit a nearby forest or park to gather wildflowers, which are used to create wreaths that are hung on the front doors of homes.
If you're interested in experiencing this tradition for yourself, head to one of Budapest's many green spaces, such as Margaret Island or Normafa in the Buda Hills.
More May Events, Festivals…
The rest of May offers a wide range of events and programs in Budapest, check this blog post for a detailed guide.
Related:
Public Holidays in Hungary – Summer Things to Do in Budapest – Visit Budapest in June – Visit Budapest in July – Budapest in March – April Programs – See also our Facebook page