Date: 20 – 2. May, 2023
Location: Hungarian National Museum, Múzeum krt. 14-16, Budapest 1088

Venue:
Hungarian National Museum and its renewed garden.
Address: Múzeum körút 14-16. district VIII.
Getting there: trams 47, 49, M3 (blue) metro Kálvin tér station
Opening Hours:
20. May/Saturday.
21. May/Sunday: museum garden: 09.00 – 22.00, museum: 10.00 – 18.00.
You can visit around 100 museums in Budapest at one place, in the garden of the National Museum, and get an insight into their
works,
exhibitions and
treasures.
Admission is free.
Programs – Saturday, May 18.
10.00 – 11.00 – Concert of the Finance Officers' Orchestra
11.30 – Veronaki Children's Concert
14.30 – 15.30 – Concert – Valami Swing – hot jazz & cool swing
16.30 – Petruska EgySzemélyes Concert
18.00 – Kerekes Band – ethno funks, world, rock, folk music
19.00 – Street Carnival a la 80′-ies
Programs – Sunday, May 19.
10.00 – The Orchestra of the Disaster Management plays
10.30 – Aerobic/Fitness with Alexandra Béres – as we did in the 80-ies
11.30 – Hahó Band Concert
14.00 – Canarro – Manouche Swing Concert
17.00 – VAN Movie Band
Works of Art Walk '89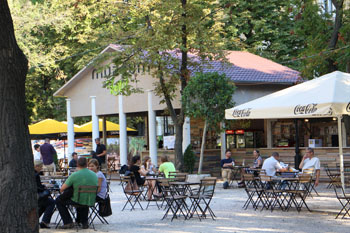 An exhibit assembled from artworks of 30 museums inside the Hungarian National Museum highlights the most memorable moments of the change of regime era.
Theme of the Festival In 2023
Museums, sustainability, well-being
Lots of exhibits and activities for kids. You can also explore the museum building from basement to attic.
See also official website of the event!
The museum has a 1-hour English guiding every Thursday at 11.00 introducing the most famous items of its collection: coronation mantel of the Hungarian kings, outstanding treasures, beautiful historic clothes, famous musical instruments like the piano of Franz Liszt and Ludwid von Beethoven. Registration is required.
Tickets: 800 HUF.
Related:
Museums in Budapest – More May Events, Programs – Night of Museums – Hungarian Natural History Museum