Music and Wine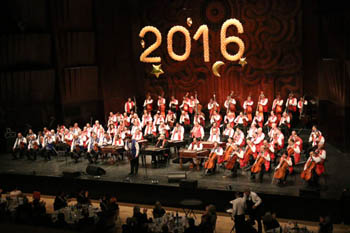 See the famous Hundred Member Gipsy Orchestra perform live in the Budapest Congress Center on 30. December, 2022. at 18.00.
Date: 30. December 2022., at 18.00
Venue: Budapest Congress Center, Jagelló út 1-3., Budapest 1213, district XII.
Tickets in Various Categories
concert + wine tasting + dinner + folk show: 120 EUR, (seating is at 8-person tables on the ground floor)
concert + wine tasting + snack + folk show: 68 EUR, (seating is at 6-person tables on the ground floor))
concert + wine tasting + folk show, between: 42 – 58 EUR (balcony row seating)
VIP ticket: 138 EUR.
Duration: approx. 105 minutes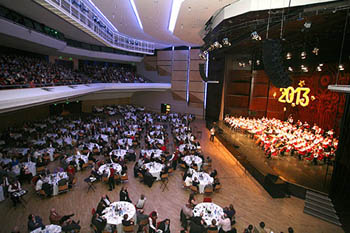 You can opt to book the concert with
a four-course dinner (see menu) with fine Hungarian wines,
wines and savoury snacks or
just with wines.
This is a splendid event to celebrate the coming New Year.
The talented band gives this concert each year usually on the day before New Years Eve.
2022 will be special for them since the band celebrates its 37th anniversary of its foundation.
The close to 1,5 hour program consists of two concert sessions when the orchestra will play international classics as well as traditional Gypsy music.
A 4-course dinner and a
1-hour wine tasting (both are optional) make this a memorable program.
Program Schedule
18.00: Opening
18.15: Wine tasting, folk dance show
19.00: Concert, part I (optional dinner)
20.00: Interval – Wine tasting
20.20 pm: Concert, part II (optional dinner continues).
Dinner Menu
Starter: Air-dried Mangalitza ham with pink peppered blue cheese mousse, saffron Williams' pear, cranberry onion jam and duck paté in pasta with crispy green salad and dried apricot chutney
Soup: Beef consommé with mushroom ravioli
Main course: Fillet mignon of pork in pepper crust with creamy porcini ragout, layered potato, marinated vegetables and almond broccoli
Dessert: Pistachio millefeuille with Tokaji wine mousse.
Vegetarian course is available upon request.
Related:
More New Year Programs in Budapest – More Festive Concerts – Christmas in Budapest