Unique Exhibitions and Exciting Programs in Museums
Venues: Museums of Budapest
Quick Links:
Tickets – FREE Bus Lines – Children Programs
Tickets:
adult: 2 200 HUF,
children (aged 6 – 18): 1 000 HUF,
free for kids under 6 years of age.
The ticket is an armband that you wear on your arm and show at the museum's entrance.
You can participate in the programs on the night of 23. June as well as view the permanent and temporary exhibitions of the museums.
You can also travel on the museum bus to get from one place to another.
Where to Buy Tickets?
at the ticket office of the participating museums or at
the ticket offices of the Budapest Public Transportation Company/BKK – main ticket offices can be found at the metro stations.
Museums in Budapest and in other Hungarian cities are open till late on Midsummer Night.
Two dozen museums, exhibition halls offer close to 80 programs on the night of 22 – 23. June:
The Hungarian National Museum (Múzeum krt. 14-16., district VIII.) will turn into a Square of Superheroes.
The Ferenc Hopp Museum of Asiatic Art on Andrássy Avenue 103. (near Heroes' Square) invites you to explore Korea.
Museum Programs on 25 – 26. June 2022
One thing I like very much about the Night of Museums that it offers a wide range of children programs so the whole family can have an awesome time on the longest day of the year.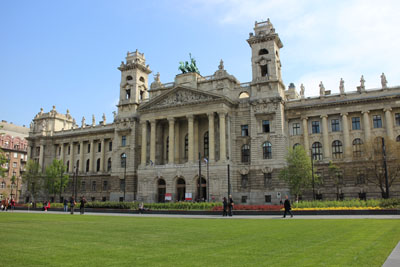 Around to 50 museums, exhibition halls and other venues welcome visitors with
art,
literary,
folk and
gastronomy programs on Midsummer Night.
Many programs start at in the afternoon (14.00-16.00) so you can have a really good cultural half-day on Saturday.
Gastronomy programs are my other favourites and there'll be a couple of them on this year's festival too.
Bus Services to Help You Get Around – 18.00 – 02.30 am
7 Colour-Coded Night of Museum Bus Line will circulate the city to help visitors to get from one museum to another.
Your ticket entitles you to use the special transportation for FREE for the event :
1 North Pest Line (Észak-Pest)

Boarding: Nyugati Railway Station (trams 4, 6,

M3 line)

, Frequency: 5 – 10 minutes between: 18.00 – 2.30 am

2 Buda Line

Boarding: Deák Ferenc Square (M1, M2, M3 metro),

Frequency: 8 – 15 minutes between: 18.00 – 2.30 am

3 South Pest Line (Dél-Pest)

Boarding: Népliget Metro Station (M3 line), Frequency: 5-10 minutes between: 18.00 – 2.30 am

4 Törley Line

Boarding: Budatétény Ralway Station, Frequency: 7-10 minutes between: 18.00 – 2.30 am

5 Óbuda Line

Boarding:

Nyugati Railway Station (trams 4, 6, M

3 metro line), Frequency: 30 minutes, between: 18.00 – 2.30 am

6. Buda Castle Line

Boarding: Széll Kálmán tér (M2 red metro line, tram 6) and Díszt tér,

Frequency: 5 – 10 minutes between: 19.15 – 2.35 am

Várkert Bazár Line

Boarding: Deák Ferenc Square (M1, M2, M3 metro)

Frequency: 3 – 10 minutes, between: 18.00 – 2.20 am
Spectacular exhibitions and programs make this event a very nice summer night entertainment.
Here are some of the programs and participating museums in Hungary's capital:
Program TIPS
Budapest History Museum, Buda Castle, Royal Palace
Address: Szent György tér 2., Buda Royal Palace, distr. I.
Take the Buda Castle Bus line to get there.
19.30 – 20.45: Ups and Downs – Lights in the Night – Guided tour IN ENGLISH introducing the history of Budapest. Meeting: on the 1st floor, at the entrance to the exhibition
20.30 – 21.45: Knights in the Night Kings in the Light – English-labguage guided tour of the Medieval palace. Meeting place: at the Maria Theresa painting on the ground floor
National Gallery
Address: Szent György tér 2., Buda Royal Palace, distr. I.
Take the Buda Castle Bus line to get there
Some of the Programs:
Game of self-knowledge – Wander between the paintings of the museum's collection until you find yourself on one of them.
16.00 – 16.45 – Bolba Éva and the JAZZterlánc – interactive concert.
17.00 – 17.30 – Historical walk in the collection. 30-minute walk in the baroque collection.
19.00 – 20.00 – "When a mask falls down…" Guided tour among the Late-gothic winged altarpieces with Nyikolajeva Marija
20.00- 20.30 – Guided tour with Ágnes Verebics
19.00 – 19.30 – Historical walk in the collection. 30-minute walk in the exhibition Shifts – Hungarian art after 1945
20.30 – 21.00 – "Familiar faces, unknown – personalities" Guided tour in the 19th century collection.
21.00 – 21.30 – Concert of the Waldorf student choir.
23.30 – 00.30 – Anna and the Barbies ACOUSTIC concert
Matthias Church – Roaming in the Church
Address: Szentháromság tér 2., Buda Castle bus line
24.00 – 04.00 am – Visitors can wander around the neraly 800-year old church right in heart of Buda Castle, one of the most prominent temples of Hungary's history, witness to many royal weddings and ceremonies.
Törley Collection & Visitor Center
Getting there: tram 47 from Deák tér (M1, M3, M3 metros), or with the dedicated Törley Bus line (blue coloured)
Program starts: at 14.00 on 24. June/Saturday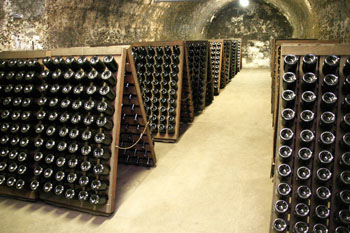 The Törley Visitor Center (Budapest, Anna utca 5-7., district XXII.) welcomes visitors with
14.00 – 01.30 am – View the permanent exhibition introducing the history of sparkling wine making in Hungary
from 14.30 at every hal hour: The world of bubbles – a walk in the antique cellar of the sparkling wine manufacture.
You can also take a walk in the lovely Törley Castle and park.
More information at the visitor center's website.
Labyrinth in the Castle – Meet Dracula!
The Labyrinth of Buda Castle will have a spooky night tour with movie screenings and exhibitions. The former dungeon under the rock ceiling inside castle Hill hides a dark secret.
Dracula himself will appear on the shortest night of the year but you may encounter other spooky characters in the cave meandering at 12 kms under the ground.
Shaman drum music between 18.00 – 23.00 to chase away demons and ghosts! Ghost-buster spice gift at the end of the program!
For Children
MINIVERSUM at Night
Address: Andrássy út 12., district VI.
Getting there: North Pest bus line, Opera stop
After 21.00 (2 times in every hour) night falls on the MINIVERSUM, and you can discover the enchanted new face of our miniworld. Over 10,000 tiny lights will light up the magical world of trains and cities.
Csopa Science Center – Campona Shopping Centre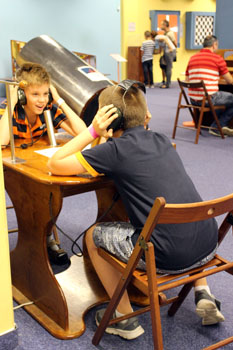 Take the Törley bus line to get there.
The center is a favourite of every Hungarian kid where they can try their hands on numerous scientific games and activities on more than 1 300 sqm.
On the Night of Museums the centre welcomes the young and not so young ones alike with a varied and exciting program from 18.00 to 24.00:
math puzzles and mysteries,
spectacular chemistry
physics experiments and more.
Olden Days Toys – Retro toys Exhibition Space and Shop
Address: Teréz krt. 54., district VI.
Revisit your
Glass balls – temporary exhibit
17.30 – 20.30 – glass ballrolling competition
favourite toys from your childhood,
buy replicas, take part in a toy repair contest.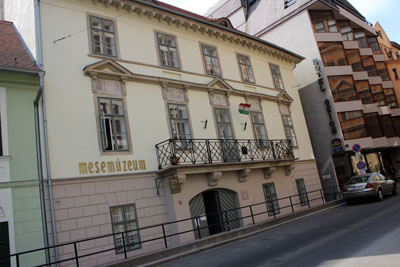 Fairytales and Story in the Story Museum (Mesemúzeum)
Address: Döbrentei utca 15., Buda, district I.
7 Trials of Story Heroes – permanent exhibition
16.30 – 17.30: Boribon is playing music – family concert
17.00 – 20.00: Fine Art Workshop
19.00 – 20.00: Family Circle – Theater performance by Play-back
20.00 – 21.00: Interactive family concert
Concerts, magician show, theatre programs and creative activities await kids in this lovely museums.
More information: website of the museum
Other museums that have Children Programs on the Night of Museums
National Gallery
Art Hall (Kunsthalle)
National Archives
Capital Circus of Budapest (City Park, Állatkerti krt. 12/a, district XIV.): Artists' School student performance, music programs, trying out artist equipment
Hungarian Museum of Trade and Tourism (Korona tér 1., district III, Óbuda): exhibits, craetive activities, theatre performances, gastronomy programs
Hungarian Sport Museum (Istvánmezei út 3-5, district XIV.)
Pesti Barnabas Technical School of Food Industry (Andrássy út 63-65., district VI.): making Sekler cake (Kürtöskalács)
Postal Museum (Benczúr u. 27., district VI.)
Police Museum (Mosonyi utca 5. district VIII.)
Military History Institute and Museum (Kapisztrán tér 2-4., district I., Buda Castle)
Stamp Museum (Hársfa u. 47., district VII.
See also more things to do recommendations in Budapest for children!
Related:
More Budapest Events, Activities in June – May Day of Museums-2-Day Festival – Hungarian Natural History Museum – Budapest Summer Festival