A Bit of Roman Budapest with Some Great Restaurants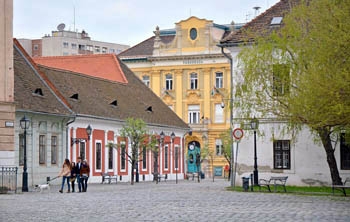 Óbuda, the III. district of Budapest, played an important role in Budapest's history from the Roman Era till the modern days.
This city part was united with Buda and Pest in 1873 to form today's Budapest.
Although at first Óbuda seems to be a plain residential area with high rise blocks erected in the communist regime, the centre has
numerous sights and
a lovely, quaint atmosphere, and
some good restaurants and cafes that make it worth exploring.
For history lovers the neighbourhood is a treasure trove of well-preserved remains from the Roman period to Baroque bourgeois mansions.
Getting to Óbuda from Downtown Budapest
By Suburban Railway H5 from Batthyány Square (M2 red, metro), get off at Szentlélek tér
Take tram 1 and get off at Flórián tér stop
Take M3, blue metro, get off at Árpád híd station, from there take tram 1.
The popular youth meeting, the Sziget Festival takes place here in the district, on the Hajógyári Island every summer.
TIP: There's also an Advent Festival with craft market, ice rink, concerts, food and drinks on Main Square and Szentlélek Square over the weeks before Christmas. Dates in 2019: 29. No – 23. December
Quick Links:
Roman Sights – Main Square (Fő Tér) – Museums – Medieval Ruins & Cultural Programs – Jewish Sights – Restaurants in Óbuda
Roman Ruins in Óbuda – Bath Museum & Aquincum
The area of today's Óbuda was inhabited in as early as the stone age. The Romans formed the capital of their Pannonia province – bordered by the river Danube – Aquincum.
Aquincum means "abundant in water" indicating that the Romans discovered and appreciated the area's most important natural treasure the thermal springs.
An Old, Outdoor Museum – Military Baths from the Roman Era
Aquincum was a military base and a Roman legion of 6000 soldiers stationed there in the 89 AD.
You can see remains of the bath used by the legionaries, tucked under the flyover at Árpád Bridge on Flórián Square.
The name of the museum, Thermae Maiores (meaning large bath) was found on a stone relief. The remains were discovered in the 18th century.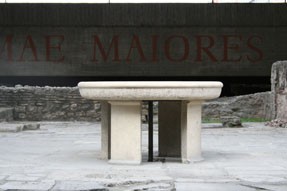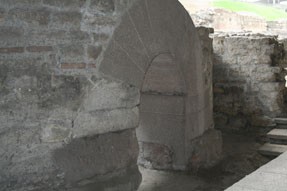 Layout plans with English comments show the original structure of the bath.
Although the the traffic noise and the modern concrete buildings rising in the neighbouring area made it difficult for me to imagine how the bath functioned this hidden museum still gives you an impression about the Romans way of living 2000 years ago.
Open: 1st April – 31st October, Tue-Sun: 10.00-18.00, closed on Mondays. Admission is free.
The amphitheatre of the military camp is in Nagyszombati utca.
Hercules Villa
Address: Meggyfa utca 19-21., Óbuda
Opening hours: between 01. April – 31. October only, Sundays: 11.00-13.00
Tel: (+36 1) 250-1650
Admission: free
The fine mosaics that adored a once lavish, 12-room villa illustrate a famous part from the Hercules myth, when a centaur abducts Hercules's wife.
This mosaic was taken to the Aquincum museum but you can see several other beautiful mosaics at the site of the villa.
Aquincum Museum- Remains of a Roman Town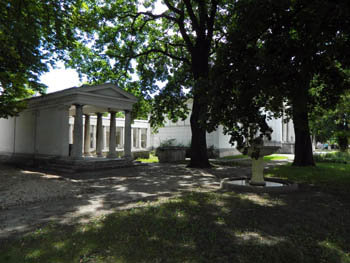 Address: Szentendrei út 135.
Getting there: suburban railway (HÉV) from Batthyány tér, get off at Aquincum stop, or form Óbuda Szentlélek tér take bus 34, 134 or 106 to Aquincum stop
Telephone: (36-1) 250-1650, Website: Aquincum Múzeum
Opening Hours:
Exhibitions-summer season: 1st April – 31st October: 10.00 – 18.00 (closing begins at 17.40) archaeological park – summer season: 01. April – 31st October 09.00 – 18.00 (closing begins at 17.40),
winter season: 1st November–31st March: exhibitions: 10.00 – 16.00 (closing begins at 15.45), archaeological park 1st November – 31. March: can be visited only in good weather conditions (dry, non-slippery)
Closed on Mondays!
Admissions (2019)
To the exhibitions: FREE with Budapest Card,
adults: 01. April – 31. October: 1 900, 01. November – 31. March: 1 300 HUF,
students (6-26 years of age), pensioners between 01. April – 31. October: 950 HUF, between 01. November – 31. March: 650 HUF
free for children under 6 yeras of age
family discount: 50 % discount on the ticket prices of 2 adults accompanying 2 children (closely related), children from ages 6 get 50 % discount tickets.
photo ticket: 600 HUF/person
video ticket: 600 HUF/person
guided tour in foreign languages 6 000 HUF for a group under 25, 8 000 for a group above 25 (prices are for the whole group).
Admission to the archaeological park (open only between 01. April – 31. October):
Adults: 1 500 HUF/person, FREE with Budapest Card
Students, pensioners: 650 HUF/person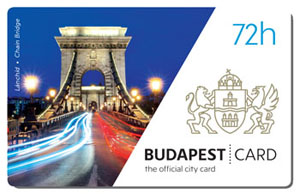 With the official City Card you get 50% discount on the admission fee.
The card entitles the owner to free use of public transport within Budapest, discounts on sightseeing tours, museum entrance fees, thermal bath tickets.
You'll find more details and can buy the Budapest card online here.
A large town had grown around the garrison and in 107 AD Emperor Trajan broke Pannonia into two parts, creating the civilian town of Aquincum.
Two amphitheaters, several villas, central heating, baths, sanctuaries provided everything for the inhabitants of the town.
The outdoor site contains ruins of courtyards, baths, a market place, shrines, large columns, sculptures and a stone sarcophagi.
In the small museum jewels, glassware, metal tools, wall paintings are on display together with scenes reviving the lives of ancient Romans living in Aquincum.
Once shouts of fighting gladiators and the suffering of the Christians thrown as prey to the roaring wild animals filled the air in Aquincum, today the the traffic noise from the busy Szentendre main road reminds you of 21st -century Óbuda.
The events of the Aquincum Summer Festival (mid-May-mid-Sept, mainly on weekends) however take you back in time trying to reconstructing the everyday lives of the Romans.
Main Square (Fő tér) of Óbuda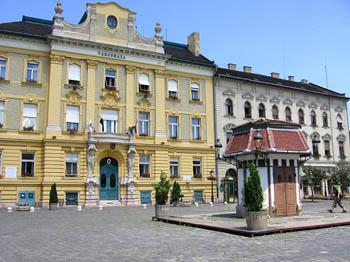 Take a rest on a bench on this secluded square and you feel as if you'd travelled back to the 17. – 18. centuries.
Only a few locals going on their everyday business might interrupt your contemplation.
You can almost hear the clatter of hooves on the cobble-stoned plaza.
Óbuda's main square managed to preserve its peaceful charm throughout the turbulent centuries of Budapest's history.
Main roads that played important role in the city's life intersected the square since the Roman times.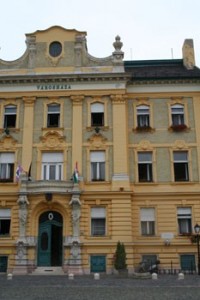 The Turks destroyed most of the medieval buildings during their 150-year reign.
The town hall was built in the 18th century followed by other town mansions around the square.
The architectural highlight is the Zichy Castle erected in the middle of the 18th century.
The castle was never finished according to the original plans and it undergone many alterations but the main wing reflects its original splendour.
Today the Baroque Zichy castle gives home to several outstanding museums:
Museums in Óbuda
Lajos Kassák Museum
Address: Fő tér (Main Square) 1.
Opening Hours: Wed-Sun: 10.00-17.00, closed on Mon-Tue,
Admission: full price. 600 HUF, discount ticket (visitors from EU countries aged between 6-26, and 62-70): 300 HUF, admission is free for children under 6, visitors from EU countries over 70 years of age,
Website: Kassák Lajos Múzeum
The exhibition consisting of 20, 000 items depicts the life and works of Lajos Kassák (1887-1967), famous representative of Hungarian avantgarde.
Óbuda Museum
Address: Fő tér (Main Square) 1-4.
Open: Tue-Sun 10.00-18.00, Admission: full price: 800 HUF, discount ticket (visitors from EU countries aged between 6-26, and 62-70): 400 HUF, admission is free for children under 6, visitors from EU countries over 70 years of age, family ticket (2 adults+2 kids): 2 000 HUF
Rich collection introduces local history. Hungary's only toy museum will be a thrill to kids and their parent alike. The Zsigmond Kun Flat Museum has a unique collection of folk art furniture.
Victor Vasarely Museum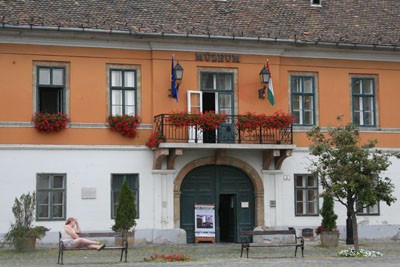 Address: Szentlélek tér 1., Open: Tue-Sun 10.00-18.00
Tickets:
(valid for both the permanent and temporary exhibits):
full price 800 HUF, for
Budapest Card owners: 700 HUF,
discount tickets: (visitors from EU countries aged between 6-26, and 62-70): 400 HUF,
free for children under 6, visitors from EU countries over 70 years of age.
Website: Vasarely Múzeum
Hundreds of works by the Hungarian born painter can be seen along with temporary exhibitions of other Hungarian artists.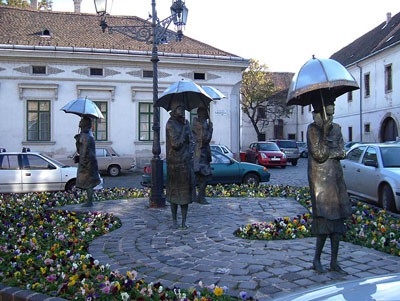 At the end of Lajos Street, in an old medieval house the Budapest Gallery awaits you with contemporary artworks.
At Szentlélek tér an engrossing group of sculptures by Imre Varga, the Women with Umbrella makes you stop for a while and admire the artwork which became a symbol of Obuda.
More works of the talented contemporary sculptor can be seen in the Imre Varga Collection at 7., Laktanya utca, Óbuda (Open: Tue-Sun: 10.00-18.00).
A former Trinitarian monastery gives home to the Kiscelli Museum.
Museum of Hungarian Trade and Tourism
(Magyar Kereskedelmi és Vendéglátóipari Múzeum)
Address: Korona tér 1., district III. Óbuda,
Tel: (+361) 375 6249
Opening Hours: Tuesday-Sunday: 11.00-18.00
Admission: adults: 800 HUF, students (ages: 6-26), pensioners: 400 HUF, family ticket (2 adults + 2 children): 1 500 HUF, FREE for children under 6, people with disabilities + one accompanying person, senior citizens from 70 years of age, 20% discount with Budapest card.
A unique museum of Hungarian gastronomy, catering and trade.
Apart from exhibiting relics from the history of gastronomy and catering, the museum regularly hosts concerts, children programs, theatrical performances and a range of other cultural events within its Kultea program.
Medieval Ruins & Cultural Programs
In Kiskorona utca you'll find ruins of a medieval convent and the Óbudai Társaskör (Kiskorona utca 7.) the centre of Óbuda's cultural life also operates in this street.
The association organises many art events and exhibitions the most popular being the Summer in Óbuda series of programs between June-September.
Classical music and jazz concerts, theatre performances provide for entertainment on warm summer evenings.
TIP: see other Cultural Venues in Budapest.
Jewish Sights in Óbuda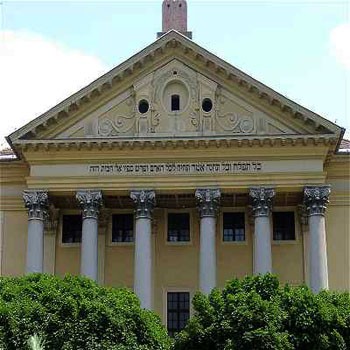 The Classicist style former synagogue stands opposite the Budapest Gallery in Lajos utca.
Today a tv studio operates in the building.
The famous rabbi Moses Muncz (1750-1831) is buried in the district's Jewish Cemetery .
Address: Külső Bécsi út 369., Óbuda)
Read more about Jewish Budapest.
Where to Eat in Óbuda?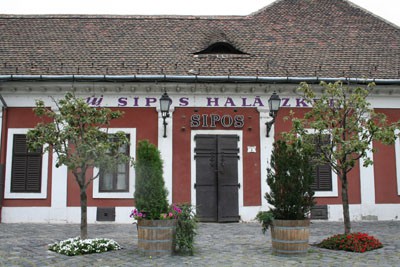 Welcoming taverns are abound in Óbuda offering tasty food and quaint atmosphere.
In Új Sípos Fish Restaurant you can eat traditional Hungarian Fisherman's Soup.
See more Recommended Restaurants in Óbuda.