Performances in the Basilica, Palace of Arts, Matthias Church etc.
Going to an organ concert in a church is a perfect combination of musical entertainment and sightseeing. Here are the most popular organ concert venues in Budapest.
Table of Contents

Table of Contents – Organ Concerts in Budapest
Organ Concerts in St Stephen's Basilica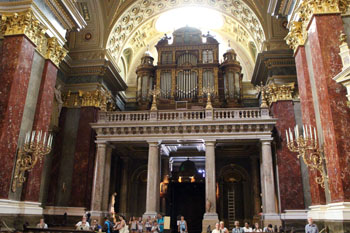 Enjoy the excellent acoustics of St Stephen's Cathedral on an organ concert performed by one of Hungary's most talented pipe organ players, Kolos Kováts.
The program includes a flute solo by Eleonóra Krusic a famous Hungarian flute player who regularly performs with other European orchestras.
Performances are held every Thursday at 20.00 between March – December.
Program of the Concert
Wolfgang Amadeus Mozart (1756-1791): Fantasie in F minor K 506
Alessandro Stradella (1639-1682): Pietà Signore
Tomaso Albinoni (1671-1751): Adagio
Franz Liszt (1811-1886) – Camille Saint-Saёns (1835-1921): Legend in A major (St. Francis of Assisi's Sermon to the Birds)
Johannes Brahms (1833-1897): Prelude and Fuge in G minor
Giuseppe Verdi (1813-1901): Prayer of Fiesco from opera Simone Boccanegra
Johann Sebastian Bach (1685-1750): Polonaise, Minuet and Badinerie from Suite in B minor BWV 1067
Johann Sebastian Bach: Toccata and Fugue in D minor BWV 565
Dates in 2023:
Concerts start at 20:00, and last about 70 minutes, without break.
April: 14,21,28
May: 4,11,18,25
June: 1,8,15,22,29
July: 6,13,20,27
August: 3,10,17,24,31
September: 7,14,21,28
October: 5,12,19,26
Nov.-Dec.: to be announced later
Prices:
1st cat: 31 EUR, 2nd cat: 27 EUR, 3rd cat: 20 EUR
Students: 1st cat: 29 EUR, 2nd cat: 25 EUR, 3rd cat: 18 EUR.
Note: Assigned seating. You will be assigned the best seats available in the chosen category at the time of purchase.
TIP: See also our Cristmas and New Year Concert recommendations at various Budapest venues.
Organ Concert + Danube Cruise with Dinner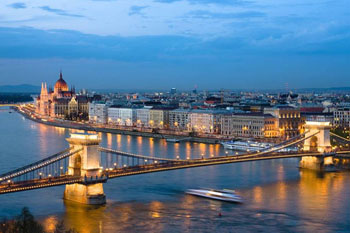 After the concert a night boat tour with buffet dinner will make the evening even more memorable.
In the romantic candlelight atmosphere you can enjoy the wonderful view of Budapest decked out in lights.
After dinner you can also admire the panorama from the open upper deck of the ship.
Full price: 1. cat: 73 EUR, 2. cat: 69 EUR, 3. cat: 62 EUR
Students: 1. cat: 71 EUR, 2. cat: 67 EUR, 3. cat: 60 EUR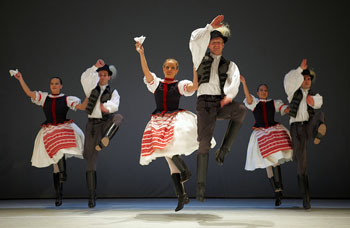 After the concert a host or hostess will escort you to the pier when the boat departs at 22.00.
The tour lasts approx. 1.5 hours.
TIP: See more cultural programs in centrally located prestigious venues in Budapest:
Gala Concerts in the Pesti Vigadó/Duna Palota
Organ Concerts in the Palace of Arts/Müpa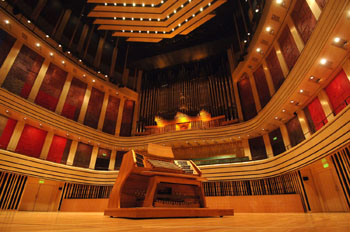 Address: Komor Marcell utca 1., district IX.,
Getting there: tram 2 or H7 HÉV/suburban railway Müpa-Nemzeti Színház stop, tram 1 Rákóczi híd stop
Tel: (+36 1) 555 3000
The Palace of Arts on the Pest bank of the Danube next to Rákóczi Bridge frequently hosts organ concerts.
The unique and famous organ of the Palace of Arts is in the Béla Bartók National Concert Hall and was made by the Pécsi Orgonaépítő Manufaktúra and Mühleisen Orgelbau Stuttgart in 2006 .
The world-renowned 5-manual instrument has
6804 pipes and
92 registers.
In the past decade numerous concerts were played on it and it will bring to life classic organ pieces on this weekend festival too.
See tickets and detailed program on the Müpa's website.
Organ Concerts in Matthias Church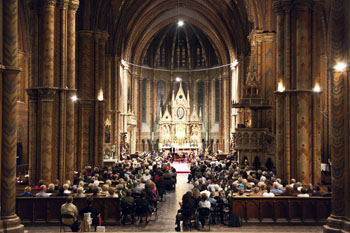 Address: Szentháromság tér 2., district I.
The historic Matthias church in the heart of Buda Castle hosts wonderful free organ concerts on Sundays starting at 19.30.
Dates in 2020:
August 26. – Jin Kim
September 23. – Diana Pál
Octber 21. – Bertalan Hock
November 11. – Ágoston Tóka
December 09. – Gyula Szilágyi
Tickets: Free (30-minute performances on Sundays at 19.30)
The Hungarian Virtuosi Chamber Orchestra also performs regularly in the church, usually once a month, on a Saturday.
Dates in 2020
January 11.
February 14., 24., 25
March 21.
April 25.
May 23.
September 21.
October 17.
November 21.
December 05., 12., 19.
You can enjoy pieces by Schubert, Bach, and Handel.
Tickets to the Hungarian Virtuosi Chamber Orchestra performances:
Bronze: 3.900 HUF / 13 EUR
Silver: 4 900 HUF / 16 EUR
Gold: 7 900 HUF / 26 EUR
Platinum: 9 900 HUF / 35 EUR
VIP: 14 900 HUF / 50 EUR
Note: The Platina and VIP sections are right next to the orchestra allowing the very best view and acoustics.
The Gold section is next to the altar. The Silver section is in the first benches and the Bronze section is in the back benches.
Classical Evenings by the Solti Chamber Orchestra
Dates (Saturdays): April 14., May 26., June 23., August 04., September 08., November 24, December 15., 27.
Concert starts at 20.00
Tickets:
Bronze: 3 900 HUF 6 13 EUR
Silver: 4 900 HUF / 16 EUR
Gold: 7 900 HUF / 26 EUR
Platinum: 9 900 HUF / 35 EUR: separate, fast entrance, welcome drink, best seats next to the orchestra
VIP: 14 900 HUF / 50 EUR: separate, fast entrance, welcome drink (sparkling wine/orange juice), best seats next to the orchestra, 3-course dinner in the Hilton Hotel's Icon restaurant.
Tickets to the Concerts
The Organ of the Matthias Church
The acoustic of the temple is very good and the historic atmosphere makes it an excellent venue for church concerts.
It has a Rieger Kloss organ that was built in 1909 from a donation by Franz Joseph emperor.
The five-manual, 85-register organ with 8-line (Setzer) combination and electro-pneumatic action (Op. 3540) was consecrated in January 1984.
There is also a 2-manual 18-register remote addition in the Béla chapel that can be played individually or controlled from the large organ. The beautiful organ cabinet is the work of Frigyes Schulek architect (he designed Fishermen's Bastion).
The instrument, along with the other parts of the church, was completely refurbished in 2013.
TIP: see also dates of music events on the church's website
Concerts in the Inner City Parish Church
Address: Március 15. tér 2., district V., tram 2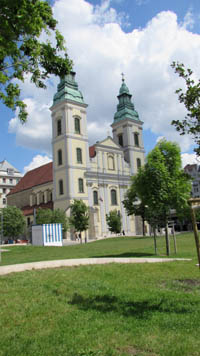 Concert dates in 2020: Wednesdays at 16.00
Tickets: full price: 14 EUR/3 500 HUF, student, senior: 12 EUR/3 000 HUF
The two-towered church standing on the Pest riverbank near Erzsébet Bridge has organ concerts on Wednesday afternoons in 2018.
The church is one of the oldest in Budapest originating in the 11. century.
Bishop Gellért's – killed by rebel pagans after the death of King St. Stephen – remains are said to be buried here.
Not much survived the centuries from the original Roman style basilica.
It reached its current size in the 14 -15 centuries under the rule of King Sigismund of Luxembourg then King Matthias.
The Turks converted the temple into a mosque.
You can visit the church and its museum every day
between 09.00 – 16.30 on weekdays and
09.00 – 22.00 on Sundays.
The church has mass with organ music on weekdays at 17.00.
The concerts on Wednesdays at 16.00 feature classic pieces like:
J. S. Bach: Toccata and Fugue in D Minor
W. A. Mozart: Allegro
T. Albinoni: Adagio
Liszt Ferenc: Consolation in E (arr. Koloss)
F. Schubert: Scherzo
Organ Concerts in St. Anne Church
Address: Batthyány tér 7., district I., M2 metro station
About St. Anne Church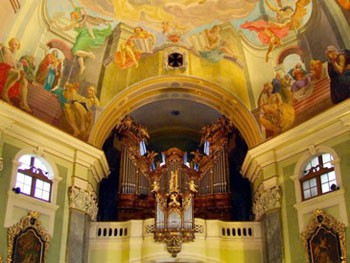 The original medieval church was destroyed during the Turkish rule in the 16th century.
The parish was restituted to the Jesuits in 1687 by by archbishop György Széchenyi who managed it until 1773 when their order was broken up.
The church in its current form was constructed in 1762, according to design of Péter Hamon.
The original organ of this beautiful Baroque church in north Buda, also known as Water Town, came from the Carmelite church.
An electric organ was built in by the Angster company in 1926.
It was destroyed during the siege of Budapest in 1945.
A new three manual, 37-register instrument was made in Dresden in 1985.
You can enjoy 1-hour concerts performed by talented Hungarian organ artists in the church on Friday evenings.
TIP: The church is in the Buda side from where you can admire the stunning view of the Parliament building across the River Danube. There is also a food market on Batthyány Square if you wish to shop for local goods.
Organ Series in the Deák Square Lutheran Church – FREE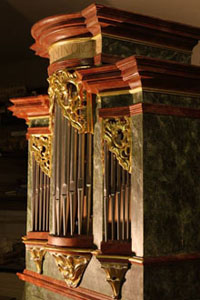 Address: Deák tér 4., district V., downtown, M1, M2, M3 metro lines
Date & Time: on the last Sunday each month at 18.00 – 19.30
Tickets: Free
The Lutheran Church on Deák Ferenc Square gives home to a series of concerts titled "Orgonazenés Áhítatok/Organ Music with Devotion" with various outstanding artists performing at each occasion including young talents.
You can also join a short devotion between the music pieces.
The current organ – a mechanical, 3-manual, 44-register neo-Baroque instrument – is the third in the history of the church.
Church of St. Michael, Váci Str., Organ & Choir Concerts
Address: Váci utca 47/b, district V.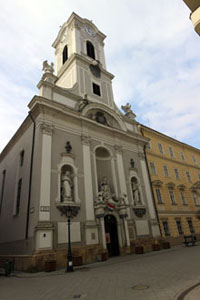 Getting there: M3 Ferenciek tere, or Kálvin tér station, M1, M2, M3 metro Vörösmarty tér station or tram 2 Március 15. tér stop
Date & Time: Saturdays at 19.00
Tickets:
full price: 18 EUR/4 500 HUF,
students/retirees: 16 EUR/4 000 HUF (can be purchased on the premises on Tuesdays and Wednesdays, Saturday from 10.00 am. and before the concert)
This lovely baroque temple in busy Váci Street is a venue for organ and choir concerts on Wednesday and Saturday evenings from May till end of December.
On Wednesdays vocal and instrumental soloists complement the organ recital. On Saturday the performance of various choirs contribute to the musical program.
Program (might vary slightly from concert to concert):
ETUNAM Chamber Choir Budapest – organ : Gábor Szotyori Nagy, conductor: András Virágh
Program:
J. S. Bach: Toccata, Air and Fugue in D Minor
J. Arcadelt: Ave Maria
A. Vivaldi: Concerto in A Minor – I. Allegro
W. A. Mozart: Ave verum
W. A. Mozart: Benedictus sit Deus
W. A. Mozart: Requiem – Lacrymosa
Liszt Ferenc: Legend of St. Elizabeth – Marsch der Kreuzritter
C. Franck: Panis angelicus
J. S. Bach: Fugue in G Minor
J. S. Bach: Magnificat – Suscepit Israel
G. F. Händel: Judas Maccabeus – See, the conquering hero comes
G. F. Händel: Hallelujah
Related:
Top Concert Halls/Classical Concert Tips – Concerts in Danube Palace/Vigadó – Hungarian Folk Dance Show – History of Budapest – Cultural Hot Spots in Budapest – Christmas & New Year's Concerts