One of the Most Beautiful Outdoor Pools in the World
The Palatinus Bath (Strand in Hungarian) is one of the most beautiful outdoor baths in the World according to the readers of the British daily, The Guardian.
Open All Year (Indoor Section)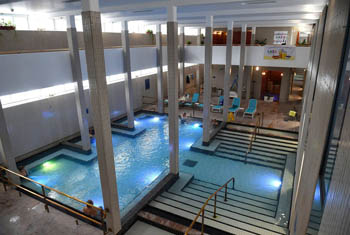 What's more the bath is open all year round since a refurbishment in 2017 added a complete indoor wellness department with
a leisure thermal pool, children's pool,
two immersion pools (cold water and thermal medicinal water)
saunas (steam room, geothermal sauna, Finnish sauna)
from September (when the lido closes) – a thermal open-air pool and a swimming pool (26 °C) are available for visitors.
Note: The open-air pools operate from 28. April 2018, every day between 08.00 – 20.00.
Table of Contents
The Palatinus bath is on Margaret Island, a large green excursion area in northern Pest, close to the city centre.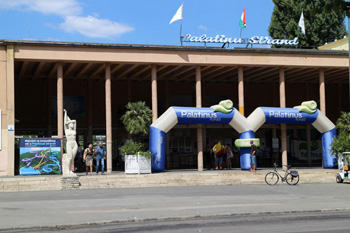 It is a favoured spot by both locals and tourists on hot summer days.
The bath opened in 1919 as a simple beach on the Danube bank then with the construction of the large pool in 1921 it functioned as a bath and lido.
The beach quickly became very popular so an expansion was needed that was done in 1937.
The thermal springs of Margaret Island supply the water (rich in calcium-magnesium hydrocarbonate) for the pools.
During the reconstruction works after WW II, a vast green area( 10. 000 sqm) was added to the complex in 1958.
The 5-track slide was constructed in 1980. In 2002 the pools undergone a major modernization and refurbishment that included building in of water filter and cleaning equipment.
In 2013 further developments were implemented: new slides and other adventure elements.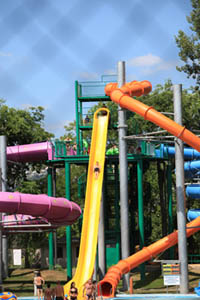 The 11 Outdoor Pools are:
Wave Pool, temperature: 26-28 Celsius, water depth: 0,2-2,8 m
Thermal Pools (2): temperature: 32-36 Celsius, water depth: 0,9 m
Marguerite Pool: temperature: 30-32 Celsius, water depth: 0,9 m
Children's Pool I.: temperature: 30-32 Celsius, water depth: 0,1-0,9 m
Children's Pool II.: temperature: 30-32 Celsius, water depth: 0,1-0,5 m
Swimming Pools (2): temperature: 22-24 Celsius, water depth: 1,7-1,9 m
Fun Pool: temperature: 30-32 Celsius, water depth: 0-1,37 m
Beach Pool: temperature: 30 Celsius, water depth: 0-1,4 m
Slide Pool: temperature: 26-28 Celsius, water depth: 1.0 m
Park area: 75 300 sqm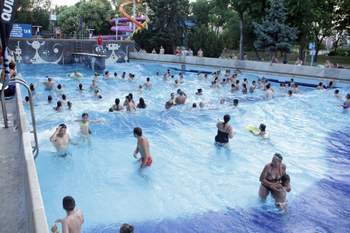 In 2013 the Palatinus Bath undergone a major renovation:
New slides were added:
the Magic Tunnel,
the Kamikaze,
the Turbo, and
the Anaconda.
It is the most expensive outdoor bath in Budapest regarding entry tickets, but it is also very popular due to
the beautiful green location,
lots of attractions and activities for kids, and
excellent water quality.
New: The Palatinus is now an all-year bath. A complete renovation in 2017 added a new wellness area at the basement level. It has a thermal leisure pool (36 °C), a children pool (32 – 34 °C), sauna world, two immersion pools (one filled with medicinal hot water /42 °C/ the other with cold water /16-18 °C/).

The changing rooms have also been renewed.

Massages are also available. After the summer season, from September, an outdoor thermal pool and a 40-meter swimming pool are also await visitors.
Location, Getting There
Address: Margitsziget, Budapest 1138, district XIII.
Getting there: bus No. 26 drives through the island, or you can use tram 4 or 6 and get off at Margitsziget stop
Opening Hours 2018
Every day: 08.00 – 20.00 (outdoor pools/slides are open only in the summer season, between June – mid-September)
Outdoor Pools
start oeprating from 28. April
Tickets 2018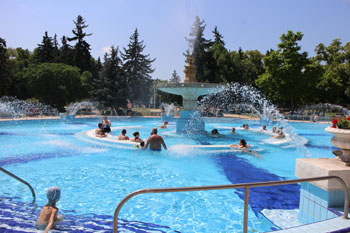 Adult weekdays: 2 400 HUF, adult weekends/holidays: 2 800 HUF,
Children, students, pensioners on weekdays: 2 000 HUF, on weekends/holidays: 2 300 HUF,
Family (2 adults + 2 kids) on weekdays: 6 800 HUF, on weekends/holidays: 7 900 HUF
Family (1 adult + 2 kids) on weekdays: 4 400 HUF, on weekends/holidays: 5 100 HUF
3-hour ticket on weekdays from 17.00: 2 000 HUF/prs
Cabin ticket: 600 HUF,
Safe: 500 HUF
20 % discount with Budapest Card
City Card Types – Buy Online
[highlight color="yellow"]With Free Delivery to your Hotel in BP.[/highlight] Free public travel, free entry to 13 museums /galleries (permanent exhibits), free entry to the Lukács Spa etc.
72-Hour Junior Card for kids 6 -18 years old!
Eating Options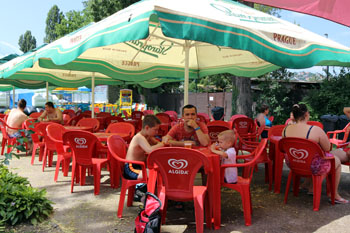 The two sides of the main pool area are lined with buffets: fast food places serving basic food and drink:
lángos – a deep-fried dough topped with garlic and/or sour cream, cheese, a favourite of most locals,
hamburgers,
hot dogs,
sandwiches, beer, soda-pop, mineral water,
granita, ice cream.
Prices are affordable: a lángos (with sour cream and cheese topping) is 600 – 650 HUF.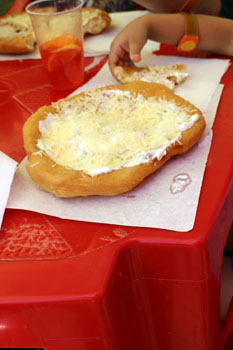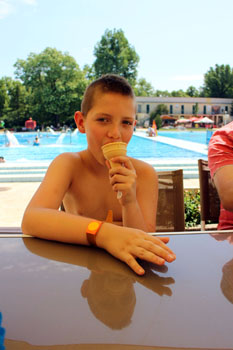 TIP:

Laza Pala Cafe, Bar & Street Food

Opening Hours: every day: 09.00 – 20.00.

Try Laza Pala, a fairly new buffet opened by one of the top chefs of Hungary, Lajos Bíró (Bock Bistro in Corinthia Hotel, Séf utcája and Buja Disznók in the Downtown Market).

The buffet is accessible from Margaret Island – so you don't need to go in the bath if you want to eat here – and has a terrace in the bath area.

They offer simple but quality street food and meals:
Sandwich with pork Bologna sausage: 990 HUF,
Homemade roast sausage with confit onion and mustard, homemade bread: 1 700 HUF
Half of a Roast chicken with potato salad: 1 800 HUF
Wiener Schnitzel (Laza Bécsi) with homemade bread, mayonnaise and pickled cucumber: 2 100 HUF
Vegetarian option: pasta salad with tomato or olives: 1 200 HUF
Photo Gallery – Taken on Our Visit in 2015
See more photos in our Facebook album.
Official site: Palatinus
TIP: There are other great open-air baths in the Hungarian capital: the Gellért, the Széchenyi Baths, the Lukács Spa all have outdoor pools, and the Pünkösdfürdő or the Római beaches are also great for summer splashing.
Related:
Budapest Baths Main Page – Turkish Baths – Rudas Bath – Király Spa – Veli Bej Bath