Date is Not Official Yet!
Pentecost is a two-day public holiday in Hungary: Sunday 09. June and Monday 10. June 2019. It is a Christian holiday held on the 50th day after Easter. Many traditions and folk customs relate to the day that are kept alive on Pentecost festivals.
Although shops, markets, banks etc. will be closed, a couple of great festivals and programs await visitors in Budapest over the weekend.
NOTE: Many programs have been cancelled or postponed due to the COVID-19 epidemic!
Quick Links:
Pentecost Festival in Tabán – Festival Várkert Bazaar – Pentecost in Buda Castle – Vajdaunyad Castle – Beer Festival in the City Centre – Parliament Tour – Concerts – Museums – Farmer's Market – Public Transport – Opening Hours
Kingdom of Pentecost – Family Day in Tabá –
CANCELLED

!

Whit Monday

Venue: Tabán, district I., Buda

Getting there: M4 metro (green line), trams 47, 49

Opening Hours: 09.30 – 20.00

Entry: FREE

A whole day festival with family and children programs in a lovely green neighbourhood of the Buda side, near Gellért Hill.
Concerts:
09:30 – 10:30 – Dalind
11:00 – 12:00 – Ági Szalóki children's concert
14:30 – 15:30 – István Pál Szalonna & his Band
16:00 – 17:00 – Poklade and the Tabán Serbian National Dance Ensemble
17:30 – 18:30 – Dezső Fitos and the Szentendre Dance Group: The village: dance performance
19:00 – 20:00 – Parno Graszt
All-day programs:
10:00 – 18:00:
Choosing the Pentecost King and Queen,
Pentecost trials
Pentecost baby world
face painting,
stilt performers, dancing & fun
TIP:

Cruise on the Danube

River tours with buffet meal and/or drinks can be booked from 01. June 2020.
Beer Festival on Szabadság Square, POSTPONED
The Hungarian capital's biggest beer event takes place in a downtown park at Szabaság tér, in the vicinity of the Parliament.
If you will be here over the Pentecost/Whitsun holiday do drop by the festival for a mug of great local or international brew and tasty bites!
Concerts in the afternoon and evening make the Beer Fest a wonderful place to be in early June in Budapest.
Pentecost Games – Folk Art Festival in Várkert Bazaar –
Date is Not Available Yet!!
Address: Ybl Miklós tér 2-6., district I.,
Opening Hours:
Entry: FREE
The historic Castle Bazaar and Gardens on the river bank in Buda host a Folk Art Festival showcasing traditions and games related to Pentecost.
Playhouse and workshops await visitors with fun activities on Ybl Miklós Square and in the neo-Renaissance Garden.
Giant wood swings by the Hellowood team will adorn the square, where local bands give concerts in the evening.
Craft fair and streetfood
Pentecost in Buda Castle – Date is Not Available Yet!!
Location: the terraces and courtyards of the Royal Palace
Entry: FREE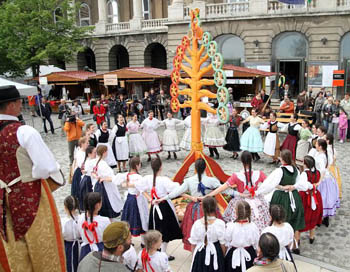 Come and join the Pentecost Gathering on two of the most impressive terraces of the Royal Castle in Buda!
Family concerts,
folk traditions,
folk dance performances,
local food and drinks (craft beer, wines, non-alcoholic beverages).
A unique attraction is the flowering Tree of Life and the ancient ritual of the Pentecost Queen procession.
Castle Festival & Toy Exhibition in Vajdahunyad Castle
Venue: Museum of Hungarian Agriculture/Vajdahunyad Castle, City Park
Admission: FREE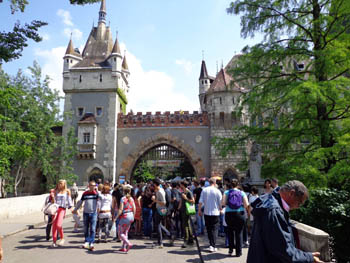 The festival looks back to 13 years of tradition welcoming families and everyone with rich cultural and children programs.
Hungarian castles demonstrate their program offer in front of Vajdahunyad Castle with weapon and costume show.
Stage programs include
concerts,
early music,
puppet performance and
folk dance.
Pentecost Market on Római Part
Location: Nánási út 47-49., Budapest, 1031, district III.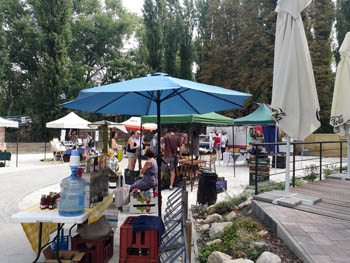 Opening Hours: 08.00 – 14.00
Visit the Róma-parti Piac farmers' market right on the bank of the Danube in Óbuda district, held on Saturdays.
You can buy
fresh fruits, veggies,
bread and pastries,
cheese and sausages from local, small producers.
Parliament Tour
Visit the one of the most popular sights of our city, the Parliament on the Pest bank of the Danube.
The 1-hour guided tour takes you through the most famous halls of the imposing building and lets you know about its exciting history.
Can be booked together with a cruise on the Danube or a 1,5-hour Folklore Show.
Note: Places are limited so if you are interested please book well in advance!
Concerts, Cultural programs
Gala Concert in Danube Palace, 08. June
Other dates in June 2019: 15., 22., 29.
An amazing concert and dance show providing a glipmpse into Hungary's verstaile cultural heritage in 90 minutes..
Hungarian Folk Dance & Music – NOT AVAILABLE YET!
Tickets to the Programs:
Museums/Exhibitions on the Pentecoast Weekend
Some museums will be open on Pentecost Monday – Budapest museums are usually closed on Mondays – others will be closed. Please visit the webpage of individual museums for up-to-date information.
Hungarian National Gallery (Buda Castle)
Address: Szent György tér 2., district I. inside the Royal Palace
The National Gallery in Buda's Royal Palace will be open on 20 – 21. May between 10.00 – 18.00.
Hungarian National Museum
Address: Múzeum krt. 14-16., district VIII.
The museum will be open on Pentecost Sunday, 20. May between 10.00 – 18.00, but remains closed on 21. May, Monday.
It has an extensive exhibit on the history of Hungary. The most precious treasure you cna view is the coronation mantel of King St. Stephen.
House of Terror
Address: Andrássy út 60., district VI.
Getting there: Millenium Underground, get off at Vörösmarty utca or trams 4, 6, Oktogon stop, a short walk from there
General opening hours: Tue – Sun: 10.00 – 18.00, cashier closes at 17.30
Note: The Great Synagogue in Dohány Str. and the Jewish museum will be closed on 09 – 10. June 2019.
Bath Opening Hours – Thermal Baths are NOT OPEN YET
The Veli Bej Bath is closed on public holidays so it won't be open on 20. May and 21. May.
The Gellért and Széchenyi Baths will be open as usual on both days of the holiday (with weekend pricing):
Some of the outdoor pools – Palatinus – are also welcome visitors over the Pentecost weekend.
Public Transport on the Pentecost Weekend
On 08. June/Saturday metro, tram bus and other public transportation will run according to Saturday schedule, on 09 – 10. June(Whitsun and Whit Monday) according to Sunday-holiday schedule.
The M2 and M4 metro lines will operate till 01.00 am on Friday, Saturday and Monday.
M3 (blue) line: on Saturday/08. June replacement buses will operate along the whole line. On Sunday and Monday M3 metro will run between Kőbánya-Kispest termini and Lehel tér all day. Between Lehel tér and Újpest termini replacement buses will carry passengers every day.
Opening Hours of Shops, Markets
Grocery stores, shops, food markets (the Great Market Hall) will be CLOSED on 20 – 21. May.
Most restaurants, cafes, bars will be open though over the weekend.
Related:
May Day Things To Do – Programs in June – Summer Festival – Top Summer Activities