Date: 28 -29. May, 2023
Location: Various Venues In Budapest
Pentecost is a two-day public holiday in Hungary: Sunday, 28. May and Monday 29. May 2023. It is a Christian holiday held on the 50th day after Easter. Many traditions and folk customs relate to the day that are kept alive on Pentecost festivals.
Although shops, markets, banks etc. will be closed, a couple of exciting festivals and programs await visitors in Budapest over the weekend.
Table of Contents – Pentecost in Budapest
Wine & Champagne Festival on Szabadság Tér/Liberty Square
Date: 26 -29. May 2023
Venue: Szabadság tér/Liberty Square in the city centre, a large park near the Parliament building
Admission
Entry is free to the festival, but if you want to taste wines and champagne you have to buy a glass fro 3 490 HUF.
The Wine & Champagne Festival will be still going at full speed over the Pentecost weekend so it's a great opportunity for you to head over to the downtown park at Szabadság tér to sample some lovely bubblies and Hungarian wines.
TIP: It's in the vicinity of the Parliament building so if you plan to visit it then it's a good idea to combine the two programs.
Besides wines and champagne, you can enjoy tasty bites, the local streetfood staple, lángos for example! If you don't like wine don't worry there will be plenty non-alcoholic drinks to choose from.
Concerts in the afternoon and evening make the Wine & Champagne Fesival a wonderful place to be on a beautiful day in May in Budapest.
Take A

Cruise On the Danube – The Best Way To See Some Of The Top Sights
River tours – available with buffet meal and/or drinks – are a great and relaxing way to see the beautiful cityscape during the day, in the evening or at night.

Advanced booking is highly recommended because places tend to sell out quickly during major holidays like Pentecost. You can cancel anytime free of charge!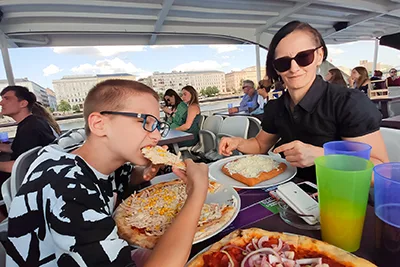 August
Street Food & Light Party Atmosphere On A 85-Min Danube Boat Tour🚢😊 As locals living in Budapest…
Pentecost Market on Római Part, Saturday, 27. May 2023
Location: Nánási út 47-49., Budapest, 1031, district III.
Getting There:
It will take cc. 50 minutes to get to Római Part/Roman Beach by public transport. It's much quicker by bike, only 35 minutes and you will definitely enjoy the ride along the scenic Danube river.
If you still prefer to use public transport the best option is to take suburban railway H5 (HÉV) from Margaret Bridge Buda end, get off at Aquincum stop. Then look for the stop for bus No. 106. Get off at the 5th stop at Nánási út.
Here are the directions on map.
Opening Hours: 08.00 – 14.00
For an off-the-beaten-path, memorable experience visit the Róma-parti Piac farmers' market right on the bank of the Danube in Óbuda district, held on Saturdays.
From the vendors stationed along the lovely promenade you can buy
fresh fruits, veggies,
bread and pastries,
cheese and sausages from local, small producers.
This time the organizers welcome families with exciting kids' programs to celebrate International Children's Day.
Kids can have fun in the Village PLayhouse, participate in a Mushroom Hunting Adventure
You can grab some really tasty, authentic local food too.
Dumpling soup Nyírség style,
Lángos – round dough deep-fried then topped with sour cream and cheese, and
Nutella-banana pancakes (OK this isn't really typical Hungarian food, but who doesn't love pancakes!
Concerts, , Cultural Programs
Hungarian Folk Dance & Music On 28. May, Saturday
Indulge in the 1.5-hour dazzling performance of the world-renowned Rajkó Folk Ensemble, an unforgettable journey into Hungarian folklore. The show will captivate you with traditional music, mesmerizing dances, and vibrant costumes.
Highlights:
Immerse yourself in the captivating performances of one of Hungary's most dynamic folk ensembles, as they showcase their talent in authentic traditional clothing.
Witness awe-inspiring dances that have been passed down through generations, dating back hundreds of years.
Tickets In Three Seat Categories: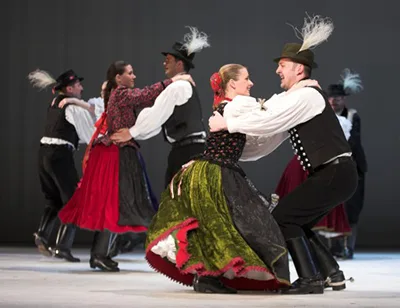 Dazzling Folk Dance Show
90-Minute Dance performances by Hungary's world-renowned folk ensembles in a downtown cultural centre.
Tickets from 29/32 EUR.
Museums/Exhibitions on the Pentecost Weekend
Some museums will be open on Pentecost Monday – Budapest museums are usually closed on Mondays – others will be closed. Please visit the webpage of individual museums for up-to-date information.
TIP: Salvador Dali Exhibition – Open Till 30. September 2023
Address: KOMPLEX Exhibition Hall, Budapest, 26. Budapest 1061
Getting there: Trams 4 and 6, get off at Király utca/erzsébet körút, from there the komplex is at a 10-min/800 m walk.
Opening Hours
Every Day: 10. 00 – 19.00
Last entry: at 18.00
Tickets:
Full price: weekend: 6 000 HUF, weekdays: 5 000 HUF
Students/Retireees: weekends: 5 000, HUF, weekdays: 4 500 HUF
Visit the Salvador Dalí exhibition in Budapest, a perfect indoor program should it rain over the weekend.
Imagine what it would be like to explore the surreal world of the famous Spanish artist and witness how he envisioned his incredible creations.
The exhibition, featuring the largest collection ever seen in our country, with over 150 masterpieces, will take you on an unforgettable journey into Dalí's
Graphics,
Life-size sculptures, and
Uniquely crafted artworks.
His bold use of materials includes glass, bronze, gold, and even diamonds.
Hungarian National Gallery (Buda Castle)
Address: Szent György tér 2., district I. inside the Royal Palace
The National Gallery in Buda's Royal Palace will be open on 20 – 21. May between 10.00 – 18.00.
Hungarian National Museum
Address: Múzeum krt. 14-16., district VIII.
The museum will be open on Pentecost Sunday, 20. May between 10.00 – 18.00, but remains closed on 21. May, Monday.
It has an extensive exhibit on the history of Hungary. The most precious treasure you cna view is the coronation mantel of King St. Stephen.
House of Terror
Address: Andrássy út 60., district VI.
Getting there: Millenium Underground, get off at Vörösmarty utca or trams 4, 6, Oktogon stop, a short walk from there
General opening hours: Tue – Sun: 10.00 – 18.00, cashier closes at 17.30
Note: The Great Synagogue in Dohány Str. and the Jewish museum will be closed.
Bath Opening Hours
The Veli Bej Bath is closed on public holidays so it won't be open on 20. May and 21. May.
The Gellért and Széchenyi Baths will be open as usual on both days of the holiday (with weekend pricing):
Some of the outdoor pools – Palatinus – are also welcome visitors over the Pentecost weekend.
Public Transport on the Pentecost Weekend
On 27. May/Saturday metro, tram bus and other public transportation will run according to Saturday schedule, on 28 – 29. May(Whitsun and Whit Monday) according to Sunday-holiday schedule.
The M2 and M4 metro lines will operate till 01.00 am on Friday, Saturday and Monday.
M3 (blue) line: on Saturday/08. June replacement buses will operate along the whole line. On Sunday and Monday M3 metro will run between Kőbánya-Kispest termini and Lehel tér all day. Between Lehel tér and Újpest termini replacement buses will carry passengers every day.
Opening Hours of Shops, Markets
Grocery stores, shops, food markets (the Great Market Hall) will be CLOSED on 20 – 21. May.
Most restaurants, cafes, bars will be open though over the weekend.
Related:
May Day Things To Do – Programs in Budapest in June – Summer Festival – Top Summer Activities