Here are some of the best romantic hotels in Budapest based on travellers' reviews. Budapest is a fascinating city with many historic and cultural sights, fine restaurants and beautiful city scape.
Since many European cities operate direct flights to Budapest it is a perfect destination for a romantic weekend getaway.
You can choose from a wide variety of charming hotels both in the city centre and the more peaceful Buda side.
Several hotels also offer special romantic packages that may include a complimentary bottle of champagne, a box of chocolates, a bouqet of flowers and other thoughtful gestures.
Romantic Hotels in Budapest City Centre
The centre of Budapest comprises of districts V., VI., VII., VIII. and parts of IX. Numerous hotels offer accommodation in these central districts suiting to all tastes and budgets.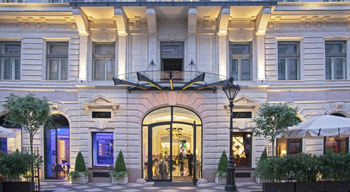 Aria Hotel
Address: Hercegprímás utca 5., district V., city centre
Aria Hotel Budapest, a music-themed luxury design hotel next to the Basilica is a new favorite for romantic vacations in Budapest.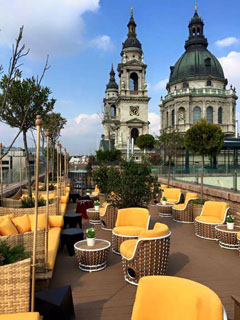 Each room is designed uniquely on a different mucical theme: composer, genre, etc. The rooftop bar offers amazing views of the city and you feel as if you could touch the dome of St. Stepehen's Basilica.
Courteous, very attentive service, great restaurant where you can have the sumptous breakfast or other meal, wines and cheese selection in the afternoons served in the inner courtyard are the other remarkable features of the hotel.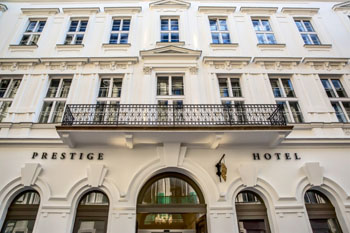 Prestige Hotel Budapest
Address: Vigyázó Ferenc utca 5., dictrict V., city centre
A small boutique hotel in a restored 19th-centutry mansion in dowtown from where you can conveniently access all the major places of interests, including the river Danube and the Buda side.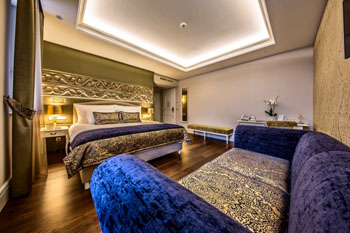 Professional, helpful, welcoming staff, sleek modern interior (marble floor with intricate design, handmade wallpaper, luxurious furniture), a small spa room, and a gourmet restaurant, Costes Downtown, make this new hotel a fitting choice for a romantic holiday.
Read more details about the Prestige Hotel Budapest.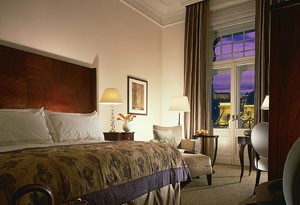 Four Seasons Gresham Palace Hotel*****
Address: Széchenyi tér 5-6., district V.
The Four Seasons Gresham Palace Hotel quickly became one of the most popular romantic hotels after its opening in 2004.
Situated in a magnificent palace at the foot of the Chain Bridge in Pest the Four Seasons combines charm and elegance with modern conveniences and relaxing ambience.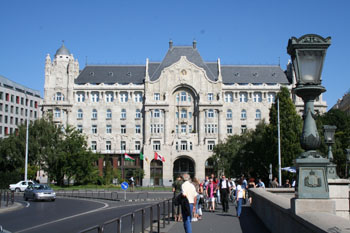 The hotel boasts beautiful Art Nouveau decor, lavish rooms (179 guest rooms and 17 suites) with stunning views of the Danube and Buda Castle, a fine spa, high-speed internet and many more facilities.
In the Gresham Kávéház on the ground floor you can enjoy the best espresso in town and old-world coffee house feeling.
Read a detailed review on the Four Seasons Hotel in Budapest.
Buddha-Bar Hotel Klotild Palace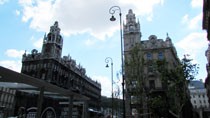 Address: Váci utca 34. district V.
Mixing the exotic Oriental and refined luxury, the Buddha Bar hotel is an excellent place for a romantic holiday.
Although it doesn't have such scenic river side location like the Four Seasons, its location is still ideal for exploring the city centre and the Pest side of the Danube.
Váci Street with its countless cafes, restaurants, shops is just a step away. The Christmas market, held in December each year, is very close by too, at the end of Váci utca on Vörösmarty tér.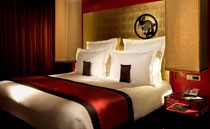 The hotel boasts a rich, tasteful interior decor, a superb spa, a fine restaurant and the Siddharta cafe. Good buffet breakfast with plenty of choices.
Room rates: cc. 200 – 300 EUR/night.
Find out more about Buddha-Bar Hotel Klotild Palace.
Lánchíd 19 Design Hotel****
Address: Lánchíd utca 19., district I.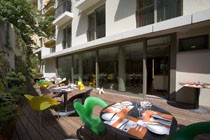 The Lánchíd 19 Hotel on the Buda side is a great romantic boutique hotel. The four-star Lánchíd 19 stands on the Buda side of the Danube riverbank, offering wonderful panorama from most of its rooms and the hotel terrace.
Room rates start from cc. 80 EUR/night, a night in a panorama suite costs 305 EUR.
Find out more about the Lánchíd 19 Boutique Hotel.
Hotel Palazzo Zichy****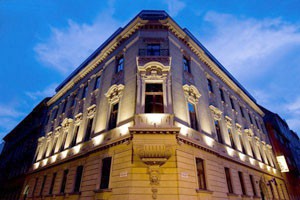 Address: Lőrinc pap tér 2., district VIII.
The Palazzo Zichy is a recently opened boutique hotel in Budapest city centre. Located in a palace built in 1899, this 4-star hotel exudes a combination historic ambience and state-of-the-art facilities.
Those who look for a hotel with central location and one that has character will be satisfied with this hotel.
The hotel is in the centre, close to the busy Grand Boulevard (Nagykörút) from where you can reach all parts of Budapest with trams 4, 6, and the M2 (red) metro. The hotel is housed in a former palace owned by the wife of Count Nádori, Lívia Zichy.
Room price includes buffet breakfast, free use of fast internet, WiFi, free coffee, tea, mineral water until 17.00. According to travellers the Hotel Palazzo Zichy is one of the best-value romantic hotels in Budapest.
TIP: see other boutique hotels in Budapest
Boscolo Autograph Collection in New York Palace *****
Address: Erzsébet krt. 9-11., VII. district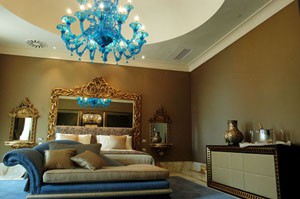 The luxury New York Palace Boscolo Hotel stands in one of Budapest's less romantic neighborhoods, the congested Grand Boulevard. The location, however has the advantage of good public transport connections (trams 4, 6 and M2 metro).
From the noisy street you step into the marble-floored central hall of New York Palace, and you'll feel as if you'd been transported in another world. The flashy, luxurious decor is the work of Italian designers.
The hotel offers package for romantic travellers: the Love and Romance package is ideal for those who want to celebrate an anniversary, birthday or spend their honeymoon in an upscale, romantic hotel in Budapest.
The package includes:
champagne and chocolate in the room upon arrival,
relaxing bath with roses, candles and bath oils,
3-course candle light dinner in the hotel's restaurant,
transfer from/to the airport[
Read a full review of the New York Palace Boscolo Hotel.
Corinthia Hotel Budapest *****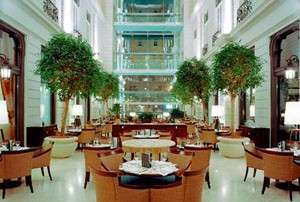 Address: Erzsébet körút 43-49., VII. district The Corinthia Hotel (formerly known as Corinthia Grand Hotel Royal) is the proud owner of several hotel awards and is frequently referred to as the best 5-star hotel in Budapest. Similarly to the New York Palace Hotel, the Corinthia's location is not the most idyllic, since it is also situated on Erzsébet körút (Grand Boulevard). The hotel's fabulous building looks back to more than a century history. It has a beautiful lobby, a great spa, some fine restaurants, and tastefully elegant, comfortable rooms.
Find out more about the Corinthia Hotel Budapest and why it is a ideal for a romantic stay in Budapest. Related Information:[
Top Sights – the most famous landmarks of the Hungarian capital.
Romantic Hotels in Budapest Castle District
Buda Castle, and the entire Castle Hill are perhaps the most romantic parts of Budapest and the area has some great lodgings, including large luxury hotels as well as smaller ones perfect for a romantic weekend getaway.
Read more about sights and attractions in Buda Castle.
Baltazar Hotel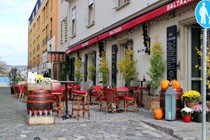 Address: Országház utca 31., district I.
Baltazar – named after a fictional, winged elephant – is a truly charming upscale boutique hotel at a quiet corner of the castle area.
The location is very favourable: close to all the historic sights, museums, cafes, yet tucked away from the hustle and bustle of the main tourist spots.
It only has 11 rooms and suites but each with its own unique design and furnishing. Ask for an upper room to be able to admire the scenic view.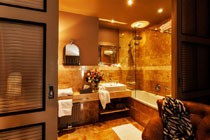 The hotel has a very good restaurant and wine bar too: simple, seasonal dishes, gourmet burgers, breakfast and a nice selection of local and inter national wines.
A great choice for a romantic city break.
Learn more about Baltazar Hotel in Buda Castle
Hotel Castle Garden****
Address: Lovas utca 41., I. district
Website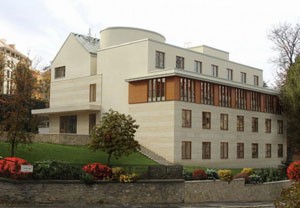 Hotel Castle garden is a small, cozy hotel on the eastern slope of Castle Hill. In the Bonfini restaurant you can enjoy Italian and Hungarian dishes on the outdoor terrace.
The location is ideal for those who want to do lots of sightseeing in Pest but prefer to return to a peaceful hotel far from the busy city centre.
The bus departing from the castle entrance takes you to Széll Kálmán tér from where you can either use the M2 metro line or trams 4,6 to get to downtown.
There's a mini wellness area with jacuzzi and sauna the use of which is not included in the room price (costs €10/person/day). Room rates: 100-160 EUR/night.
St. George Residence Hotel
Address: Fortuna utca 4., I, district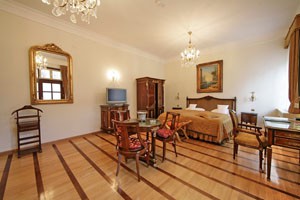 In my opinion the St. George Residence All Suites Hotel is the most romantic hotel in Budapest. It is situated in a historic building in the heart of the Castle District.
The tastefully redecorated manor offers 4 types of suites (bronze, silver, gold and diamond) which are spacious (49-110 sqm) and equipped with all conveniences.
Suite prices vary between 108 – 750 EUR but there are a range of discounts available with early bookings or when you book for longer stays. Room price includes a substantial buffet breakfast, welcome drink, free pass for entering the castle by car, and internet use.
The hotel has two in-house restaurants and a wine cellar with tobacco room. The Gold Ram restaurant decorated in Renaissance style offers Hungarian and international dishes. The St. George Restaurant & Cafe is a cozy place for a coffee or drinks but a variety of menus and a' la cart dishes are also available at reasonable price.
The lovely inner garden is great for an evening drink. Sights abound on Castle Hill including Matthias Church, Fishermen's Bastion, the National Gallery and the Museum of History in the Castle building.
Hilton Castle District
Address: Hess a. tér 1-3., I.district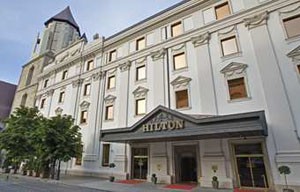 Out of the two Hilton Hotels in Budapest the one in the Castle District is more romantic than the Hilton Budapest City next to Nyugati Train Station.
The hotel is located in a World Heritage site so the architecture of the building must conform with strict rules in order to blend in the historic city scape.
The hotel surrounds ruins of a medieval Dominican monastery which you can see from the lobby. In the Icon restaurant you can enjoy fine meals and the wonderful vista.
Room rates: cc. 120-250 EUR, use of internet is not included, it costs cc. 10 EUR/hour. A buffet breakfast with cold and hot meals is included in the price. If you want to enjoy the fantastic panorama of the Danube from your room, book a Guest Room Plus.
Find out more details about the Hilton in Buda Castle.
Romantic Hotels on Margaret Island (Margitsziget)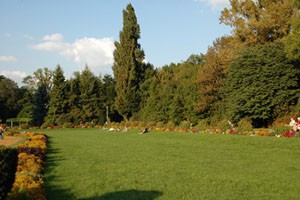 Besides Castle District and the Buda Hills, Margaret Island is another idyllic place for those who love to stroll in parks, and enjoy green scenery.
If you don't mind staying a bit away from the city centre, then the following two wellness hotels on the island are highly recommended for a romantic vacation in Budapest.
Danubius Health Spa Resort Margitsziget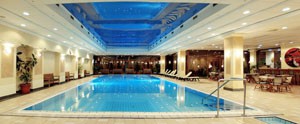 The hotel isn't attractive from outside but the romantic setting in the middle of a park, and the rooms and superb wellness facilities outweigh the slightly grim look of the concrete building.
Downtown Budapest is just 10 minutes from the hotel. All rooms have balcony overlooking the green tranquility of the island.
The spa complex includes indoor and outdoor pools, thermal bath, an adventure pool, gymnastics pool, traction bath, sauna, infra sauna, steam cabin, aroma therapy.
A range of wellness treatments and services including various massage therapies are available. There's also a 400 sqm fitness area packed with fitness equipment. The hotel has a medical centre that includes dentistry, laser eye surgery, and plastic surgery.
The Platán restaurant has a garden terrace and offers a wide variety of meals including healthy, organic dishes.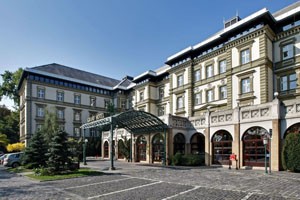 Danubius Grand Hotel Margitsziget
The Grand Hotel is another great charming hotel on Margaret Island. It is directly connected to the Spa center of the Danubius Health Spa Resort.
It is more elegant from the outside than the Danubius Health Spa Resort Margitsziget due to the turn-of-the-19th/20th century origin of the building. Read more about the hotel on its website.
TIP: take a look at other Spa & Wellness Hotels in Budapest.
TIP: Find a great hotel close to Budapest's main Christmas Market on Vörösmarty Square!
Related:
Luxury Budapest – High-End Apartments – For Business Travellers – Valentine's Day Programs