The Most Beautiful Turkish Bath in Budapest
Updated For 2022/2023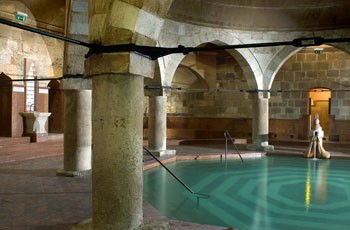 Location:
Döbrentei tér 9., Buda, Erzsébet Bridge, district I.
Tel: (+36 1) 356 1322
Getting There:
Trams 19, 41, 56, 56A
Buses 7, 8E, 108E, 110, 112
Night Buses: 907, 973
M4 metro, Gellért tér station, just a short walk from there: 900 m/cc. 10 min
Table of Contents
Opening Hours: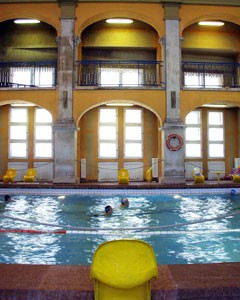 Swiming pools: every day: 06.00-20.00, wellnes & sauna centre: every day: 08.00 – 22.00, night opening hours on Friday-Saturday: 22.00-04.00 (except for the panorama pool on the rooftop and the saunas)
Steam Bath: every day: 06.00 – 20.00, night opening hours on Fri-Sat: 22.00 – 04.00
Ladies' day: Tuesday
Gentlemen's days: Monday, Wednesday, Thursday, Friday till 10.45
Mixed Days (bathing suit is compulsory): Friday from 11.00 am all Saturday, Sunday
Cashier closes 1 hour before the bath's closing time.
Children under the age of 14 cannot use the pools.
TIP: Bring your own towels, slippers, swim cap, swim suit because these items can cost quite a lot if you have to buy them in the bath.

A towel is 6 000 HUF, slippers: 4 000 HUF, swimm cap 2 000HUF, swim suit (man/woman): 6 000 HUF.
Night Bathing – Fridays & Saturdays – 22.00 – 03.00 am, A Romantic Program
For a unique and romantic experience visit the bath during nighttime on Friday or Saturday. Savor a glas sof champagne while taking in the dazzling night panorama of Budapest from the rooftop jacuzzi.
Price Of Night Bathing
8 600 HUF, available only online
Why & When To Visit The Rudas Bath?
Rudas Bath sits at the foot the Gellért Hill in the Buda side. It is just a short walk from another renowned Budapest Bath, the Gellért on Szt. Gellért tér, at Liberty Bridge (Szabadság híd).
If you want to immerse yourself in local bath culture and the handful of historic spas you can Gellért one day then Rudas on another day of your visit.
Or, since they located close to each other you can do both on the same day to get a full experince.
For a truly romantic and memorable program drop by on Friday or Saturday night. Besides enjoying the pools ou will get to enjoy the amazing night view by a glass of sparkling wine.
For female travellers we recommend Tuesdays when the whole day is dedicated to them. The pools are closed for male visitors on Tuesdays.
If you prefer to go at less crowded times then time your visit on a weekday afternoon.
Bathing Etiquette – Mostly For Men, Tuesday Is Only For Women
Turkish Bath used to be mainly open to men. To these days they can exclusively enjoy the Turkish pools on Monday, Wednesday, Thursday and Friday till 10.45.
Tuesday only female visitors can use the steam pools during the opening hours: 06.00 – 20.00.
From 11.00 am on Friday and on whole of Saturday and Sunday both genders can enjoy the bath. Swimming costume is compulsory.
500 Years Old Bath with Fantastic Panoramic Views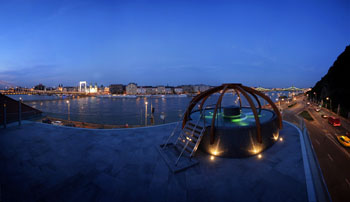 The historic Ottoman bath was completely renovated in 2014.
Four new pools (with temperatures 11 °C, 32°C, 36°C and 42°C, and a jacuzzi (36°C) with fantastic panoramic view have been also added to the complex.
You can enjoy Turkish-Hungarian fusion cuisine in the Rudas Bistro restaurant on the first floor.
Lots of modern architectural and design elements including vast glass surfaces enhance the experience in the Rudas.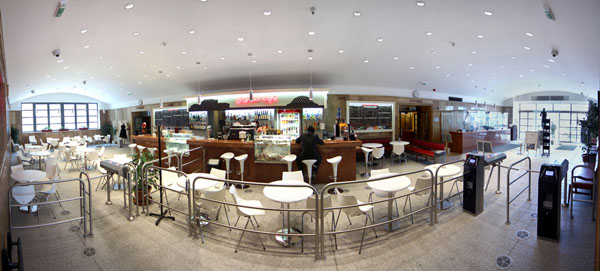 Ticket Prices in the Rudas Bath:
20% discount with Budapest card on the morning ticket with cabin use on weekdays.
Note: Children under 14 are not allowed to use the thermal pools.
As with other baths prices are fairly complicated (there are more options that you can find on the bath's official website):
Tickets In 2022
| | | |
| --- | --- | --- |
| | Weekdays | Weekends/Holidays |
| Daily Ticket To All Zones | 6 500 HUF | 8 500 HUF |
| Daily Thermal Ticket (On wekdays only, On Fri till 10.45 only) | 4 500 HUF | – |
| Daily Wellness Spa Ticket (On wekdays only, On Fri till 10.45 only) | 4 500 HUF | – |
| Night Ticket (Saturday and Sunday only) – can be bought only online | – | 8 600 HUF |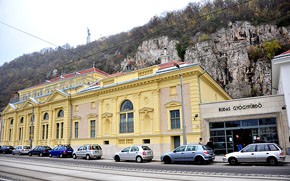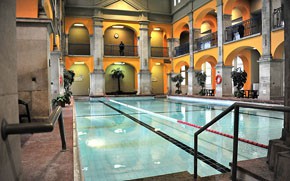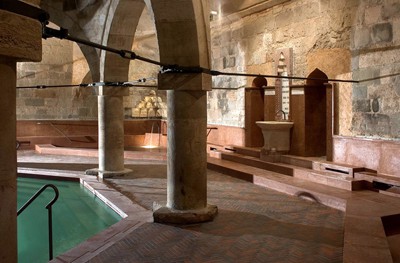 This fine bath was built around 1550. Sokoli Mustafa Pasha rebuilt it in 1566.
Eight columns support the cupola under which lies the octagonal Turkish pool.
This still functions as the centre of the bath. The light shafts shining through the stained glasses of the cupola openings cause a colourful, vibrant effect inside the pool.
The Rudas used to be a men-only bath (since 2006 women can use the bath exclusively on Tuesdays), tough it had a swimming pool for both men and women.
Healing Thermal Water
The pool, which is filled with 29°C medicinal water, was built in 1896 and it was Budapest's second indoor swimming pool. In the hall of the bath you can drink medicinal waters supplied by the Hungaria, Attila and Juventus springs.
You have to pay some money for it at the cashier. A complete physiotherapy department operates on the second floor of the spa complex.
The Rudas has opened its doors to women:
Since 1st June 2006 women can enjoy the Turkish bath without a swimming suit on Tuesdays between 6.00 – 20.00. Moreover, on weekends both men and women can bath in bathing suits.
Rudas is the only original Turkish bath in Europe that provides this service. There are also bathing parties in swimsuits on the weekends.
Water temperature ranges between 16 – 42 °C
Massages and Other Services:
You can treat yourself to a range of massage and other wellness treatments. Rudas also offers various medical services such as medical tub bath, medical massages, underwater jet massage.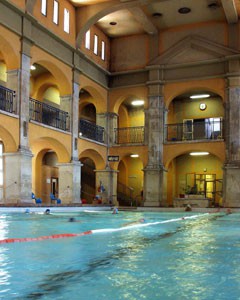 6 thermal bath basins and 4 wellness pools (temperatures: 11 °C, 32°C, 36°C and 42°C) and a jacuzzi (36°C) in the loft offering a dazzling view of the city,
Underwater jet-massage,
Complex balneotherapy treatment
New service is the aromatherapy massage in the steam unit of the bath,
Foot care,
Dry and steam saunas, and
Buffet.
Massages, Pedicure In Rudas Bath
Note: Massages are available only with valid bath entry ticket.
You can also get various types of massages for example
A Classic 20 minute Aroma Massage is: 9 000 HUF, 45-minute: 14 000 HUF
a 60-minute Premium massage if you really wish to pamper your body is: 20 000 HUF for one person, for couples: 40 000 HUF
You can also get a 30-minute medical pedicure for 5 000 HUF and a complete spa pedicure (60-minute): 9 600 HUF.
Read more details at the official site of the bath.
Related: