Tips To Avoid Tourist Traps
Although Budapest is safer for tourists than most big cities, there are some common tourist traps, and inconveniences that you have to know about and take some precautions to ensure your safety in Budapest.
Any other touristy city similar to Budapest in size and popularity faces the following safety problems.
If you're prepared for them chances are higher that you'll fully enjoy your stay without any unpleasant events or bad experiences.
Table of Contents – Safety in Budapest
Most Common Tourist Traps in Budapest
Taxi Scams – This Doesn't Seem to be a Problem Anymore
Before the new taxi regulations that came in effect in 2013, several taxi companies were operating in the city charging different tariffs.
There were companies that regularly ripped off tourists.
This is not the case anymore since licensed taxis (they are yellow and have a sign on the roof) operate with flat rate system. Prices are clearly indicated on the side of the car.
TIP: travel by taxi only if it's the simplest and quickest way to get to your destination within Budapest. Otherwise use the extensive and cheaper public transport.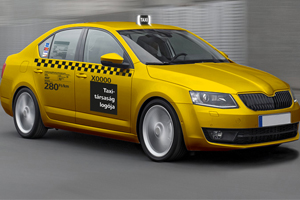 TIP2 : Travel only with a yellow taxi that has a taxi sign fixed to the roof of the cab, and on the side door of which you can see the name or logo of a reliable Budapest taxi company as well as the prices.
Avoid unmarked cars with only a taxi sign on the roof! Inside look for the table of fares posted usually on the dashboard.
City Taxi is a reliable company with English speaking operators: phone number: 2 111 111
Restaurants, Nightclubs, Bars
Budapest has numerous restaurants, bars and clubs and a part of them is targeted at tourists. Some of these touristy places are simply overpriced: they charge you a lot more for average food and service than you would pay at a less upscale place.
Other places are far worse: they main objective is to rip off tourists.
See our safety tips on our Budapest Nightlife page.
Pickpockets, Scam Merchants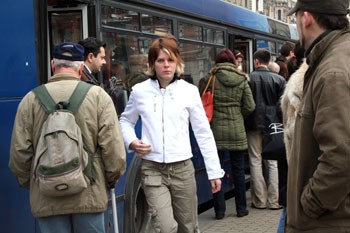 Pickpockets are most active on
public transport vehicles,
on escalators leading down and coming up from the metro,
in crowded shops,
in crowded shops,
food markets, and
popular touristy places (Matthias Church, Fishermen's Bastion, Parliament, Danube promenade, Váci Street, the zoo).
Safety TIP #1
Carry only as much cash as you need for the day.
Safety TIP #2
Keep your money, documents, mobile phone safe and secure; in a belt bag at the front of your body or in an inside pocket. Keep your camera in a bag with a strap wearing it across your shoulder. I always use a messenger bag positioned on the front of my body. This way my hands are free to take photos.
Safety TIP #3
Always pay attention, look out for possible pickpockets. If they see you're on the alert they likely won't choose as their next victim to be pickpocketed.
Safety TIP #4
Pickpockets and scam merchants are usually work together to distract people's attentions. If you're approached by a group of dubious people attempting to gain your attention, just turn your back and walk away.
Exchanging Money
Safety Tip : Do not change money in the streets! It's against the law and you can be easily cheated or end up with counterfeited money.
You can exchange your currency in any major banks (OTP banks are the most common banks in Hungary) or at exchange bureaus.
See more advice on currency exchange in Budapest.
Areas to Avoid at Night in Budapest
Downtown Budapest (Castle District, districts V., VI., part of district VII. along Grand Boulevard) is fairly safe at night.
Safety TIP: Avoid, however the outer part of district s VII., VIII., and IX. As a general rule of thumb avoid poorly lit streets and underpasses.
Budapest Crime Map (2009)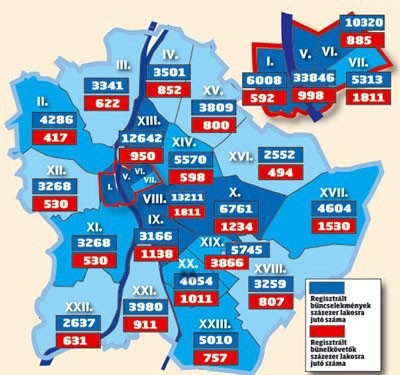 See more on Budapest Districts.
Useful Telephone Numbers – Safety in Budapest
Jot down the following telephone numbers or save them in your mobile's memory should you need them during your visit to Budapest (hopefully you' won't).
English-language hot-line specifically set up for tourists: 438 8080 Office: Vigadó utca 4., V. district
Ambulance: 104 or 311 166
Loss of passport should be reported to: Immigration and Citizenship Budapest and Pest County
Address: Budafoki út 60., XI. district,
Tel (round-the-clock): 463 9165 or 463 9181
See more Information on Budapest.
Related:
Public Holidays in Hungary – Budapest Facts – Various Budapest Maps – Weather in Budapest – Our Facebook page